A simple and fun treat for spring or Easter that turns marshmallows into beautiful flowers!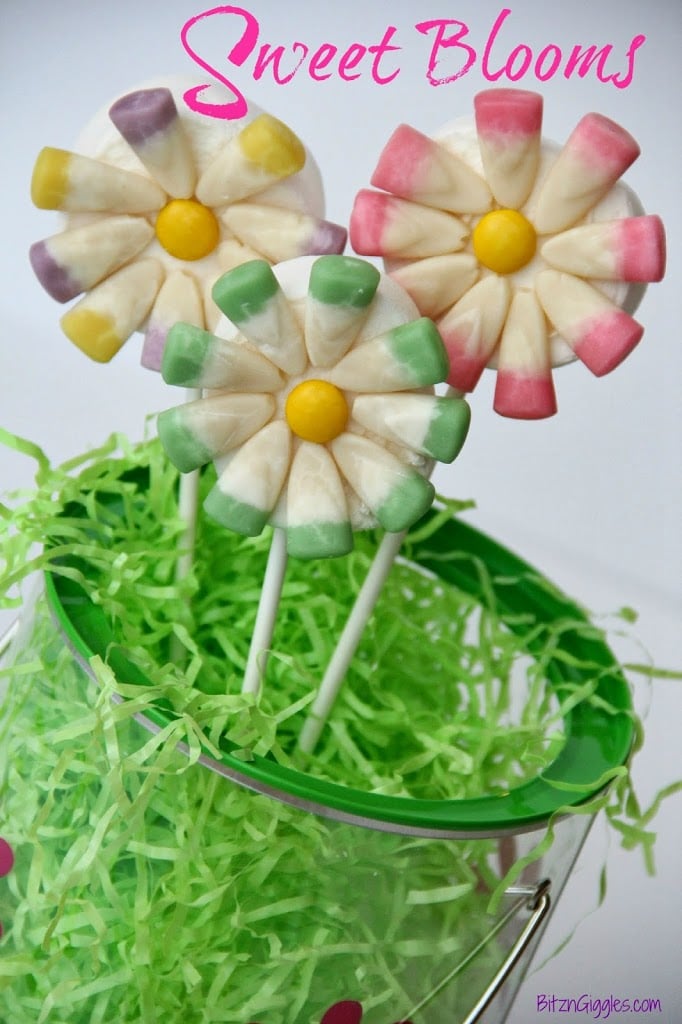 This post includes affiliate links. Please see my disclosure.
Happy Day Before the First Day of Spring!! I know, I know. The first day of spring is tomorrow, but I just couldn't wait!
Every post I've written lately starts out weather-related. For that, I apologize. I'm so caught up with hoping and wishing for warmer weather. We have inches of snow expected this week. Ick.
With that said, I've just started to pretend. Call me crazy. . .you won't be the first. Just please let me do what I need to do to be happy. I just need something to look forward to and the changing seasons and holidays do that for me. That's really what this blog is all about. And today, my readers, I must blog about spring. Flowers, green grass, marshmallows and candy corn. What now? Just stick with me.
Today I am introducing you to a super easy and cute kid-friendly treat. You'll really only need three ingredients plus some dessert sticks.
Ingredients
Giant Roaster Marshmallows
Pastel Candy Corn
Yellow Reese's Pieces or M&M's
Dessert sticks
Melted white chocolate or candy coating (optional)
If you're wondering about the pastel candy corn, I will admit, sometimes it's not the easiest to find, but I swear to you, it does exist. I found mine at our grocery store in town. If you get really desperate, Amazon carries
Pastel Candy Corn
, too.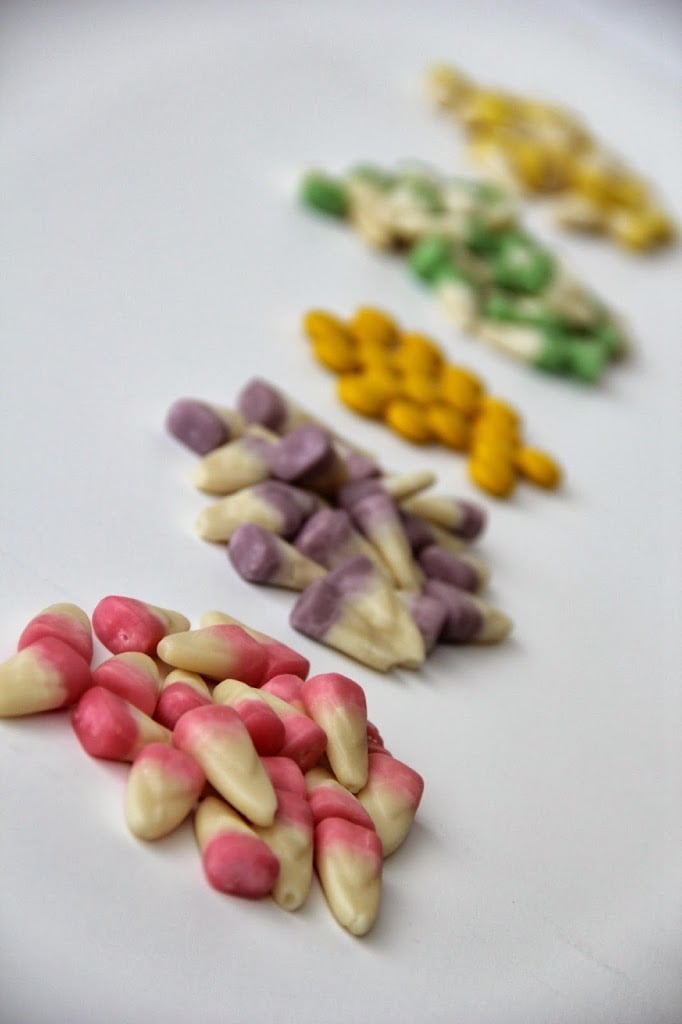 Time to brush off your sorting skills. Here's where you can enlist the kids to help. Sort out the candy corn by color and go ahead and put your yellow candies into a pile as well.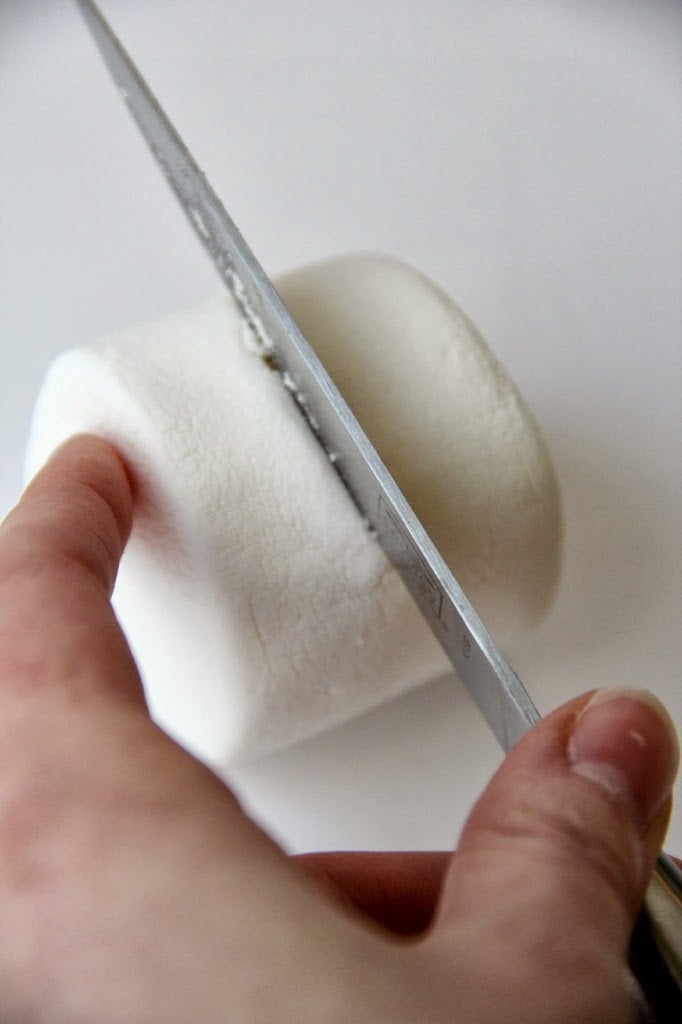 Alright, now for an adult job. Get out a sharp knife and slice one of the big marshmallows in half. And no, I don't really hold a knife like this. This is me, by myself, trying to take a photo for you of how to cut a marshmallow in half – holding the camera in my right hand and trying to balance the knife and the marshmallow with my left. No need to compliment me on my talent. But thank you if you were thinking about it.
Don't worry if you find that you need to squish it a bit to get the knife through. These big mallows are easy to re-shape. No need to stress out. Keep in mind that one marshmallow will make two flowers.
Now, we're going to play a game of trivia. What are you planning to do with your Sweet Blooms? Will you:
A) Keep them at home and eat them all yourself (maybe share a couple with your hubby and the kids)
B) Send them to school with your son or daughter to hand out as a classroom treat
C) Package them up as gifts for family and friends
If you chose options B or C, you may want to spread a little melted white chocolate or candy coating on top of the inside of the marshmallow before moving on to the next step. For my flowers I didn't need to use anything at all. The candy actually stuck beautifully to the sticky insides of the marshmallows.
Again, if you're going to be taking these out of the house, I would suggest some additional candy coating to ensure the candies will stay put. Because who really wants to lose their petals on the way to a party?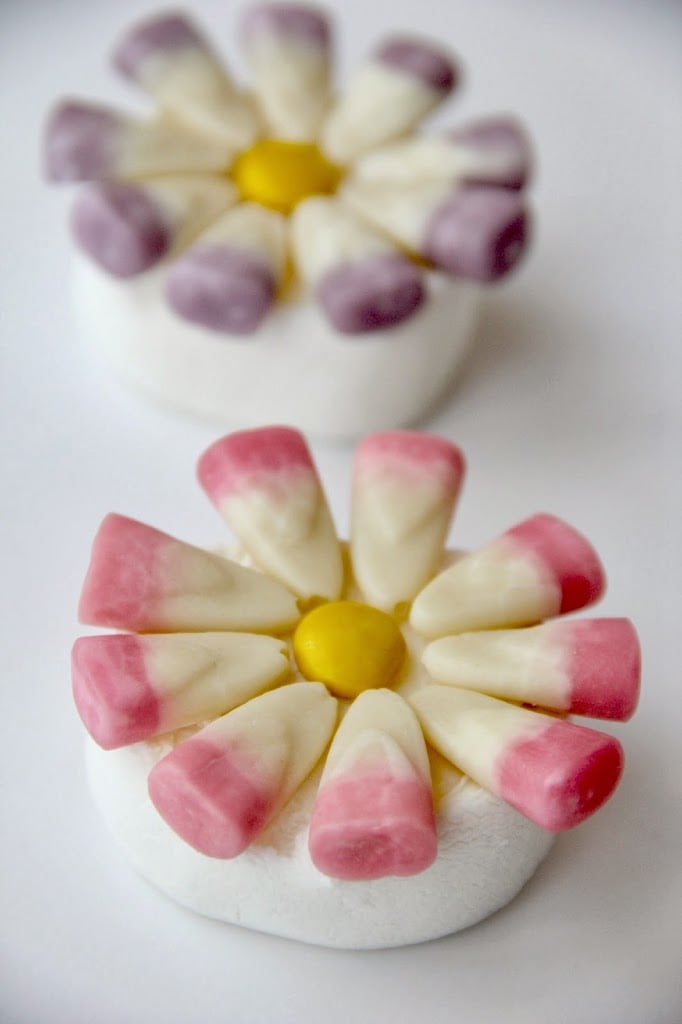 Seriously, isn't this the easiest thing ever? I think this would be a great Girl Scout project or fun treat for a sleepover party for little girls. If you didn't want to use marshmallows and sticks, you could always just frost some cookies and stick the candy on. They would be super cute too!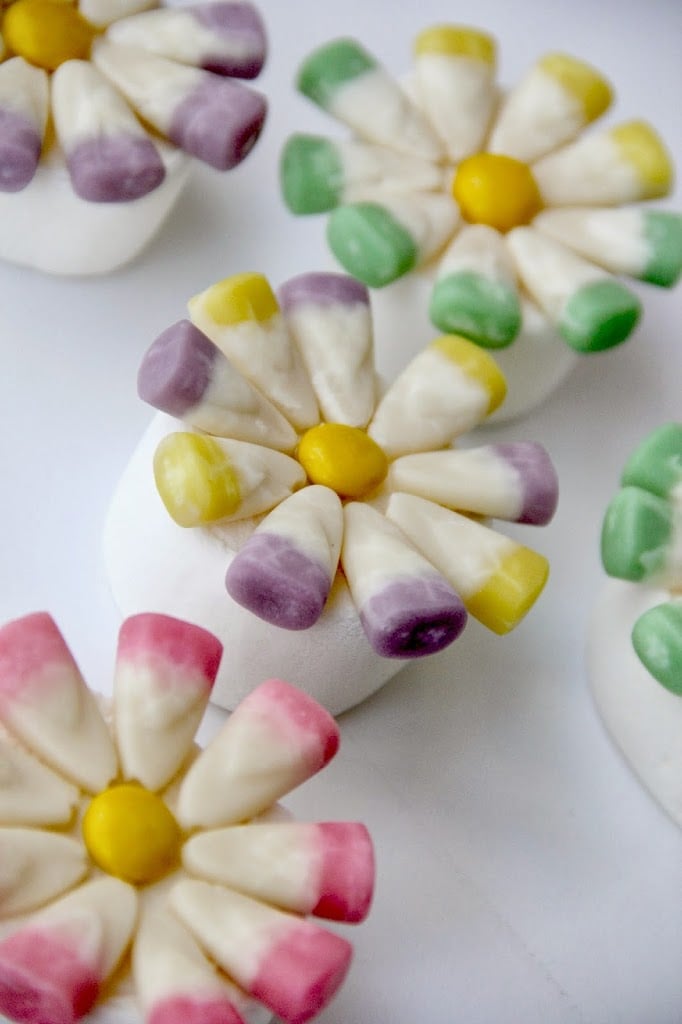 Be creative. Alternate colors.
Feel free to grab your camera and have some fun. Do you know that taking photos is one of my favorite aspects of blogging? I LOVE taking pictures of my projects. I think it's because my subjects are still. They just sit there and look good. When I try and take pictures of my children, everything is blurry because they zoom around the room like insects on caffeine. This. . .is calming. Even when I'm practically standing on my head to get the shot.
And there you have it. Just grab a dessert stick, stick it into the marshmallow and you're good to go. Again, when playing trivia, if you chose answers B or C, you may want to get that melted chocolate out again and put a dab where the stick meets the marshmallow to secure it well so your marshmallow isn't doing 360 degree turns around your stick. If you don't secure it further, just try to move the dessert stick as far into the marshmallow as you can without it coming out the other end.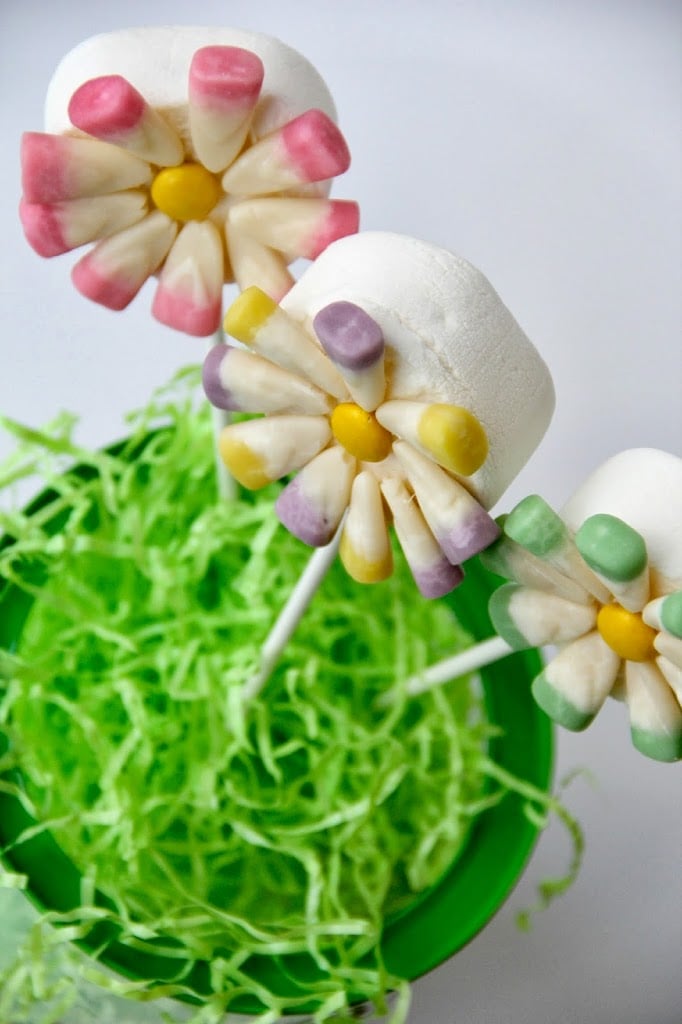 Now, I will just sit here, look at my flowers and continue to pretend it's warm outside. Then, I'll eat a flower and pretend I didn't. After that, I might grab a small handful of the Reese's Pieces, pop them into my mouth and pretend I used them all to make the flowers (I had to do something with the brown and orange ones anyway).
So, Happy First Day of Spring everyone. Shhhhh. Just let me pretend.
(Visited 1,681 times, 1 visits today)