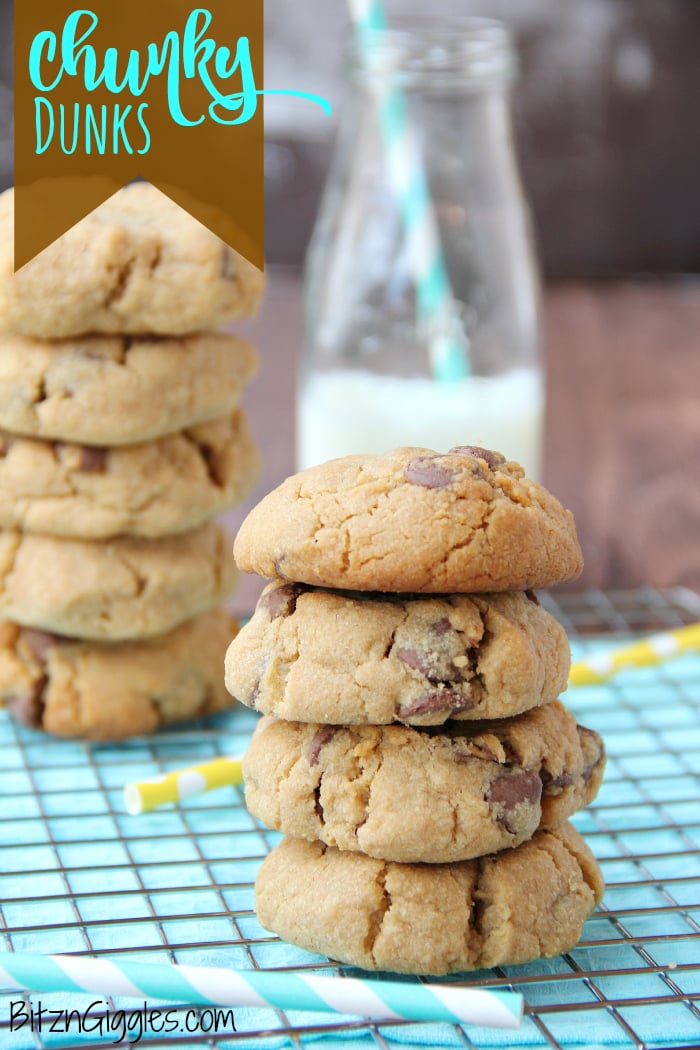 I'll be the first to admit I have a peanut butter and chocolate problem. My husband will be the first to console me and tell me, "It's okay, honey."
We both seem to be a bit addicted partial to the flavor combo so I've made my fair share of goodies here in the Bitz & Giggles kitchen. Nothing over the top, though. Just a few recipes, like these cracker layer bars, soft batch cookies, brownie bowls, mason jar cake, ice cream bread, oat bites, cupcakes, fudge and more bars. I should probably stop there. No, you know what? We're not stopping there, no we're not. Ever. Stopping.
Today, I want to introduce you to what we like to call Chunky Dunks. Stick with me here. They're a thick and chewy peanut butter and chocolate cookie that's perfect for dunking. They're taller vs. wider so they fit into a glass of milk just perfectly.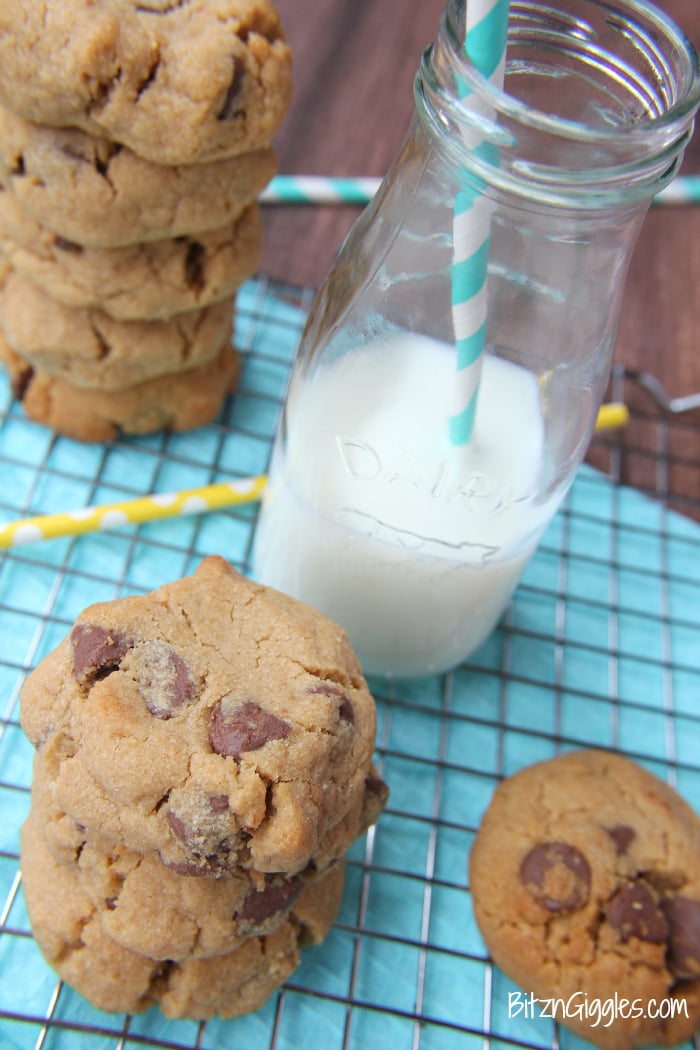 Notice, I said GLASS of milk. This cute little bottle you see here was for show only. After the photo shoot, I dumped that milk into a regular glass of milk and started dunking away. Because, that's just what we food bloggers do. We make everything pretty for our pictures and then. . .we eat.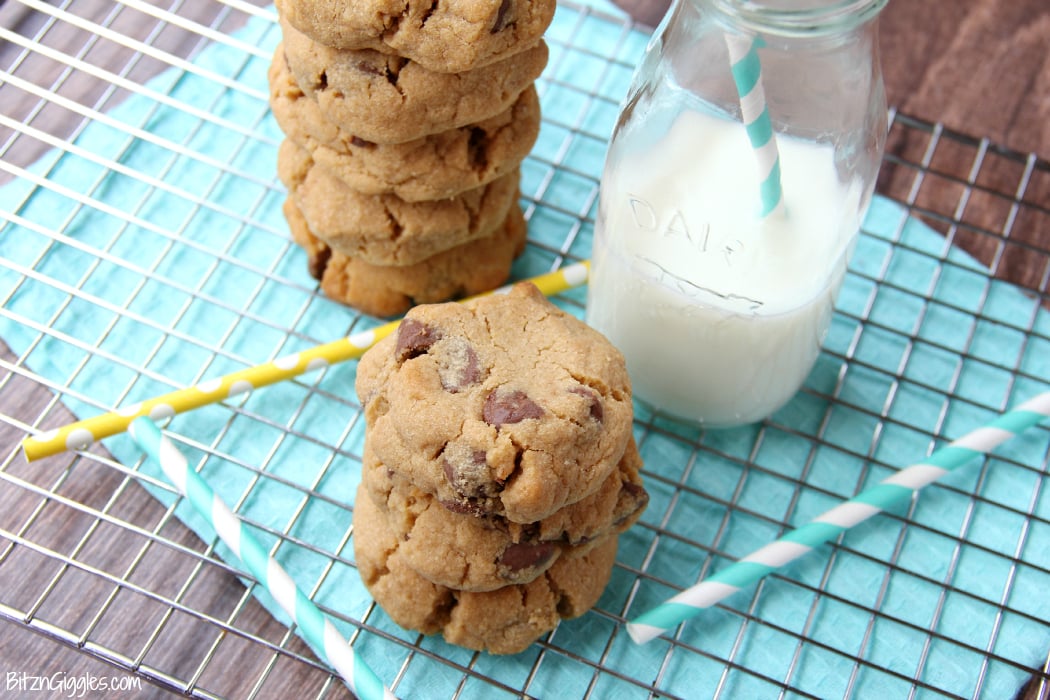 It works out best if you have lots of friends and neighbors close by if you're a food blogger. I take my creations into the office, down the street and send some with my children to school. It's just best that way. #foodbloggerproblems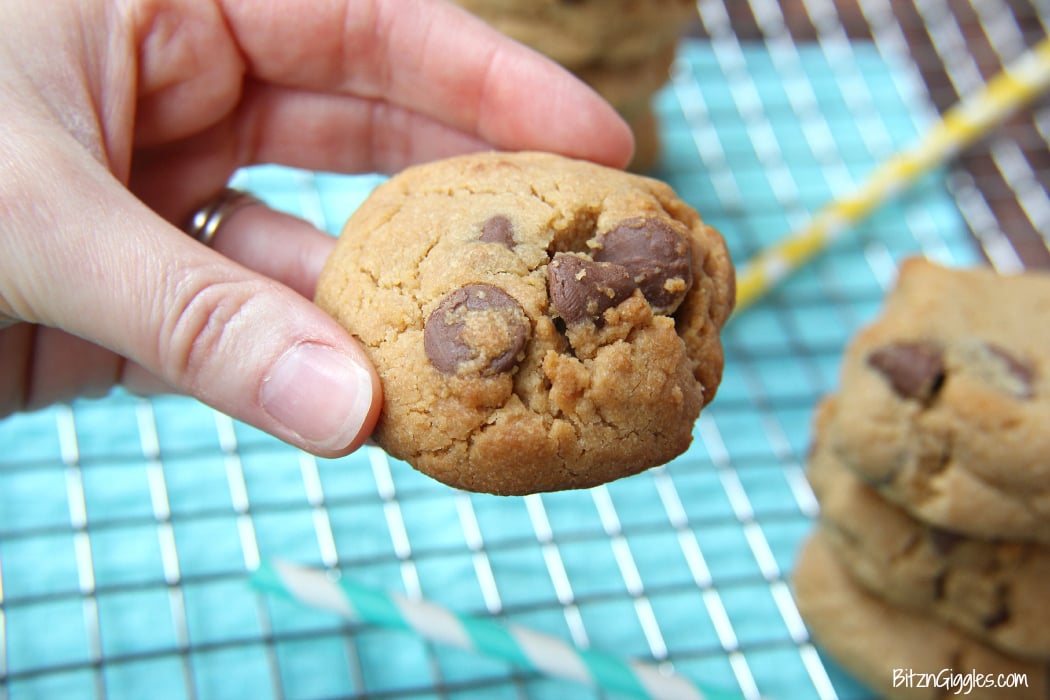 This was actually the cookie I ate after the shoot. It was kind of the ugly duckling of the bunch. I'm showing you a picture of this cookie to keep things real. The chocolate has my fingerprints in it, the chips are all on top of one another, the edges browned a bit more than what I would have liked. . .these are just some of the things that happen to food bloggers. And, well, I want you to know about it. It's only fair.
I will say, however, that it tasted JUST as good as all of the other ones. . .in case you were wondering.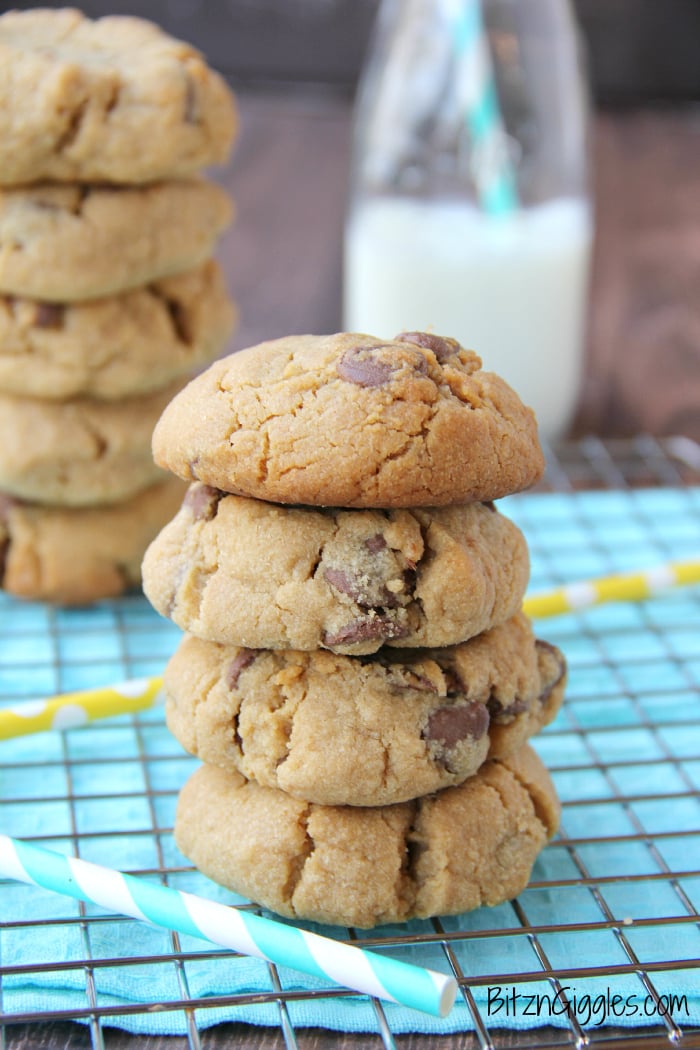 I can't wait for you to make some chunky dunks of your own. I know they're going to turn out great. Send me pics via Instagram or Twitter and tag #bitzngiggles. Oh, and even if you have one of those ugly ducklings in your batch, I want to see THAT, too! I love seeing your creations! Enjoy!
Chunky Dunks
Thick and chewy peanut butter and chocolate cookies perfect for milk dunking!
Ingredients
3/4 cup heaping cup peanut butter
1 egg
1 cup brown sugar, packed
1/2 cup softened butter
1 tablespoon vanilla extract
1/2 teaspoon baking soda
1 3/4 cups all-purpose flour
1/4 teaspoon salt
1 cup chocolate chips
Instructions
Mix together the egg, brown sugar, peanut butter, butter and vanilla until well-combined.
Add the flour, baking soda and salt and mix just until incorporated.
Fold in the chocolate chips.
Cover bowl and place in fridge for 1-2 hours.
Preheat oven to 350 degrees Fahrenheit.
Scoop out dough and make cookies the size of about two tablespoons. You don't need to roll the dough into balls. Place onto prepared cookie sheet.
Bake for 10-15 minutes or until the edges and tops of cookies are set but centers are still gooey.
Allow to cool for another 10 minutes.
Notes
Believe it or not, these cookies are even better the NEXT day!
Nutrition
Calories: 3628
Sugar: 318
Sodium: 1623
Fat: 159
Saturated Fat: 95
Unsaturated Fat: 52
Trans Fat: 4
Carbohydrates: 503
Protein: 46
Cholesterol: 471
(Visited 2,836 times, 1 visits today)