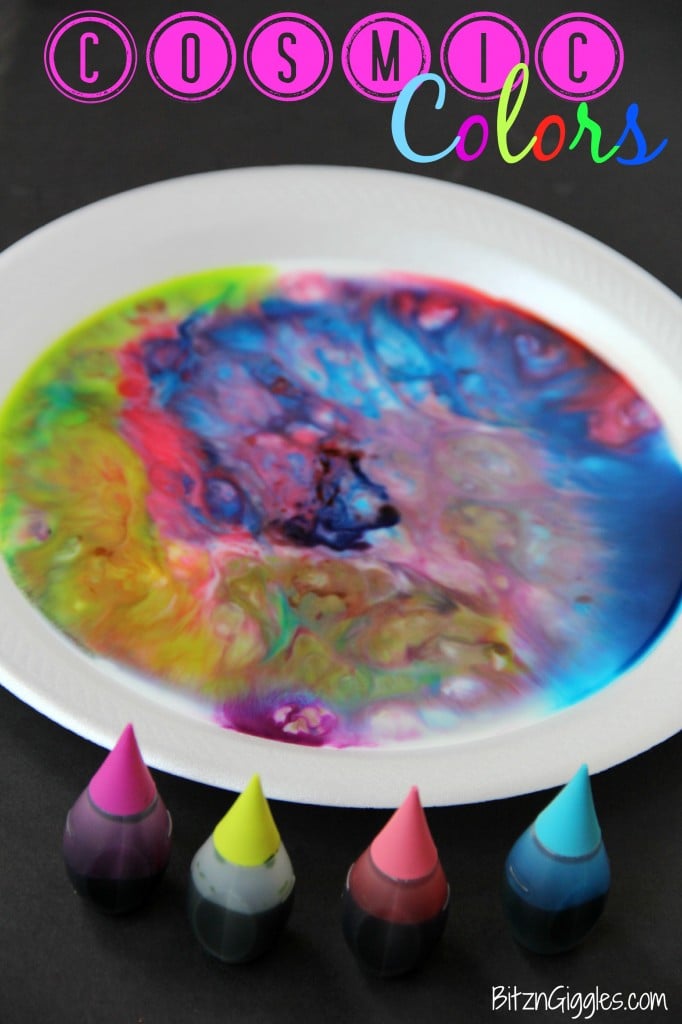 We attended Josh's grandparents' anniversary party the other day and as we stepped out of the car, his aunt came down the driveway to greet us. It wasn't a "hello" or "glad you could make it," it was, "I saw something really cool on-line the other day and thought of you!"
Since I've started blogging I've had lots of family and friends approach with with projects and ideas they saw on-line or have made on their own. I love new ideas, and if they come from my friends and family (the ones who have supported me from the very beginning), I'm more than willing to lend an ear. When Krista approached me that day it brought a big smile to my face and an appreciation for those who follow my blog.
I have to admit that most of the ideas I've heard of or seen before because of all of the time I spend on-line and on social media, but this one, for some reason, I had never come across. I promised Josh's aunt I would look into it and if I tried it and posted about it, she would be the first to know. So, Krista, I'm calling this project/experiment, "Cosmic Colors" and I'm dedicating it to you!
It's also the perfect 4th of July activity for kids. It's kind of like liquid fireworks! Well . . .kind of. You have to see it for yourself!
Here's what you need to do this amazing project:
Materials
Paper plate
Food coloring
1/4 cup whole milk (or enough to fill your plate)
Dish soap (I used Dawn)
Cotton swab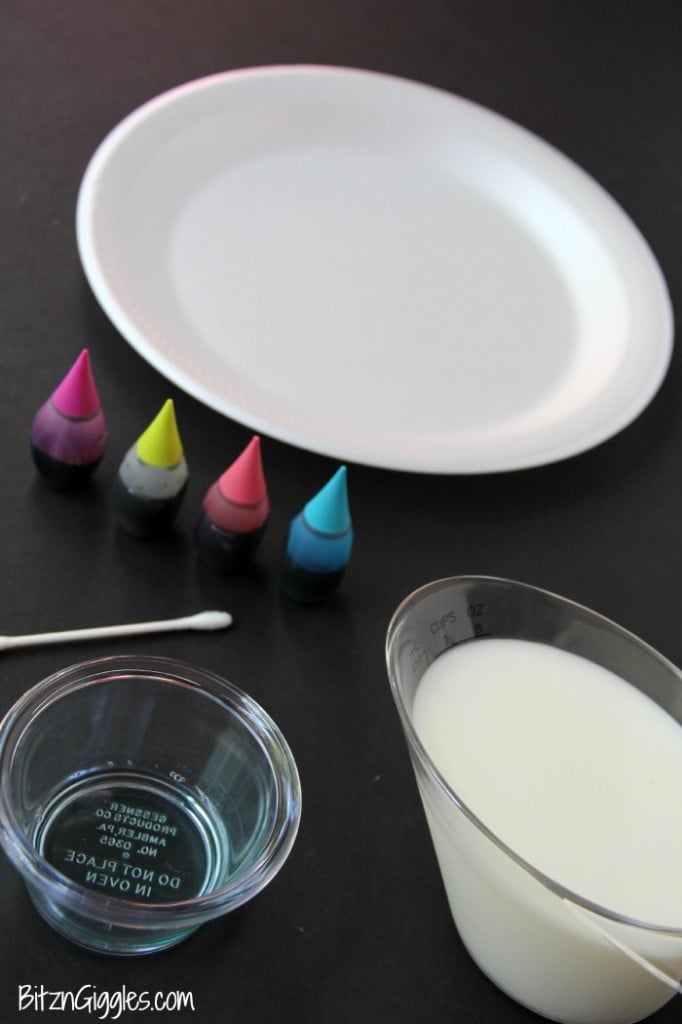 You'll want to:
Fill your paper plate with the milk.
Add about 3-4 drops of food coloring in little circles around the plate.
I made 4 circles each with a different color of food coloring.
Dip your cotton swab in the dish soap.
This is where the fun begins! I've always loved science experiments as a kid, and now my 5-year-old son does, too. Yeah! More fun for me in my adult years! If your kids go crazy over science, this is where you call them into the room (that is, if they're not helping you already). Get your swab positioned in the middle of the plate above the colors.
And just as an FYI, I was doing this project myself the day of the photo shoot, so I was holding my swab in one hand and my camera in the other. Not the ideal scenario, but I did it for you. . .and Krista. 🙂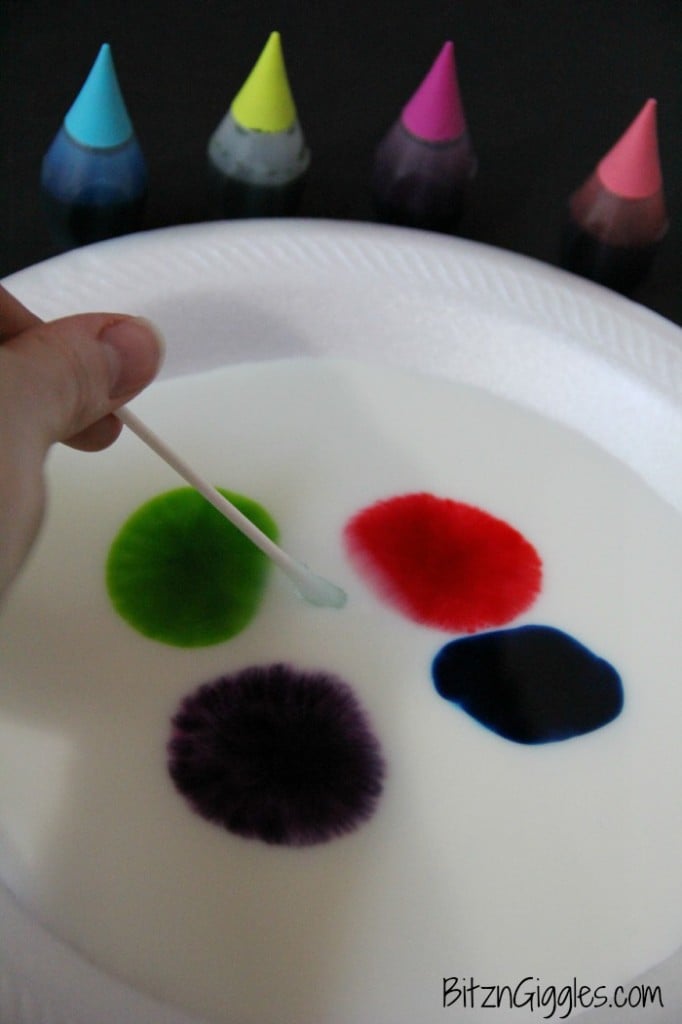 Now, place the dish soap-filled swab into the milk and watch the colors start to swirl.
According to Steve Spangler Science, milk is mostly water, but it also contains vitamins, proteins, minerals and tiny droplets of fat that are suspended in the solution. The dish soap lowers the surface tension of the liquid and reacts with the proteins, altering the shape of those molecules and setting them into motion, kind of like how dish soap helps to lift the grease off of dirty dishes.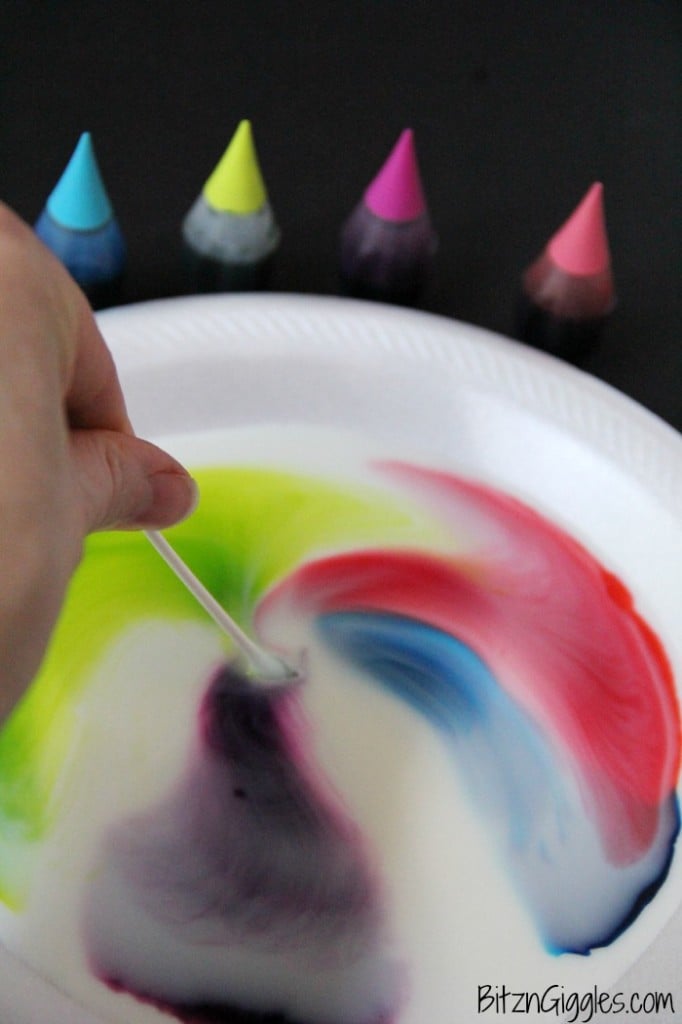 As the soap becomes equally mixed with the milk, the swirling of colors slows down and eventually ceases – but only AFTER quite a few seconds of wonderful fun!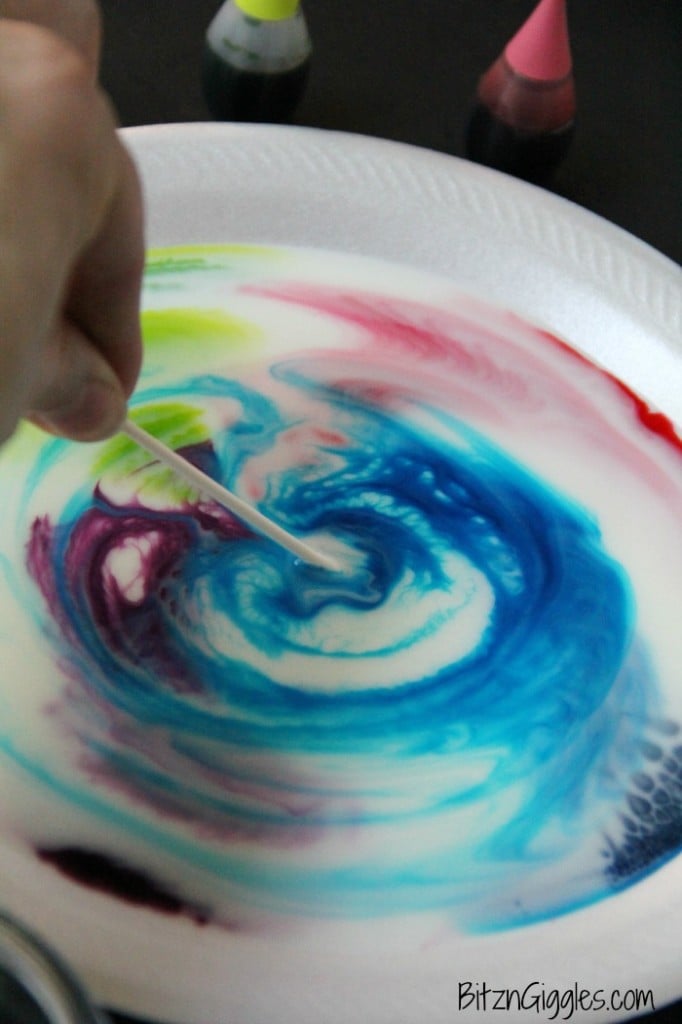 Almost every household in America should have what they need to try this project RIGHT NOW! So, what are you waiting for? Grab your kids and get to it! YOU WILL BE AMAZED!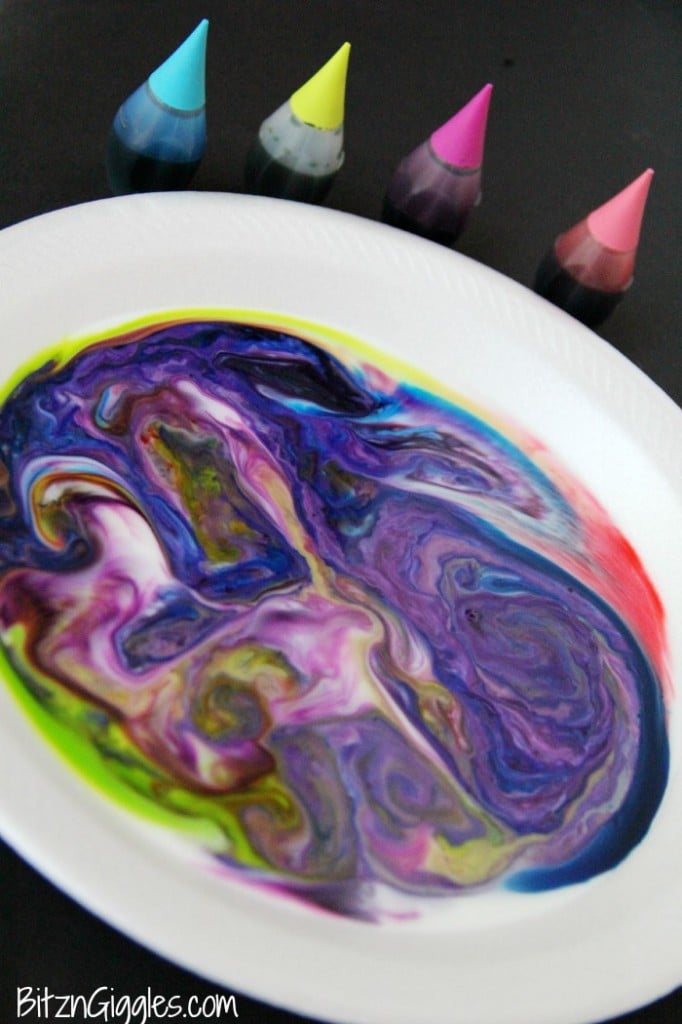 (Visited 15,233 times, 1 visits today)