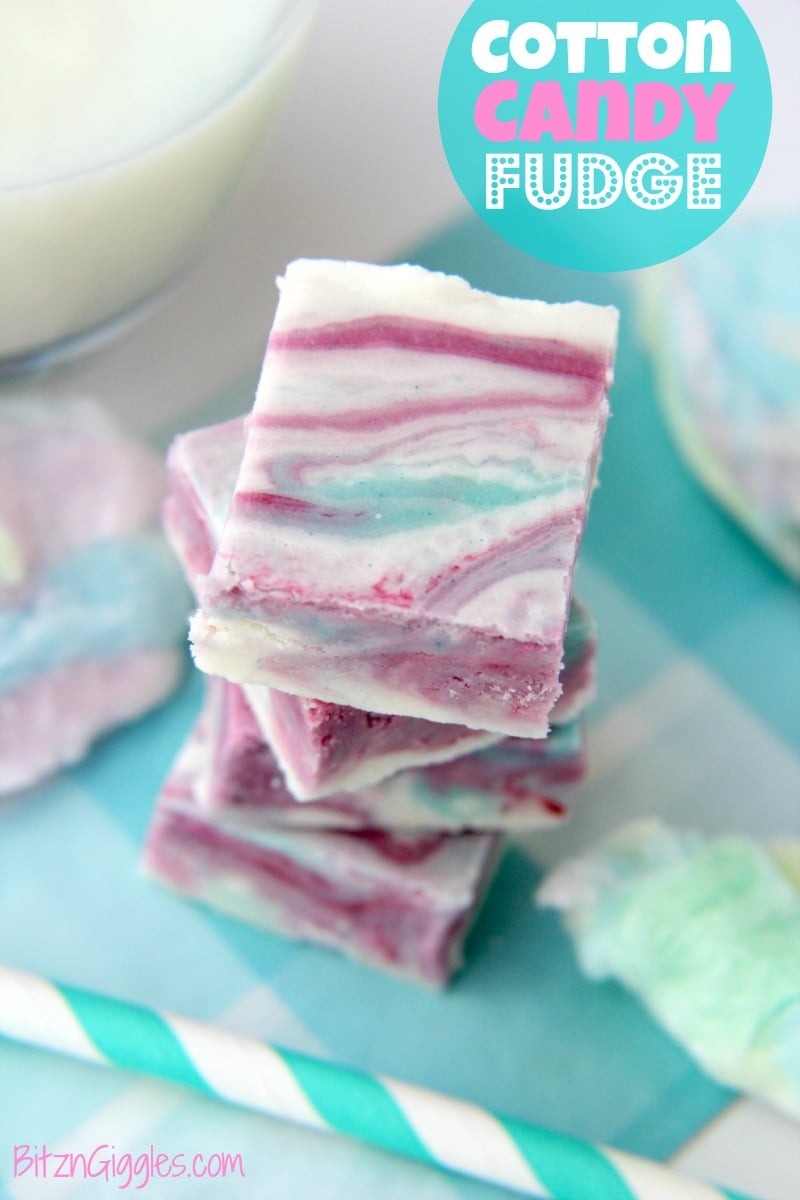 This post includes affiliate links. Please see my disclosure.

All this cold and snow can make a person feel as dreary as the sky looks outside their window, HOWEVER, today I'm bringing some color and sweetness to you with this delicious Cotton Candy Fudge! I shared this tasty treat over at Smart School House about a month ago and I'm so excited to bring it to my readers today!
I was surfing through channels the other night on the television and I happened to find a show that was highlighting carnival foods – you know, all of the stuff we're really not supposed to eat, but crave 24/7? The sweet, the fried, the treats on a stick? Yep, you know what I'm talking about.
Of course I watched the whole thing and then fell asleep dreaming of cotton candy. The smell, the taste, the color. I love cotton candy so much, I actually have a Cotton Candy Lemonade recipe that the kids beg me to make in the summer. Inspired by the show and in hopes of warmer weather soon, I thought it would be fun to share a fudge recipe with a sweet and colorful, carnival twist. Cotton candy flavoring is what keeps everyone coming back for more!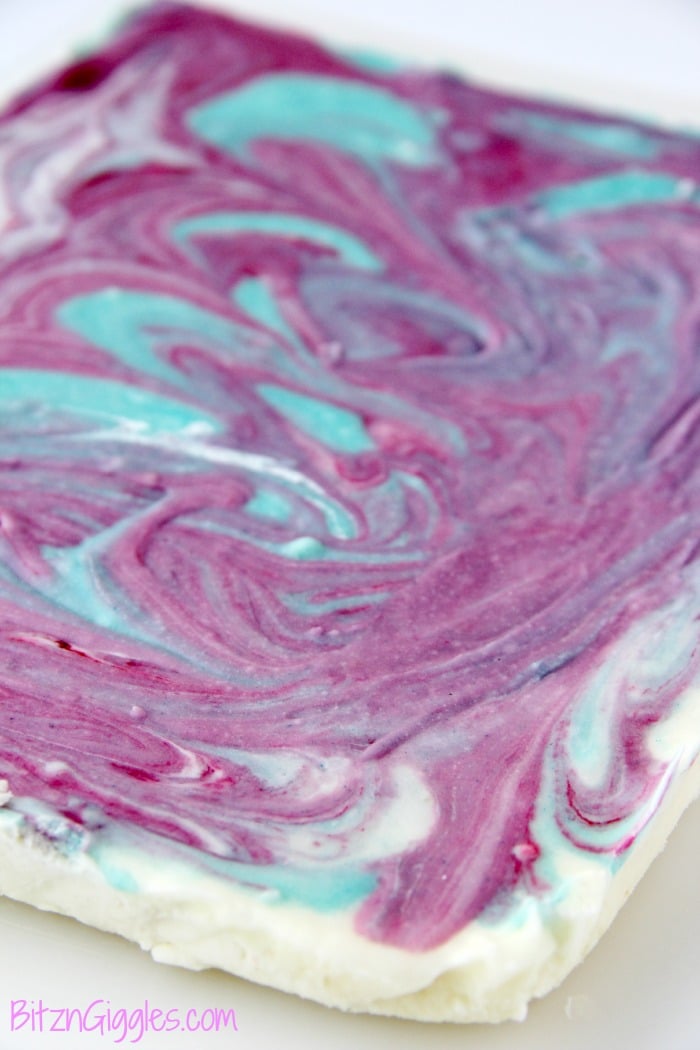 Kids love this fudge, adults love this fudge – it's an excellent dessert to serve at birthday parties and showers and even perfect for Valentine's Day and Easter!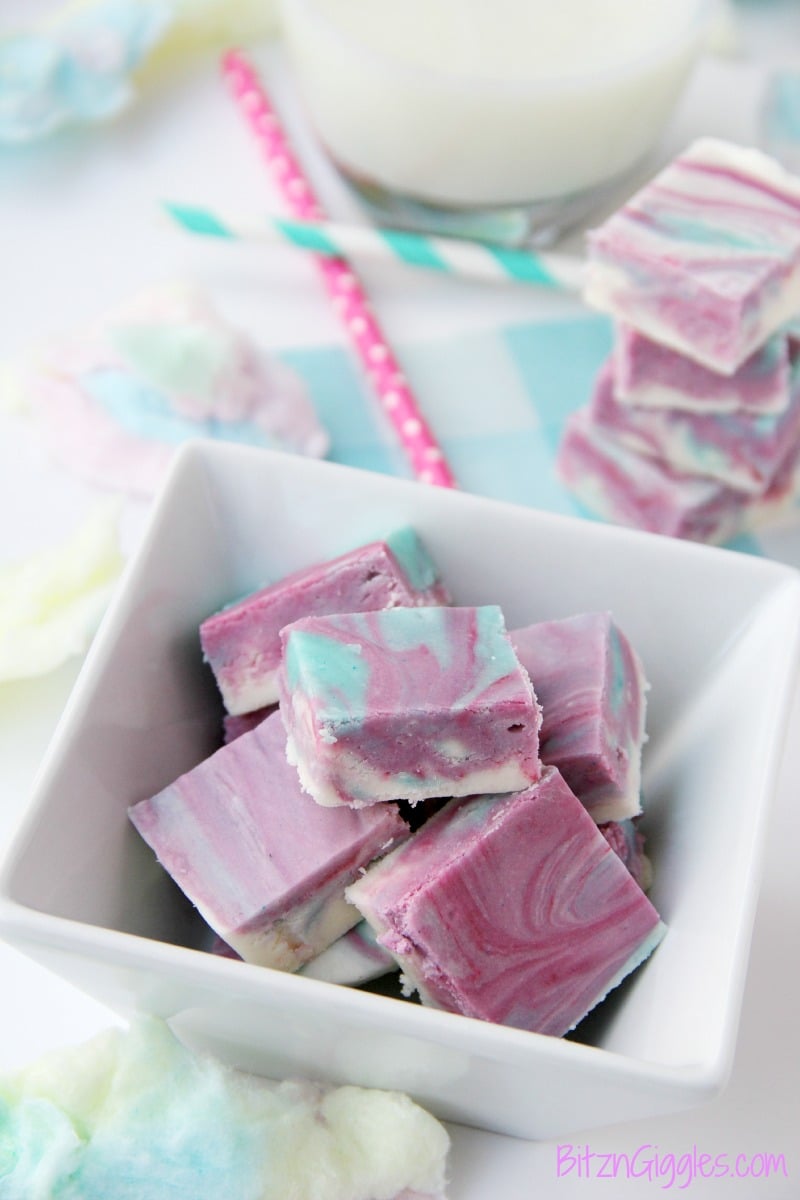 The recipe makes an entire 13 x 9 inch pan of swirled sweetness. Double the recipe and you'll be able to fill a good size platter with these little squares. And that's all you really need – one or two of these little squares to get your dessert "fix." Oh, alright. Maybe three or four. . .well, who's counting really? Bottom line is, one pan of this fudge goes a LONGG way.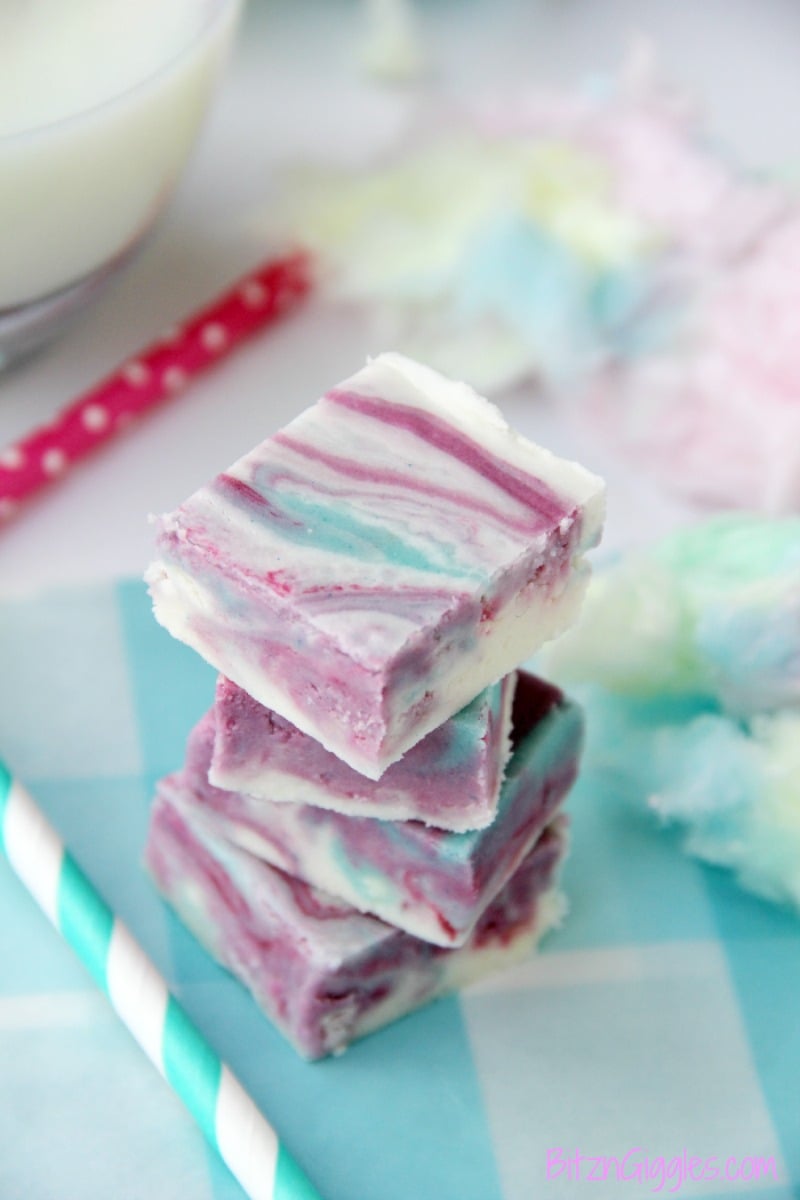 The swirled look to the fudge makes it more fun, more unique. If you put a plate of these little squares out at a party, it will certainly be a conversation starter, guaranteed. And once your guests taste a piece, they're going to be asking you for the recipe. . .trust me. Just take a closer look at that beautiful swirl.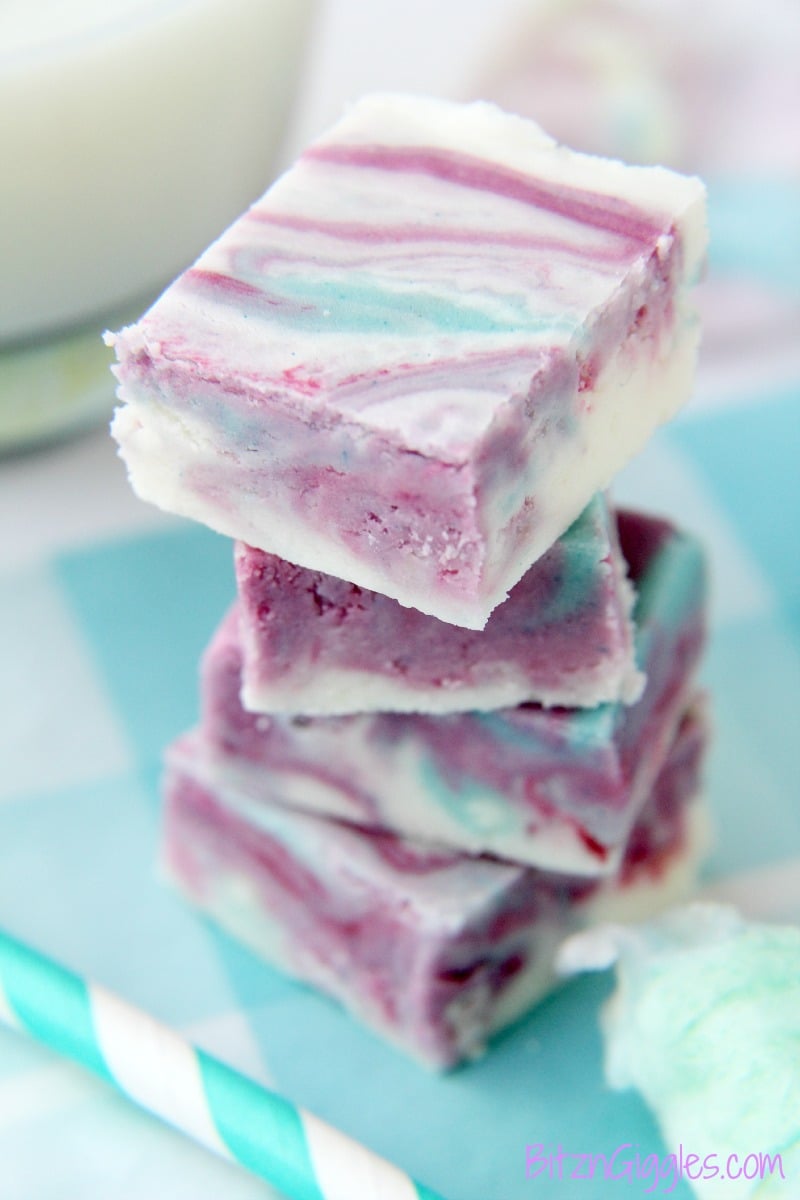 And EVERY piece of this fudge looks a little bit different. Is this fudge difficult to make, you ask? Have I ever shared anything that's been difficult to make? Nope, not me. It's all about simplicity and deliciousness. This fudge is super simple to make. The most difficult part is stirring the ingredients for four whole minutes while they're warming in the pan.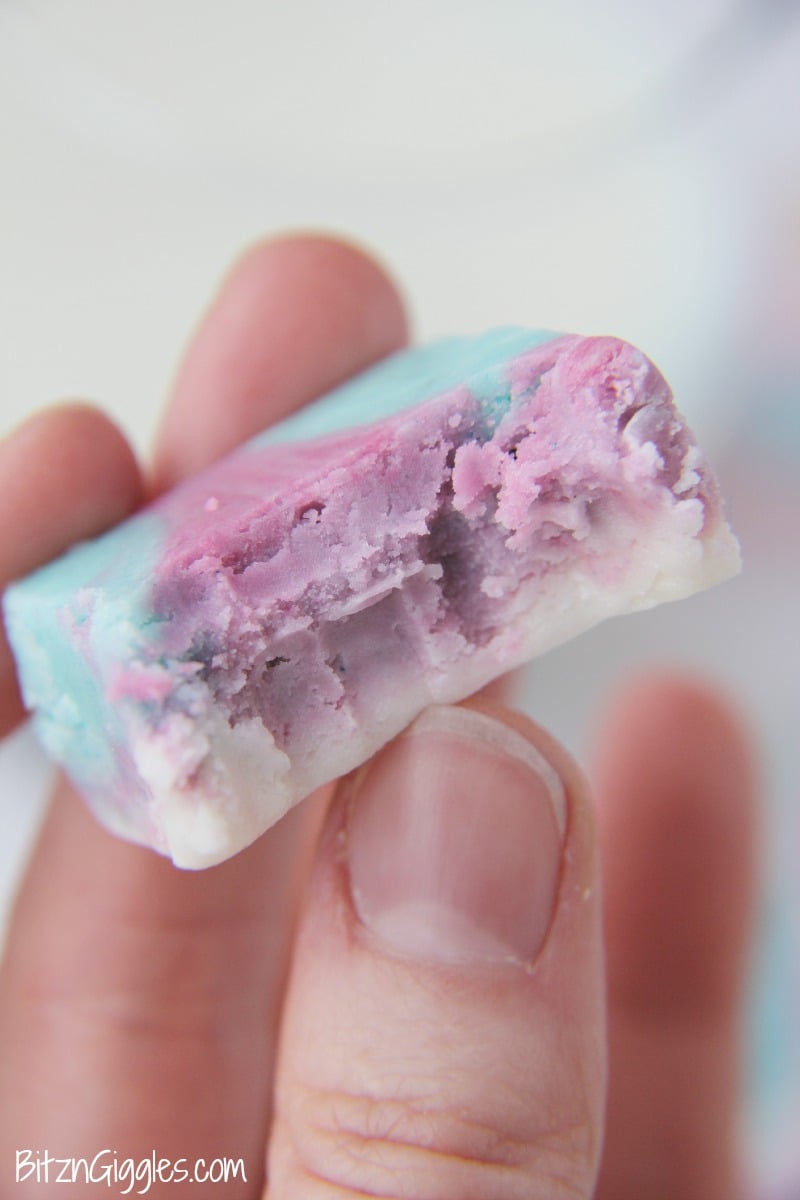 I took a bite out of my creation, and. . .it was GOOD. Oh, so good. What could maybe make it even better, you ask? PUT IT ON A STICK. Oh, yes I did.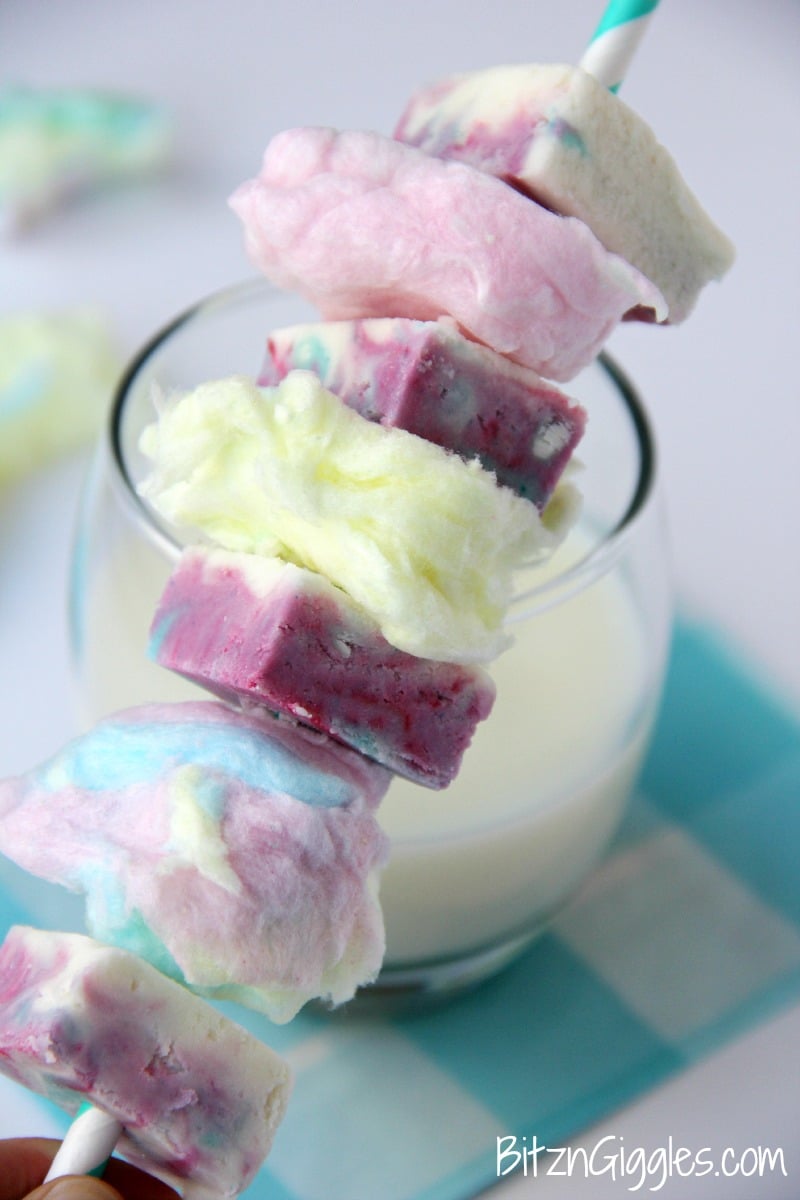 Can you even keep up with all of this foolishness? Fudge and cotton candy skewers. Wait until my mom reads this one. She's going to think I've lost my mind. How much worse is this than fried butter on a stick they sell at the Iowa State Fair? We're trying to forget it's cold outside, right? Right. See that glass of milk in the background? You're going to need that.
So, there you go. . .Cotton Candy Fudge. Sharing this with you all has made me feel so much better. Now I'm excited about summer, I've gotten my cotton candy fix and I can't wait to make another pan of this delicious fudge. It's happening for Valentine's Day for sure. A sweet treat for those I love the most!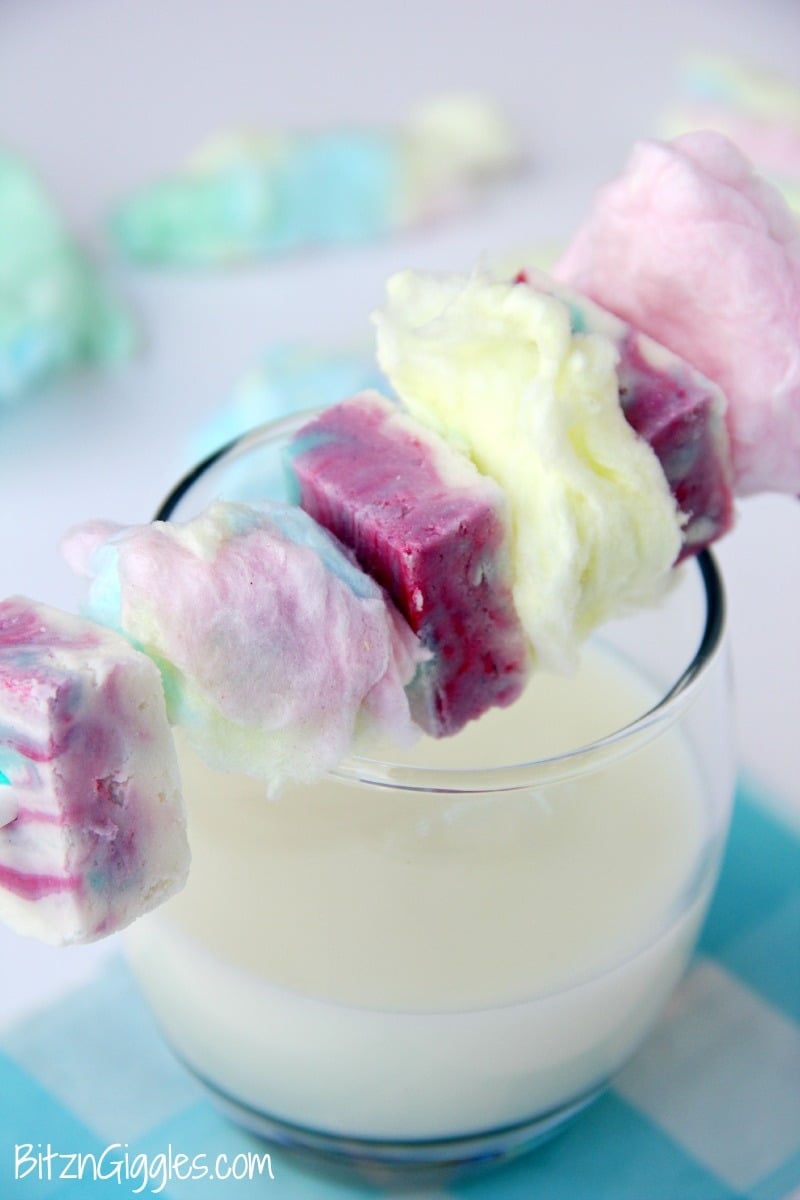 Cotton Candy Fudge
The smell, the taste, the color. I love cotton candy so much, I had to make it into a creamy fudge.
Ingredients
2 cups sugar
3/4 cup butter
12 ounces white chocolate or vanilla chips
7 ounce jar marshmallow creme
3/4 cup heavy whipping cream
1 1/2 teaspoons cotton candy flavoring
Pink food coloring (I used McCormick NEON food color)
Instructions
Line a 13×9 inch pan with foil and spray with nonstick spray.
Combine sugar, butter, heavy cream and butter in a saucepan, cooking and stirring over low heat until the sugar is dissolved.
Once the sugar is dissolved, bring the contents to a boil while stirring for about 4 minutes. Remove from the heat and mix in the marshmallow creme and vanilla chips until all of the chips are melted.
Pour 3/4 of the mixture into the foil-lined pan.
Add the cotton candy flavoring to the saucepan and stir until combined.
Drop or drizzle spoonfuls of the cotton candy mixture over the mixture already in the pan.
Add 2-3 drops of the pink food coloring in various areas on top of the fudge in the pan and then cut through the fudge with a butter knife to make the swirls.
Cover and allow to set in the refrigerator.
Remove the fudge from the pan by picking up with the foil and then cutting into squares.
Nutrition
Calories: 5862
Sugar: 694
Sodium: 556
Fat: 314
Saturated Fat: 195
Unsaturated Fat: 97
Trans Fat: 6
Carbohydrates: 764
Protein: 27
Cholesterol: 682
Looking For More Sweet Fun?

Valentine Rice Krispie Treats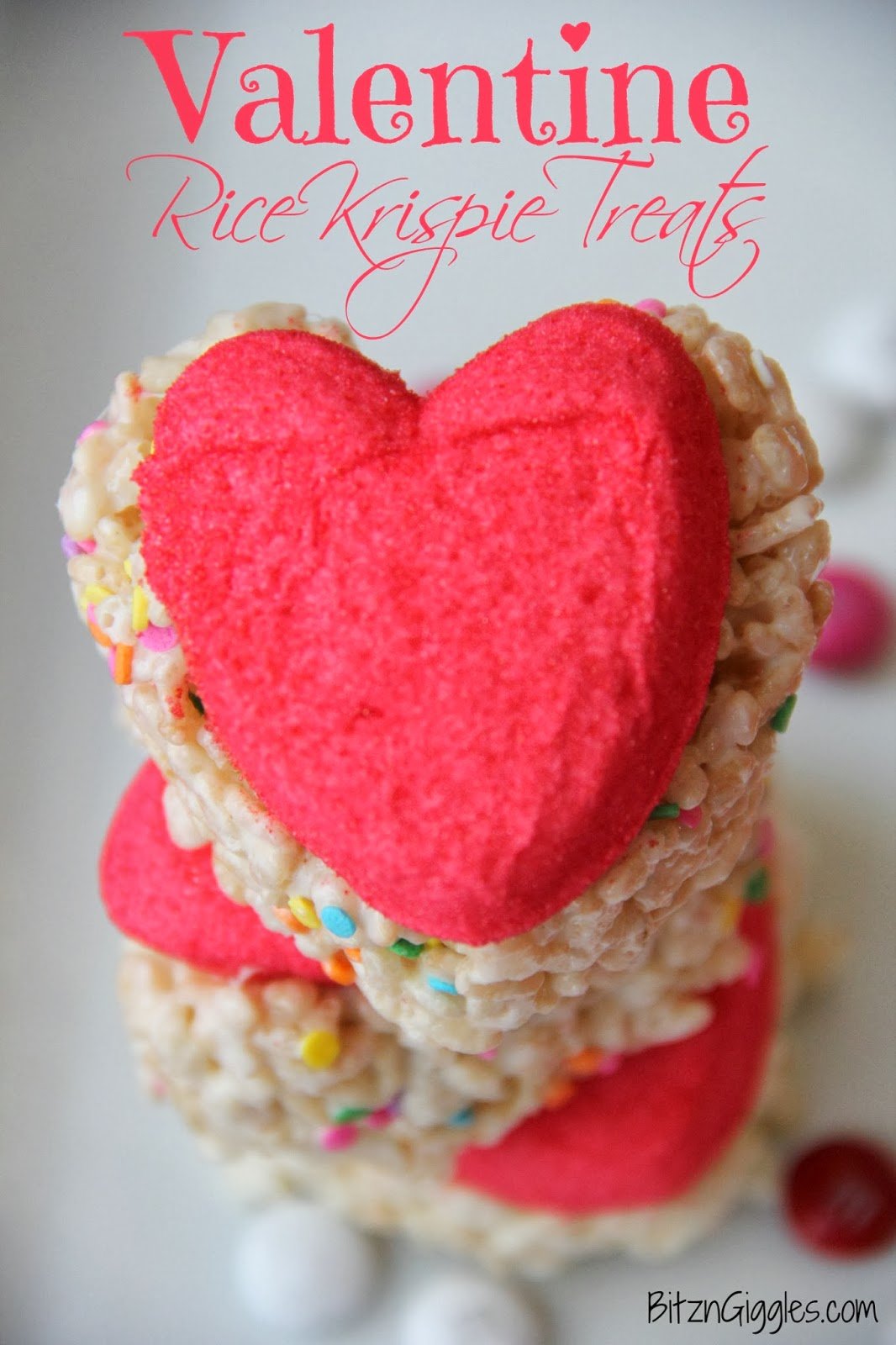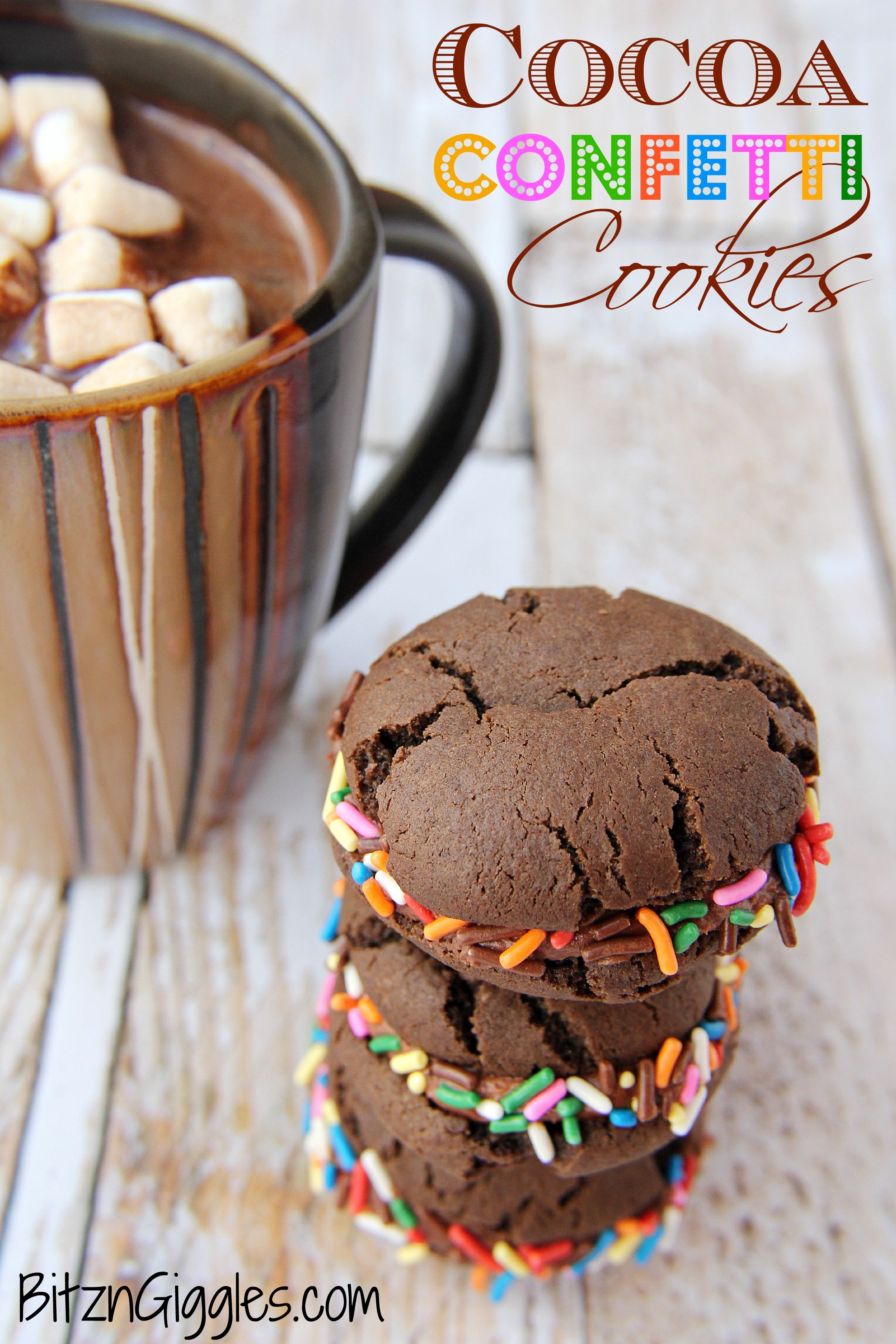 CONNECT WITH ME HERE:
Twitter | Instagram | Pinterest | Google+ | Facebook | Bloglovin'
(Visited 36,784 times, 1 visits today)