Do I Need a Stroller for My Preschooler at Disney World? – Make sure your trip to Disney World is a magical one with minimal crying and whining. Our stroller rental was a lifesaver at Disney World!

This post includes affiliate links. Please see my disclosure.
Disney World. . .the most magical place on Earth. Our family just returned from our very first Disney vacation this past weekend. We surprised the kids with a land and sea package, meaning, we spent five days in the parks and then boarded the Disney Dream for a four-night Bahamian cruise.
Since it was our family's first trip to Disney, I really wanted things to go as smoothly as possible. I didn't want anything to ruin the "magic". . .even though I was clearly aware we were going to have some rough moments and utter melt downs during the trip.
One of the decisions I needed to make during our trip planning was whether or not to take or rent a stroller for our time in the parks.
Since you're reading this right now, I'm assuming you are trying to make the same decision. If that's the case, I hope you find this helpful and it assists you in making the right decision for your family!
HOW DO I DECIDE IF I NEED A STROLLER AT DISNEY WORLD?
If you have infants or toddlers, you will undoubtedly be using a stroller at Disney. I URGE you to use a stroller at Disney World. Our situation was a little bit different. Our youngest, Cora, was four years old when we left on the trip and turned five on the day we disembarked from the Disney Dream to head back home.
I had searched Google looking for some advice on whether or not our family needed a stroller, and most everything I found left it up to the parents' discretion, with strong advice to use a stroller if you had a child under the age of six.
I'll admit, it was a pretty easy decision for our family. I can't take Cora to a grocery store without her asking for a ride in the cart. I knew if we didn't have a stroller, we'd have a lot of whining and complaining (that could have been avoided) that would take away from the "magic" of the trip.
I was also well aware that we would be walking quickly at times, and it would be difficult for her to keep up. Lastly, I knew that if she was in a stroller. . .I would know where she was and wouldn't have to worry about her wandering away from us while in the parks. Sold? I was.
If your child also has difficulty "keeping up" on family walks or outings, a stroller is something you should seriously consider for Disney World. There is A LOT of walking and it is STEAMING HOT. We were sweaty pigs (there's just no other way to explain it) each and every day we visited the parks.
Rent vs. Take Your Own
I started researching stroller rental options, as well as trying to decide if it made more sense to just take our own stroller. Since we no longer really used a stroller at home, renting seemed like the more logical option.
Now some of you are saying. . ."I could probably buy a stroller for less than it would cost me to rent one." That may be true, but for the sake of convenience and quality of stroller, I went the rental route. . .and I'm SO glad I did.
CHOOSING A STROLLER RENTAL COMPANY
I did a lot of research on stroller rentals. I also found a helpful stroller chart over at WDW Prep School, and ultimately decided to go through Kingdom Strollers, a Disney featured stroller provider, out of Orlando. I had seen them featured in my Unofficial Guide to Walt Disney World as well as by other Disney bloggers I follow.
Their website was really user-friendly, and most importantly, they offered a stroller (the Mini GT Single™) that would appropriately fit a taller preschooler like Cora.
I had a couple questions about the stroller options, etc. while I was making my decision, and Kingdom Strollers owner, Matt Wilhite, was very responsive and accommodating to our needs and questions. It convinced me that I was making the right decision, for sure!
WHY I CHOSE THE MINI GT SINGLE?
The Mini GT Single™ (retails at over $350) offered plenty of leg and head room to stay comfortable while riding.
The stroller held up to 60 lbs. but was one of the lighter strollers at 25.6 lbs. and offered one-hand folding (which is a big deal when you're getting on and off buses and ferries). A quick trip out to YouTube to figure out how to fold the stroller up, and we were on our way!
WHAT'S INCLUDED WITH THE RENTAL?
Kingdom Strollers had a great selection, and I loved the free perks that came along with the rental: a *cooler bag to store water bottles while at the park (the bag hooks onto the stroller), a parent console to hold your phone and drinks and a *rain cover to keep your little one and the stroller (with all of your belongings inside) dry during those brief Orlando downpours.
*Just remember, if you would like a cooler bag or rain cover with your rental, make sure to select it on the reservation page when placing your order.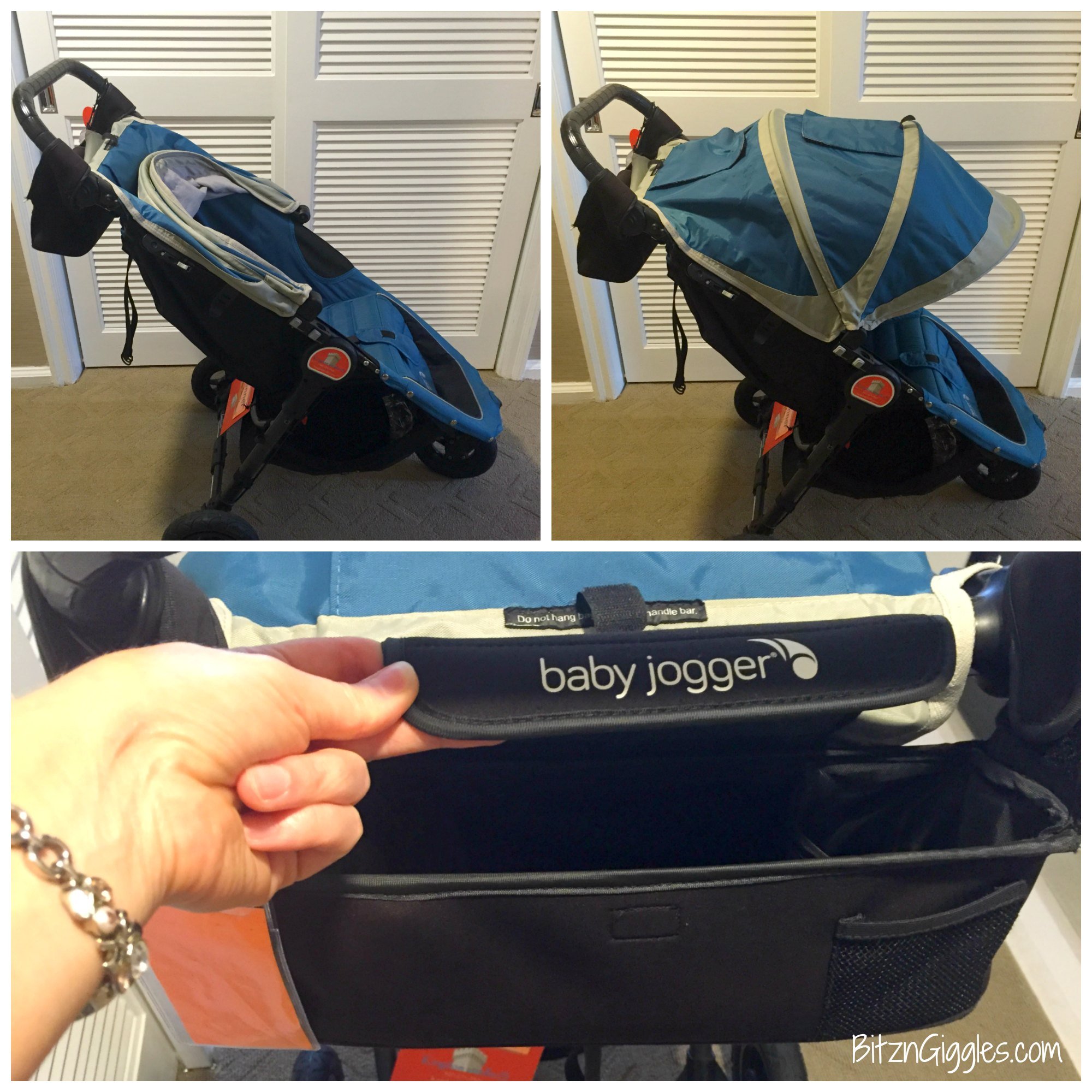 It rained on us only once when we were at the International Gateway entrance to Epcot. We kept the rain cover right in the bottom storage basket of the stroller. It was easy to pull out and put over the entire stroller to keep all of our "stuff" and Cora, dry.
I wish I would have taken a picture of the rain cover in use, but the entire family was busy getting our own ponchos on and we didn't even think about taking out our camera until the rain stopped. On top of all of that, we were almost late for our dinner reservations to Biergarten that evening! Thankfully, we made it!
PICK-UP AND DROP-OFF
When I ordered the stroller, I indicated the Disney resort where we were staying and also chose preferred drop-off and pick-up times that coincided with our travel plans. Kingdom Strollers offers delivery straight to your resort, hotel or vacation rental free of charge. Our family stayed at Disney's Beach Club Resort.
The day we checked in to our hotel, our stroller was there waiting for us at bell services. Dropping off the stroller back at bell services was just as easy.
Stroller Parking
If you're worried about parking your stroller while at the parks, don't!! There is PLENTY of stroller parking, either in designated stroller parking lots in the parks or along the curbs outside of the attractions.
We never had trouble finding a spot to park and, believe it or not, we never had much trouble locating the stroller after we were finished with an attraction either.
SOME FINAL STROLLER TIPS
Pack some cooler packs into a ziplock bag and place them in your checked luggage.
Put your cooler packs in your hotel room's mini fridge's freezer after you check in.
Use two cooler packs in the morning in your stroller's cooler bag and then switch them out with two additional frozen packs for the evening. It worked like a charm for us.
Note: Our hotel room's mini fridge didn't have a freezer. I called the front desk requesting a fridge with a freezer. They were able to fulfill my request and left the original fridge in the room as well! It was really nice having the two fridges. We kept food in one and drinks in the other.
Use your stroller to transport laundry to and from your hotel's laundry room.
I had requested a room at the Beach Club Resort that was close to a quiet pool and laundry room. The stroller worked great for transporting our clothes back and forth. The kids swam in the pool while I did the laundry. I even folded it out at the pool and then transported the clothing back to our room using the stroller. How convenient!
Pack some glow bracelets and necklaces from the dollar store.
In the evenings, it's fun for the kids to wear glow bracelets and necklaces. It's also much more affordable to take your own, than to purchase something while in the parks. Clip a couple bracelets around the handle of the stroller to make it easy to find at night if you choose to park it.
THE BEST DECISION EVER
I am so thankful I made the decision to rent a stroller when we visited Disney World. . .I think Cora was, too. Beyond the stroller offering her some relief from the sun, it gave her the opportunity to relax and have a snack or drink while we walked to the next attraction. The storage the stroller provided was GREAT!!
It saved us from hauling around heavy bags filled with water bottles, ponchos, snacks and souvenirs. It also helped us stay on schedule, especially when it came to dinner reservations!
Navigating your way through crowds isn't easy when you're a preschooler!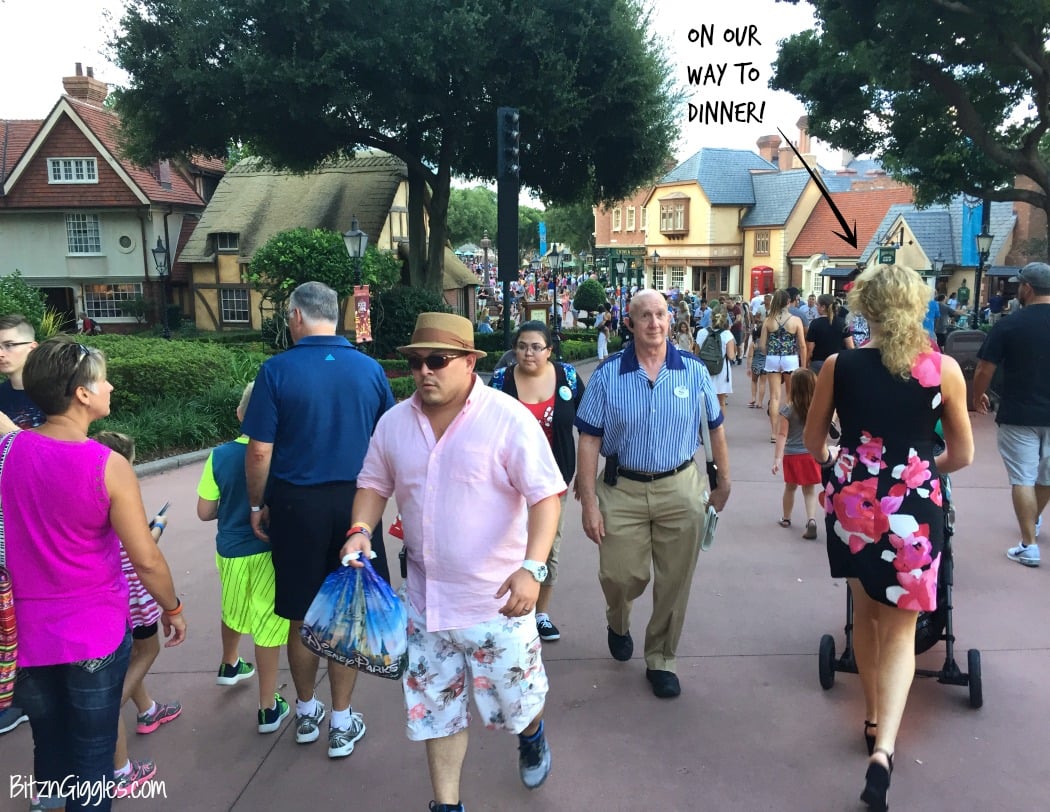 So, yes. . .what a lifesaver! I hope this helps your family decide whether or not your preschooler will need a stroller at Disney World. I truly can't imagine what the trip would have been like without it.
Honestly, I'm not sure I even want to know! Do you plan to rent a stroller while at Disney for your preschooler? Let me know in the comments!
I received a complimentary stroller rental from Kingdom Strollers in exchange for my honest review. As always, all thoughts, opinions and text are my own.
(Visited 2,629 times, 1 visits today)