Easy Chocolate Mug Cake – Ready in 90 seconds! This mug cake is moist and delicious with melty chocolate fudge throughout!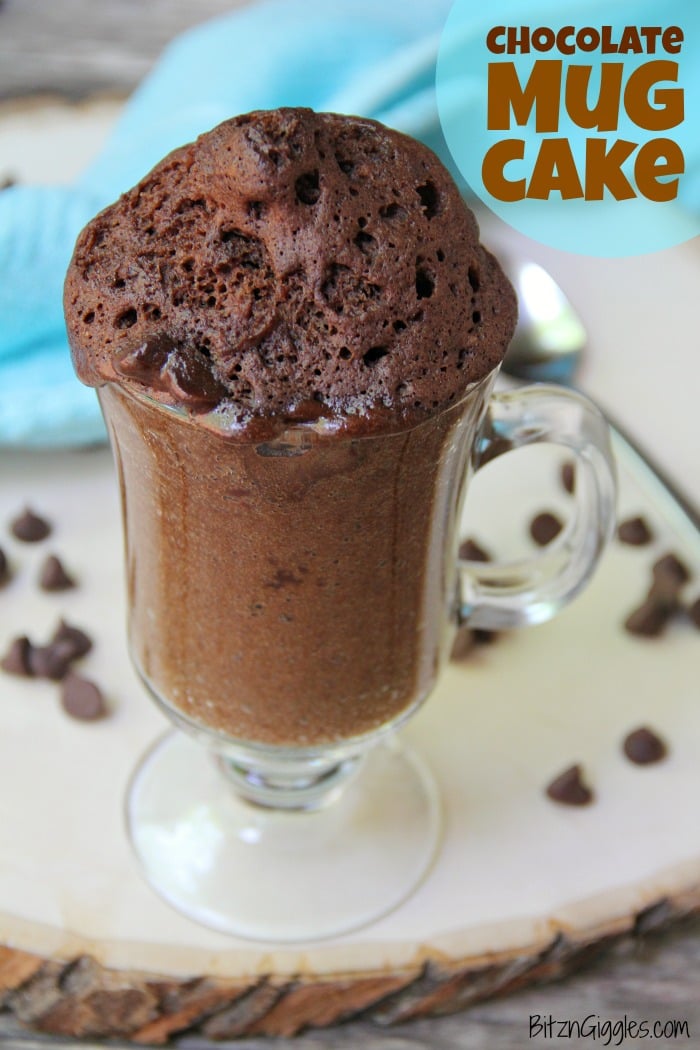 This post may include affiliate links. Please see my disclosure.
Let's just have a moment of silence to pay respect to the last couple weekends left this summer before the kids head back to school.? I know that many families already have kiddos back to school and they're well into the swing of things while others recently dropped theirs back off at college.
Back-to-school is a momentous time of year, worthy of lots of preparation, memorable photos and even (yep, I'm going to say it) bittersweet tears. It means our children, grandchildren, nieces and nephews are growing up. . .and too quickly.
One of the other things that grows by leaps and bounds this time of year are visits to my vanilla mug cake recipe. It makes my heart so happy to hear from oodles of college students each year that love this recipe enough to comment, tag and email me about it.
Soooo. . .today, I'm sharing a recipe for an easy Chocolate mug cake that's based off of the vanilla recipe everyone has been swooning over.☺️
Preparing the Chocolate Mug Cake
In just a few steps with a few simple ingredients, you can prepare and EAT this chocolate mug cake in under 10 minutes for sure – less, if you just let the flour fly.
I mix the ingredients in a bowl first because I "layer" the chocolate chips.
In a small bowl, add the flour, baking powder, sugar, butter, milk, vanilla extract, salt and cocoa powder.
Mix it all up.
Pour half of the batter into a greased mug. Top with a tablespoon of chocolate chips. Then repeat those steps with the remaining batter and chips.
After 90 Seconds in the Microwave
After only 90 seconds, you have a moist and delicious chocolate mug cake with melty chocolate fudge throughout! The melty chocolate flows all the way down into the dessert because of the layering step with the chocolate chips.
Tip: If you don't want so much chocolate (is this a thing?), you could just add one tablespoon of chocolate chips to the center of the dessert and omit the extra tablespoon on top.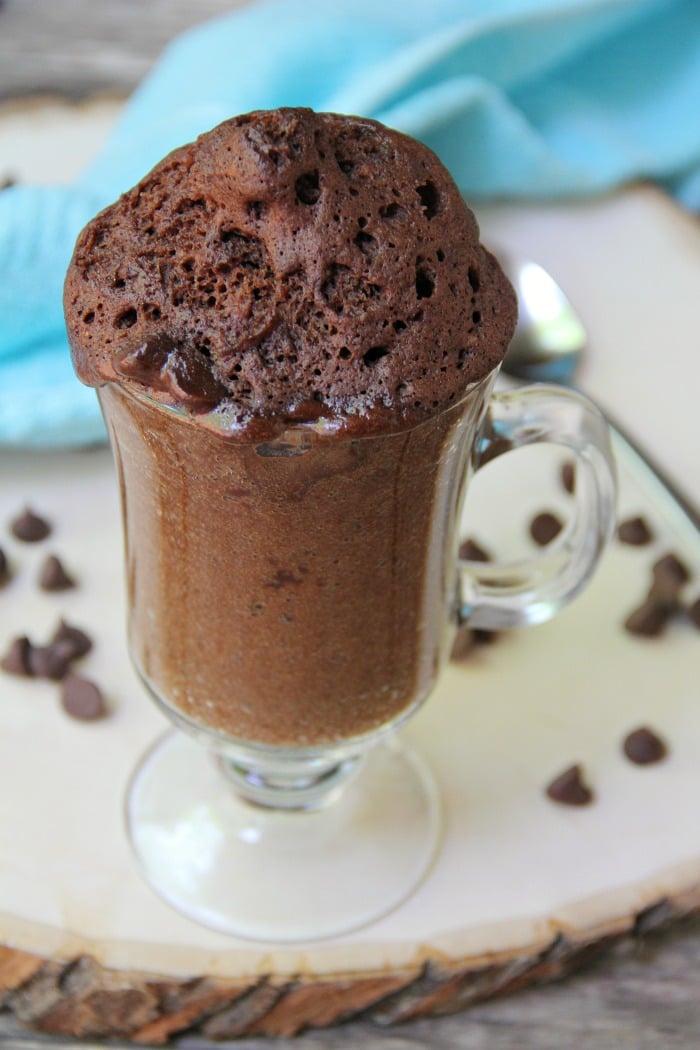 As you probably noticed, the cake did rise out of the mug a bit. With a taller, more narrow mug, I was expecting that. You can also use a larger, wider mug if you'd like the cake to bake more flat.
Feel free to top the mug cake with a dollop of whipped cream or ice cream. If you choose ice cream, the larger, wider mug will work best!
Just look at that gooey chocolate inside!!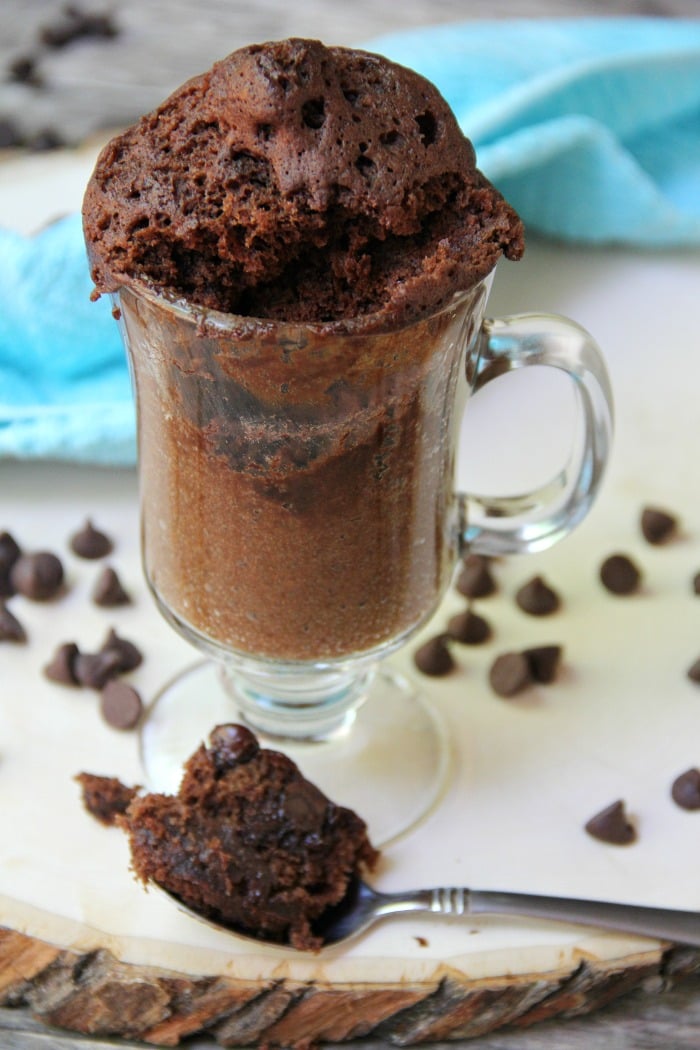 So, so good. Share this recipe with your kids so they can make this mug cake after school and right from the convenience of inside their dorm. And, print this recipe off for yourself, too, to enjoy when you're needing just a little something sweet.?
Craving More Quick Mug Cake Recipes?
Easy Chocolate Mug Cake
Ready in 90 seconds! This mug cake is moist and delicious with melty chocolate fudge throughout!
Ingredients
4 Tablespoons flour
1/2 teaspoon baking powder
3 Tablespoons sugar
1 Tablespoon butter, melted
5 Tablespoons milk
1/2 teaspoon vanilla extract
Pinch of salt
1 heaping tablespoon unsweetened cocoa powder
2 tablespoons chocolate chips, divided
Instructions
Mix all ingredients in a bowl.
Pour half of batter into greased mug.
Top with 1 tablespoon chocolate chips.
Pour remaining batter into mug.
Top with remaining chocolate chips.
Microwave on high for 90 seconds.
Enjoy immediately.
SaveSave
SaveSave
SaveSave
SaveSave
SaveSave
SaveSave
SaveSave
SaveSave
SaveSave
SaveSaveSaveSave
SaveSave
(Visited 23,420 times, 1 visits today)