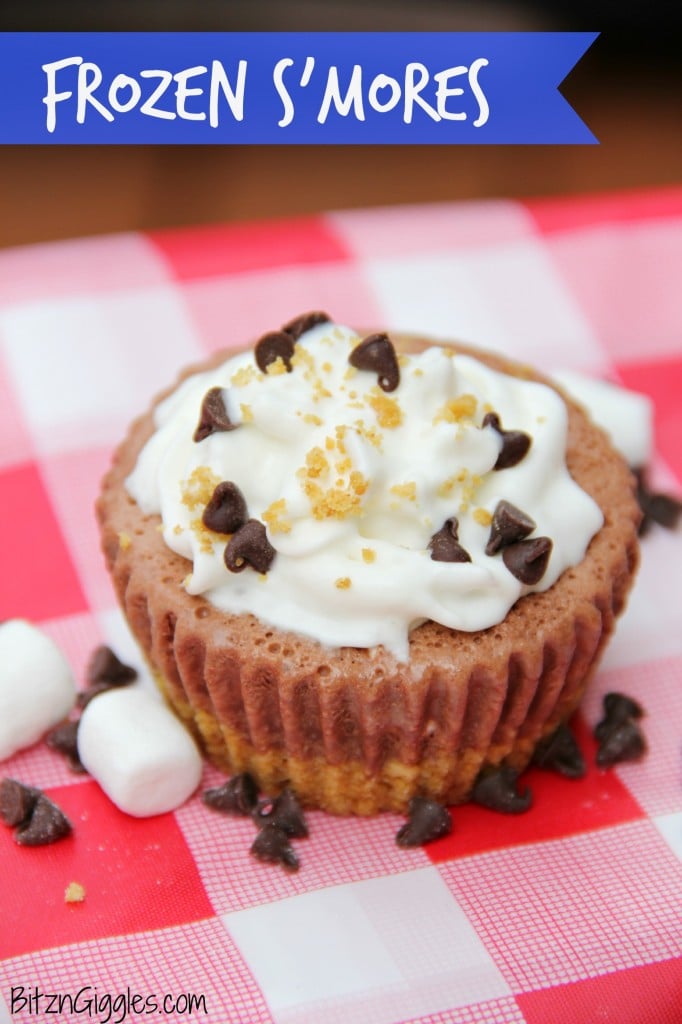 Who's excited about the upcoming weekend? I can't wait to spend it up at the lake with family and friends! I've waited ALL winter for this, and we leave today! The car is packed, the menu is planned and all we're hoping for is some halfway warm weather. I've seen so many of my blogging friends comment how warm it is by them already. Here in Wisconsin it's still freezing some nights!
I'm sure we'll be huddled around the fire making s'mores this weekend, but if you're in another part of the U.S. where it's hotter than hot, I can understand how sitting around a fire may not be your first choice. That's why this twist on a nostalgic campfire treat is definitely for you!
This week after I had done some grocery shopping I opened the freezer to put away some vegetables and ice cream containers came falling out! Ok, so somehow we ended up with way too much ice cream. That's when I knew I needed to make a batch of these Frozen S'mores.
There's just something about ice cream that screams summer. With the slow warm-up we've been having around here, the hoarding of ice cream could be a direct result of my unhappiness with the cold weather.
For these frozen treats I just grabbed my muffin tin and placed cupcake liners in each of the cups.
I mixed up my graham cracker crust and firmly pressed the mixture into the bottom of each of the cups using the back of a baby feeding spoon. My two-year-old still has a special place in her heart for this spoon. She often asks for it when she's eating ice cream. It's so small that it takes her forever to finish her treat, but it makes her happy so we keep it around.
I prepared a mixture of heavy whipping cream and mini chocolate chips and heated it in the microwave until it was well-combined.
Then I spooned a bit into each of the cups.
Don't forget the stars of the show! Marshmallows! What's a s'more without any marshmallow? Not a s'more, that's for sure. I sprinkled a few into each cup.
I had about 1/4 of a container of ice cream left – about 3 cups. I just heated it for about 45 seconds in the microwave so it was softened. If you're working with a new container of ice cream, you could always just let the ice cream set out for awhile while you prepare the rest of the dish. You want it soft enough to be able to spoon out into each of the cups.
Once the ice cream is in the cups, smooth the tops over with the back of a spoon and stick the entire pan in your freezer for a few hours.
Top with Reddi-wip, graham cracker crumbs and mini chocolate chips right before serving. At our house sometimes we use forks to eat these and other times we just peel off the cupcake wrapper and eat with our hands. Why not, right? These are the perfect little treats for a family gathering or birthday party.
This week and weekend will be s'more-filled for our family, and we wouldn't have it any other way! What are your plans for Memorial Weekend? Regardless of where you live, plan to enjoy some s'mores! Because, whether over a campfire or frozen, these treats are the perfect addition to any party or celebration!
Frozen S'mores
A cool twist on a nostalgic campfire treat!
Ingredients
1 1/2 cups crushed graham cracker crumbs, divided
1/3 cup butter
1/4 cup heavy whipping cream
1/2 cup milk chocolate chips
2 cups mini marshmallows
3 cups softened chocolate ice cream
1/4 cups mini chocolate chips (as topping)
Reddi-wip whipped topping (as topping)
Instructions
Melt the butter in a microwave safe bowl.
Mix the melted butter with the graham cracker crumbs until well combined.
Place cupcake liners into all 12 cups of a muffin tin.
Evenly divide crust mixture into all of the cups, saving about 1/4 cup to use as topping later. (I used the back of a baby feeding spoon to press crumbs firmly into the bottom of each cup).
Place milk chocolate chips and whipping cream into a small bowl and microwave in 30 second increments, stirring in between, until melted and smooth.
Spoon chocolate into the center of each cup, on top of the crust.
Sprinkle a few of the mini marshmallows into each cup.
Spoon the softened chocolate ice cream over the marshmallows into each cup and smooth the tops over with the back of a spoon.
Freeze for a couple hours.
Top with Reddi-wip, graham cracker crumbs and a few mini chocolate chips before serving.
Nutrition
Calories: 3128
Sugar: 262
Sodium: 1112
Fat: 177
Saturated Fat: 105
Unsaturated Fat: 61
Trans Fat: 2
Carbohydrates: 366
Protein: 37
Cholesterol: 408
(Visited 5,844 times, 1 visits today)