This weekend was certainly a busy one! Ok, ALL of our weekends lately have been busy. It's been a good busy though. Weddings, family parties, spur-of-the-moment cookouts, sleepovers up at the lake cabin. . .this is what I had been waiting for all winter. Now that it's here, I'm completely overjoyed, and when I collapse onto my bed at the end of the day out of pure exhaustion, I still wake up the next morning excited and ready for the day ahead. That's what summer does to me and I LOVE it.
One of the other things that makes me happy in summer are fresh vegetables. This weekend we made some fresh vegetables on the grill and they were absolutely delicious.
It really doesn't matter what vegetables you use. I chopped up some yellow squash and threw in some broccoli florets and fresh mushrooms. Asparagus, red and yellow peppers, onions and cherry tomatoes are also delicious! No matter what vegetables you use, the magic is in the dressing. I love using balsamic vinaigrette to season veggies on the grill. Now, if for some reason you don't like balsamic, you could substitute with Italian or other vinaigrette-style dressing.
In my opinion, the mushrooms were really the star of the show. When all was said and done, these babies tasted divine. I think I could have eaten a pan of just the mushrooms alone.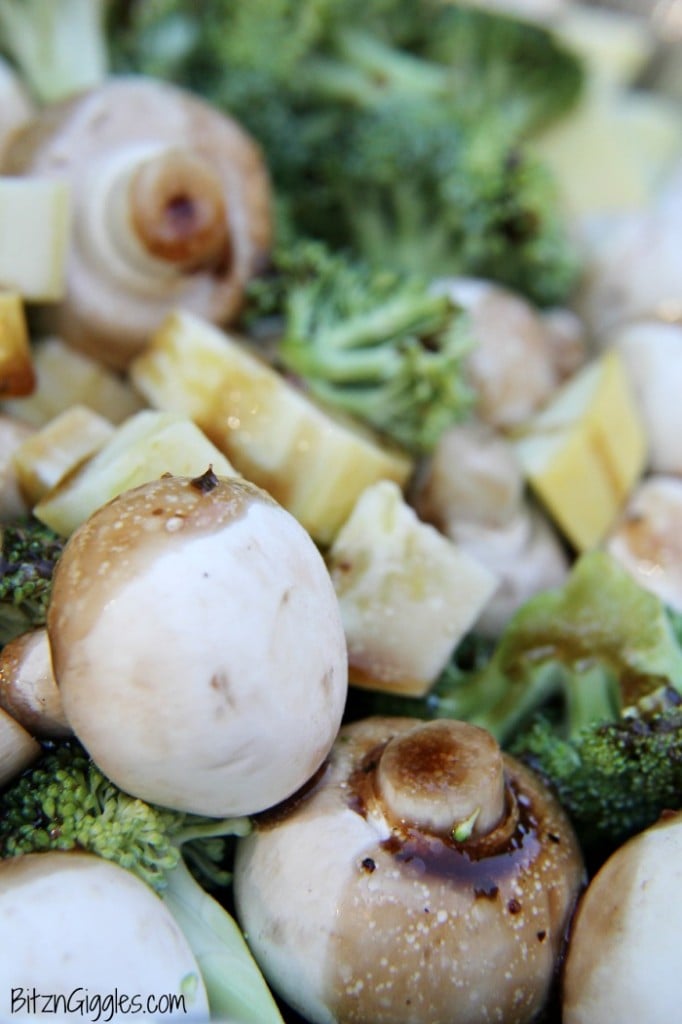 Tossing the vegetables with the balsamic dressing gave them just the right combination of tang and sweetness.
For ease of grilling and clean up, I usually toss all of the veggies into a foil pan with the dressing and then cover the pan with foil. While the veggies are cooking on the grill, it's easy to shake the pan around to make sure everything cooks evenly.
When the vegetables are ready (usually after 20 minutes or so) I remove them from the grill, spoon them onto a platter and sprinkle grated Parmesan Cheese over the top. They are DELICIOUS and the perfect fresh and healthy side to any summer meal!
Grilled Fresh Vegetables
Fresh vegetables tossed with balsamic vinaigrette dressing, steamed to perfection and sprinkled with grated Parmesan cheese.
Ingredients
1 cup broccoli florets
1–2 yellow squash chopped into bite size pieces
1 cup fresh mushrooms
1/4 cup balsamic vinaigrette salad dressing
3 tablespoons grated Parmesan cheese
Instructions
Heat grill to medium high heat.
Spray a disposable foil pan with nonstick cooking spray.
Add vegetables to the pan and mix with the dressing.
Grill vegetables for 15-20 minutes until tender, but crisp – shaking the pan every so often during grill time.
Spoon vegetables onto serving plate or tray and sprinkle the cheese over the top immediately before serving.
Notes
Experiment with all kinds of vegetables! Asparagus, red and yellow peppers, onions and cherry tomatoes are also great!
If you don't like balsamic, you can always substitute the dressing for Italian as well!
Nutrition
Calories: 287
Sugar: 6
Sodium: 907
Fat: 23
Saturated Fat: 6
Unsaturated Fat: 13
Trans Fat: 0
Carbohydrates: 13
Protein: 12
Cholesterol: 17
(Visited 1,607 times, 1 visits today)