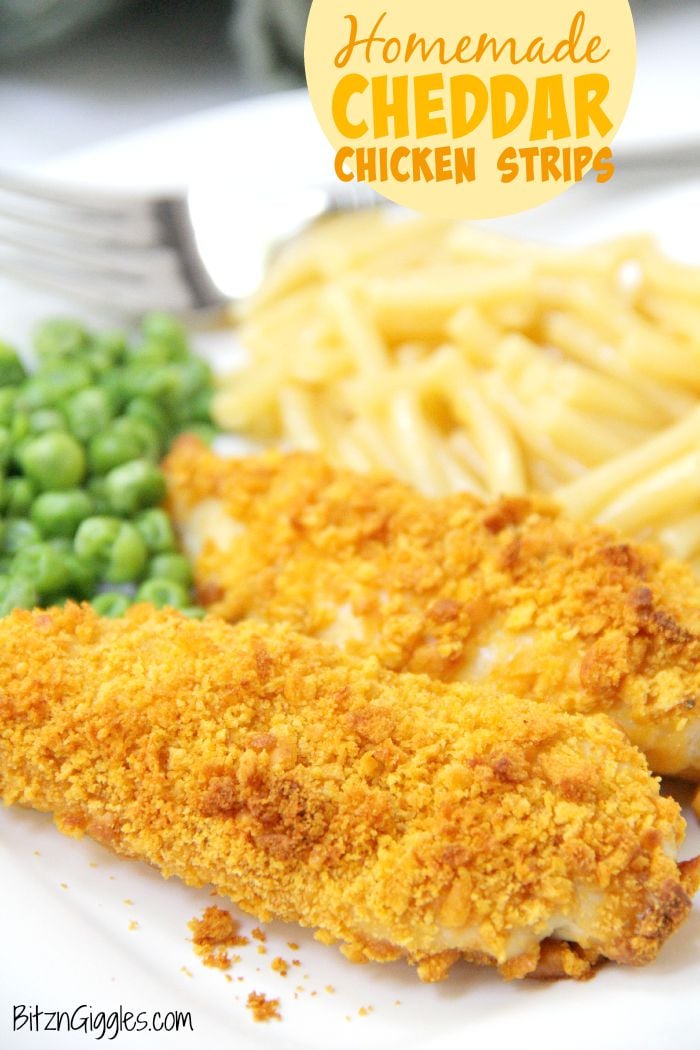 Raise your hand if you make a lot of "kid meals." My husband, Josh, travels a lot, so that means a ton of weeknight meals for just the kids and me. Our children, like a lot of kids in this world, have a short list of foods they request ALL OF THE TIME. In fact, they would be happy to eat these things every night of the week if I would allow it. Here are my kiddos' Top 5 Kid Food Favorites: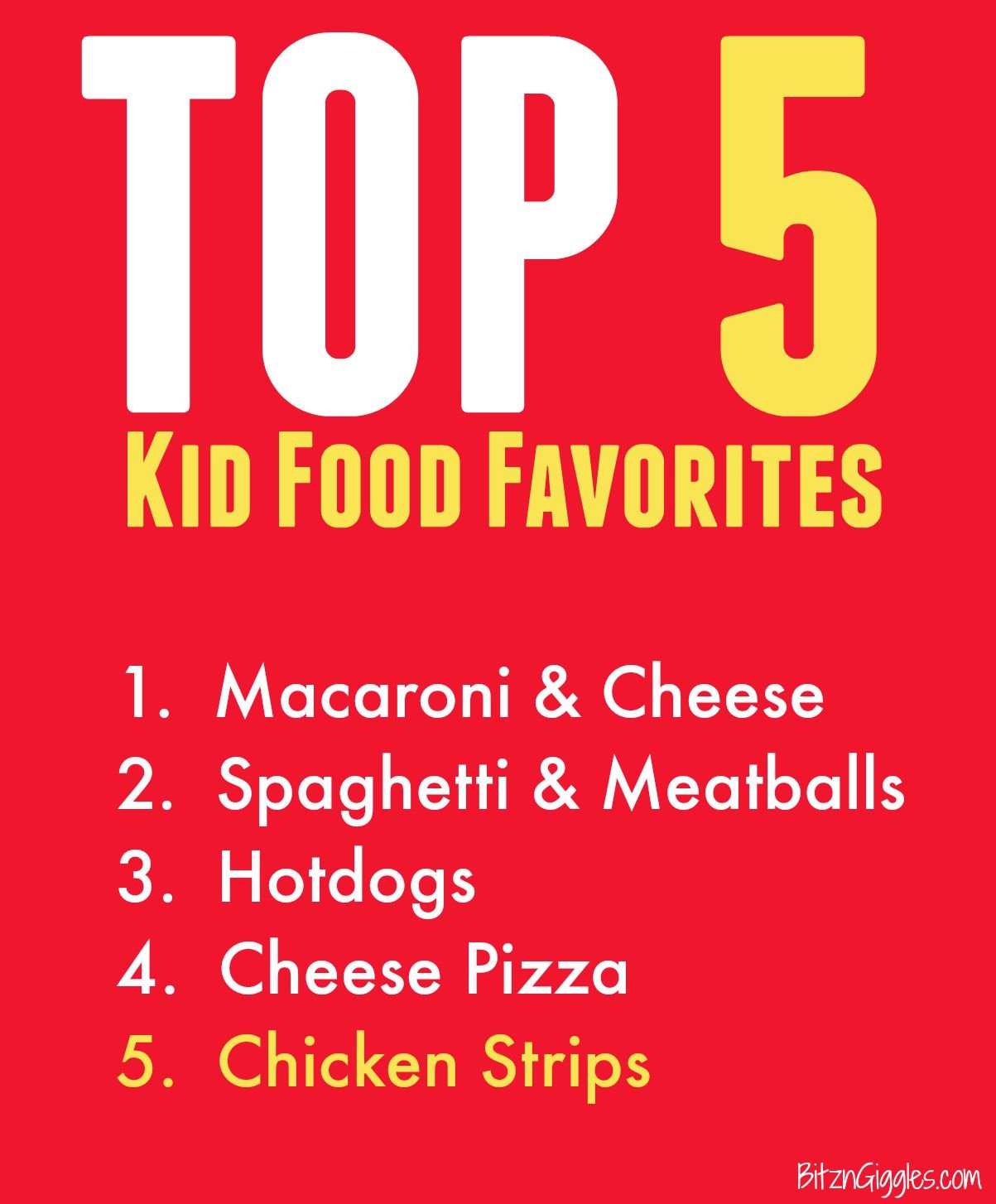 Now, this is in no particular order. In fact, their preferences change weekly, but it's not very often we stray from our top 5. Today, we're focusing on #5 on our list and talking chicken strips.
Believe me, I've purchased my fair share of frozen chicken strips. . .and you may have, too. It's fast, it's easy. . .IT'S OKAY. Don't beat yourself up about it. School is back in session, and that means after-school activities have also started back up. If your kids are involved in ANY extracurricular activities in the evening, it doesn't leave a lot of time for dinner. Very often, families turn to drive-thrus and the frozen section to get food on the table those nights. I've been there, friends – I get it.
I do think that these days, however, we're doing our very best to encourage a healthy lifestyle for our families. So when it's me and the kids fending for ourselves, we eat "kid food," but I put a bit of a homemade touch to it. These Homemade Cheddar Chicken Strips are quick, easy and delicious. Best of all, they're a hit with the kids AND with me!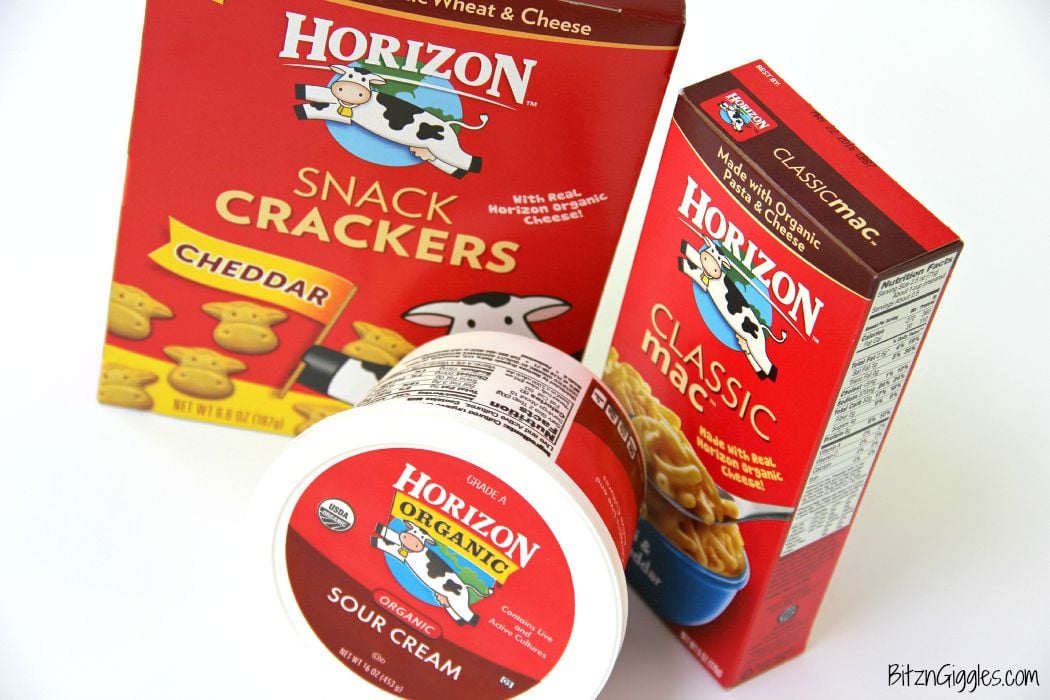 My family adores Horizon® Macaroni & Cheese. It's a staple in our house and goes perfect with these chicken strips. I love that Horizon continues to expand their product line, and I'm amazed at all they offer! Milk, cheese, eggs, yogurt, sour cream, macaroni & cheese, snacks, and more! For this particular meal, I used their sour cream and new cheddar snack crackers and served their Macaroni & Mild Cheddar Cheese Classic mac as a side. Ready to see how we make these delicious strips?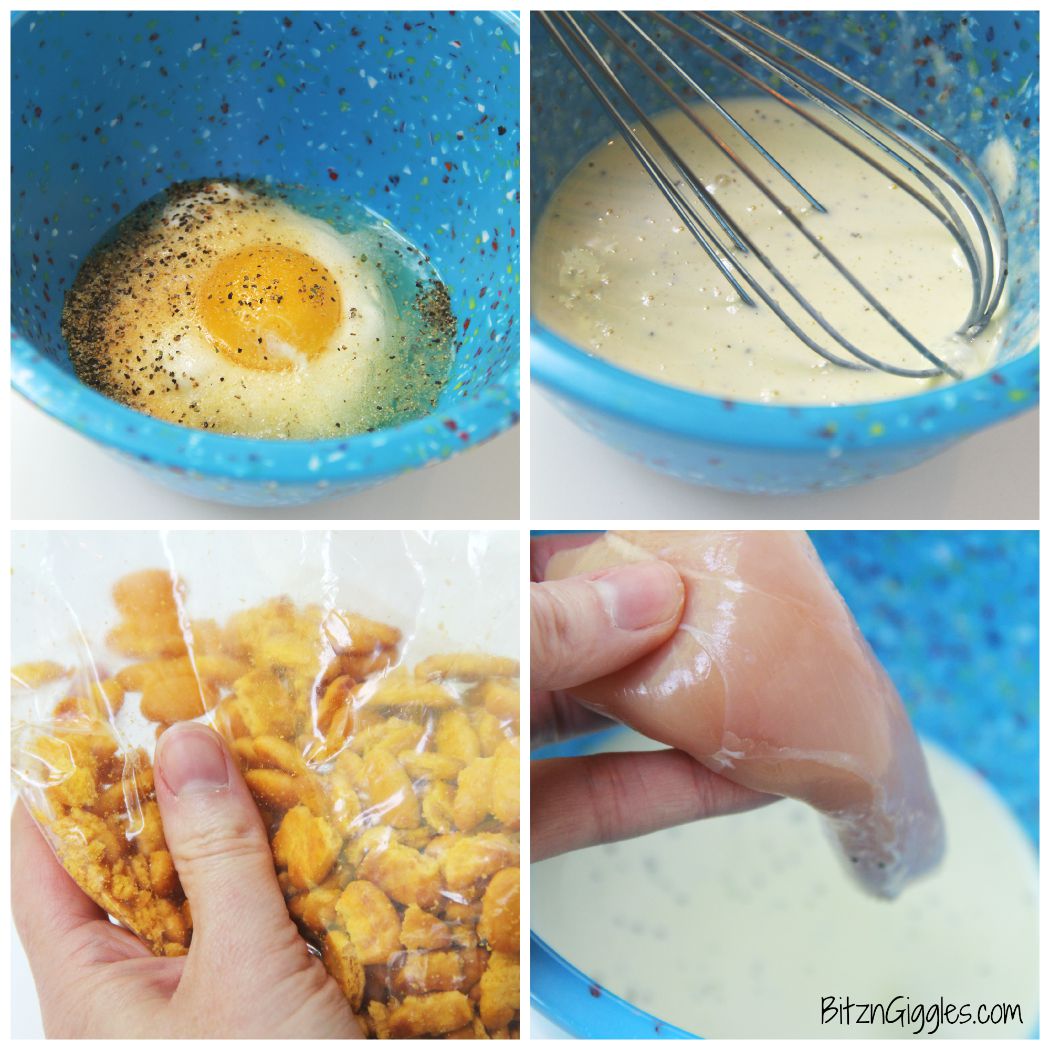 Alright, so let's get going. The base for the chicken strips starts with an egg, sour cream and blend of standard spices you whisk all together. I crushed the Horizon Cheddar Snack Crackers into tiny bits and placed them in a shallow pan for dredging. I dipped my chicken strips into the sour cream mixture and then dredged them in the crackers.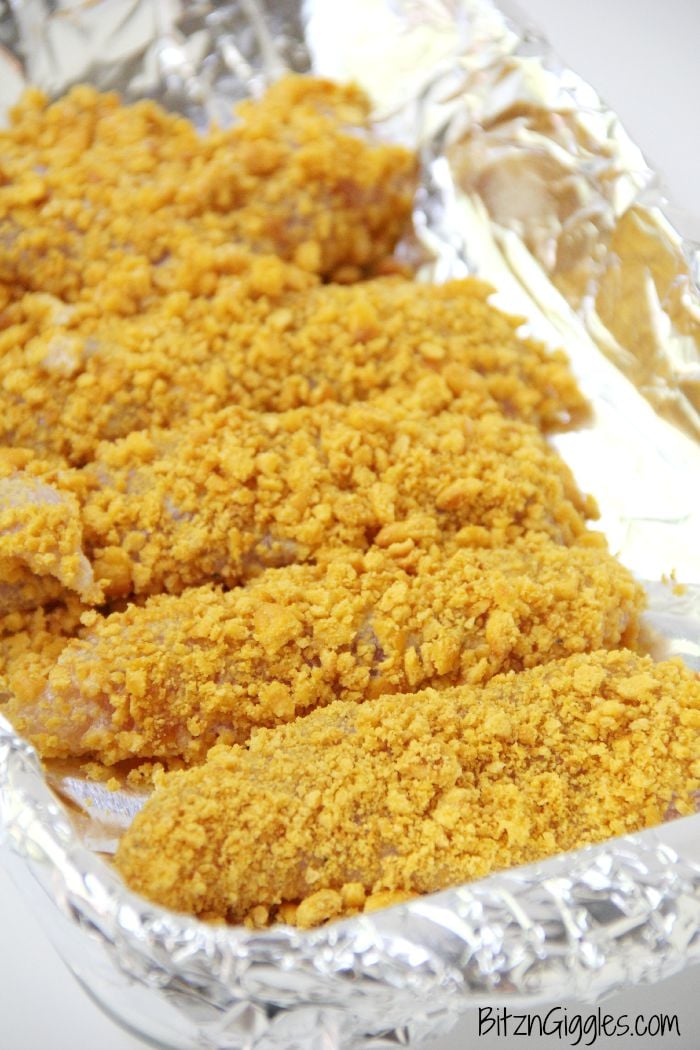 They're ready for the oven! While they're baking I'm usually running around the house packing a bag for wherever we're going that night or sneaking in a load of laundry. I'm all about multi-tasking or I wouldn't get ANYTHING done!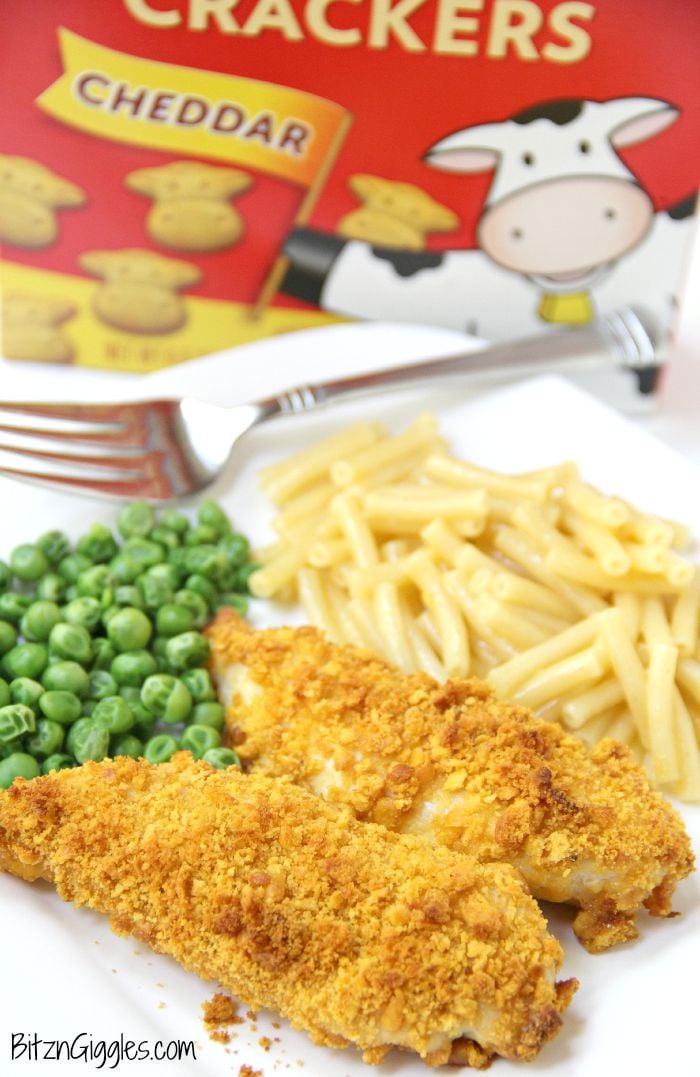 Alright, so when the strips are ready, the cracker crumbs have turned a golden brown and have crisped up. The chicken inside is so tender and moist due to the sour cream layer. They're just SO good. And they're perfect for dipping. BONUS, because I know A LOT of kids (and adults) who are dippers.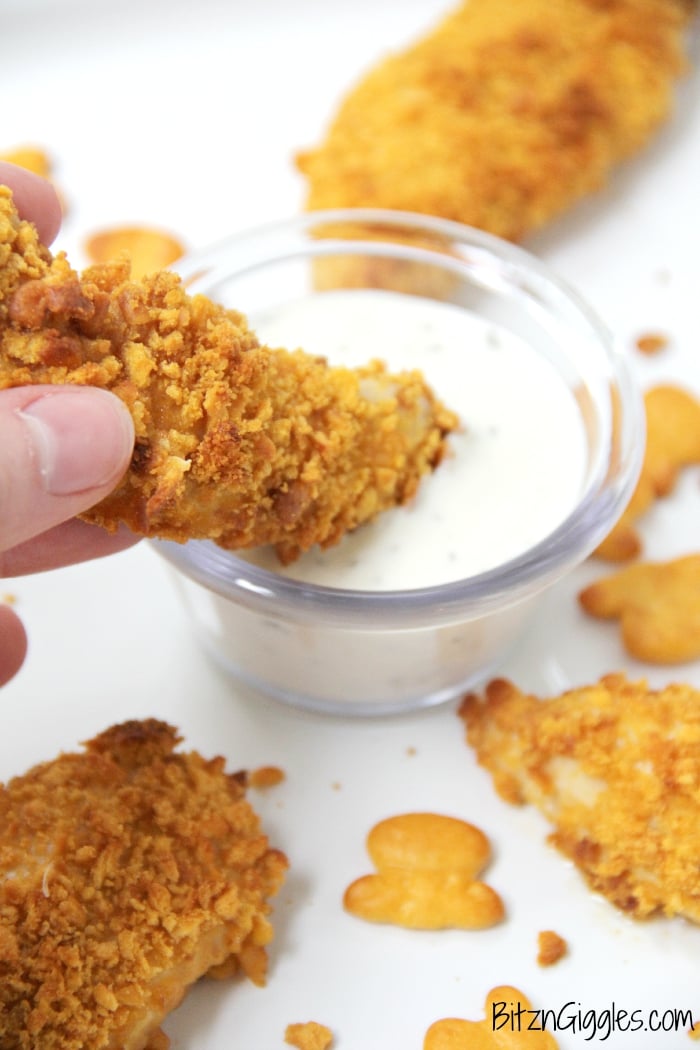 I'm working on the perfect compromise with the kids. If we're eating "kid food," I want to feel good about it and be able to enjoy it, too. Heck, I would make these chicken strips for a football party or a girls' movie night!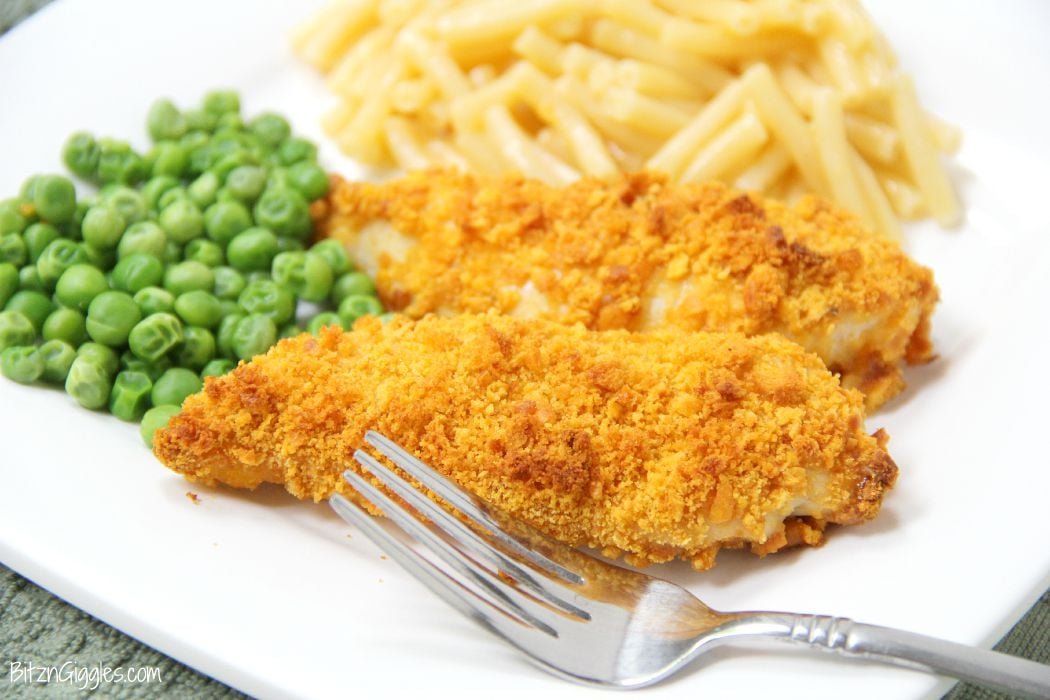 Go ahead and check out Horizon's entire product line! What will you try first? Be sure to follow Horizon on Facebook, Twitter, Pinterest and Instagram for more delicious family meal ideas!
Homemade Chicken Strips
Super juicy chicken strips with a crunchy cheddar cracker coating! A "kid food" favorite delicious enough for even adults!
Ingredients
1 1/2 pounds boneless chicken breasts, cut into strips
1 egg
1/4 cup Horizon Organic Sour Cream
1 cup Horizon Organic Cheddar Crackers, crushed
1/4 teaspoon salt
1/4 teaspoon pepper
1/4 teaspoon pepper
Instructions
Preheat oven to 375 degrees Fahrenheit.
Line a 9×13″ baking dish with foil.
Whisk together the sour cream, egg, salt, garlic powder and pepper.
Place the crushed crackers in a separate shallow dish.
Dip each of the chicken strips into the egg mixture.
Dredge with the crackers.
Place onto the baking pan.
Bake for 35 minutes until the cracker crust is crunchy and the juices in the pan run clear.
Nutrition
Serving Size: 4
Calories: 393
Sugar: 1
Sodium: 415
Fat: 13
Saturated Fat: 4
Unsaturated Fat: 7
Trans Fat: 0
Carbohydrates: 9
Protein: 56
Cholesterol: 199
This conversation is sponsored by Horizon. The opinions and text are all mine.
(Visited 1,937 times, 1 visits today)