How to Assemble a Charcuterie Board – Step-by-step instructions on how to make your own charcuterie board! This is such an easy and stunning idea for a party!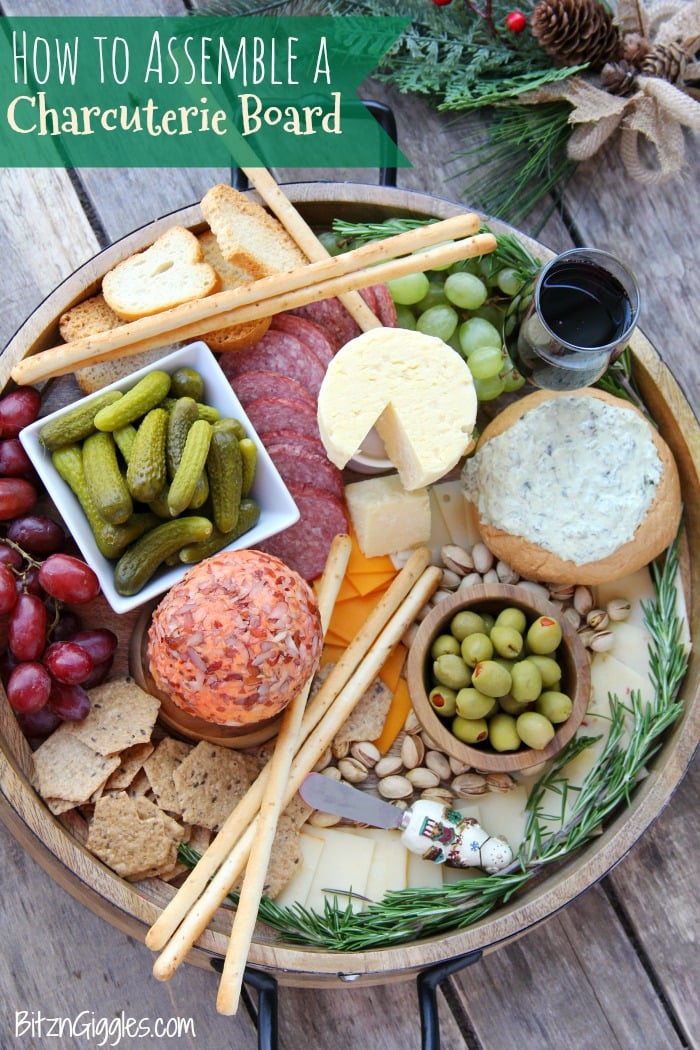 Do you like to throw parties? Me, too. Especially, this time of year.
I'm all about keeping it simple, though, so I can enjoy and have fun, too. Appetizer plates or apps, like your friends may call them, are all the rage as of late. . .and for good reason. There's a little something for everyone, and they serve a crowd.
Around the holidays, I tend to "fancy" up my appetizer plate a little and take it to the next level, combining a variety of delicacies to serve, and transforming it into what we "entertainers" like to call a charcuterie board.
Pronounced (SHärˈko͞odərē), a charcuterie board is a simple but elegant presentation of meats, cheeses, fresh fruits, crackers and so on. The meats tend to play a starring role in charcuterie, surrounded by all kinds of deliciousness your guests can't wait to get their hands on! It's what I like to call a do-it-yourself appetizer experience.
Charcuterie can often be intimidating because it's quite stunning to look at, but the truth is, you can put together your own board in a matter of minutes.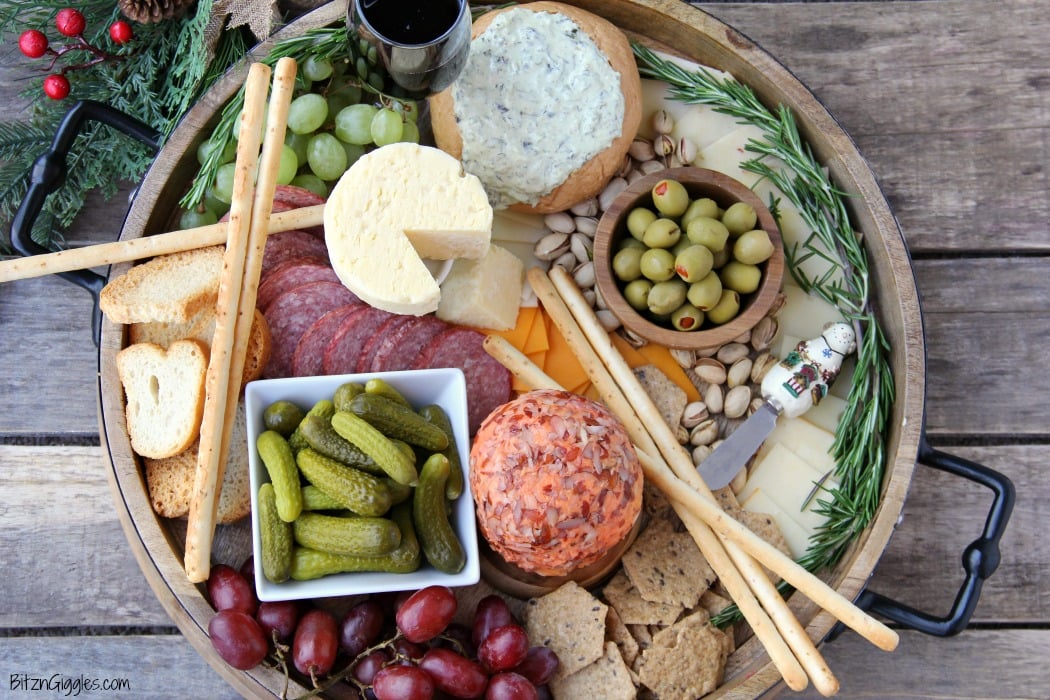 What's on a charcuterie board?
One of my favorite things about creating charcuterie boards is there really is no right or wrong way to build your presentation. Every board and presentation is unique. Some may have more of a gourmet flair, with cured meats and artisanal cheeses, while others tend to lean more towards the casual end of the spectrum, and feature items you and I probably already have in our homes like sausage, fresh fruits, relishes and crackers.
A mouth-watering charcuterie board normally includes:
Meats
Cheeses
Relishes
Spreads
Nuts
Fresh Fruits
Breads & Crackers
The size and amount of food you put on your charcuterie board depends on its purpose. Is it serving as a starter course or a light meal? Don't skimp on the bread if you're serving it as a light meal – and plan for about 4-5 ounces of charcuterie per guest.
Presentation is everything
As I said before, when it comes to assembly, there really are no set rules, but what's really going to wow guests, will undoubtedly be the presentation. I know I've been using the word, "board," a lot, but the truth of the matter is, charcuterie doesn't always have to be presented on a board. Cake stands, serving trays, pizza stones and even random pieces of wood can all serve as wonderful foundations for charcuterie.
Just make sure everything is accessible. If you run out of room on your board, don't be afraid to build off the board as well, incorporating small dishes and bowls to hold your olives, pickles, breads, crackers and spreads.
Setting up your board
A charcuterie board is all about variety, texture and taste explosion. A good place to start is with the meat. There's no reason to stress over what to buy. Personally, I keep things quick and simple and use Johnsonville Summer Sausage. It's not only convenient, but it's my little secret to ending up with an amazing display I know will appeal to all of my guests.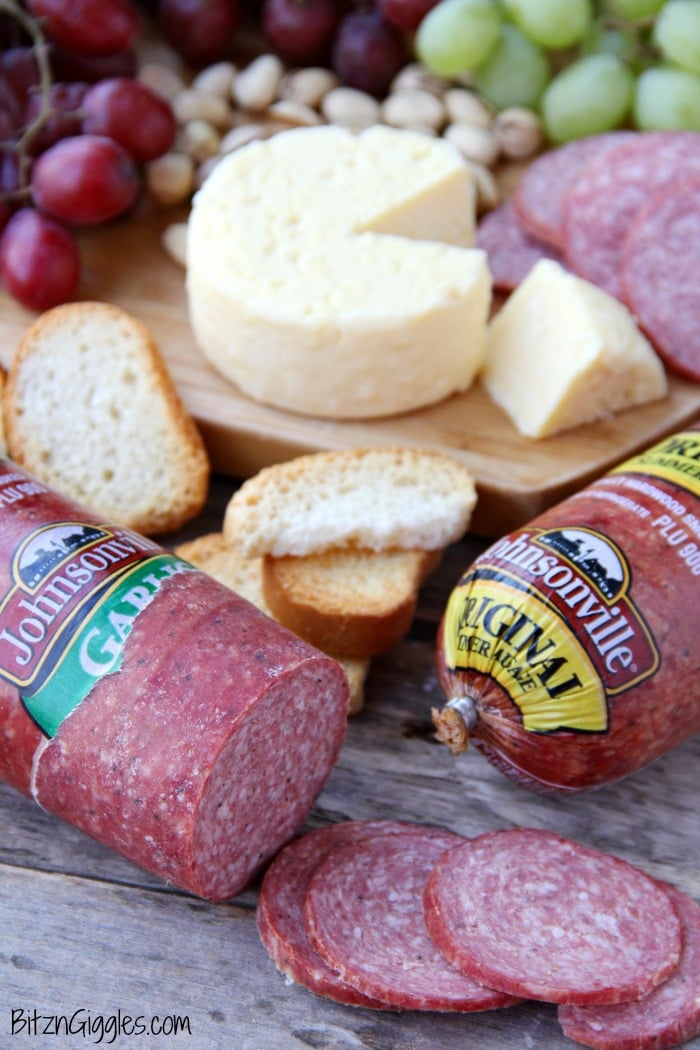 The Johnsonville team is truly dedicated to creating the best sausage in America, with choice cuts of meat and a variety of flavors and spices mixed in. The fact that it's been made with the same original recipe for over 70 years should put your mind at ease.
Your guests are sure to enjoy it – both young AND young at heart.
So, that was pretty easy, right? Can you guess what comes next (at least on my boards)? Cheese. Yep. You never forget to invite cheese to the party. Include flavors and textures to appeal to various palettes. Mild, sharp, spicy, creamy, hard, etc. You get the idea, right?
Whatever else you decide to include on your board, is fair game. Just refer back to my list above and choose a few things from each of those areas to complete your board.
If you're pressed for time, just purchase some dips and spreads from your local deli and transfer them into cute little bowls or hollowed-out Kaiser rolls like I did.
Your guests will be so impressed. I promise you, if you make your own charcuterie board, it certainly won't be your last. 😉

Visit SummerSausageStory.com to view recipes and videos about Johnsonville's Summer Sausage, as well as an online store where you can get it delivered right to your door in time for the holidays!
This is a sponsored conversation written by me on behalf of Johnsonville. The opinions and text are all mine.