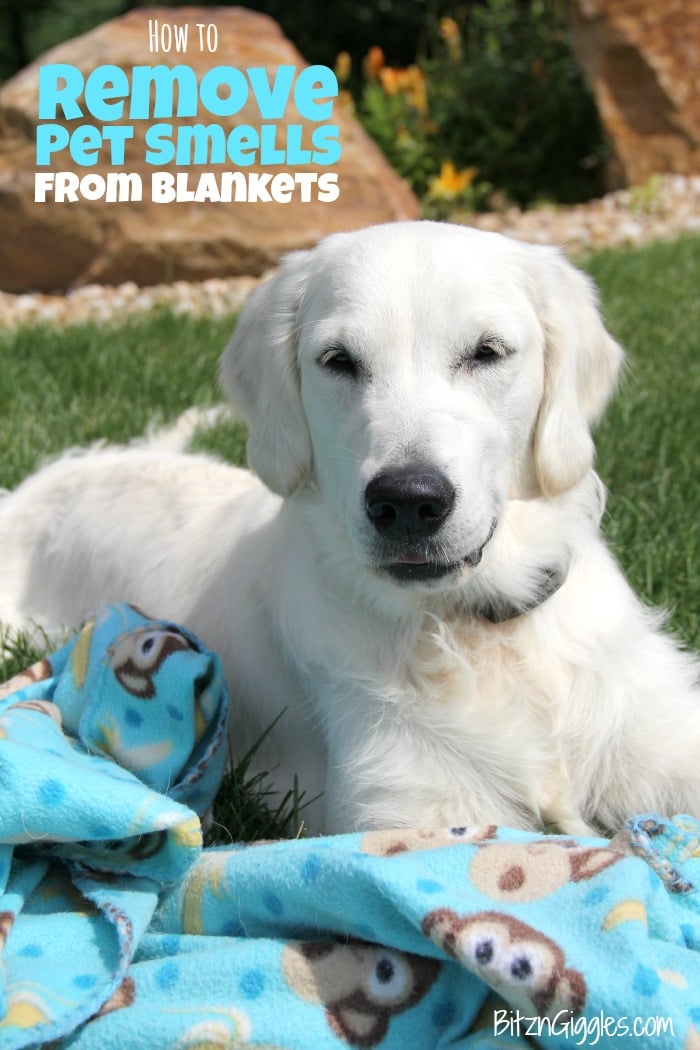 A big thank you to Maids.com for sponsoring this post.
Aww. . .our furry family members. What would we do without these cuties? In return for their unconditional love we tend to their every need, we baby them, we talk to them in high pitched voices (because we think they like it) and we let them get away with some things even our children aren't allowed to do. Are you with me? I'm guilty as charged.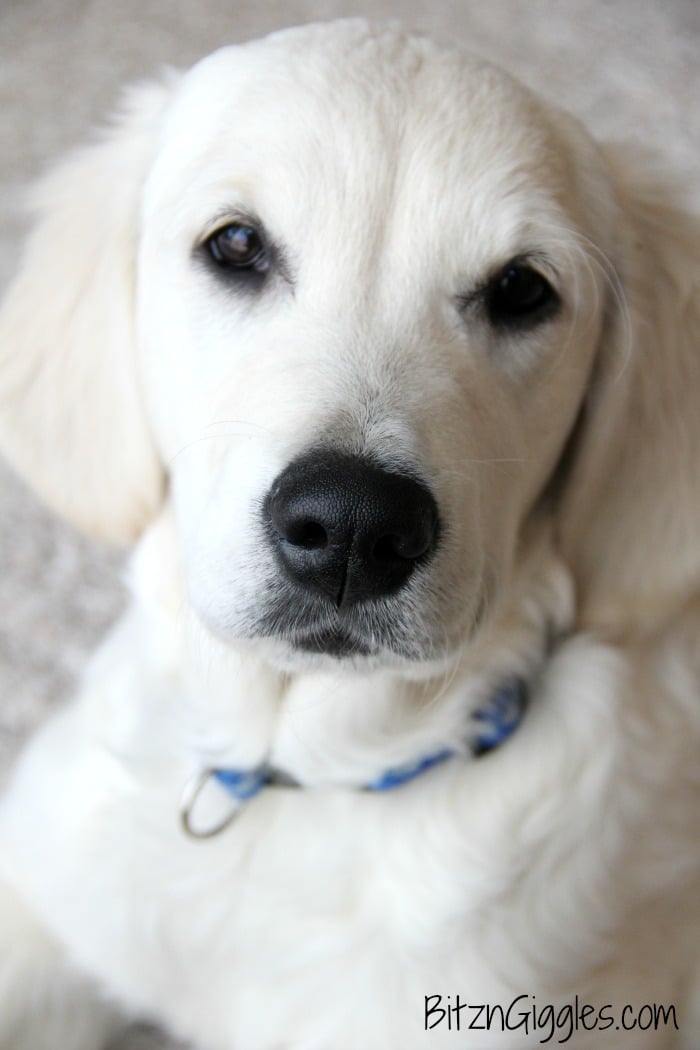 Meet Belle. Belle came into our family this last February and she just turned 9 months old at the beginning of July. She's an English Cream Golden Retriever. . . and a complete firecracker. We love her to pieces.
When we brought her home, it was important to set some ground rules around the house right away.
There were certain things I didn't want her doing that our last golden retriever was famous for. From the beginning, we taught Belle that she was not allowed to:
Jump up on guests (or anyone for that matter)
Eat people food
Jump, climb, lay or sleep on our furniture (including our beds)
We're also crate training her, so to make her feel at home (since she's not allowed on our bed), we have an oversize crate that she sleeps in at night (we've upgraded since a few months ago) and bought Belle, her very own monkey blanket. She likes monkeys? Well, we think so. She likes the blanket, so that means she must like monkeys, too, right? Right.
So, she takes this blanket everywhere. She sleeps with it at night, she takes it on car rides, and once and awhile, she likes to drag it outside into the front yard with her, too. For those of you who have a pup (or a kitty for that matter) that loves to cuddle up with blankets (even those that are not their own) you're going to start nodding your head after this next statement. . .after some time, the blankets tend to get. . .well, STINKY. Truth.
For those of you who may allow your pets up on your bed (we did for our last dog), you may have the same problem with your comforter or duvet. Because let's face it, when animals are laying on something soft like a blanket or a comforter, they're in their happy place.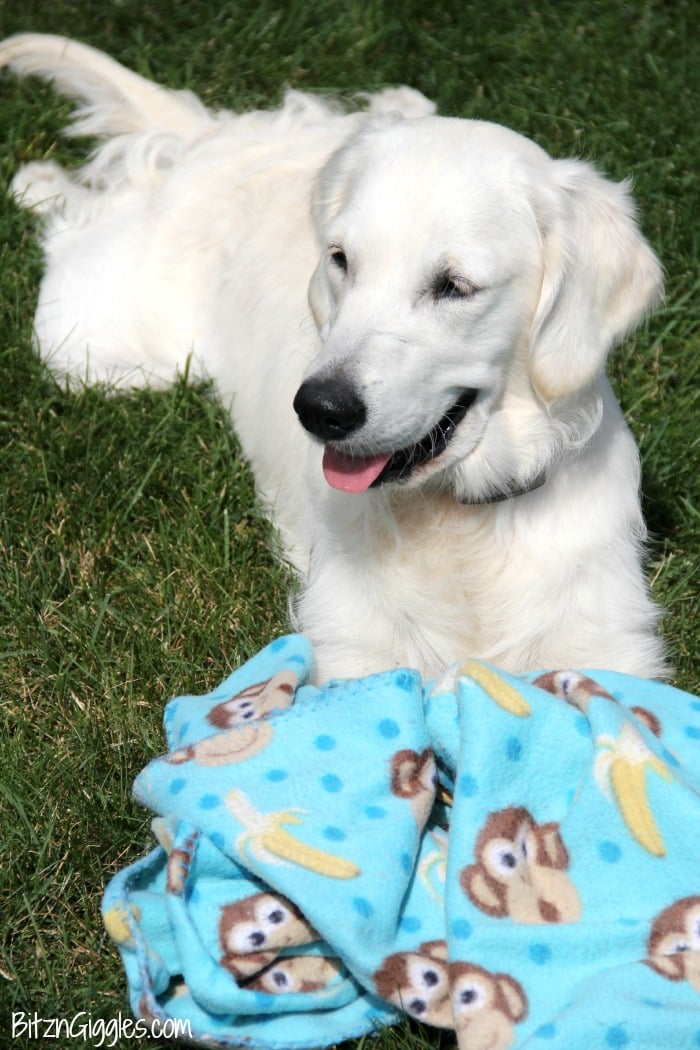 They're thinking, "Whew, it's been a day. Thank goodness for this nice, soft, comfy spot to relax. I think I'll lay right here and clean myself up real good – lick all the dirt out of my fur and paws. This blanket doesn't taste half bad either, you know? I think I'll just chew on it awhile – hmmm. . . maybe just hold it here in my mouth. Hey, there's a piece of one of my favorite treats stuck to the corner over here. Wow, what a good day – WHAT a good day!"
You can only imagine what goes through their fuzzy little minds.
All I know is what goes through mine when I picked up the blanket and got a whiff of that wonderful doggy odor.
Let's set the story straight before we get too far along. Belle is really a very clean dog. Belle, herself, does not smell "doggy." The only time she really smells like a dog is when she's wet. And all dogs smell like a dog when they're wet, right? If I'm wrong on this one, let me know, but from my experience, this is the gosh darn truth.
Why am I so caught up about cleanliness? She's a dog! Yes, she is, but one of my pet peeves ("pet" peeve, get it?) is petting (that may be the most times I've said "pet" in a sentence ever) a dog and ending up with a smelly hand. Ick. It just turns me off and I purposely avoid the dog. Which is really sad, because I'm completely and utterly in love with pups.
I do what I can to make sure Belle never turns anyone's hand ripe. I use Dry Dog Shampoo on her about once a week and give her a deeper cleaning if she ever gets in a real dirty situation.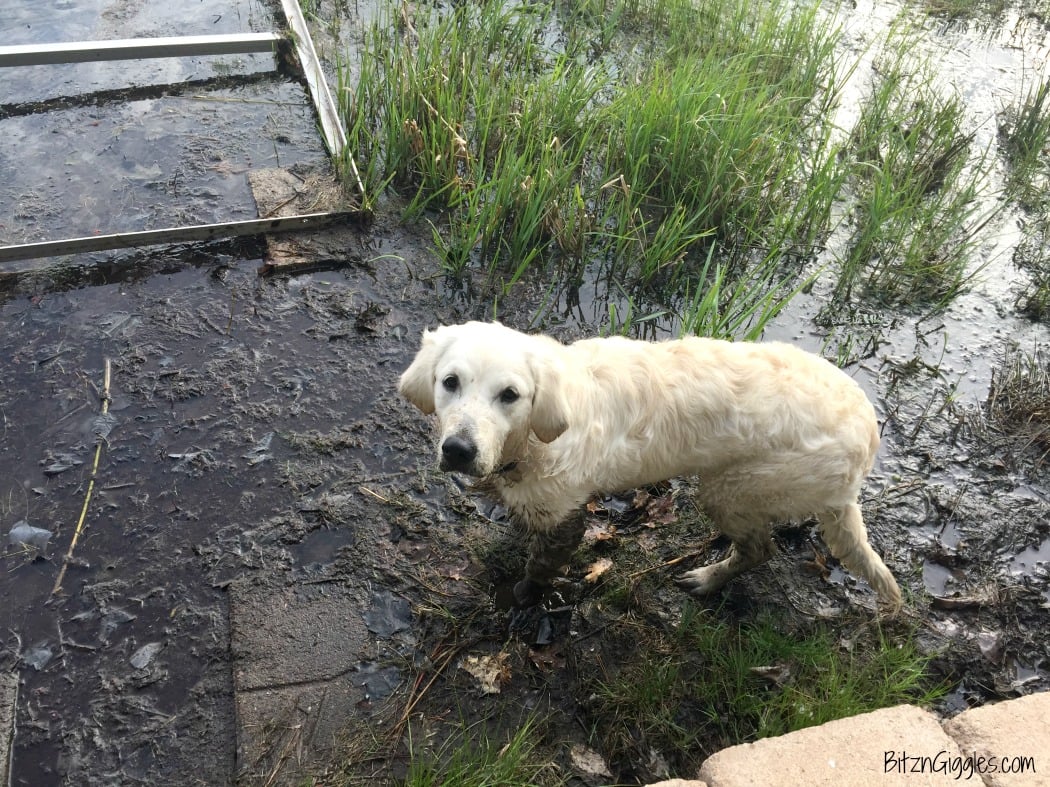 Ummm. . .like that one. Yep, that was a good day (for her). Boy did she have fun (this happens a lot).
Even though I'm pretty meticulous about keeping Belle clean – over time, even the cleanest pets can muster up enough stink to make you turn up your nose. That's what happened with Belle's monkey blanket. I held it up to my nose one day and couldn't believe what I was smelling. I immediately took it to the laundry room and threw it in the washer – then the dryer – with a couple extra dryer sheets.
When it was dry, I held it up to my nose again. I sniffed even harder and deeper this time. I was so excited to take in that freshly-washed blanket smell. . .but wait, hold on. Something was wrong. I suddenly became disgusted AGAIN. The smell was STILL there! WHAT?!!
Why does this happen? It doesn't happen with our clothes. What is it about pet smells that just seem to linger? I remember our good friends leaving one of their dogs blankets up at our lake cabin after a nice long holiday weekend. Wow did it stink. Like, fill a room up. . .stink. We put it in a garbage bag, tied it up tight and delivered it as soon as we were able. You know what they ended up doing with it? They threw it out. It was that bad.
So, remembering that incident, and now finding myself in a similar situation, I was on a mission to rid Belle's monkey blanket of that stubborn doggy smell. Normal laundry detergent and softener just wasn't cutting it.
I experimented with a few different things before I found the miracle combination – yep, I found it. I finally figured out how to remove pet smells from blankets!
If you're facing the same stinky dilemma that I was, you best stick around. . . because if you try this, the results are going to blow your mind.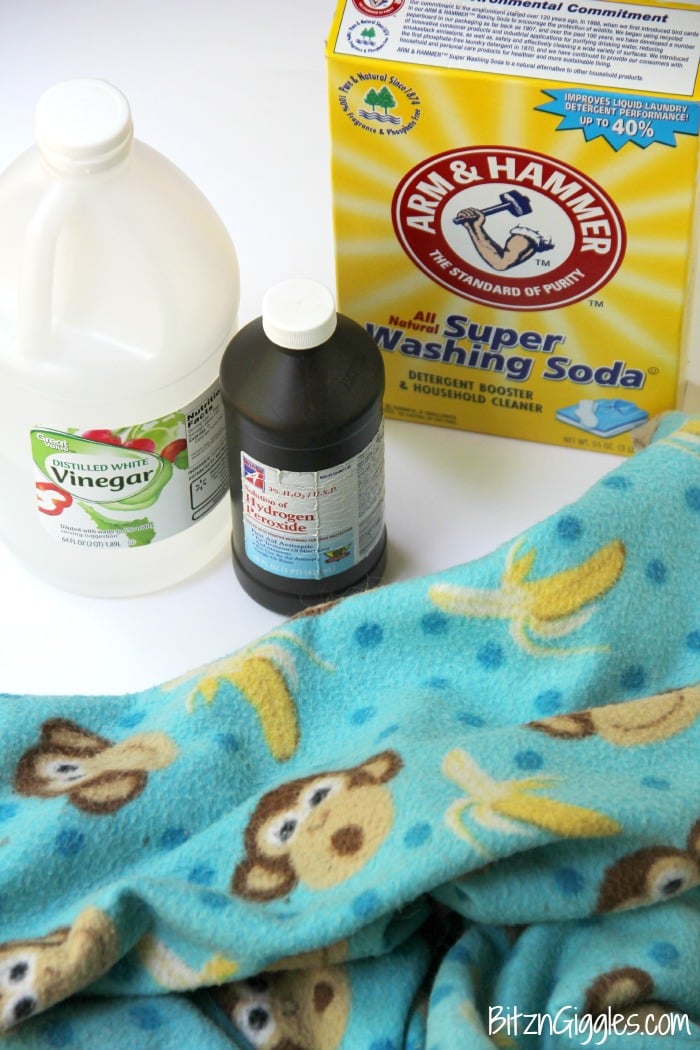 So here's what you're going to need IN ADDITION to your normal laundry detergent:
Ingredients
1/2 cup Arm & Hammer Super Washing Soda (not to be confused with baking soda; WASHING soda)
1/4 cup hydrogen peroxide
1/2 cup white or apple cider vinegar
Do a warm water wash and add your detergent to the washer like normal. Throw in the blanket or comforter.
Add 1/2 cup of super washing soda.
Add 1/4 cup of hydrogen peroxide
Fill the softener dispenser with 1/2 cup vinegar. If your washer doesn't have a dispenser add the vinegar during the last rinse cycle.
That's it!
When the washer stopped, I went to smell my blanket again. This time, there was no doggy smell! None. Zilch. Nada. I ran to tell Josh right away with the blanket in hand. I stuck it right up to his nose yelling, "Smell this!" He initially resisted because he knew what it smelled like before, but when I explained to him I truly did get the smell out this time, he took a big whiff and was as amazed as I was.
You're running to gather the ingredients already, aren't you? Well, you should be! I hope this method works as well for you as it did for us. I am completely amazed, and can't stop sharing my discovery with my friends!
They'll be talking to me about a movie they just saw and I'll just reply with, "Do you have any stinky blankets you need cleaned? Like real stinky? Cause' I know how to get the smell out!" I've become a bit "obsessed." LOL While I wouldn't recommend you ask crazy questions like this of your friends, my friends have come to completely understand (they've known me awhile) my madness.
So, what are you waiting for? Start filling that washer, grab those smelly blankets and bedding and REMOVE THAT DOGGY STINK!!
Notes: I've used the hydrogen peroxide each time I've done this and I've never had a problem with it discoloring her blanket. The peroxide/washing soda combination basically acts like an oxygen bleach – similar to Oxy Clean that you would buy from the store. I do want to mention, however, that I DID use Oxy Clean in one of my earlier attempts to remove the smells and it was unsuccessful.
LOOKING FOR MORE CLEAN PET INSPIRATION?
Check out the FIVE MUST-HAVE CLEANING TOOLS FOR PET OWNERS from our partner Maids.com.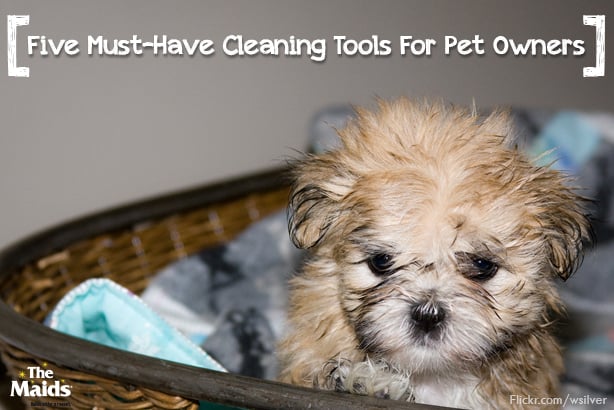 Spend some time over at their fantastic blog and don't forget to check them out on social media: Facebook | Twitter | Google + | Pinterest

(Visited 193,406 times, 1 visits today)