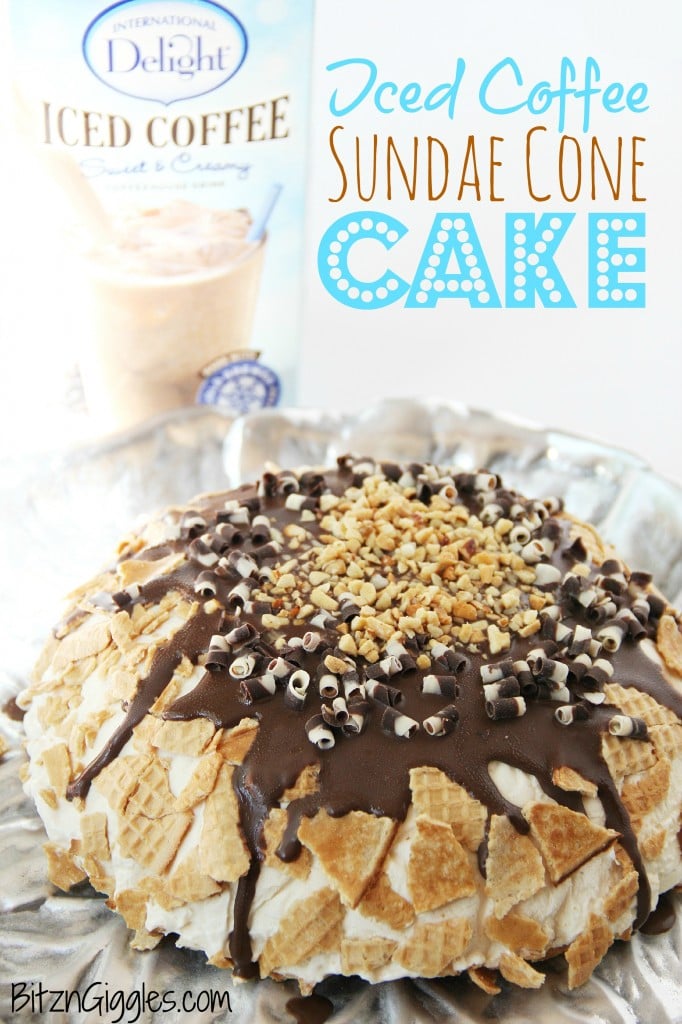 Summer is in full swing, and like many of you, my family and I have been enjoying it to its fullest! The warm summer months are short-lived here in Wisconsin, so I've always tried to make the most of this beautiful season. Even as a child, my friends and I would play hard all day, every day – riding our bikes, building forts, catching crawfish in the creek and staying out as long as our parents would allow.
One summer, my best friend's mom served up a sundae cone cake, kind of like the one I'm sharing today. She used regular vanilla ice cream rather than making her own, but it was one of the coolest things I had ever seen back then and still gets ooohs and ahhhs when I make it today. However, this time I'm putting more of an "adult" spin on a childhood favorite. . .I added International Delight Vanilla Iced Coffee!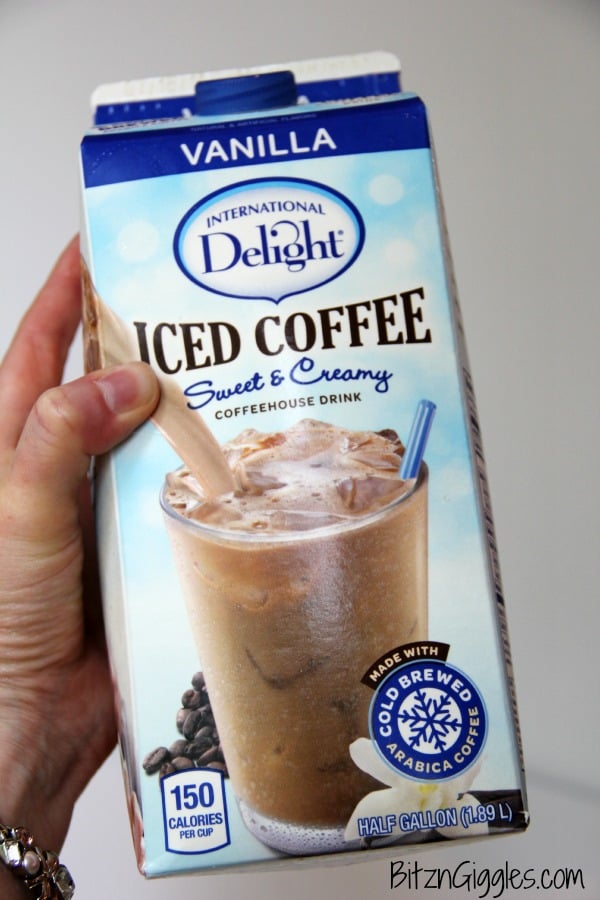 This Iced Coffee Sundae Cone Cake is a perfect dessert for a hot summer day. The vanilla iced coffee taste is subtle and delicious for friends and family who drink coffee, and even those who don't!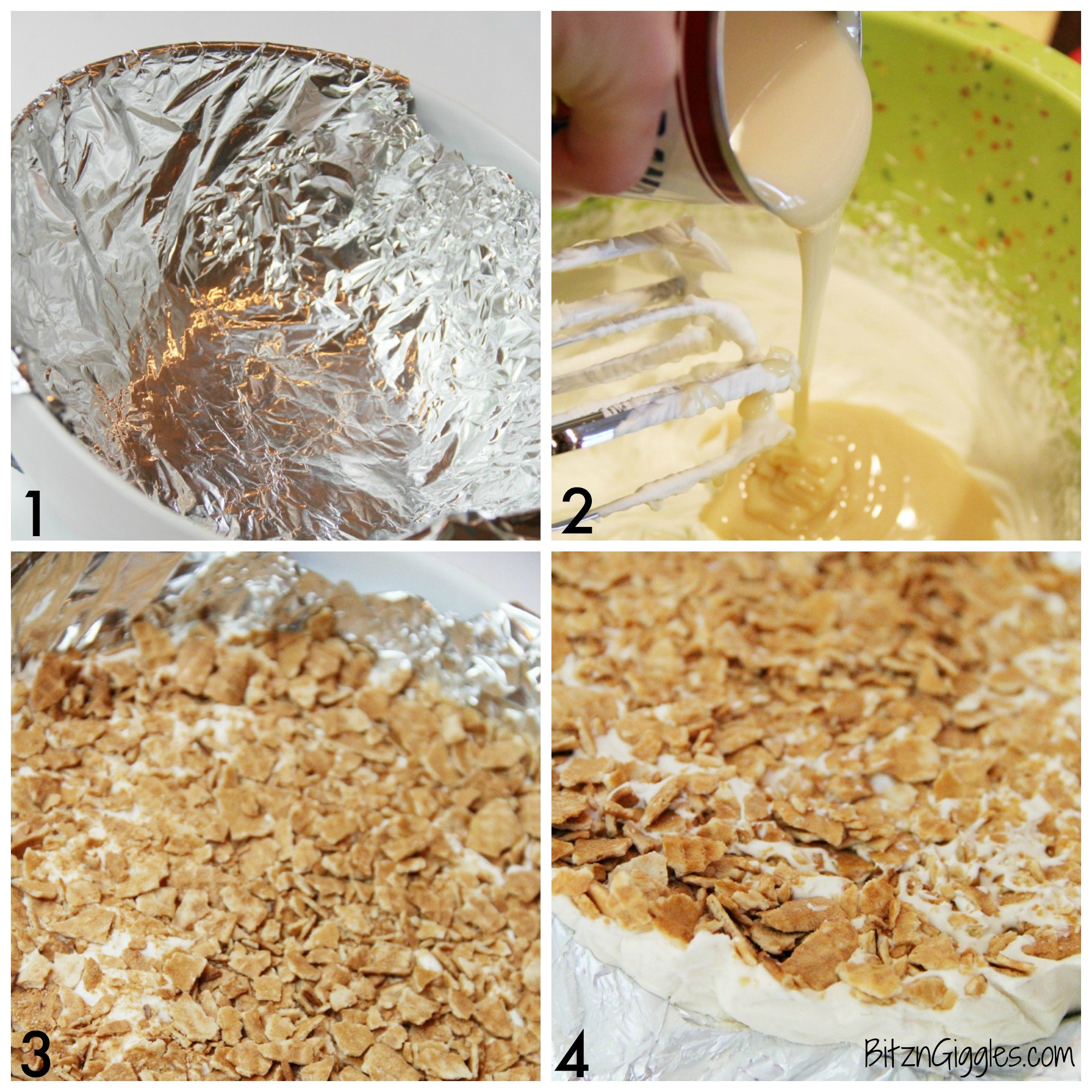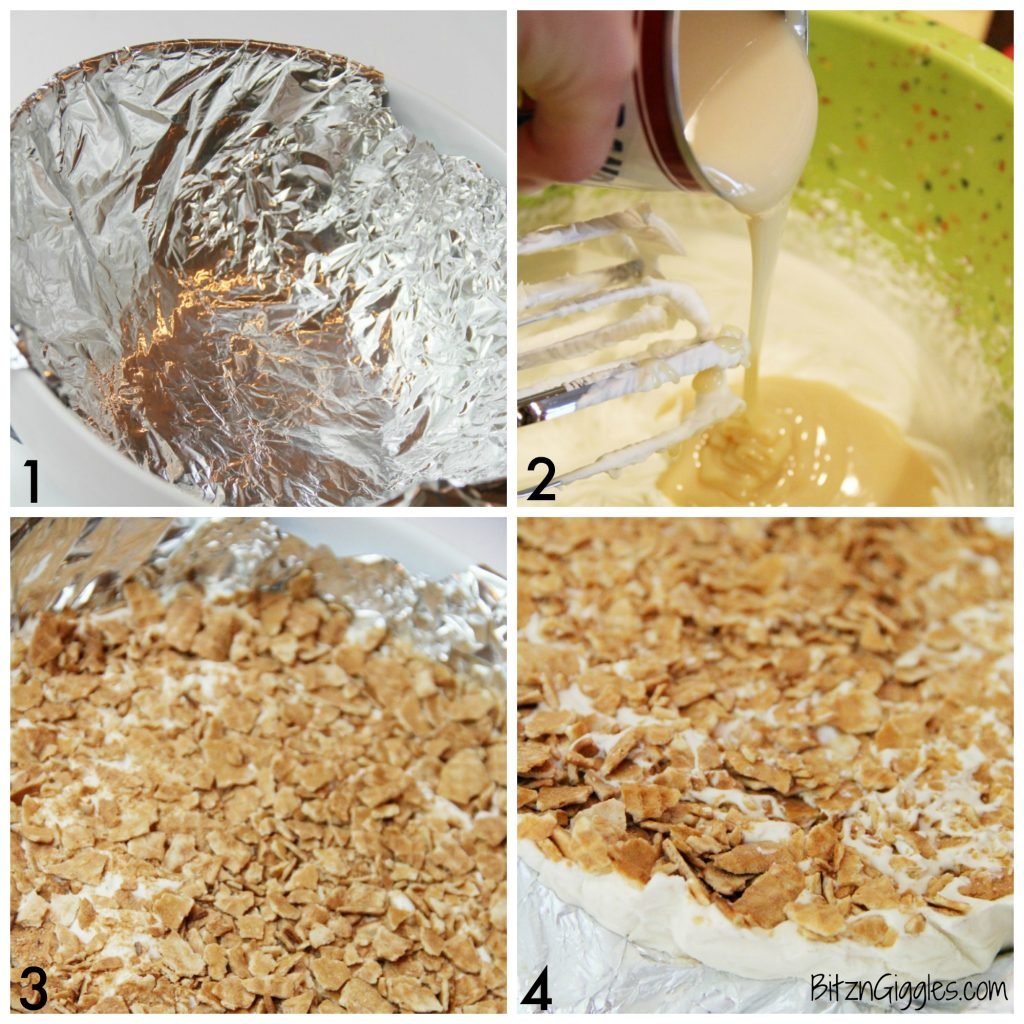 Setting up the cake is simple:
Line a bowl with aluminum foil.
Mix together the heavy whipping cream, sweetened condensed milk and iced coffee.
Pour the mixture into the bowl and add crushed sugar cones to the top.
Freeze for 4-5 hours or until firm and then peel away the aluminum foil. Flip the cake over and place on a serving platter.
Here's where the fun really begins!
Add some more crushed sugar cones to the side of the cake and then drizzle some homemade magic shell topping over the cake and garnish with chocolate curls and nut topping.
You have to admit, this is turning into quite the decadent dessert. Not only is it decadent, it will certainly remind your family and friends of one of their favorite childhood desserts.
If this doesn't scream summer I'm not sure what does. The crunch of the cone, the creamy ice cream, the decadent chocolate, the cool iced coffee flavor. . .
It's really a little slice of heaven. It's a reminder of my childhood summers in grown-up form.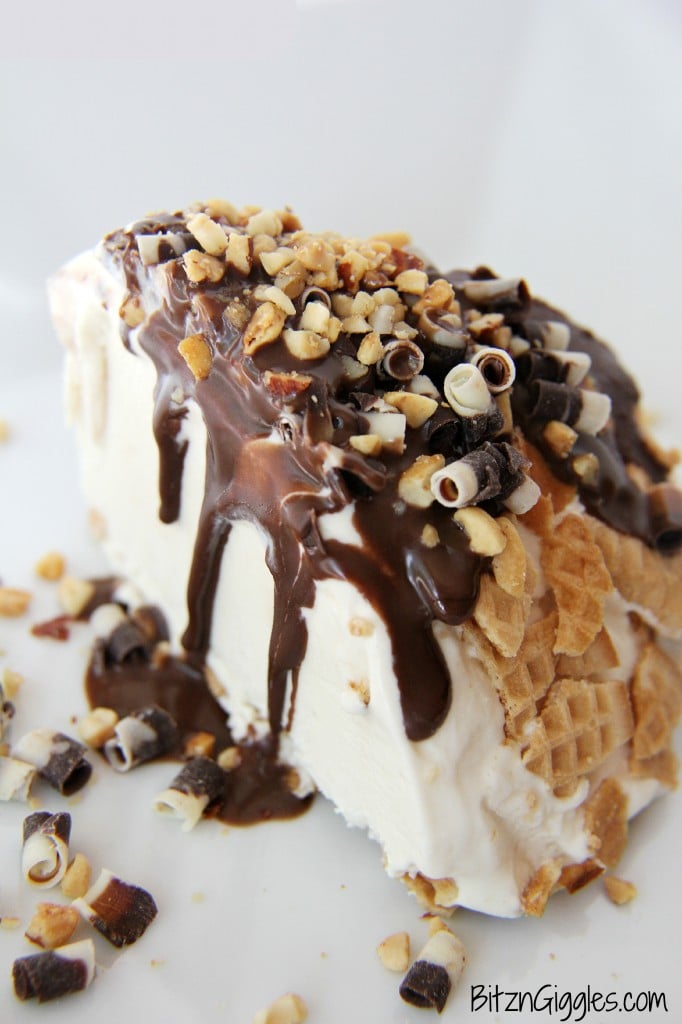 What's your favorite way to enjoy iced coffee? If you've never thought about using it in an ice cream cake, you should. It's guaranteed to become a summer favorite, and those you share it with will ask for it again and again.
For more fun with International Delights Iced Coffee, head over to their Facebook page and enter to win an International Delights Iced Coffee tumbler through the end of August! 100 tumblers will be awarded each week!
Iced Coffee Sundae Cone Cake
A nostalgic ice cream cone cake all grown up with an iced coffee twist!
Ingredients
For the cake
16 ounces heavy whipping cream
14 ounces sweetened condensed milk
4–5 tablespoons International Delights Vanilla Iced Coffee
10 crushed sugar cones, divided
Chocolate curls and nut ice cream topping for garnish
For the magic shell
1 cup chocolate chips
2 tablespoon coconut oil
Instructions
For the cake
Line a 1 1/2 quart bowl with aluminum foil.
Mix the heavy whipping cream with a hand mixer until it forms stiff peaks.
Add the sweetened condensed milk and iced coffee and continue to mix with the hand mixer until combined.
Pour the mixture into the foil-lined bowl and top with 5 crushed sugar cones – pressing the cones onto the top of the cream mixture.
Freeze for 4-5 hours or until firm.
Unmold the dessert onto a plate or serving platter and remove the foil.
Press the remaining crushed cones into the side of the cake.
Drizzle the chocolate magic shell over the top of the cake and garnish with chocolate curls and nuts.
For the magic shell
Stir together chocolate chips and coconut oil in a microwave-safe bowl.
Place in microwave and cook on high for 30 seconds. Remove and stir. Continue microwaving and stirring in 15 second intervals until all of the chocolate is melted.
Allow the chocolate to reach room temperature.
Notes
The chocolate curls can be substituted with chocolate chips if you wish.
Nutrition
Calories: 4607
Sugar: 353
Sodium: 1149
Fat: 295
Saturated Fat: 188
Unsaturated Fat: 88
Trans Fat: 0
Carbohydrates: 440
Protein: 66
Cholesterol: 826
This is a sponsored conversation written by me on behalf of International Delight. The opinions and text are all mine.
(Visited 2,091 times, 1 visits today)