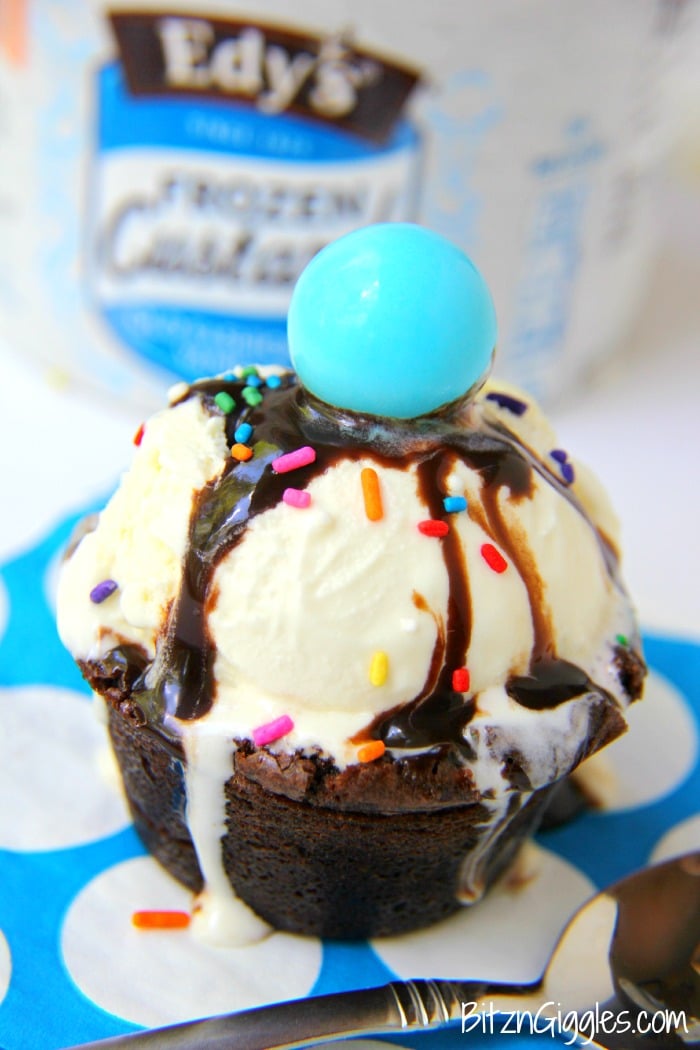 This shop has been compensated by Collective Bias, Inc. and its advertiser. All opinions are mine alone. #FlavorYourSummer #CollectiveBias
I hope you're having a wonderful Memorial Weekend. We certainly are! We're up north at our lake cabin spending a wonderful weekend with friends.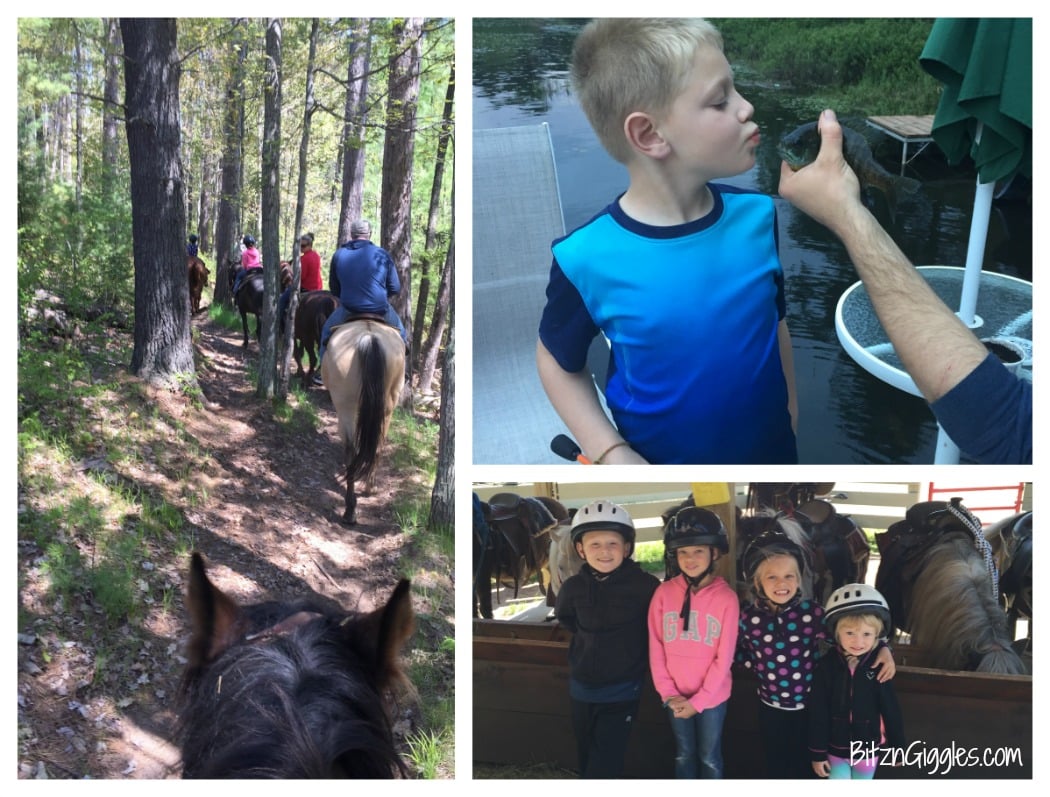 We went horseback riding and go-karting, we made s'mores by the fire, we fished, and most importantly. . .we had some of these Peanut Butter Cup Brownie Bowls for dessert one evening. Brownie bowls. . .and pizza. Could life get any better than this?
Getting everything ready to go up to the lake can be stressful. I have learned over the years to just keep meals simple and laid back. It leaves more time for enjoying. . . the moments. Because it's the moments that are more important than anything else.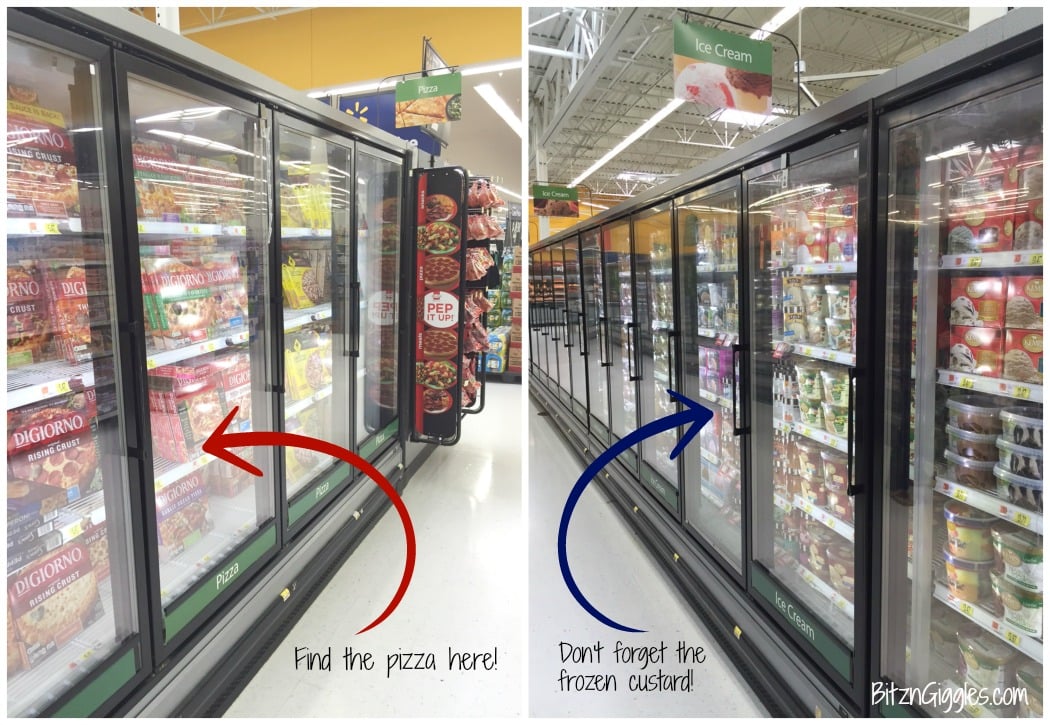 Walmart is my saving grace when it comes to getting my shopping done for our weekends up at the lake, and DIGIORNO® pizzeria!™ pizza and EDY's Frozen Custard have become staples on my shopping list. Let's face it, they're staples on my list even when we're not headed "up north." They're just the perfect combo for any night of the week. Truth.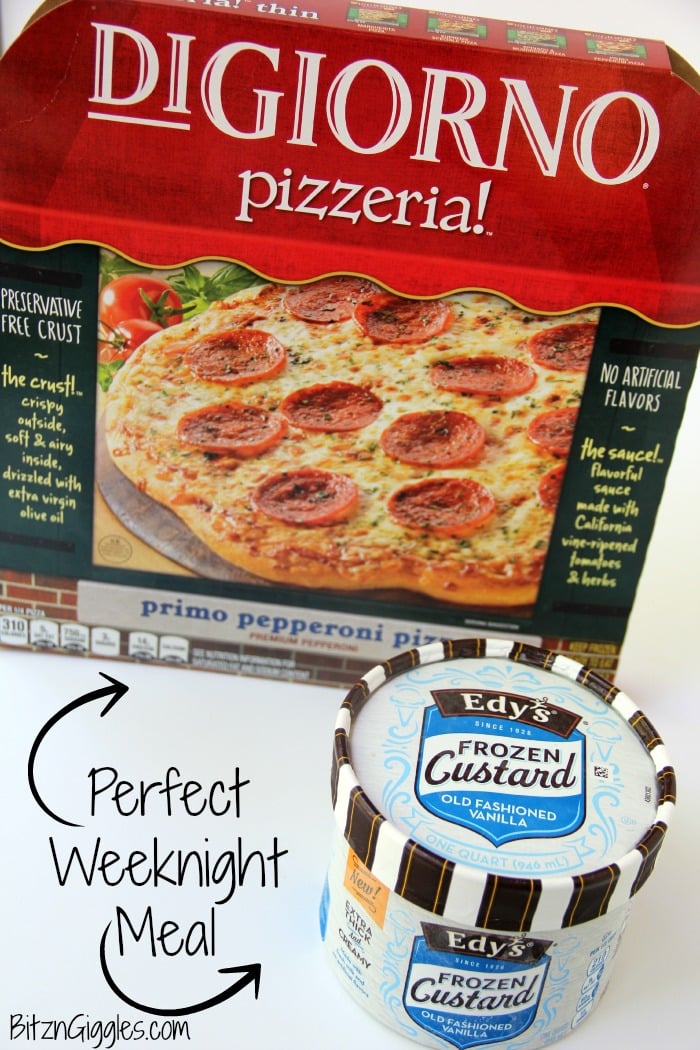 So, before we get into this brownie bowl business, let me tell you what I love about this pizza. Have you discovered pizzeria, yet? Oh my goodness. The crust on this pizza is crispy on the outside but soft and airy on the inside – the sauce is made with vine-ripened tomatoes.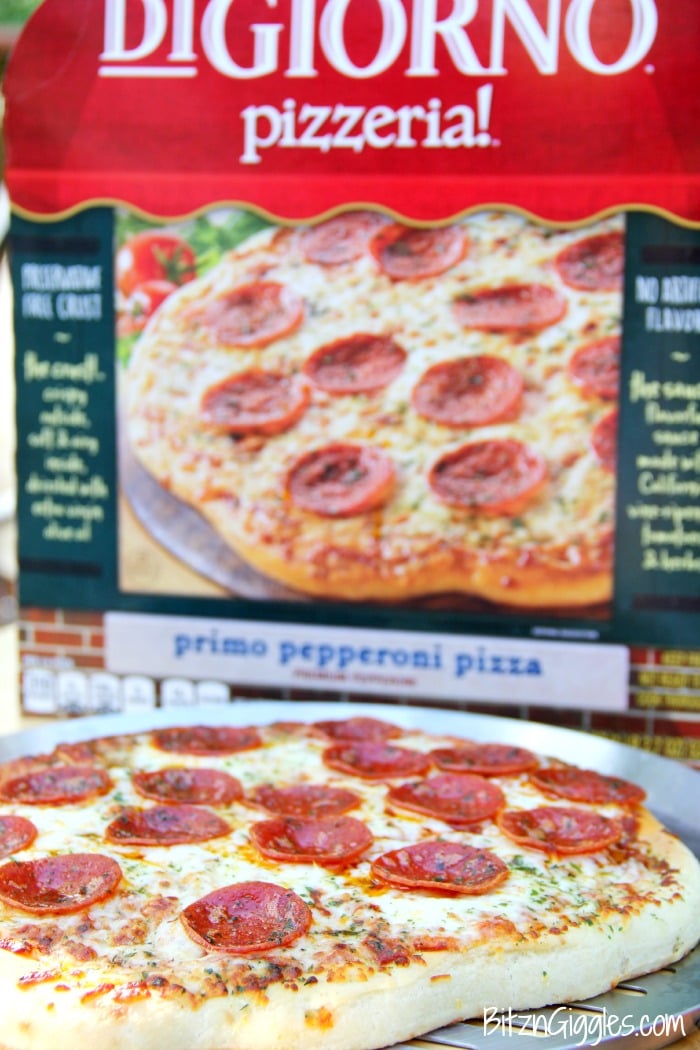 DIGIORNO® pizzeria!™ pizza is a whole new pizza experience. Premium toppings, no artificial flavors – only fresh ingredients. Seriously now, just look at the herbs and cheese around that wonderful pepperoni.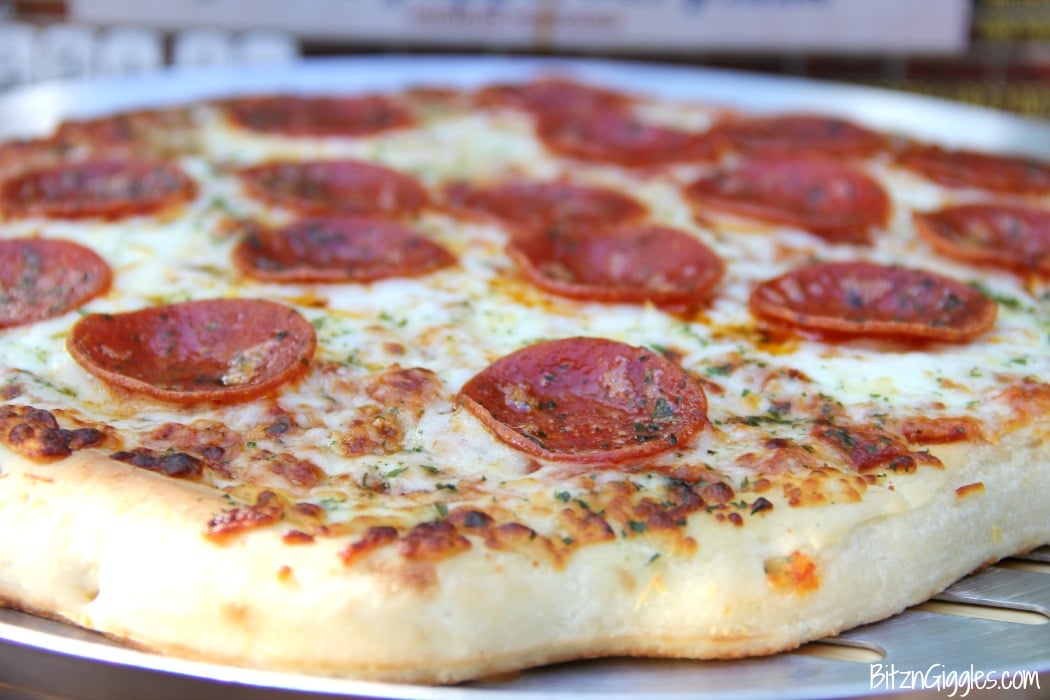 It's the perfect choice for weeknights or weekends like ours when you just don't want to put a lot of time into preparing dinner, but you still want something that tastes delicious!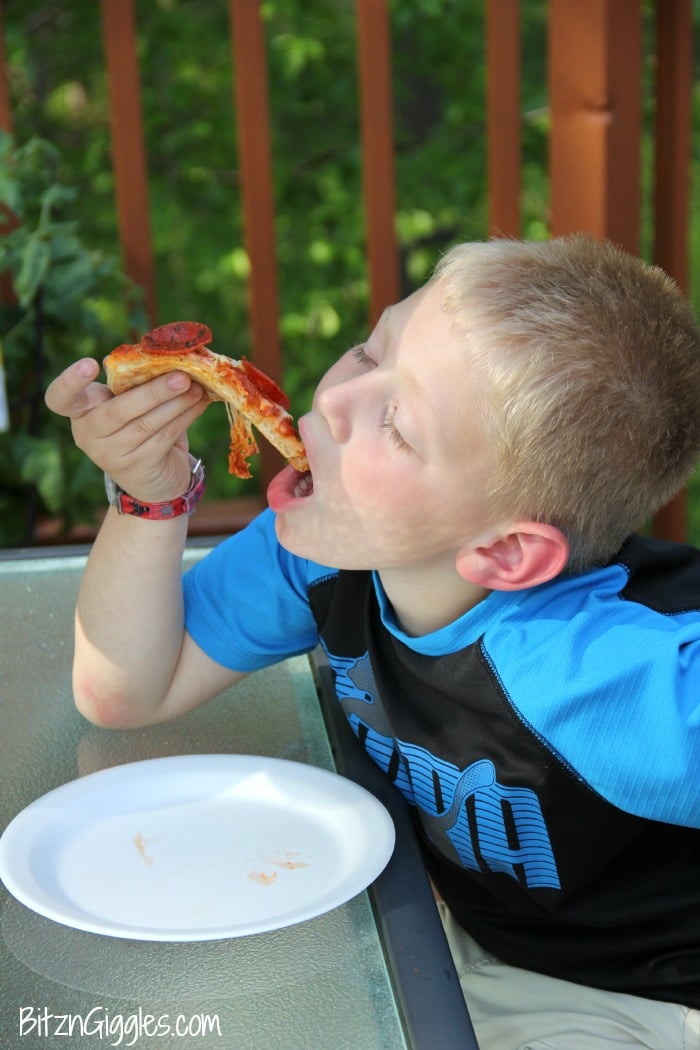 We're always entertaining up at the lake and it's so easy to feed a crowd with a few of these pizzas. What's even better is that NEW pizzeria! Thin Crust Pizzas are coming soon! I'm a thin crust lover so I can't wait for them to hit the shelves! I'm clearing more room in the freezer now!
Okay, okay, so are you ready to talk dessert? Awhile ago I saw the Dreyer Brownie Bowls and I always wanted to make my own, BUT I needed to add peanut butter. Why? Well, because chocolate and peanut butter is like the best flavor combination on earth. . .that's why.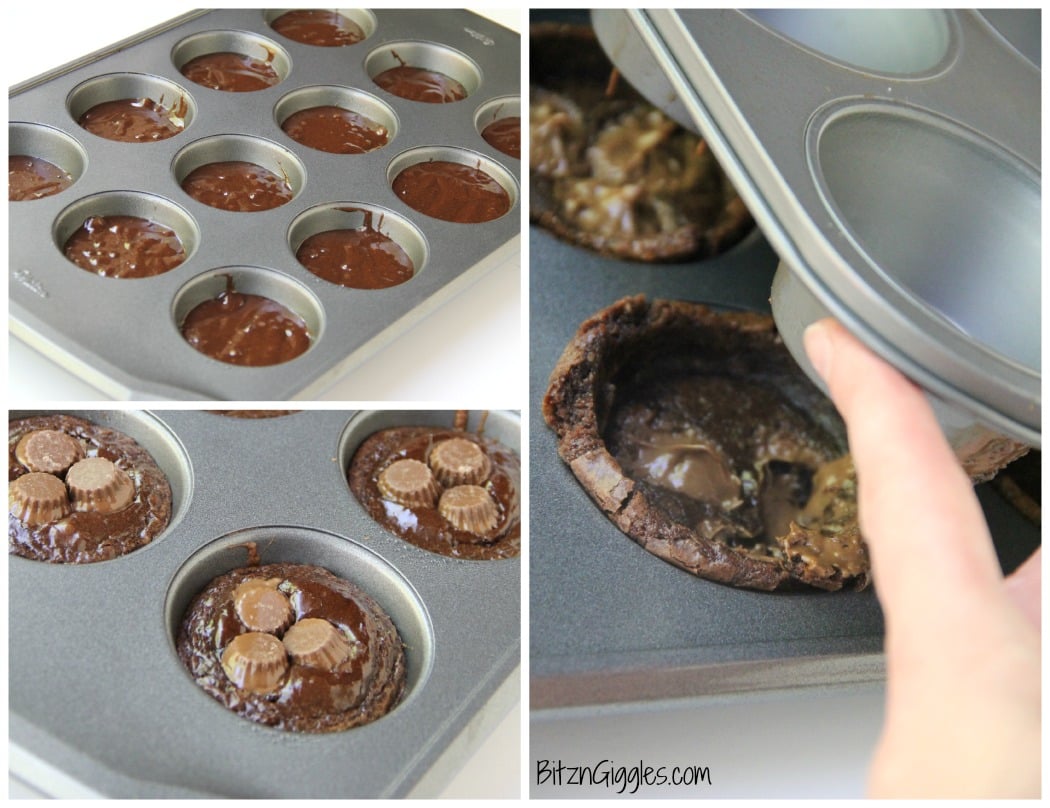 I started with a boxed brownie mix and added some mini peanut butter cups to the brownies several minutes into the baking process. I made the brownies into bowls by pressing the greased bottom of another cupcake/muffin pan into the pan with the brownies.
Remember when I said that I like to keep things simple up at the lake? I love this dessert because I can make sundaes right IN the brownie! No extra bowls or dishes – 100% edible. Awesome.
Alright, now that I have your attention, let's get to talking' about EDY's NEW Old Fashioned Vanilla Custard.
This custard is extra thick and creamy – if ice cream had a creamier cousin, this would be it. It has a sweet vanilla flavor and is made with fresh milk – no artificial colors or flavors. Bonus, right? It's the perfect addition to these brownie bowls.
I completely understand if you're grabbing your keys to run to the store to get the ingredients for this dessert right now. Normally I wouldn't stop you, but today, I'm offering something I think you'll thank me for. Right now EDY's is offering $1.00 off of their frozen custard! So, print out the coupon before you leave!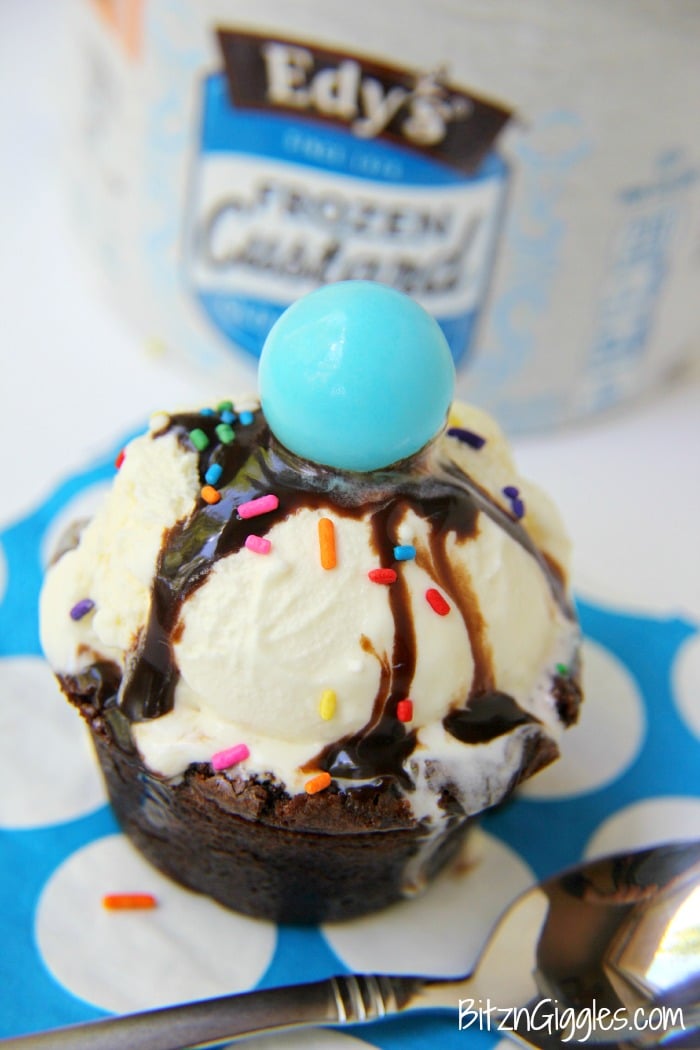 After scooping that rich and creamy custard into the brownie bowl, go ahead and top it with some chocolate syrup and sprinkles. There's really nothing better. Okay, well maybe that's not true. Add a big gumball to the top, and THEN there's nothing better.
The peanut butter cups that are baked into these brownies take the dessert to a whole 'nother level. I love that after you add the custard, it softens the brownie a bit as it melts and you can taste the peanut butter in every bite. Holy yum.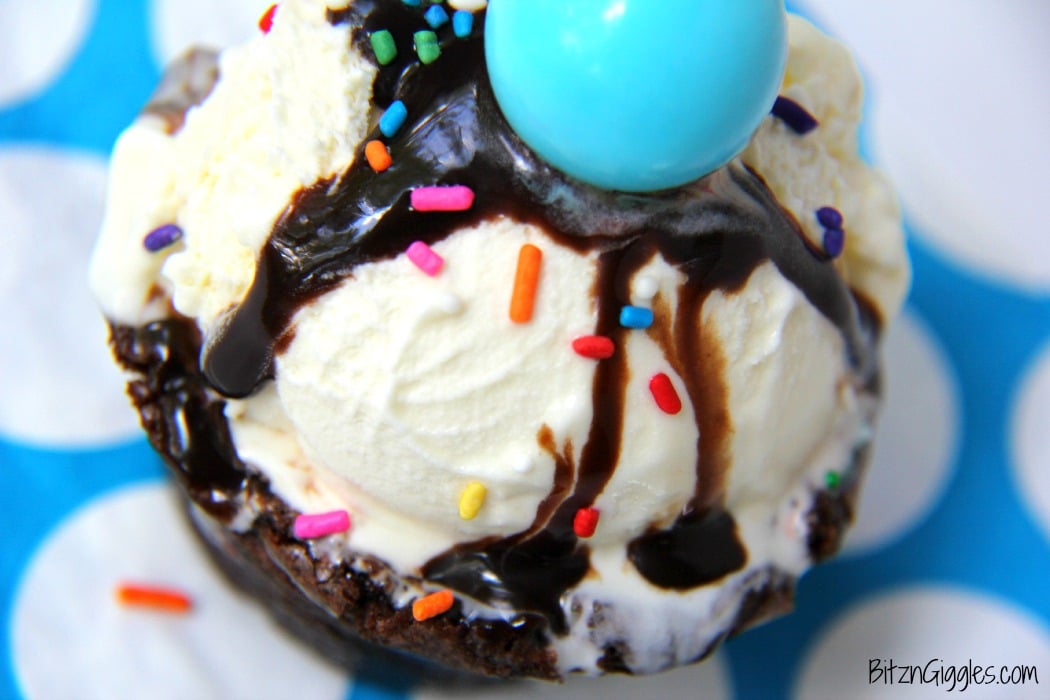 While you're enjoying your pizza and this decadent dessert, don't forget to check out EDY's® on Facebook and Pinterest and DIGIORNO® on Facebook and Twitter.
Relax this Memorial Day by keeping mealtime simple and affordable. Be present to enjoy the moments. No worries, you can thank me later. 😉
Peanut Butter Cup Brownie Bowls
A peanut butter cup infused brownie bowl perfect to build your ice cream sundae in!
Ingredients
Boxed brownie mix and ingredients necessary for preparation
EDY's Old-Fashioned Vanilla Frozen Custard
Mini peanut butter cups
Chocolate syrup
Sprinkles
Gumballs (optional for garnish)
Instructions
Preheat oven to 350 degrees Fahrenheit.
Mix brownies in bowl according to instructions.
Grease a muffin pan and fill each cup 3/4 full of batter.
Put the brownies into the oven and bake for 10 minutes.
Remove from oven and place three mini peanut butter cups in the center of each brownie.
Place back in the oven for 20-25 minutes or until the brownies are baked through.
Remove from oven.
Grease the bottom of another muffin tin and place the tin on top of the brownies while still warm.
Allow to cool and fill the brownie bowls with custard.
Top with chocolate syrup and sprinkles.
Nutrition
Serving Size: 12
Calories: 251
Sugar: 4
Sodium: 170
Fat: 9
Saturated Fat: 2
Unsaturated Fat: 7
Trans Fat: 0
Carbohydrates: 43
Protein: 2
Cholesterol: 0

(Visited 1,917 times, 1 visits today)