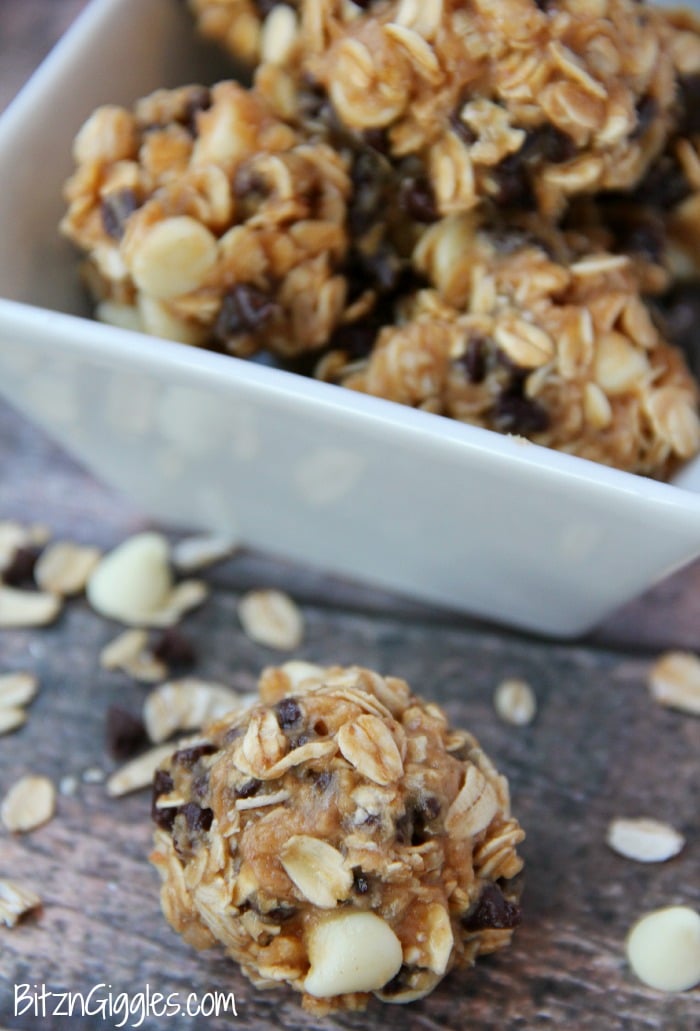 TGIF!! What a busy week it's been! The shorter days have set in, and when I come home from work in the evening, it's already dark. I walk in the door, put on my T-shirt and yoga pants and start getting dinner ready for the family. Is it just me or does a person's body react differently to cold weather? During the summer I seem to have so much more energy. These days I've been struggling just to get out of bed in the morning. Sigh. I certainly need to snap out of this and quick. Winter hasn't officially even begun and I'm already waving a surrender flag!
So, because I needed a little pick-me-up I made these delicious, no-bake Peanut Butter & Chocolate Oat Bites. Oats, peanut butter, chocolate and granola all rolled up into a yummy ball of deliciousness. My friend Angie brought these to work a couple years ago and I snagged the recipe from her. Angie is a complete go-getter, FULL of energy and living life to its fullest out in Portland, OR now. I miss her dearly, and could use just a little of her energy. I'm sure she just finished climbing another mountain or biking across Europe or something. Sigh. Angie, if you're reading this, I thought of you as I made these little bites.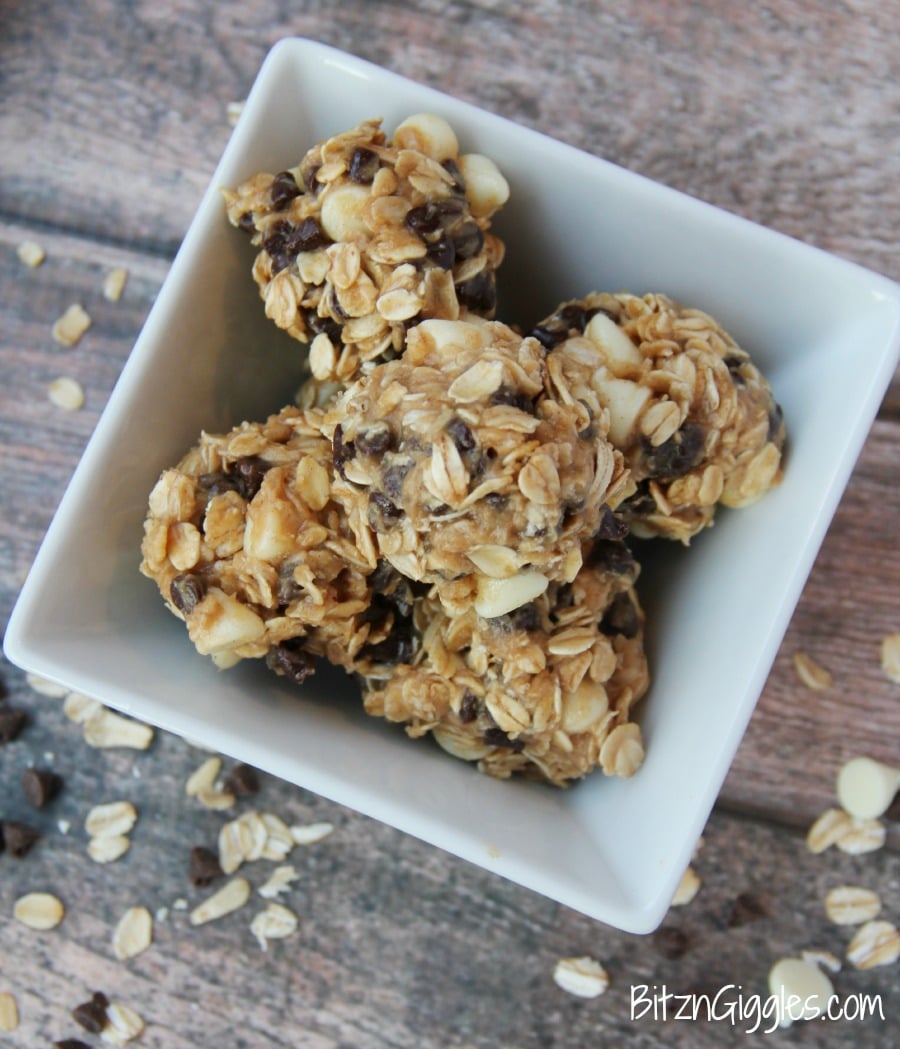 First of all, just let me say, these are DELISH! You pop them into your mouth and they just melt. To give them even more decadence, you could dip them in chocolate if you like. That would put them over-the-top, trust me. The other great thing you could do with them is put them in a pan and cut them up like bars if you'd prefer that over bites. They're so versatile and SO EASY to make!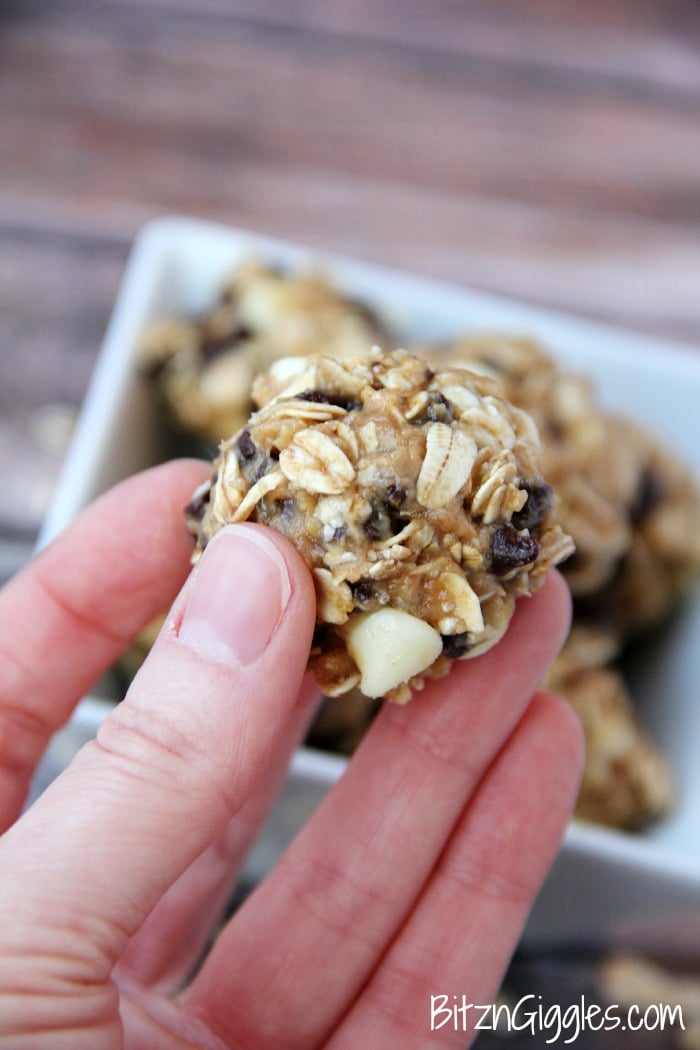 I'll admit that I ate all of the bites that were in the bowl. No worries, though. The recipe made about 24 bites or so, so there were plenty left over for the rest of the family. . .and me. . .for the next day. 🙂 I think next time I'm going to go ahead and cover them in chocolate just to keep that deliciousness even more contained.
And, well, do I really need to justify why I want to cover them in chocolate? I like to cover everything in chocolate. It's just something I've come to accept about myself. So, in honor of Angie, I may just make a million or so more of these bites over the next several years. If you make these, you may very well do the same. I miss you, my friend. . .we need to catch up soon.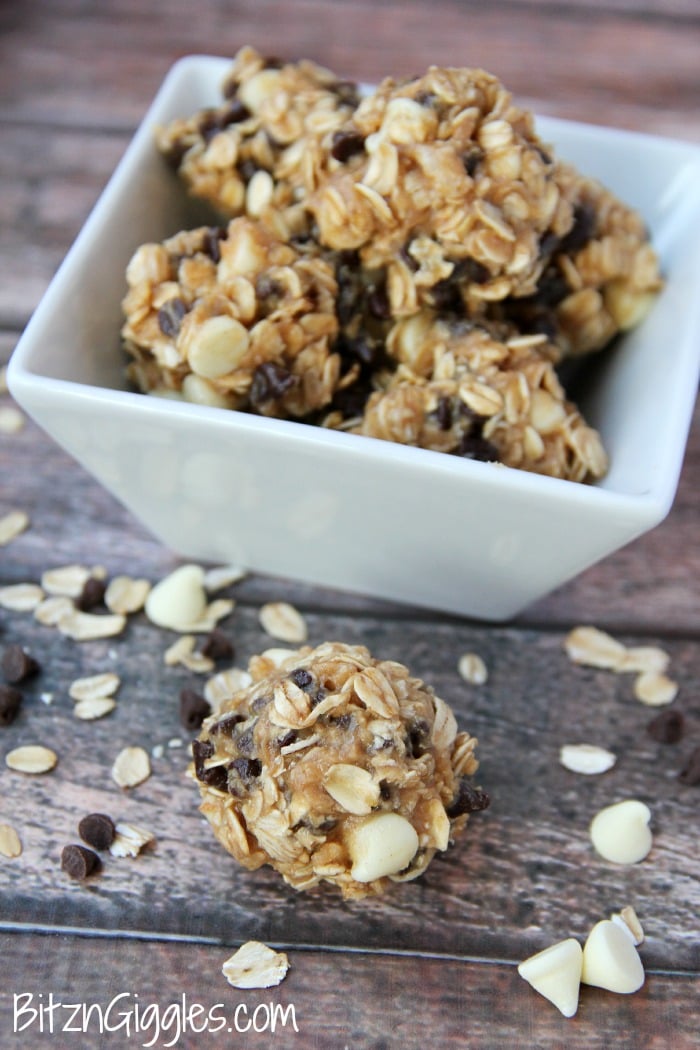 Peanut Butter & Chocolate Oat Bites
Oats, peanut butter, chocolate and granola all rolled up into a yummy ball of pure deliciousness!
Ingredients
1 cup peanut butter
1 cup powdered sugar
1 cup granola
1 1/2 cups oats
3/4 cup white chocolate chips
3/4 cup chocolate chips
1/3 cup milk
1 tsp vanilla extract
Instructions
Mix all ingredients together and roll into 1 inch balls. Refrigerate about two hours or until set.
Notes
Try dipping these bites in chocolate or pressing the mixture into a 9×9 inch pan and cutting them like bars. They're so versatile and delicious any way you make them!
Nutrition
Calories: 4908
Sugar: 308
Sodium: 1544
Fat: 254
Saturated Fat: 77
Unsaturated Fat: 154
Trans Fat: 0
Carbohydrates: 550
Protein: 140
Cholesterol: 62
(Visited 2,477 times, 1 visits today)