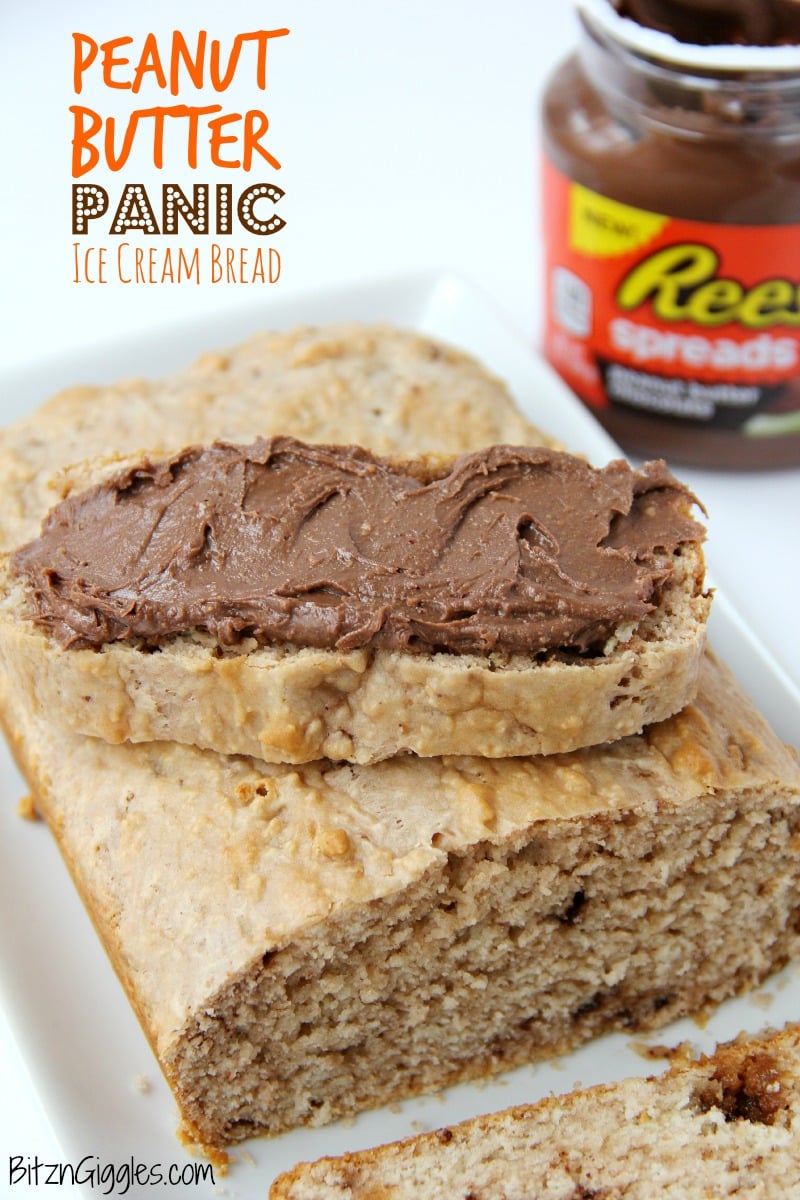 I couldn't wait to hit "Publish" on this post today, you guys! If you've been following along with my blog, you know that I love quick, simple and delicious recipes. If it's got a ton of complicated ingredients and is going to take me the entire afternoon to make. . .I'm out.
This Peanut Butter Panic Bread, however, is quite the opposite. The ingredients are SO simple and I prepared the dough in a matter of minutes.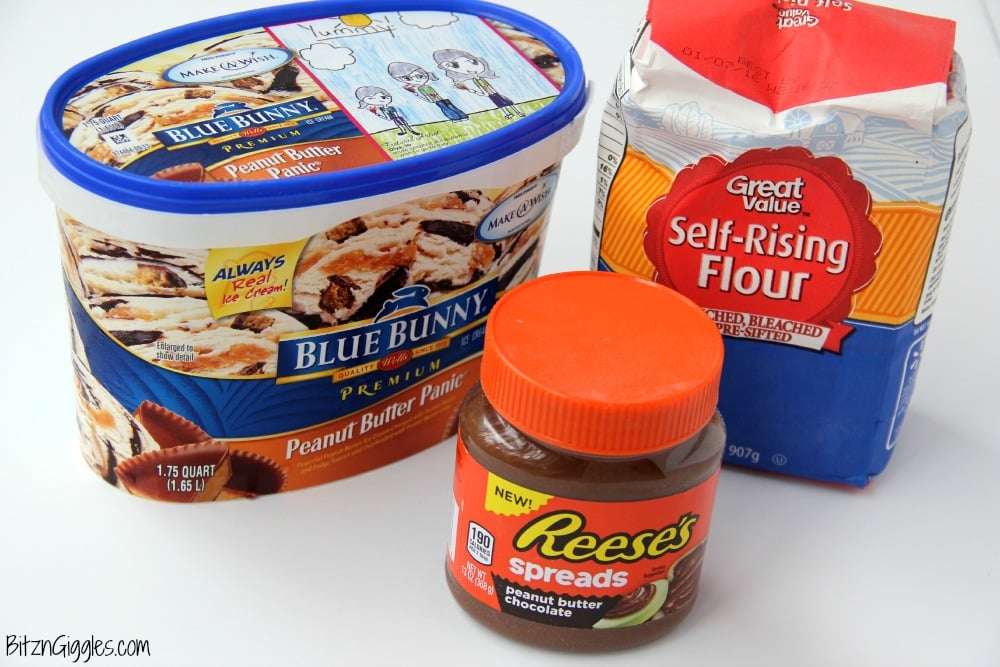 Let's talk about what's in this decadent bread. Yes, I'm using the words "decadent" and "bread" together. . .in the same sentence. This isn't your ordinary bread. In fact, it's right up there in the cake category for me.
The Brownie Butter Cake I make is actually cake in bread form – this one is bread, in bread form – but it tastes like CAKE! Are you confused yet?
Okay, so this bread has ~count them~ three ingredients: ice cream, flour and peanut butter chocolate spread. Technically, two, if you don't count the Reese's spread. Did you even know that you can make bread from just ice cream and flour? Well, you can. The flavor combinations are limitless.
I found this Blue Bunny Peanut Butter Panic ice cream at the store. It stopped me in my tracks. Blue Bunny describes it as peanut butter ice cream drowning in peanut butter and fudge swirls, and bursting with peanut butter cups. Is this real? Yep. It went right into my cart.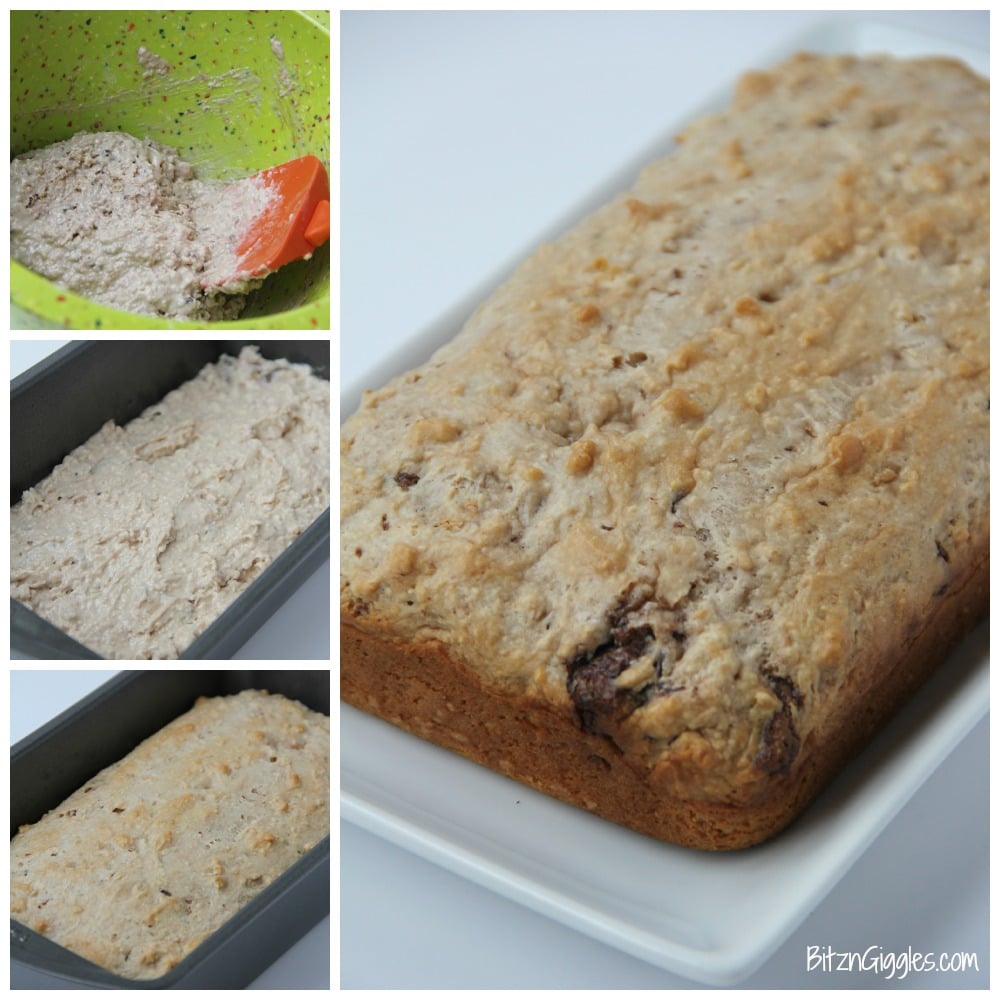 Bread really doesn't get any more delicious or easy than this. I'm just sayin'. You mix the ice cream and flour together in a bowl, transfer the batter to a greased loaf pan and bake it for about 45 minutes at 350 degrees. That's it.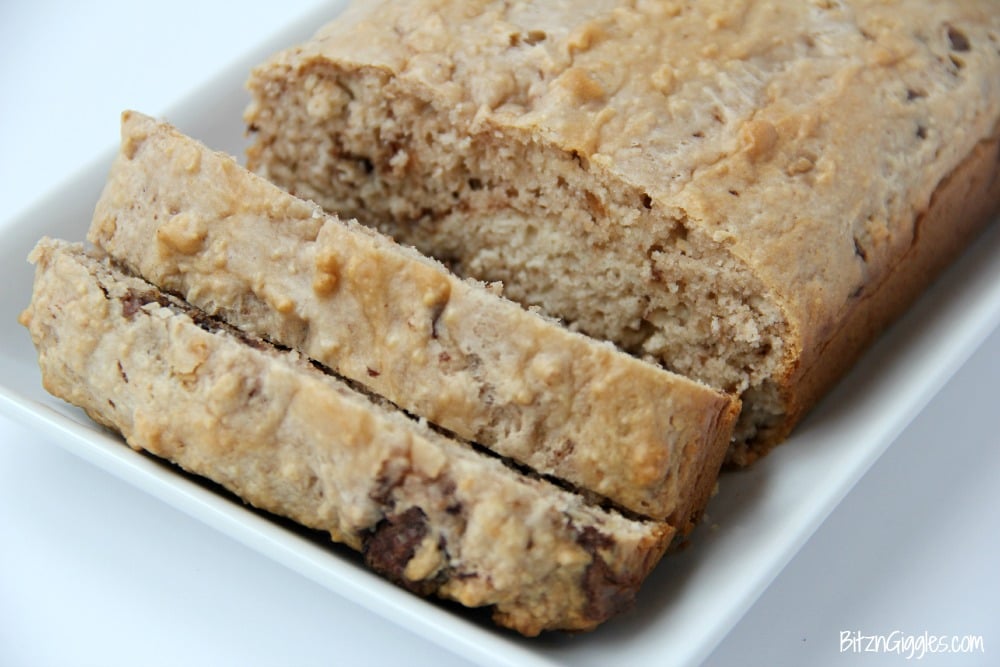 The bread is sweet, moist and delicious. I'll tell you what. . .this Peanut Butter Panic ice cream. . .best thing EVERRR. Can you see the peanut butter cup chunks right in the bread? I didn't add any extra candy. I added nothing. Nothing but ice cream and flour. You're intrigued aren't you? You want to make this, too, don't you? I knew you would.
If you can't find the Blue Bunny Peanut Butter Panic ice cream, you can use any brand of ice cream that's peanut butter cup flavored. Here's the deal though, no low fat anything. It won't work. This has to be full throttle, mucho calorie, ice cream.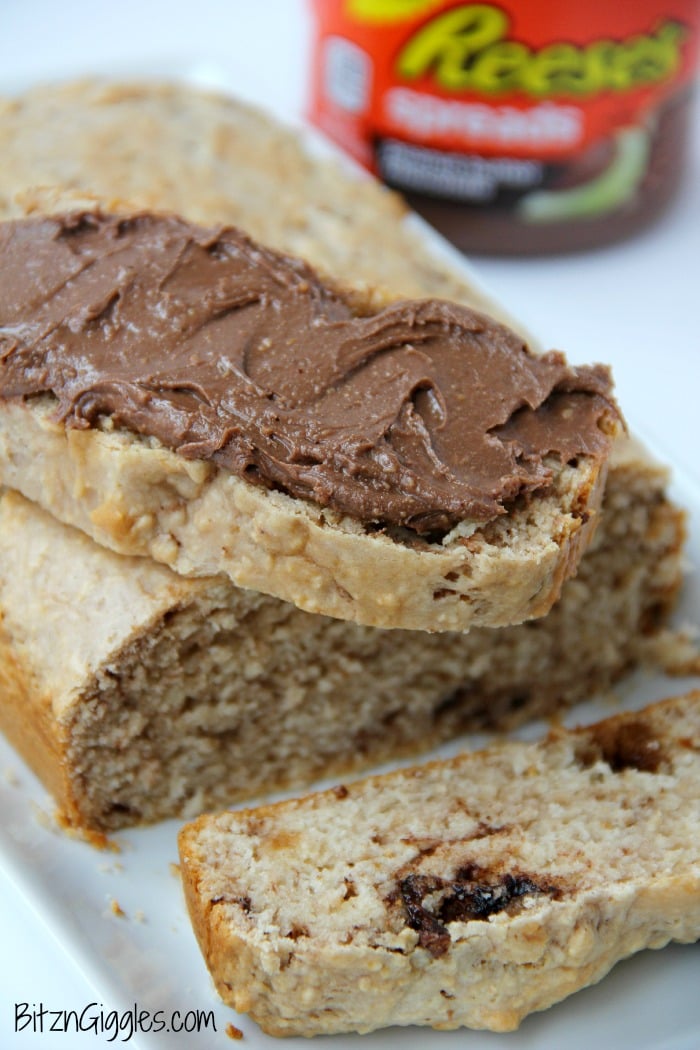 While the ice cream was a good start, I've been itching to try that Reese's Peanut Butter Chocolate spread. While the rest of the world went crazy for Nutella, I really believe this spread is what I was holding out for. Wow. Mind blown. Especially on this bread. I knew they would be a good pair.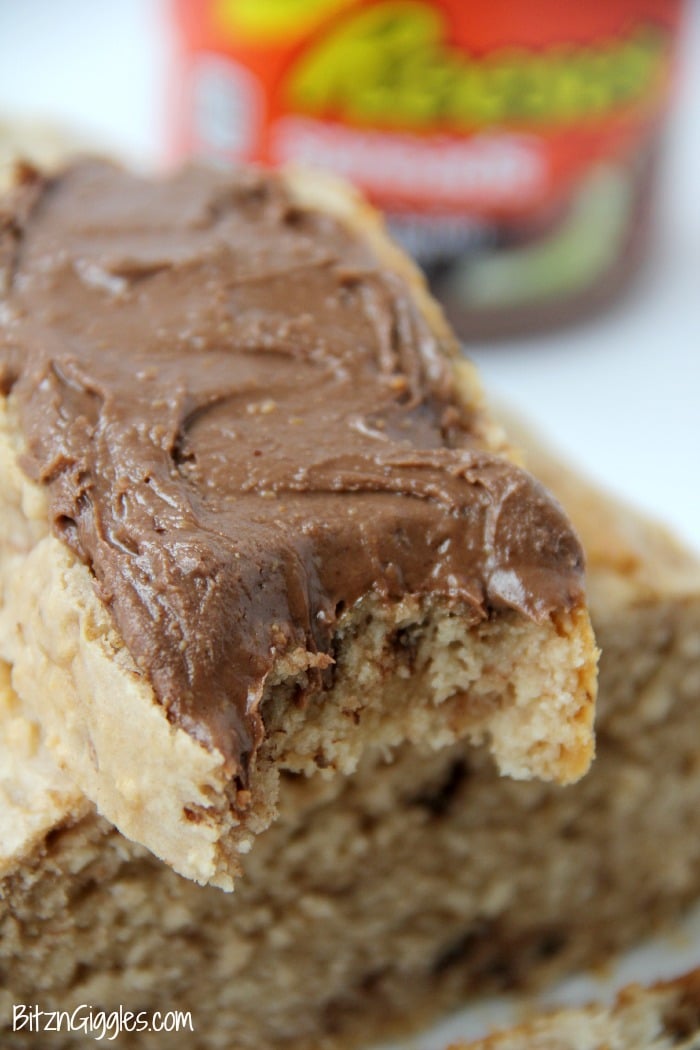 I didn't hold back on the spread, let me tell you. Well, I don't have to tell you. You can see for yourself. That first bite was pretty much "heaven on earth." Are we still talking about bread? Yes, we are.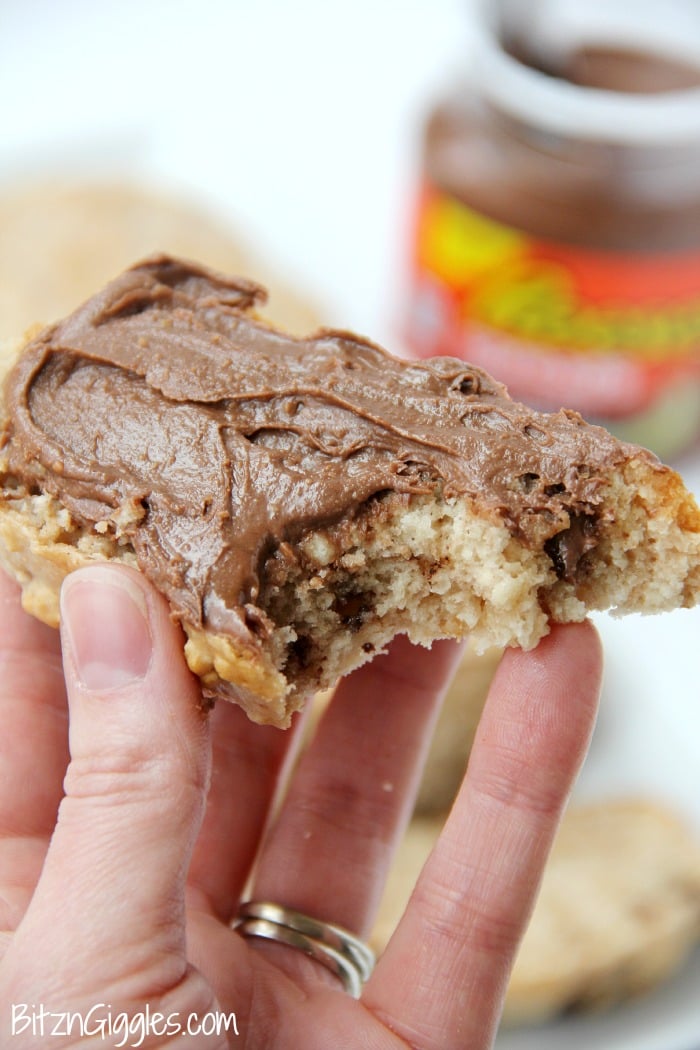 I really have nothing left to say, except, make this bread and get the spread. This recipe is incredible, and trust me, none of your friends or family are going to believe you when you tell them what's in the bread. They're going to look at you in disbelief and just ask for another piece. Do what they say and then give them the recipe. I'm going to the kitchen to get another slice of this bread. . .
Peanut Butter Panic Ice Cream Bread
A sweet peanut butter dessert bread made with only two ingredients and covered with a chocolate peanut butter spread.
Ingredients
2 cups Blue Bunny Peanut Butter Panic ice cream, softened
1 1/2 cups self-rising flour
Reese's Peanut Butter Chocolate Spreads
Instructions
Preheat oven to 350 degrees Fahrenheit
In a bowl, mix the softened ice cream with the self-rising flour
Transfer the dough to a well-greased loaf pan
Bake for 40-45 minutes
Allow to cool, slice and spread with the Reese's spread before serving
Notes
Do not use low-fat ice cream for this recipe.
Nutrition
Serving Size: 8
Calories: 98
Sugar: 1
Sodium: 312
Fat: 1
Saturated Fat: 0
Unsaturated Fat: 0
Trans Fat: 0
Carbohydrates: 19
Protein: 3
Cholesterol: 2

(Visited 2,550 times, 1 visits today)