Peanut Butter Pumpkin Dog Treats – A crunchy treat made of pumpkin and peanut butter, perfect for your loving fur babies!
You guys!! I'm in Vegas this week for a conference, so my blogland presence has been a bit sketchy. My apologies. I had fun this morning attending a session with Barbara Corcoran and Robert Jerjavec from ABC's Shark Tank.
I was always taught to take at least one "golden nugget" back from each session at a conference. This morning Barbara was talking about running a successful business, and she said the key to great success is "having fun."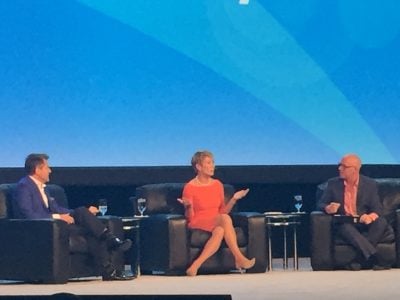 I absolutely believe that to be true. Her statement made me think a lot about the name of this blog – because I know if I'm not giggling and having fun, I'm not going to be able to create little "bitz" of ANYTHING. High stress and burn out = zero creativity.
So, anyway, once and awhile it's good to get out, listen to others for inspiration and then get back to work doing what you do best! And that's what I plan to do!
Blah, blah, blah. Will she ever get to talking about the Peanut Butter Pumpkin Dog Treats?! Ha, ha. I know that's what you're thinking!
So, before I left for Vegas I made these delicious treats for our golden retriever, Belle. She turned one-year-old at the beginning of the month so we've been showing her the royal treatment as of late. In our family, it's almost as if we have birthday "months." 😉 That's a good thing.
You may have already seen the Banana Pup Pops or the Chewy Cheddar Puppy Puffs she loves. Let me tell you what. . .she would do flips for these treats, too! And so will YOUR pup!
How to Make Peanut Butter Pumpkin Dog Treats
Ingredients
1 cup canned pumpkin
2 1/2 cups whole wheat flour
2 eggs
2 tablespoons peanut butter
1/2 teaspoon salt
1/2 teaspoon ground cinnamon
1 tablespoon water
Extra flour to reduce stickiness of dough
Instructions
Preheat oven to 350 degrees Fahrenheit.
Mix all of the ingredients together with a spoon or spatula until well combined.
If the dough seems real dry yet, add a little water at a time until you achieve a dough-like consistency – remember this should be a dryer dough.
Sprinkle some of the extra flour onto a flat surface and use a rolling pin to spread the dough out.
Bake for 35-40 minutes.
If the dough seems a bit sticky use small amounts of flour when working with your cutters.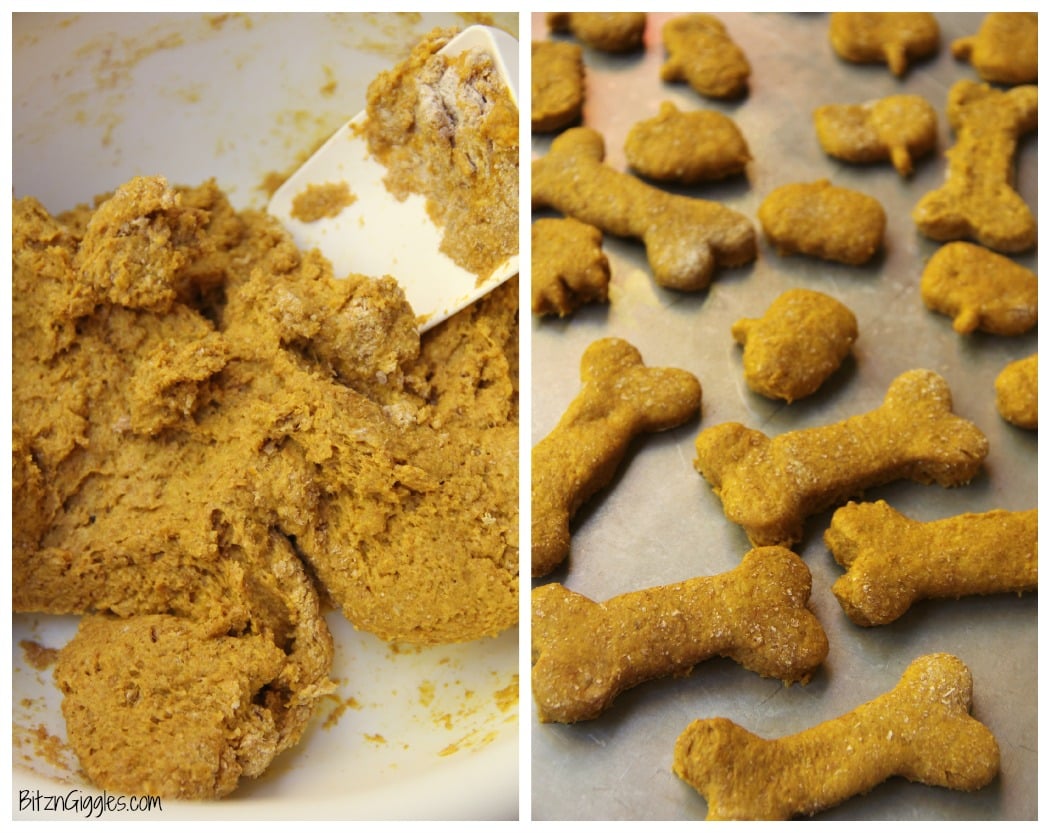 I love this recipe because it involves dumping a few ingredients into a bowl and stirring. I can handle that. The most time consuming part is rolling out the dough and cutting out the shapes.
Allow me to let you in on a little secret. . .if you don't have time for the pretty shapes and cutters, you can always just roll small pieces of the dough into little balls and make them into training treats.
To celebrate the beautiful fall weather we've been having, I cut out some pumpkins and leaves, and then, of course, made some of her favorite shape – the doggy bone.
You'll find that the dough can at times be a bit sticky, but adding a little flour to the dough when kneading it and rolling it out helps tons!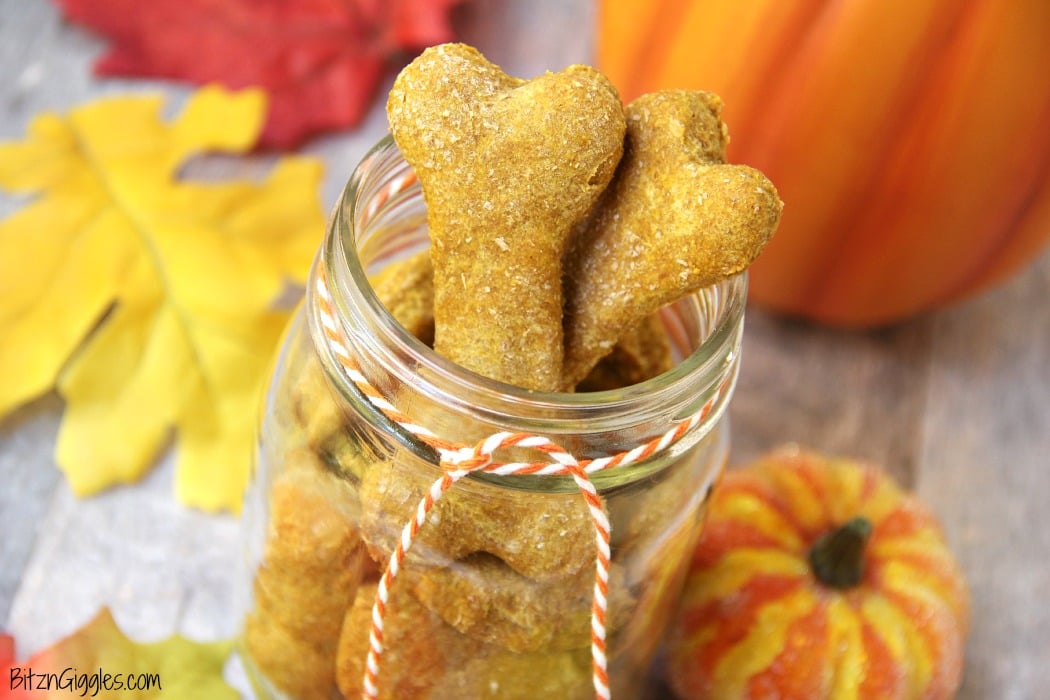 I normally always use whole wheat flour when I make dog treats. It's just a better choice for your fur baby and, believe me, most everything tastes good to a pup. Psst. . .she ate her own poop once when she was really little (TMI, I know). ANYWAY. . .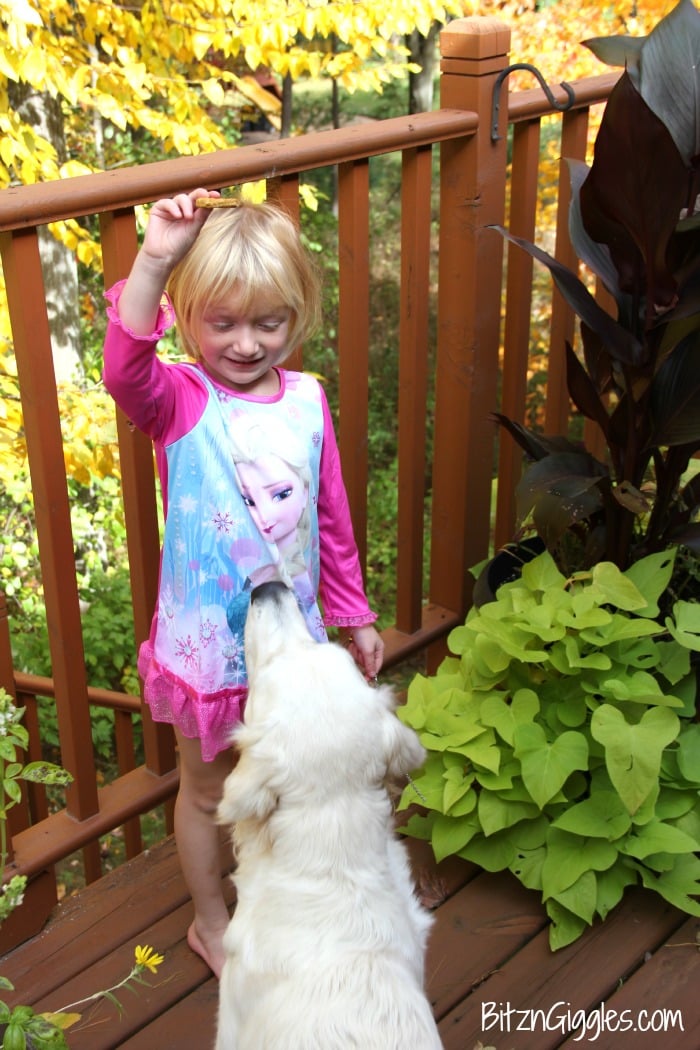 She nearly knocked Cora over waiting for her treat. It wasn't helping that Cora decided to try and make her wait for a REALLY LONG time. Poor thing. LOL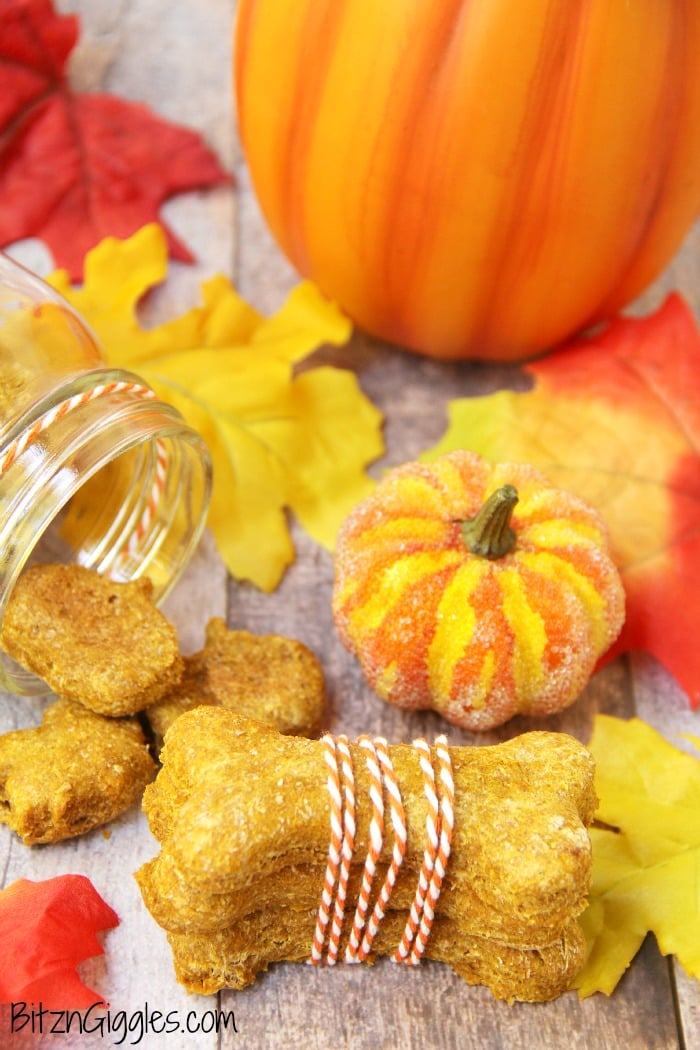 The recipe makes about 24 treats if I were to have made all of the medium-sized dog bone treats. I got more than that in this batch using some of the smaller cookie cutters and at the end I even rolled a few pieces of the remaining dough into balls for some smaller training treats like I mentioned earlier.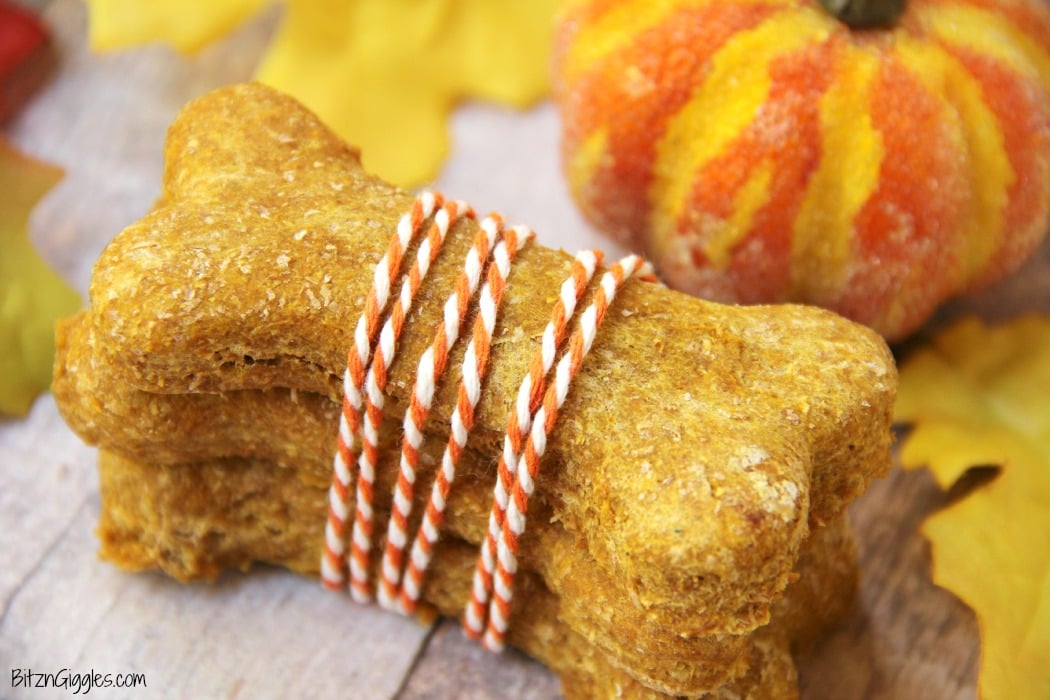 So, this year when you're buying canned pumpkin for all of your fall treats, don't forget about your furry family member. Make a batch for Thanksgiving so they can join in on the family celebration, too! Bake some for family and friends who are animal lovers.
They'll think it's such a kind gesture – and so will their pups! I can't wait to hear about all of your puppies doing flips for these treats, too! Make sure to let me know if they liked them!!