An easy and delicious Pico de Gallo & Guacamole recipe perfect for dipping chips! So many fresh ingredients in this appetizer and so good for you, too!
This post includes affiliate links. Please see my disclosure.
Oh, how I love the Pioneer Woman. I "Tivo" all of her shows and can't wait to get my hands on her new cookbook that she's releasing at the end of October. She makes cooking and baking look effortless and fun and it's great to see the love she has for her family and how she gets them involved in what she does.
One of my favorite appetizer recipes from her is her easy Pico de Gallo and Guacamole recipe. After my husband, Josh, and I went to Mexico this year, I fell in love with this refreshing concoction made especially for tortilla chips and had to find a recipe so I could make my own at home. I crave the fresh ingredients and don't feel so guilty if I "accidentally" eat an entire bowl. It's one of the healthiest "dips" you can make, so eat away!
Here's what you'll need to begin: 5-6 firm roma tomatoes, 2-3 avocados, half an onion, a lime, 3-4 jalapeno peppers, a bunch of cilantro and sea salt.
Start by rinsing and finely chopping up the jalapenos (stems can be tossed). It's up to you whether or not you want to leave the seeds in or not. The seeds will give it a bit more of a kick. I included the seeds of one of my jalapenos.
Next, rinse your tomatoes, seed them and finely chop them as well. Nice, firm tomatoes work best.
Add your tomatoes to the jalapenos.
Now, dice up your onion and throw it into the bowl as well.
Yum. Doesn't this look so refreshing? I love the color!
Take your cilantro and chop into fine pieces – add to the bowl and stir.
Cut the lime horizontally and squeeze the juice of one half into the bowl and mix in the flavor with the rest of the ingredients.
Next, add a couple pinches of sea salt. Remember you can always add more later so you don't want to overdo it.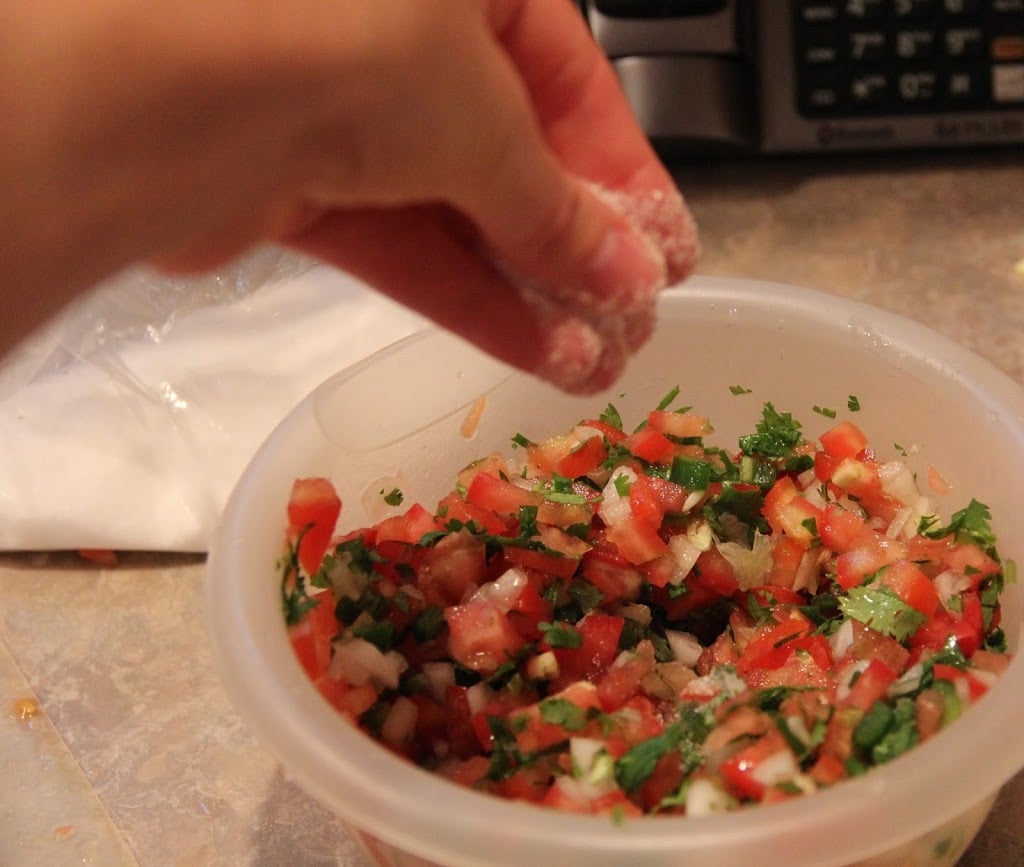 Now, you can either stop at this step and start enjoying the wonderful pico de gallo or continue on to make this dish EVEN more delicious by adding some guacamole. Wash the avocados and divide in half with a knife. Discard the pits and scrape out the meat onto a clean plate using a spoon.
Now, take a fork and mash the avocado on the plate. You don't want this the consistency of baby food. Leave some chunks in there. Guacamole is meant to be chunky. At least that's how I like it!
Take the other half of the lime and squeeze the juice over the avocado and add a little more salt. Add the avocado mixture to the bowl with the pico de gallo. And there you have it. Cool, refreshing, guacamole that's just waiting for your chip.
Don't forget that this is best eaten the day it is made. You'll probably get away with extending its life to the next day, but after that you'll probably be out of luck. The avocado starts to brown and the rest turns into a watery mess. So, start chopping a couple hours before you serve. Chilled guacamole is the best!
Pico de Gallo & Guacamole
An easy and delicious Pico de Gallo & Guacamole recipe perfect for dipping chips! So many fresh ingredients in this appetizer and so good for you, too!
Ingredients
Pico de Gallo
5–6 Roma Tomatoes (firm work best)
1/2 Onion
Bunch of Cilantro
3–4 Jalapeno Peppers
1/2 Lime
Sea Salt
Guacamole
Pico de Gallo
2–3 Ripe Avocados
1/2 Lime
Sea Salt
Instructions
Pico de Gallo
Finely chop the tomatoes, onion and jalapeno peppers and mix together in bowl.
Chop up the cilantro and add to the ingredients in the bowl.
Add a couple pinches of sea salt and stir.
Squeeze 1/2 a lime over the mixture and fold in.
Guacamole
Slice avocados length-wise and remove the pits.
Scrape the meat out of the avocados onto a plate and mash with a fork until you reach a creamy, yet chunky consistency.
Add a pinch or two of salt (to taste) and squeeze 1/2 of a lime over the mixture. Mix together.
Using a spatula, transfer the avocado mixture to a bowl and add a generous heap (or two) of the prepared Pico de Gallo.