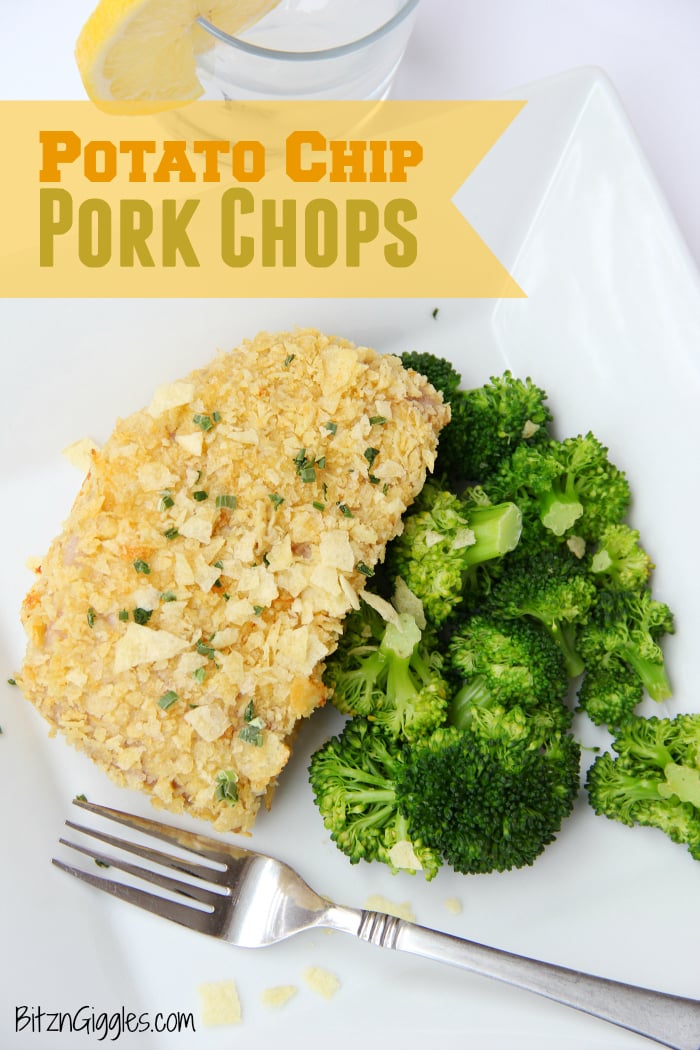 When you have potato chips, you should cook with them, right?! Last week I posted a fun twist on classic chicken salad that used crushed potato chips. I've made casseroles with them and I've made my own homemade potato chips just to eat alone! Today, I'm making Potato Chip Pork Chops, and let me tell you what. . .you are going to be in heaven from the first taste to the very last bite!
So, I want to start off by talking about dredging. If you're interested in the Wikipedia definition, here you go. In my own words, dredging is literally a combination of dipping something (normally a piece of meat, in my world) into a liquid mixture and then covering that "something" with a rub, bread crumbs, Panko, or in my case, potato chips. The whole point of dredging is to "encase" your cut of meat so it stays moist on the inside and crunchy on the outside.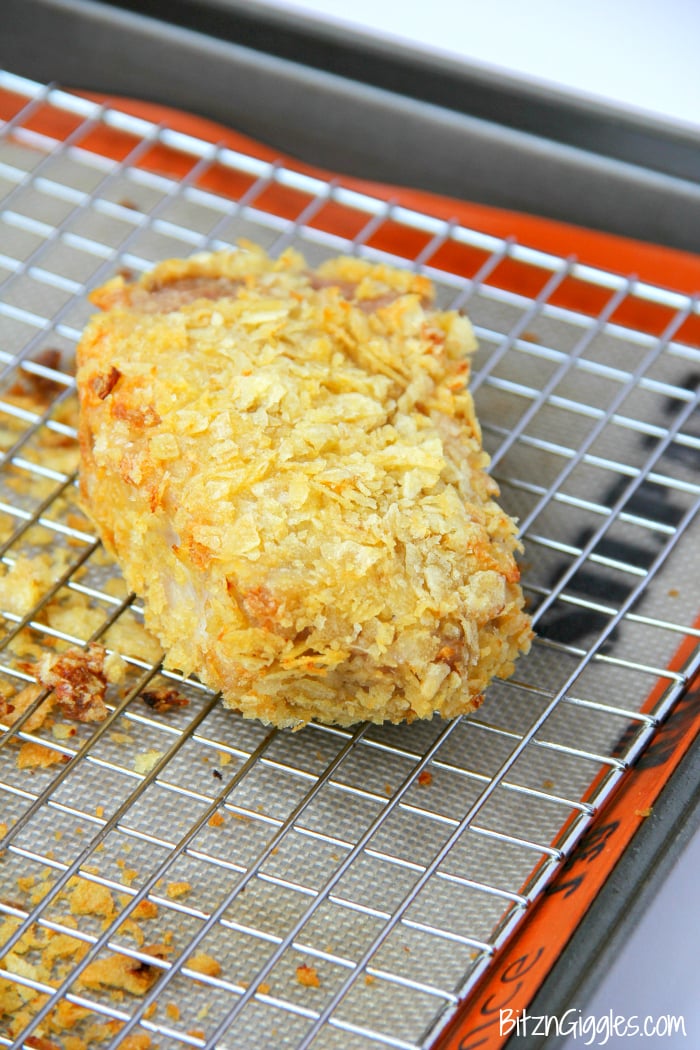 When I dredge a cut of meat or fish and then cook it, I always raise the cut OFF of the baking pan with "my own creation" of an oven-safe cooling rack placed on top of a lined baking sheet. If you don't already own a Silpat baking mat for your baking pans, you need one. They're so easy to clean up and they're surprisingly durable.
It took me many fails with breaded anything before I learned this lesson. I was always dealing with an end product that was half crispy, half soggy. It just didn't make for a delicious meal, if you know what I mean.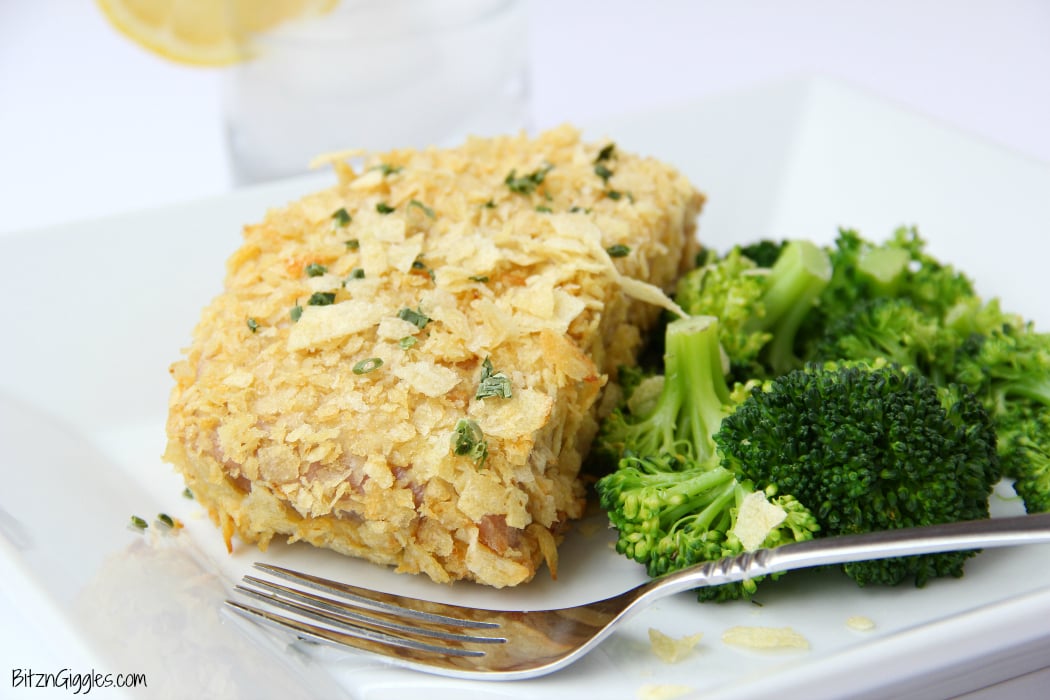 I promise you that these pork chops are anything but soggy. They're full of flavor and completely crispy, all of the way around.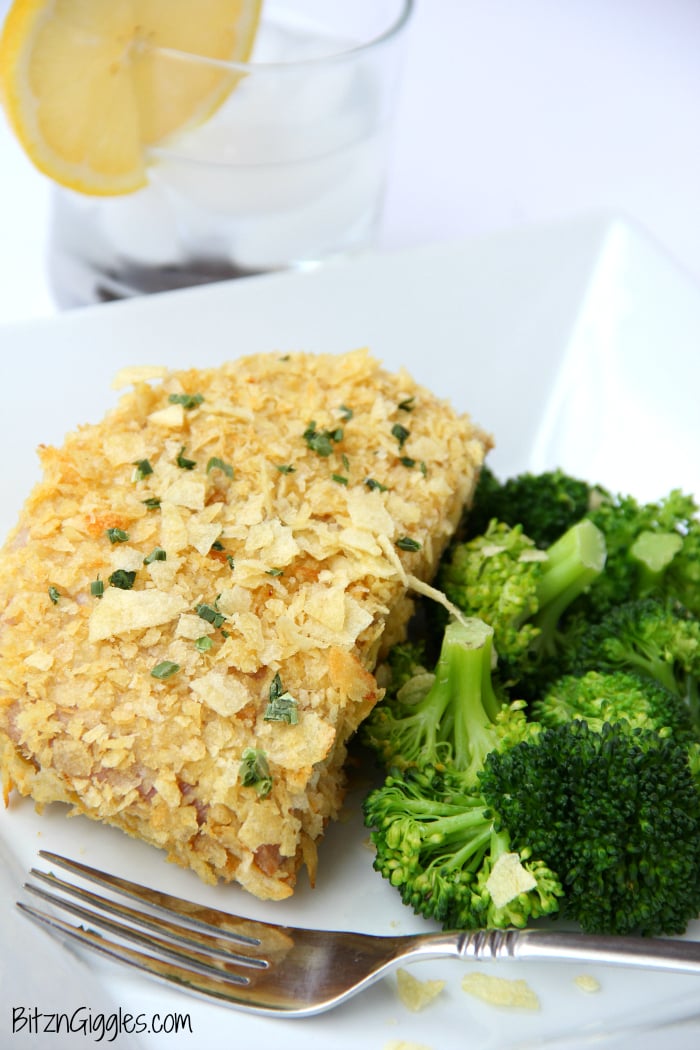 If dredging has gotten you down in the past, don't let it get you down anymore! Crush up those potato chips, preheat that oven and get ready for some of the tastiest chops ever! I just know you're going to love them!
Potato Chip Pork Chops
Seasoned pork chops dredged in buttermilk with a crunchy and delicious potato chip crust!
Ingredients
1 teaspoon onion powder
1 1/4 teaspoons garlic powder
1/4 teaspoon salt
1/2 teaspoon pepper
4 boneless pork chops
1/4 cup flour
1/4 cup buttermilk
1 egg
2 cups potato chips, crushed
Instructions
Preheat oven to 400 degrees Fahrenheit.
In a small bowl, mix the onion powder, garlic powder, salt and pepper.
Season both sides of the pork chops with the seasoning.
Dredge the seasoned pork chops in the flour.
In another bowl, whisk the egg and buttermilk together.
Dip the flour-coated pork chops in the buttermilk and egg mixture.
Dredge the pork chops in the potato chips and press the chips onto the chops.
Place the coated pork chops on a oven-safe, greased cooling rack placed on top of a baking sheet.
Bake for 30-40 minutes, turning halfway through and until juices run clear.