Potato Corn Chowder – Just like Grandma used to make! This flavorful combination of potatoes, corn, carrots and bacon in a creamy, cheesy broth is a perfect soup for the whole family!
This post includes affiliate links. Please see my disclosure.
Ahh yes, soup. It's just one of those things that makes you feel good. It warms you up. It satisfies. It's a full meal inside of a little bowl.
I REALLY love cheesy soups, and this Potato Corn Chowder ranks right up there with my cheesy broccoli soup, my beer brat cheesy chowder and my cheesy potato & broccoli soup. I tend to put cheese in. . .well. . .most everything. . .if you haven't noticed.
This soup I'm sharing today came about because I needed to use up some baby red potatoes I had sitting around the kitchen.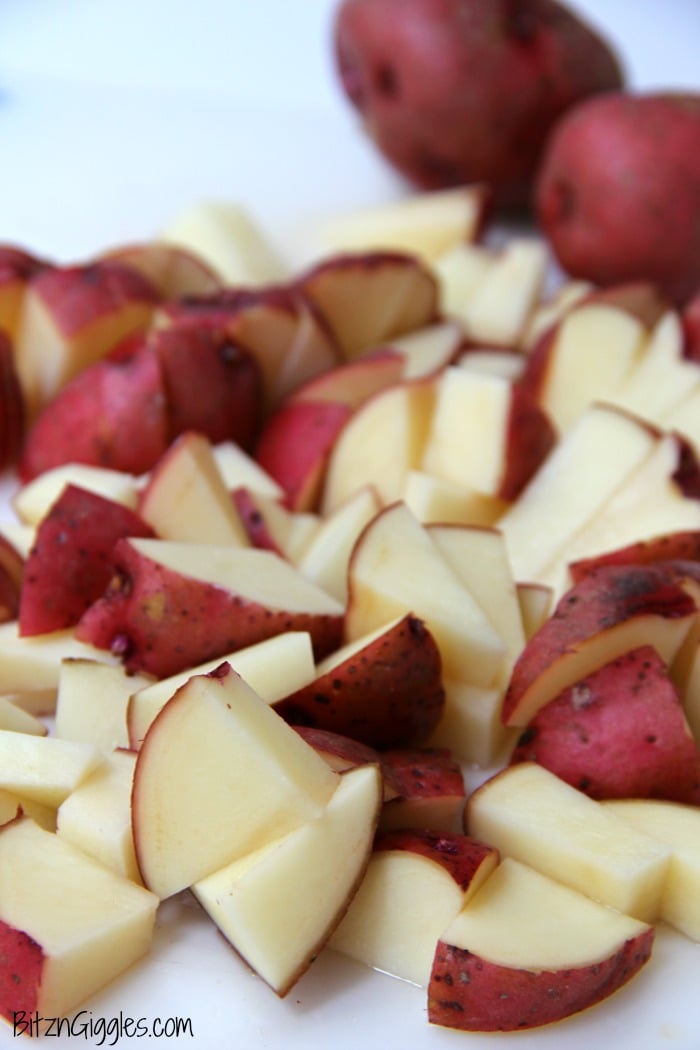 There really weren't enough to make a substantial side dish for the family, so I ended up making this delicious soup instead. . .and I'm so glad I did!
What I love is that this recipe uses ingredients you probably already have in your fridge and pantry. The only thing I needed to run to the store for was some bacon because we don't always keep that readily available each week.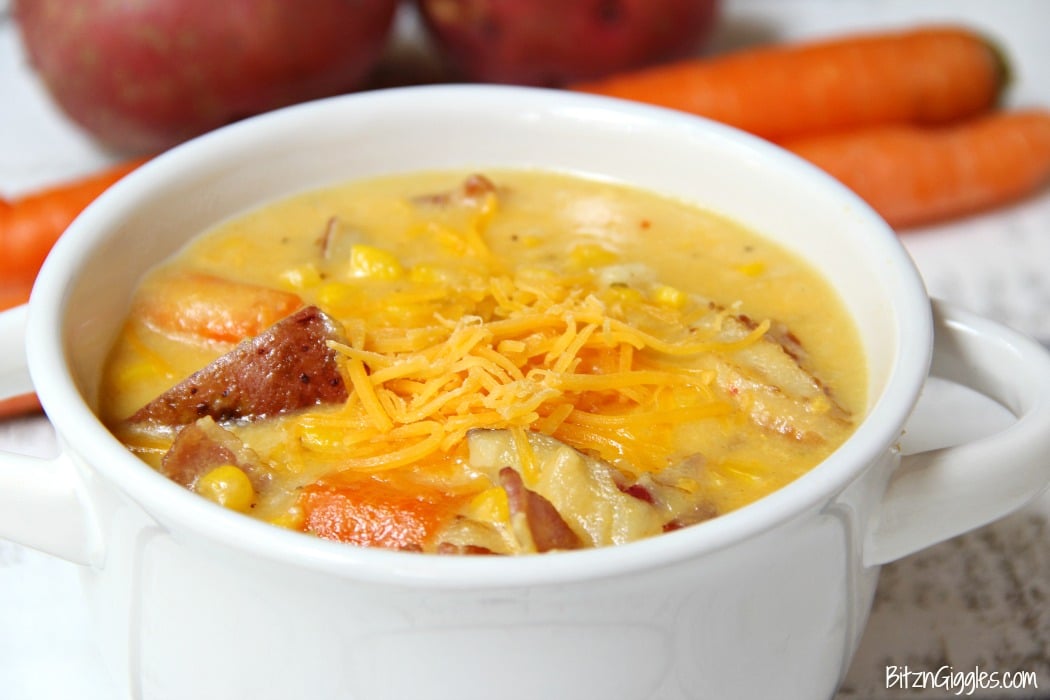 The whole soup comes together in about 30-40 minutes and it's ready to go. It doesn't need to simmer on the stove for hours like some soups do. And there's just something about root vegetables in the fall that calms my soul and prepares me for the cooler months ahead.
There's really no need to peel your baby reds either. I leave the skins right on. It's just my preference. If you prefer your potatoes, skinless. . .peel away.
And then just. . .enjoy. Because that's what this cozy dish is all about. Have a bowl. . .or maybe two. . .it's almost time to start preparing for hibernation, after all. 😉
Potato Corn Chowder
Just like Grandma used to make! This flavorful combination of potatoes, corn, carrots and bacon in a creamy, cheesy broth is perfect for the whole family!
Ingredients
6 slices bacon, chopped
1 cup onion, chopped
1 cup water
2 1/2 cups baby red potatoes, diced
1 cup carrots, sliced
2 teaspoons instant chicken bouillon
3 cups milk
1 can whole corn, drained
1/2 teaspoon pepper
3 cups shredded cheddar cheese
3 tablespoons flour
Instructions
Fry the bacon.
Add the chopped onion to the pan with the bacon.
Brown until bacon reaches desired crispness.
Stir in water, potatoes, carrots and bouillon.
Simmer until potatoes are tender (about 15-20 minutes).
Stir in milk, corn and pepper and heat until simmering.
Mix the cheese and flour together and add to the soup mixture, stirring constantly until the cheese is melted.
(Visited 2,580 times, 1 visits today)