Printable Thanksgiving Napkin Holders – A simple and elegant way to dress up your table for Thanksgiving! Choose from six different designs!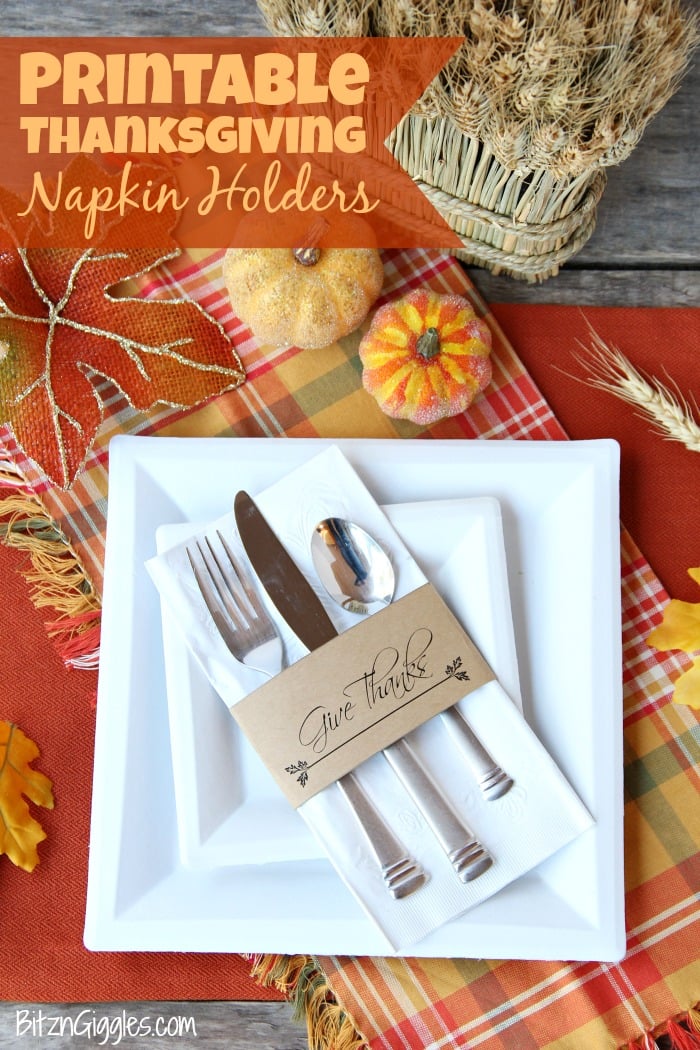 This is a sponsored post written by me on behalf of the Chinet® brand. All opinions are 100% mine.
Ah yes, the Thanksgiving holiday is upon us. Raise your hand if you're ready. Hmmm. . .not many hands going up, I see. I'm with you. It's not that I don't look forward to Thanksgiving. I do. I mean, who doesn't? You get to spend quality time with family, eat DELICIOUS comfort food, watch a ton of football (which may or may not be a good thing), and browse through all of the Black Friday flyers in preparation for your in-person or online shopping adventure the next day.
I really do look forward to this, but it always seems like getting everything ready and getting everyone coordinated, is a lot of work.
Heck, just getting the table set can be a production all in itself. Each year at my parent's house my mom brings out a special Italian tablecloth and her finest china and silverware. Gravy boats, platters, bowls and special wine glasses adorn the table. It's all very wonderful (it truly is). That is, until it's time to clear the table and do the dishes. Everyone in the family knows how much I loathe this part of an otherwise wonderful holiday.
It takes us (my mom, sister and me) probably about an hour (I kid you not) to wash, dry and put away everything, and by the end of it all, I'm literally propping myself up because my back hurts from bending over the sink and whining about the huge stock pots and loads of dishes and silverware that just stole an hour away from my life while the guys are relaxing, sometimes snoring away in the living room. How is this fair?
This year, I want to make everything a bit more simple – a little less stressful – and maybe even a bit less painful (literally). Thanksgiving should be time spent enjoying and visiting with the people that matter most to you in your life.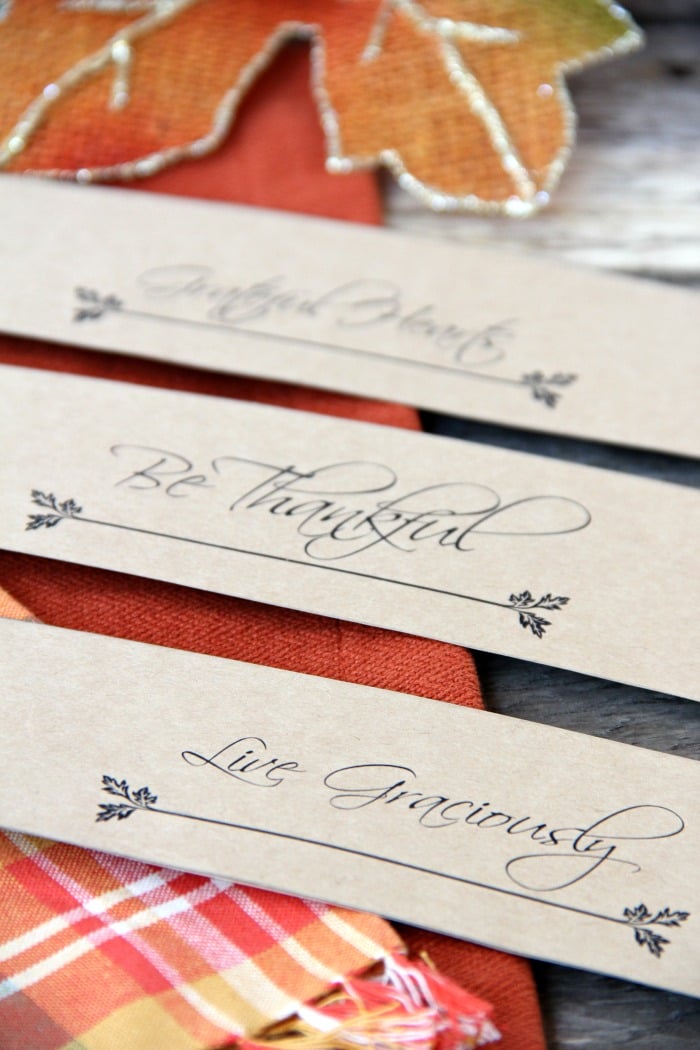 It's a time to be thankful. And most of all, a time to be present.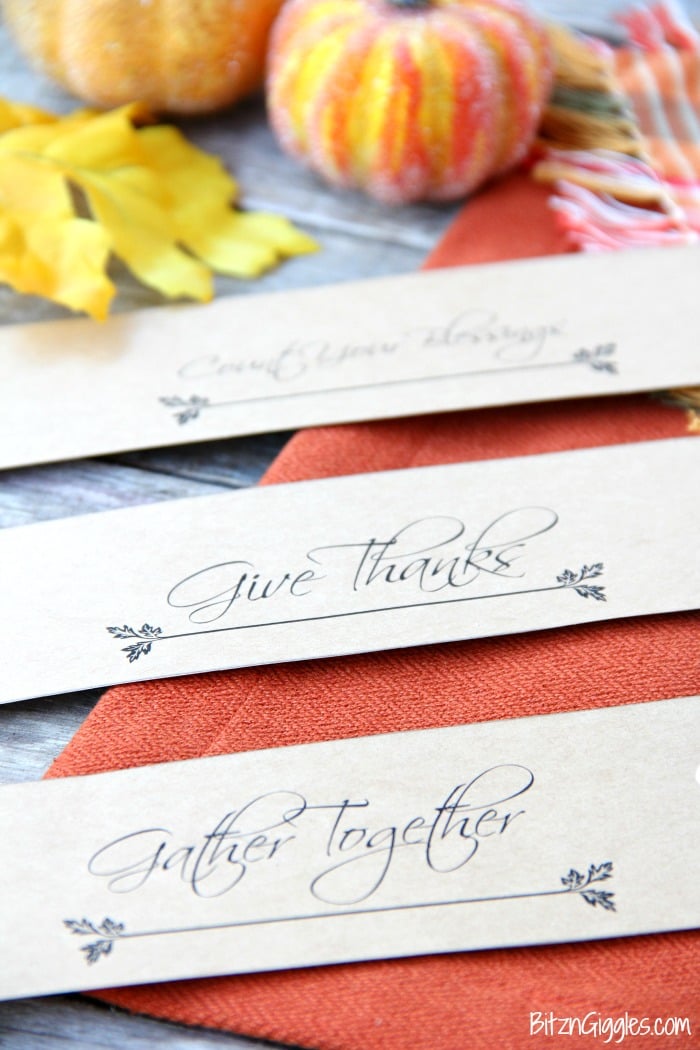 Being present means being there WITH your family, socializing, laughing and sharing stories instead of being "trapped" in the kitchen, clearing the table and washing dishes. Can I get an "amen?"
I've partnered with the Chinet® brand (who completely understands what entertaining is all about) to help make our and your Thanksgiving dinner this year a breath of fresh air and I'm super excited to share these simple, but elegant printable Thanksgiving napkin holders to add a special touch to your table.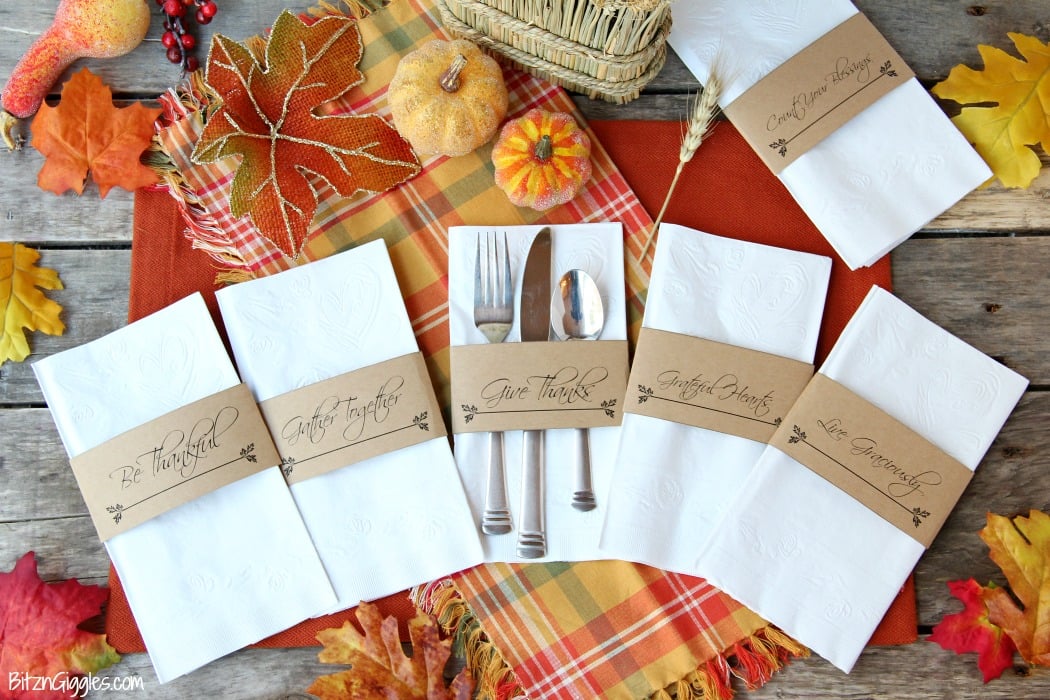 The napkin holders are a reminder of what this holiday is all about. Living graciously, gathering together and counting our blessings. Setting the table has never been easier, and clean-up, well let's talk about clean-up.
The Chinet® brand has two collections I absolutely love, and I make sure to stock up on both of them during the holidays.
Their Cut Crystal® line is clear and elegant and matches any decor you can throw at it. The collection includes plates, cups, cutlery and now, stemless wine glasses (which I cannot wait to use).
The Classic White™ collection is just as elegant and it's sturdy enough to handle holiday portions – turkey, gravy, stuffing, sweet potatoes, dinner rolls, the works. I'm in love with the square design.
Doesn't it look great?!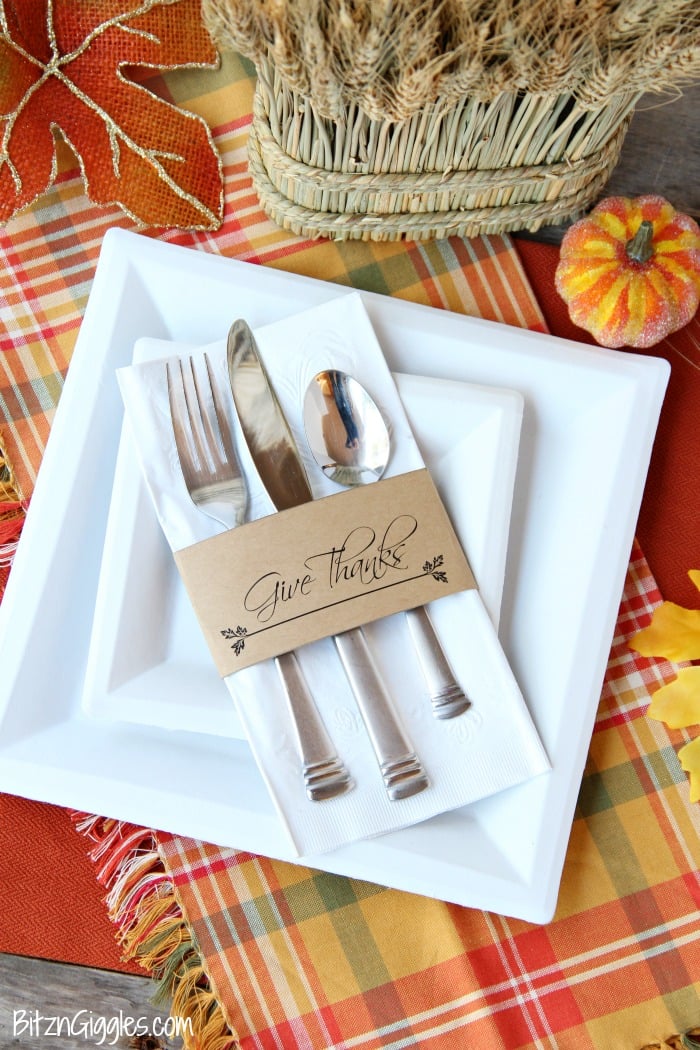 With as busy as life has become, I think it's time to take back those special moments with family. Chinet®'s Classic White™ collection is made from pre-consumer recycled material. So, stop worrying about washing dishes – toss them out.
And just take the time this year to GIVE THANKS.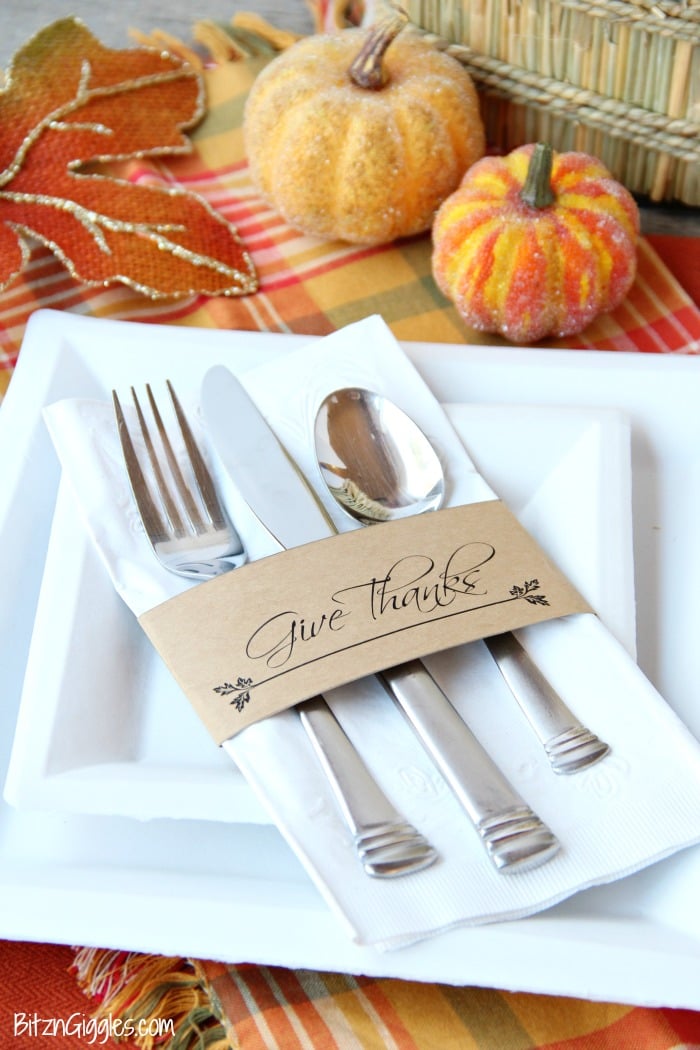 To download the printable Thanksgiving napkin holders, click here. Then just print out on a heavier card stock. I used a kraft paper card stock for mine.
Stock up on your own Chinet® Classic White™ products and Chinet® Cut Crystal® products for the holiday season!
(Visited 8,236 times, 1 visits today)