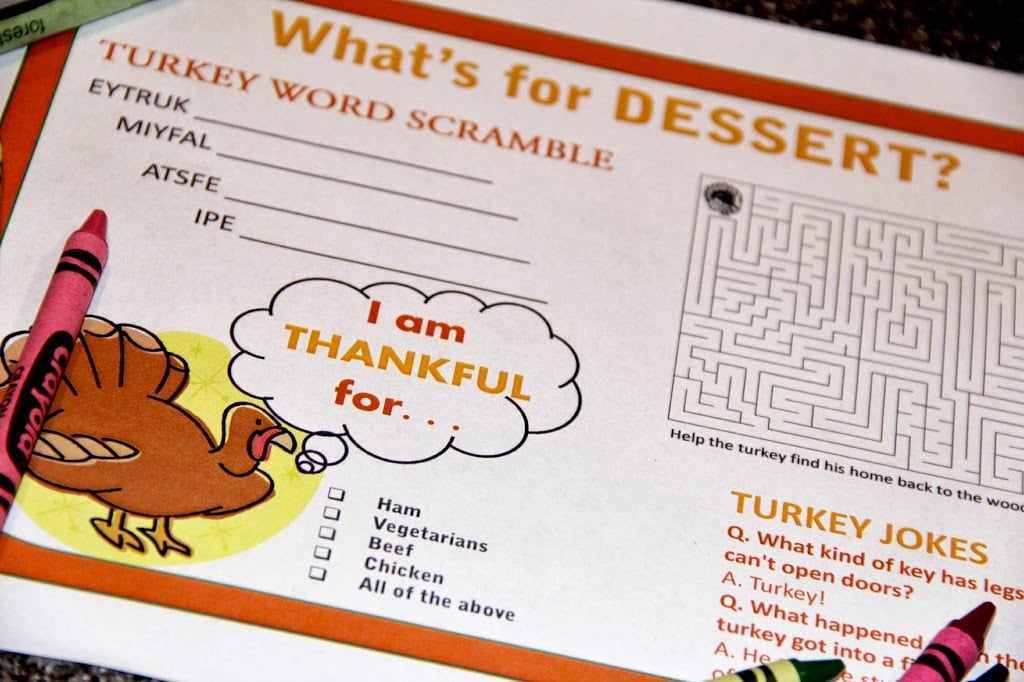 I'm so excited that Thanksgiving week is finally here! Short week at work and then some wonderful time with family. I hope you all are looking forward to your Thanksgiving celebrations as well! This is my final Thanksgiving post of the year. And of course, it's kid-related.
I would love to take a poll and find out how many kids actually sit at the Thanksgiving table for more than ten minutes during the meal. In some homes, ten minutes may be somewhat generous. When it comes to family gatherings, my kids look forward to playing with their cousins and dessert. That's it. The turkey could take a hike for all they care. I'm sure the turkey would appreciate it too.
In my attempt to keep the kids at the table for just a couple minutes more, I've created this fun placemat.
So while the adults sit down to enjoy a scrumptious Thanksgiving meal, the kiddos can be enjoying some word scramble and turkey jokes before, during and after the meal (when they're waiting for dessert, of course).
I wish you and your family the happiest of Thanksgivings this year. And as I always say, we all have so many things to be thankful for!
Click here
to download the placemat! Happy Thanksgiving! Gobble! Gobble!
(Visited 1,236 times, 1 visits today)