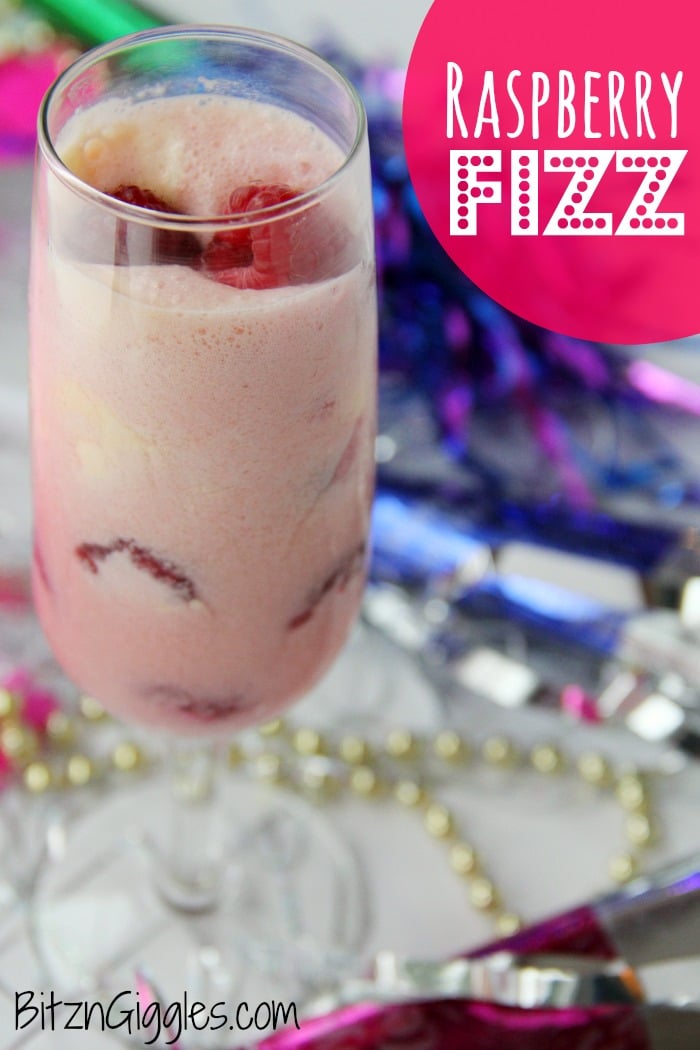 Did everyone have a nice Christmas? It always amazes me to think how fast time flies. So much preparation leading up to the big event and then. . .it's over before we know it. The nice thing is that we have more to look forward to. A new year. A new start. That's a pretty good reason to keep celebrating if you ask me. 🙂
Each year we get a group of friends together and go out for dinner and then come back to the house for good conversation, post-dinner appetizers and party games. Our kids are still a bit young for celebrating in the evening, but in a few years it's going to be so much fun to start including them. Normally when we arrive home from dinner our sitter has already tucked them in and they are dreaming sweet dreams. We adults tiptoe downstairs and the fiesta begins.
So, of course no New Year's Eve celebration would be complete without a special drink.
This Raspberry Fizz mocktail is a creamy concoction of fresh raspberries, sherbet and ice cream mixed with fizzy lemon-lime soda. It's perfect for both adults and children. And for those of you hoping I was sharing a champagne drink today, I'm happy to say, it can be that too. Stick with me. 😉
You begin by layering the drink. First some vanilla ice cream, then some fresh raspberries, a dollop of raspberry sherbet, more raspberries and then one more small scoop of ice cream. Epic.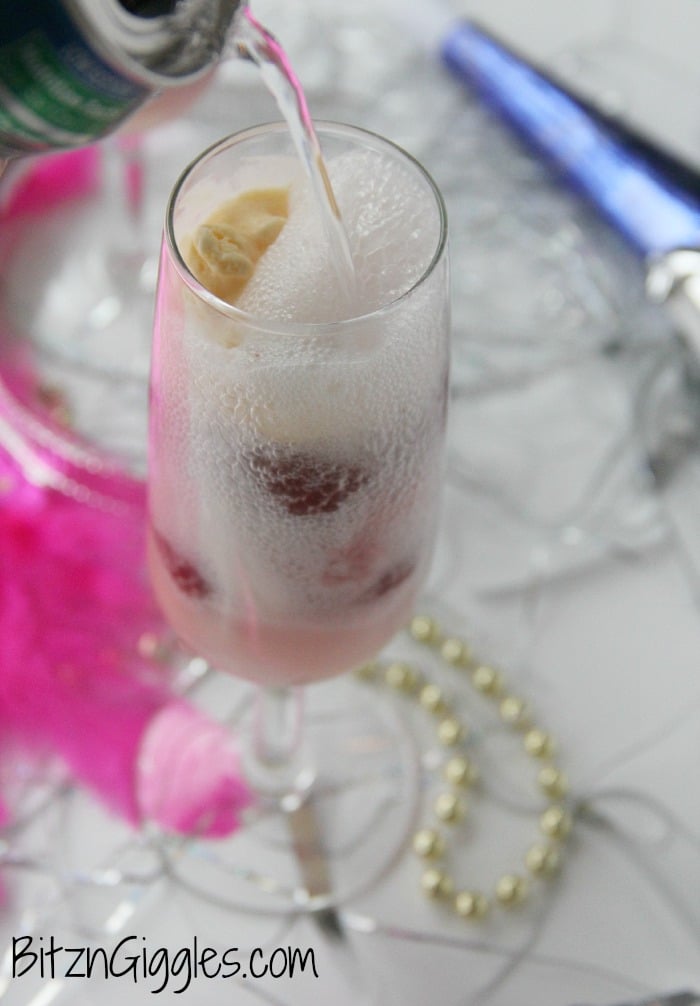 Then, you fill the glass about 3/4 of the way with lemon-lime soda, or if you want to put an adult spin on it, substitute champagne for this step.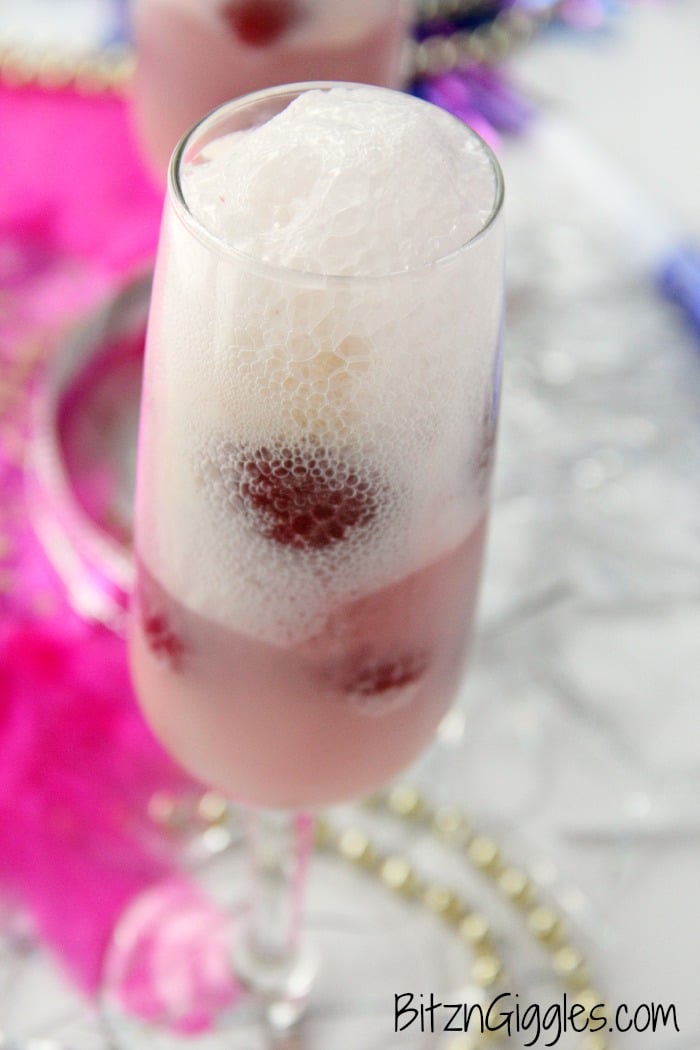 The fizz and the bubbles are so pretty. These drinks are so much fun to make in front of your guests because you'll get a lot of ooohs and ahhs during the assembly process.
After you've poured the soda or champagne in the glass, use a spoon to mix all of the ingredients together until creamy.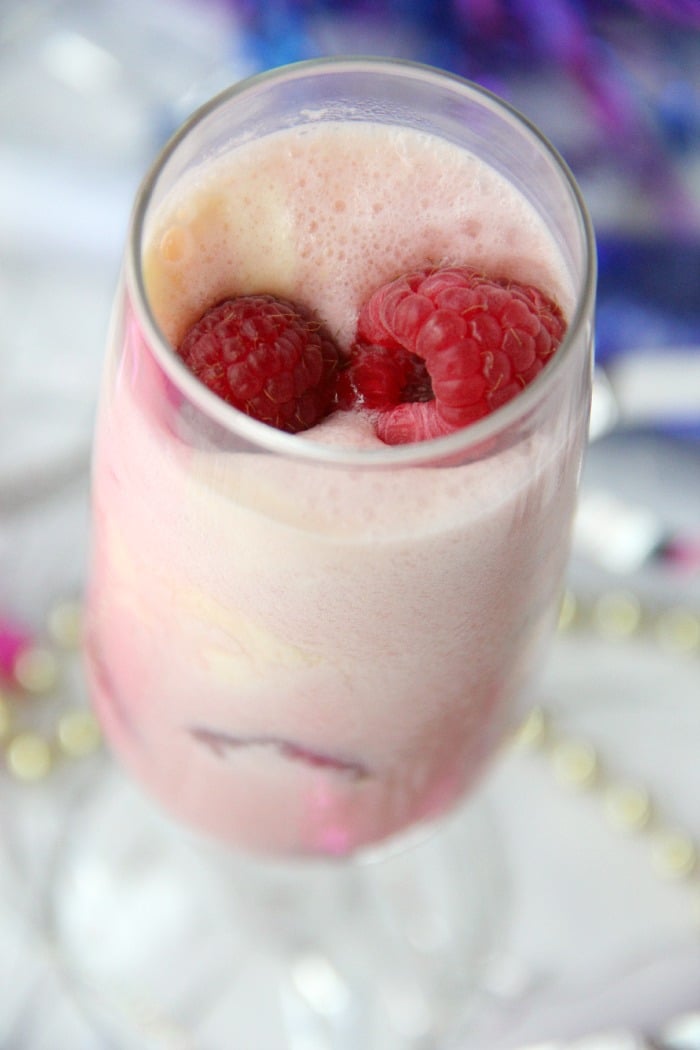 Garnish with a couple more fresh raspberries, and these beauties are ready to go.
I've even served these in the past with little spoons to help lift the raspberries out. You can blend all of the ingredients if you're not crazy about the whole raspberries, but I think they really dress up the drink.
These Raspberry Fizz drinks are crazy good and your guests will be asking for seconds. Believe it or not, they also work well as a wonderful, light dessert if you'd rather serve them kind of like an after-dinner drink.
Enjoy the rest of the holiday season! Here's to a healthy, happy and successful 2015!
Raspberry Fizz
A creamy concoction of fresh raspberries, sherbet and ice cream mixed with fizzy lemon-lime soda.
Ingredients
1 tablespoon raspberry sherbet
2 tablespoons vanilla ice cream
10 fresh raspberries
Lemon-lime soda
Instructions
Drop a tablespoon size scoop of vanilla ice cream into the bottom of a champagne glass.
Top with 4 raspberries.
Drop a tablespoon size scoop of raspberry sherbet on top of the raspberries.
Top with 4 raspberries.
Add one more tablespoon size scoop of vanilla ice cream.
Fill glass about 3/4 full of lemon-lime soda.
Mix with a spoon until creamy.
Garnish with the last two raspberries.
Nutrition
Serving Size: 1
Calories: 57
Sugar: 7
Sodium: 18
Fat: 2
Saturated Fat: 1
Unsaturated Fat: 1
Trans Fat: 0
Carbohydrates: 9
Protein: 1
Cholesterol: 7
(Visited 2,623 times, 1 visits today)