Ritz Cracker Macaroni and Cheese – This is some of the creamiest, cheesiest mac and cheese you will ever taste. I love the crunch of Ritz crackers on top!
Let me preface this post by saying. . .just because I'm posting a comfort food recipe does NOT mean I'm okay with summer coming to an end. Because. . .I'm not. I try to hang on to summer as long as possible. Heck, I may just get crazy and post a popsicle recipe yet this month. Just watch me. 🙂
The truth of the matter is. . .I love comfort food. From crockpot recipes and soups to classic potluck recipes and more, comfort food is my favorite food. . .ever. And it's difficult for me NOT to eat it year round.
This fall and winter, this blog is going to be oozing comfort food recipes, so get ready! I know you love them, too! We're just getting our feet wet today with this Ritz Cracker Macaroni and Cheese.
This mac and cheese recipe is creamy, cheesy and delicious. If you're a dairy fan like I am. . .keep reading.
There's milk, cheese and. . .more cheese. Because that's the way we do it here in Wisconsin. And just to "up" the deliciousness factor, let's crumble a bunch of buttery Ritz crackers on top. Yes, let's.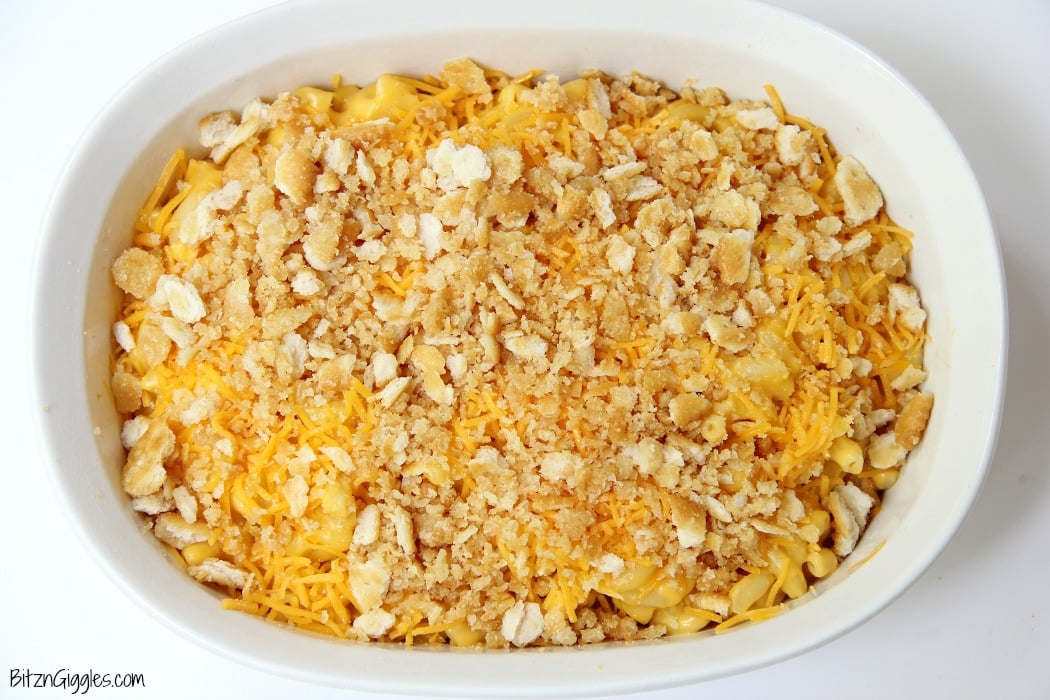 The magic happens when all of these ingredients start melting together. The noodles soak up the milk and the butter and the cheese envelopes it all.
When the crackers are browned and the cheese is melted, this mouth-watering noodle bake is ready to eat. It's absolutely the best when eaten while it's still steaming. . .straight out of the oven. Don't let that macaroni and cheese get cold! You'll be sorry.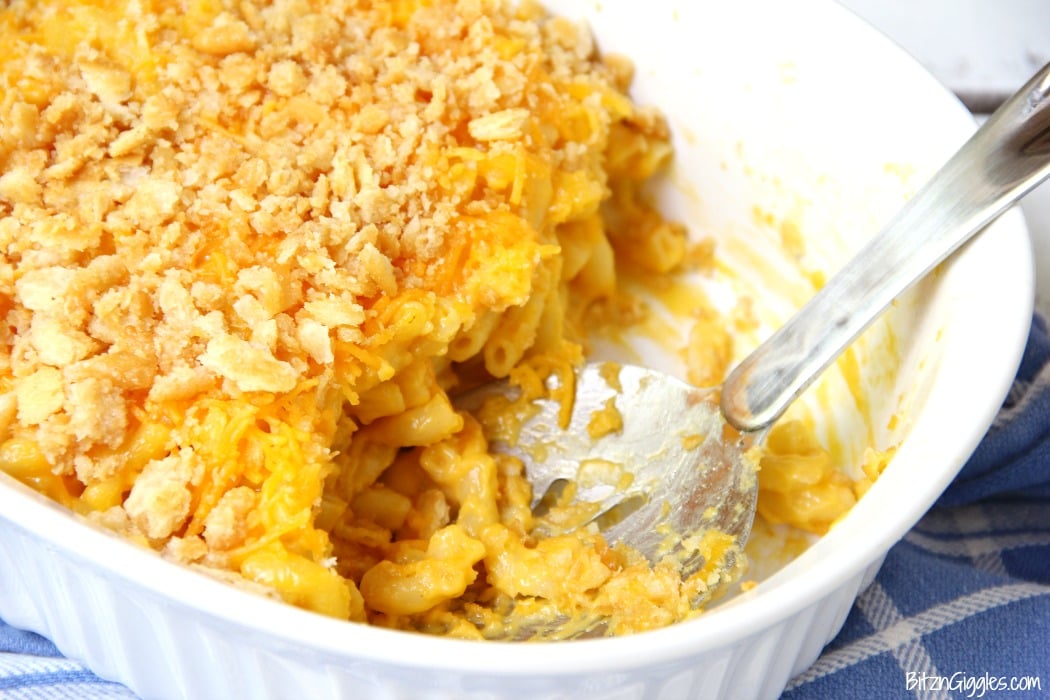 Just dig right in. You'll be glad you did! Enjoy!
Ritz Cracker Macaroni and Cheese
This is some of the creamiest, cheesiest Mac and Cheese you will ever taste. I love the crunch of Ritz crackers on top!
Ingredients
2 cups (measured dry) slightly undercooked elbow macaroni
3 tablespoons butter
1/4 cup flour
1 1/2 cups milk
8 ounces Velveeta, cubed
1 cup shredded cheddar cheese
2 tablespoons melted butter
10–12 Ritz crackers, crumbled
Instructions
Preheat oven to 350 degrees Fahrenheit.
Melt 3 tablespoons butter. Whisk in flour.
Gradually add milk, stirring constantly.
Add Velveeta and cook until melted.
Add noodles, stir until coated.
Pour mixture into a greased 8×8 pan or 1 1/2 quart baking dish.
Top with shredded cheddar cheese.
Mix the melted butter with the crumbled crackers.
Sprinkle cracker mix over noodles.
Bake for 20-25 minutes or until shredded cheese is fully melted.
SaveSave
SaveSave
(Visited 141,356 times, 1 visits today)