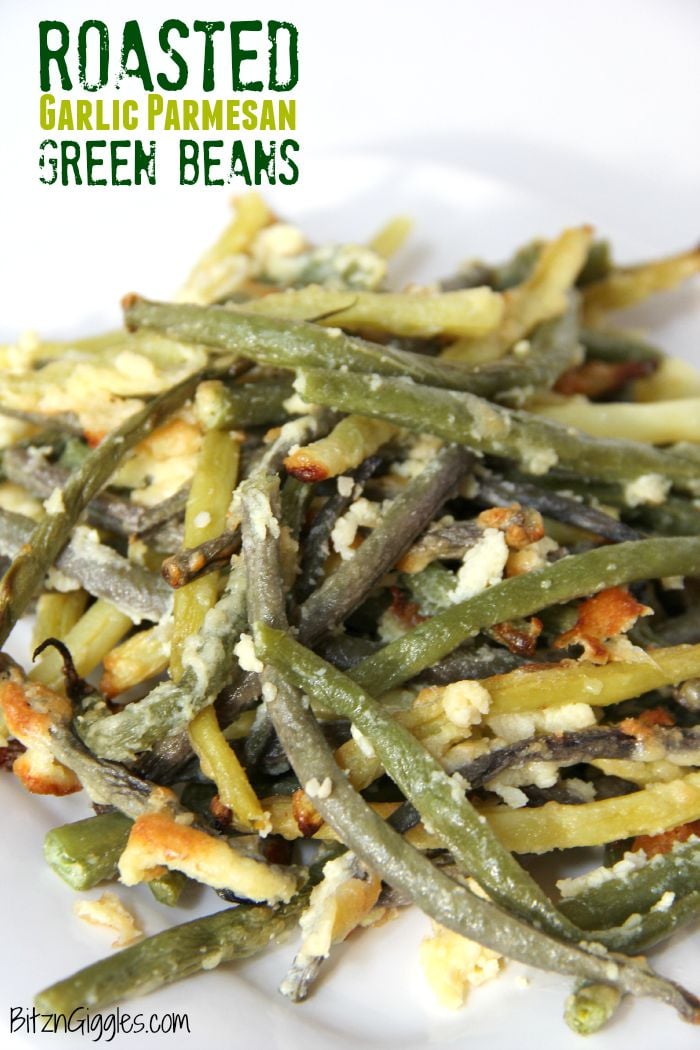 One of my favorite things to do in the summer is visit the local farmer's market. There's just something about fresh veggies that makes my heart sing! It's so much fun to walk up and down the rows of stands, gazing upon the freshest vegetables, baked goods and flowers that money can buy!
I spotted some beautiful green beans that just drew me in. Once I got closer to the stand, I noticed the vendor was selling them in three different colors – green, yellow and purple! Believe it or not, I had never tasted yellow or purple beans. To my surprise after a quick taste test, I discovered the purple and yellow beans really didn't taste a whole lot different than the normal green beans. I had the lady bag me up a pound of the beans (and yes, she threw all three colors in) and I took them home to clean up for dinner that night.
I found a recipe from Sugar-Free Mom that looked interesting and worth trying out. . .so I did. . .with a few tweaks.
These Roasted Garlic Parmesan Green Beans are filled with flavor and become a perfect side any main dish. I love the uniqueness of the recipe. I had never made anything like this before – I mean, who mixes in an egg with their green beans? Well, I do now, because these beans are delicious.
The parmesan, the garlic, the little bit of crisp that's created by the broiler after they're fully roasted. Oh. my. goodness. I love these beans, my husband loves these beans and I know you're going to love them, too! I can't wait to hear your feedback in the comments!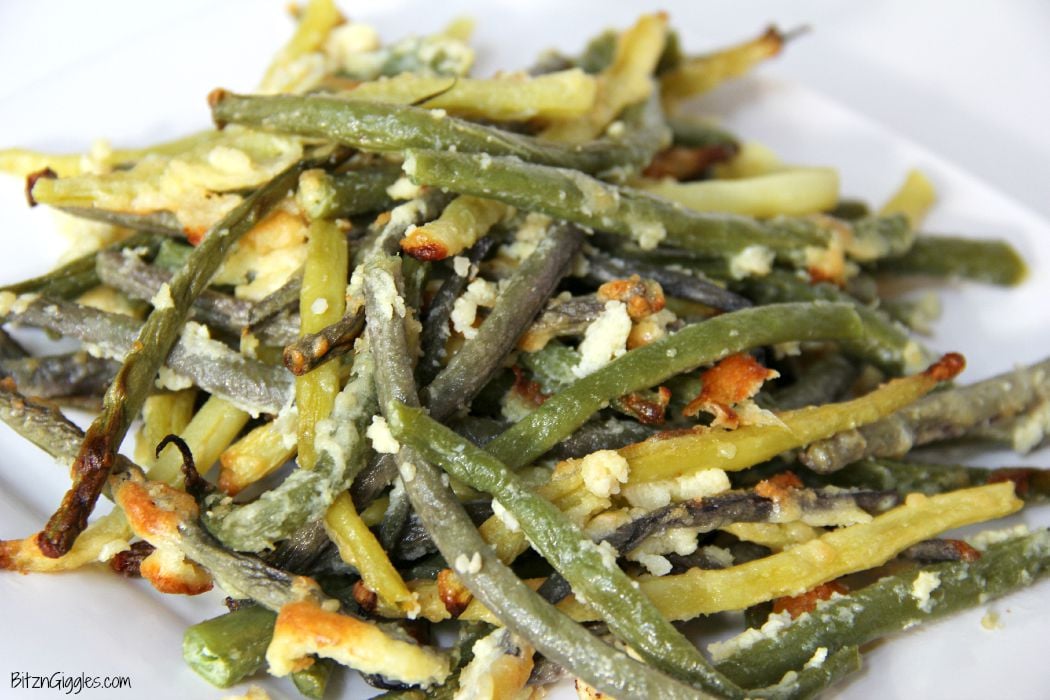 Roasted Garlic Parmesan Green Beans
Cheesy, roasted green beans bursting with flavor the entire family will enjoy!
Ingredients
1 pound fresh green beans, trimmed and washed (I used yellow and green beans)
1/2 cup grated Parmesan cheese
2 tablespoons olive oil
2 teaspoons minced garlic
1 egg, beaten
1 teaspoon garlic powder
Sprinkle of salt
Instructions
Preheat oven to 425 degrees Fahrenheit.
In a large bowl whisk together the oil, garlic, egg, garlic powder and salt.
Add the green beans and toss until fully coated with the egg mixture.
Sprinkle the Parmesan cheese on the green beans.
Spread the beans out on a foil-lined baking pan.
Bake for 15-17 minutes.
Place under broiler for 2 minutes.
Nutrition
Serving Size: 4
Calories: 176
Sugar: 2
Sodium: 250
Fat: 12
Saturated Fat: 4
Unsaturated Fat: 8
Trans Fat: 0
Carbohydrates: 11
Protein: 9
Cholesterol: 58
(Visited 12,935 times, 1 visits today)