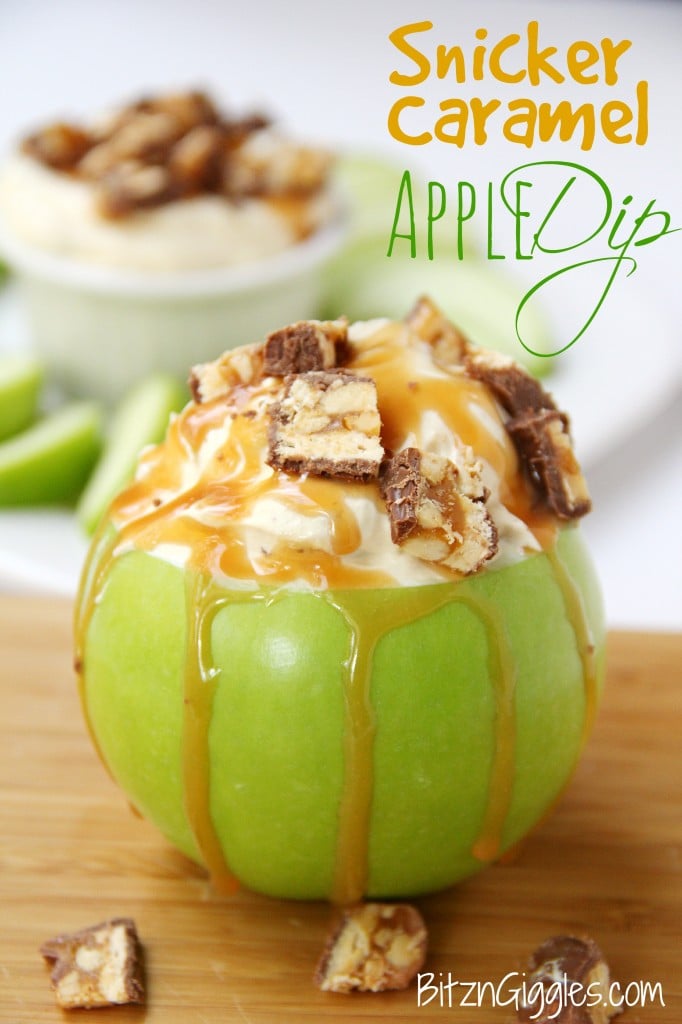 Do you know that we woke up to snow here on Saturday morning? Yep, it's true. I almost cried. I feel like all of the seasons in the past couple years have been super short, all but winter, that is. Why is it that winter always lasts the longest? Just like last year, I'm not going to let the cold weather get me down! There's too much good in life to be thankful for and I'm going to try to focus on that!
Today I'm sharing a SUPER DUPER yummy recipe for Snicker Caramel Apple Dip. It's a light, vanilla and caramel fluff loaded with Snicker candy pieces – perfect for apple dipping!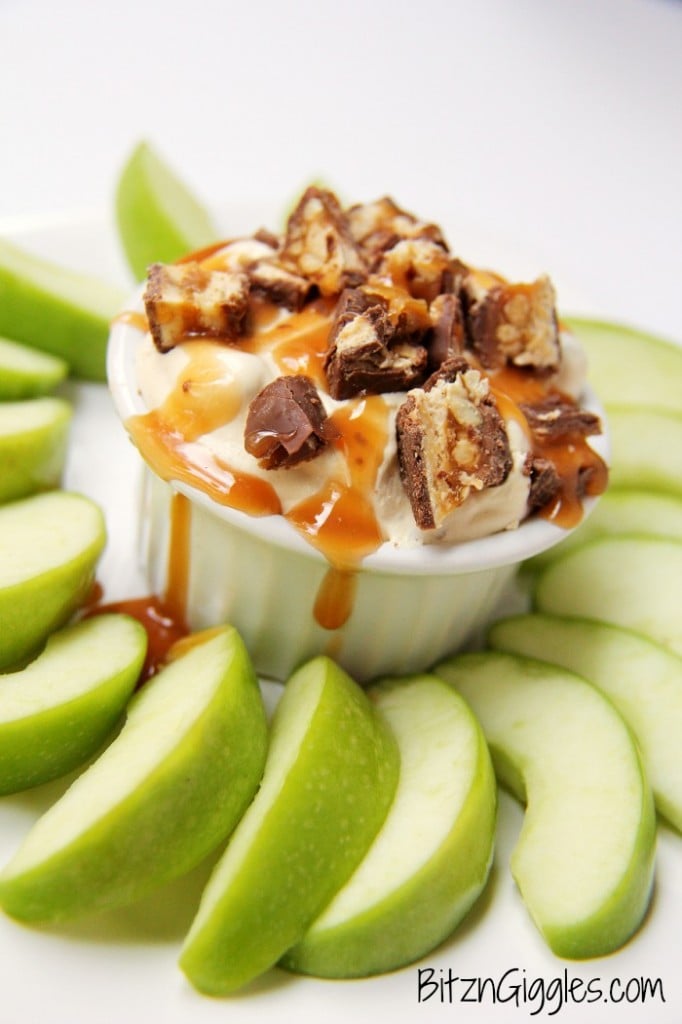 I knew right away this was going to be a winning dip. I love how light and fluffy it is. Now, don't get me wrong, just because you're dipping apples in it doesn't necessarily mean that it's the healthiest dip in the world. It's not, but it's perfect for those days you just want to splurge and live it up a little. Will kids love this dip? Ummm. . .possibly more than Halloween candy.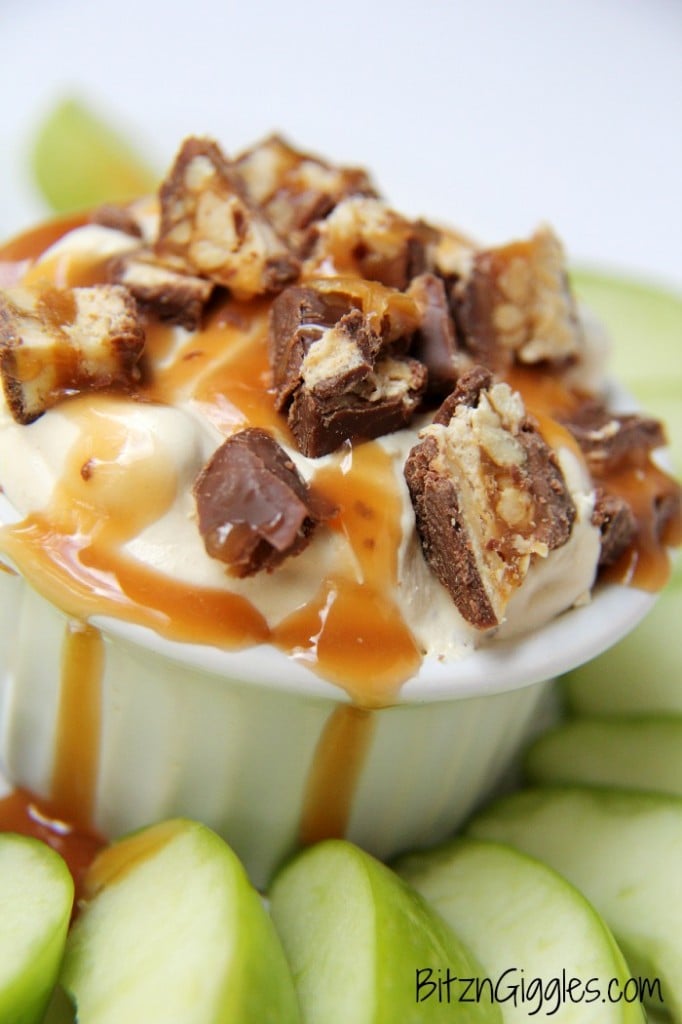 In the months of September and October all of us here at the Zenner house celebrate our birthdays. I'm in the middle of planning for the kids' birthday party right now and you can bet I'll be serving this dip.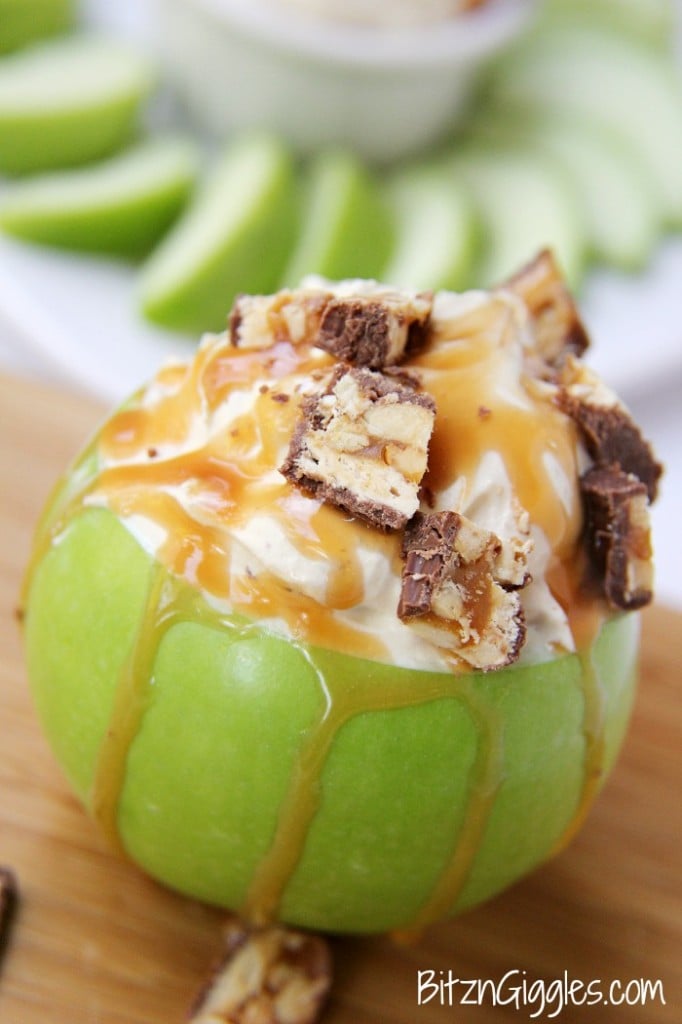 It's pretty perfect for parties because it makes a ton. But if you just want to make it for yourself, that's okay, too (I won't tell). I would, however, think about halving the recipe unless you want to visit the gym a couple extra times that week. It's so good and it's so worth it. Trust me. So go ahead and dip. It's truly the only thing that's going to get me through another Wisconsin winter. 🙂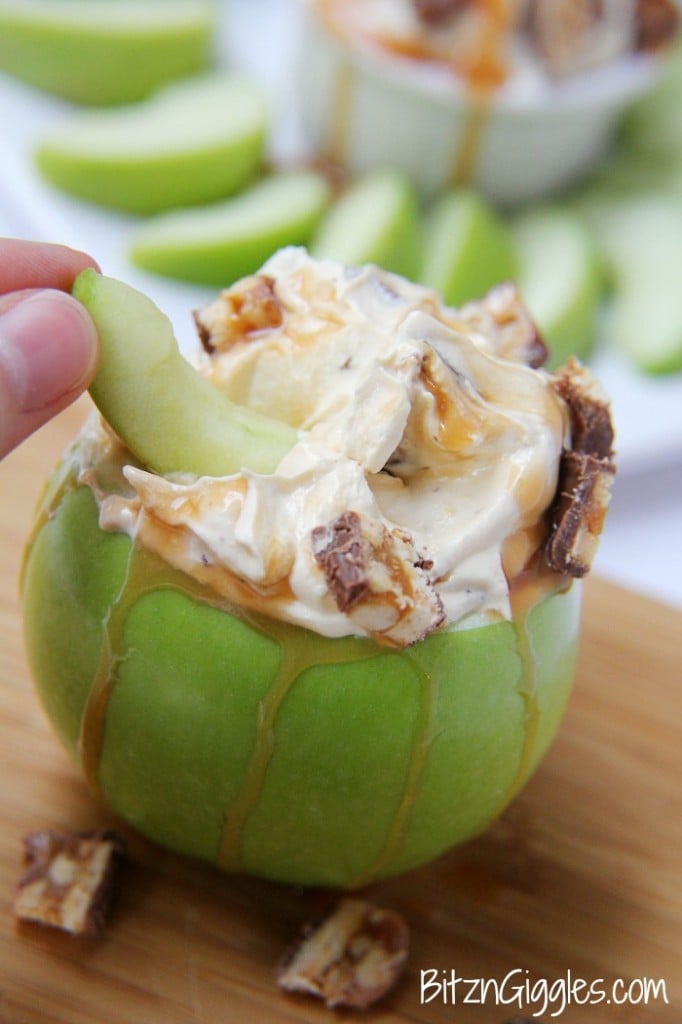 Snicker Caramel Apple Dip
A fluffy, light vanilla and caramel pudding whip loaded with Snickers candy pieces – perfect for apple dipping!
Ingredients
8 oz. Cool Whip whipping cream
1 cup milk
3.4 oz. vanilla instant pudding
5 regular size Snickers candy bars
1 cup prepared caramel dip
Caramel ice cream topping for drizzle
Apple slices for dipping
Instructions
Cut up four of the Snickers candy bars into smaller than bite-size pieces.
Whisk together pudding mix and milk in a medium-sized bowl. Pour in the caramel dip until well mixed and fold in the Cool Whip and Snickers pieces.
Refrigerate for 1-2 hours.
Cut up the remaining Snickers candy bar into pieces.
Drizzle with caramel topping and remaining Snickers pieces immediately before serving.
Serve with apple slices.
Notes
This dip makes quite a bit! If you're not making this for a large group you may want to halve the recipe.
Nutrition
Calories: 2827
Sugar: 321
Sodium: 2666
Fat: 113
Saturated Fat: 59
Unsaturated Fat: 39
Trans Fat: 1
Carbohydrates: 404
Protein: 52
Cholesterol: 90
(Visited 12,539 times, 1 visits today)