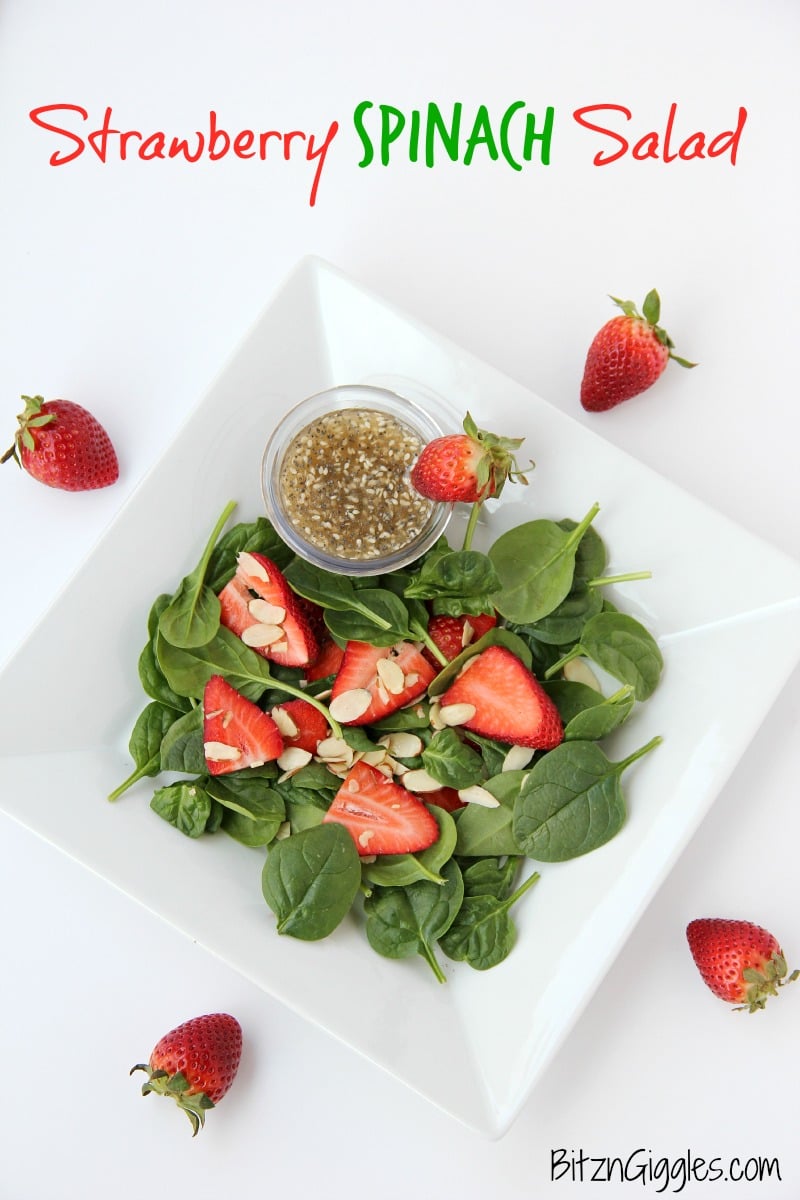 I'm super excited about welcoming in spring and summer. I look forward to the warmer weather ahead, trips to the farmer's market and weekends up at the lake. This is truly my favorite time of the year. The days are longer, I have more energy and I wake up happy and ready to start my day. . .even on Mondays. Crazy, right?
In the warmer months my cravings change from comfort foods to fresh foods. The Strawberry Spinach Salad I'm sharing today is the perfect way to welcome in spring. This is a delicious, sweet salad with fresh strawberries, spinach and an almond crunch. What could be better than that?
Well, when you're serving it at a baby shower, that's what! I made this salad especially for this virtual baby shower we planned for my blogging buddy, Michelle from Healthy Recipe Ecstasy! Make sure to stop over and check out the entire menu my blogging friends and I have created to celebrate Michelle and her husband, Aladair's, newest addition to the family – Baby Alexander!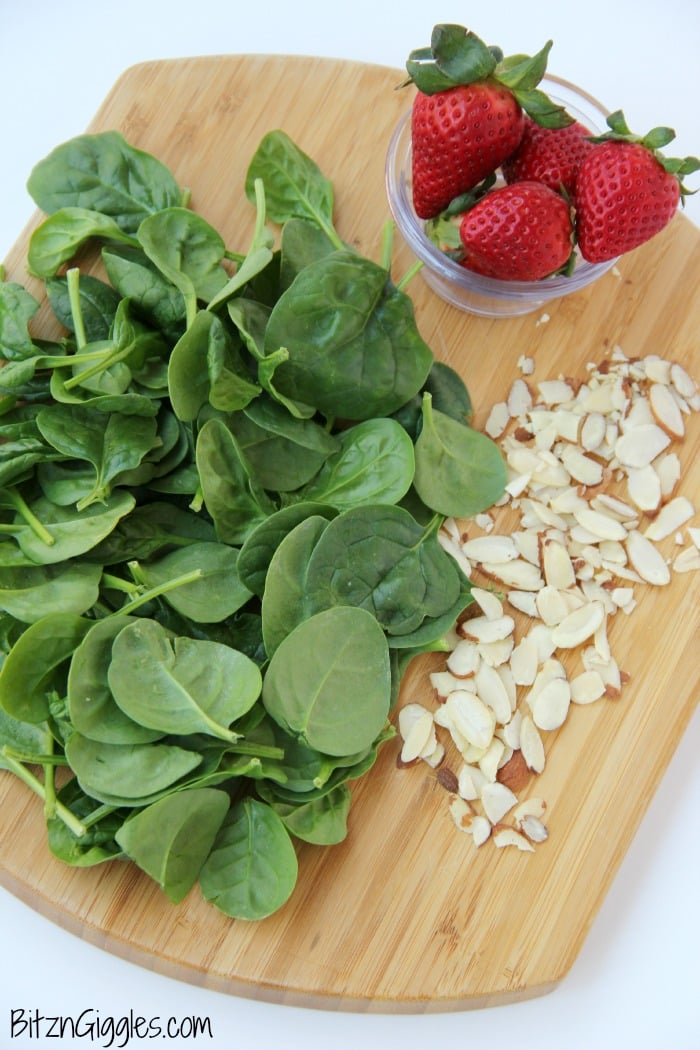 It's really a very simple salad to throw together, and come strawberry season, you're going to see me making this salad A LOT.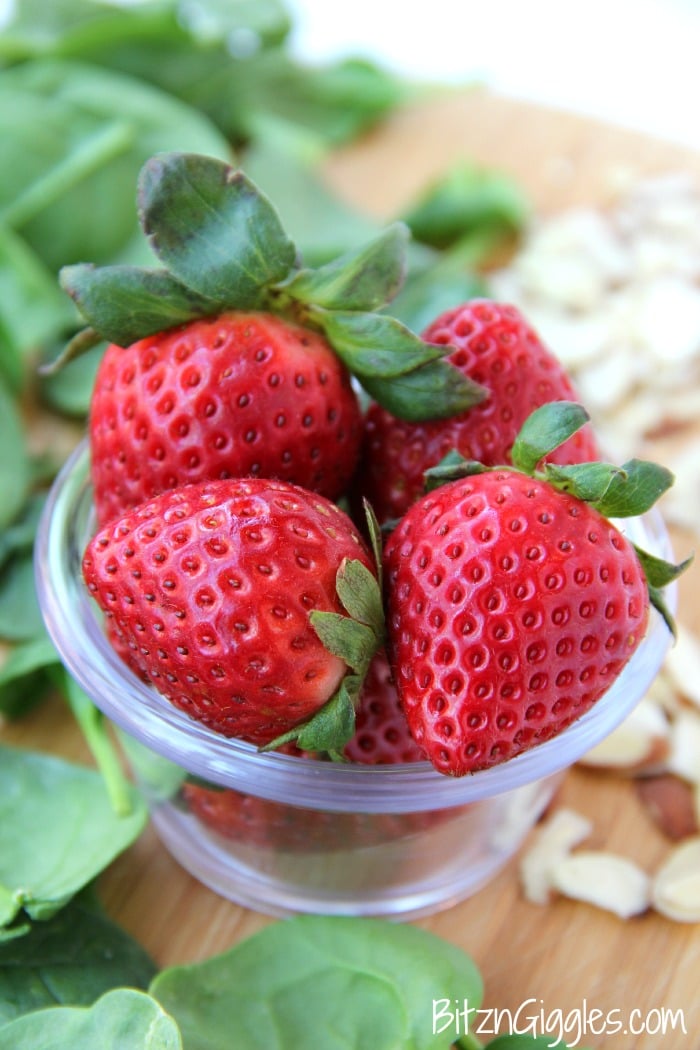 My dear friend, Terrie, introduced me to this delicious salad a couple years ago. If you've followed along with me here on the blog, you probably know that I'm not a big fruit eater. I would take veggies over fruit any day, however, when Terrie served up this salad to me the first time, I was sold. All of the ingredients just go together perfectly, and with the red strawberries, it's really quite beautiful.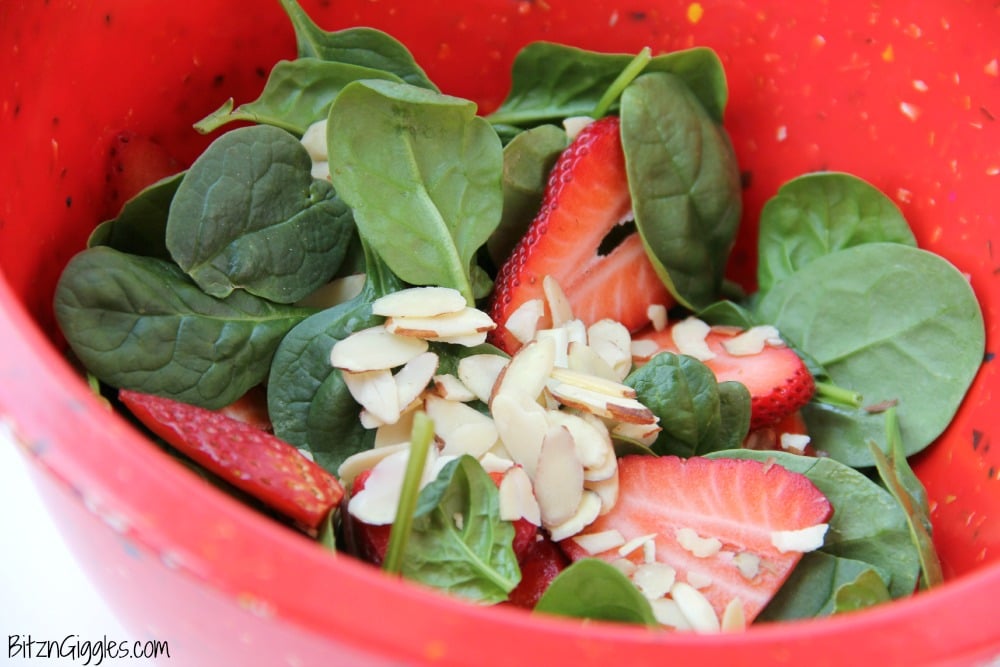 One of the other things that I love about this salad is that it's so versatile. It's perfect for a party or just a party of. . .one.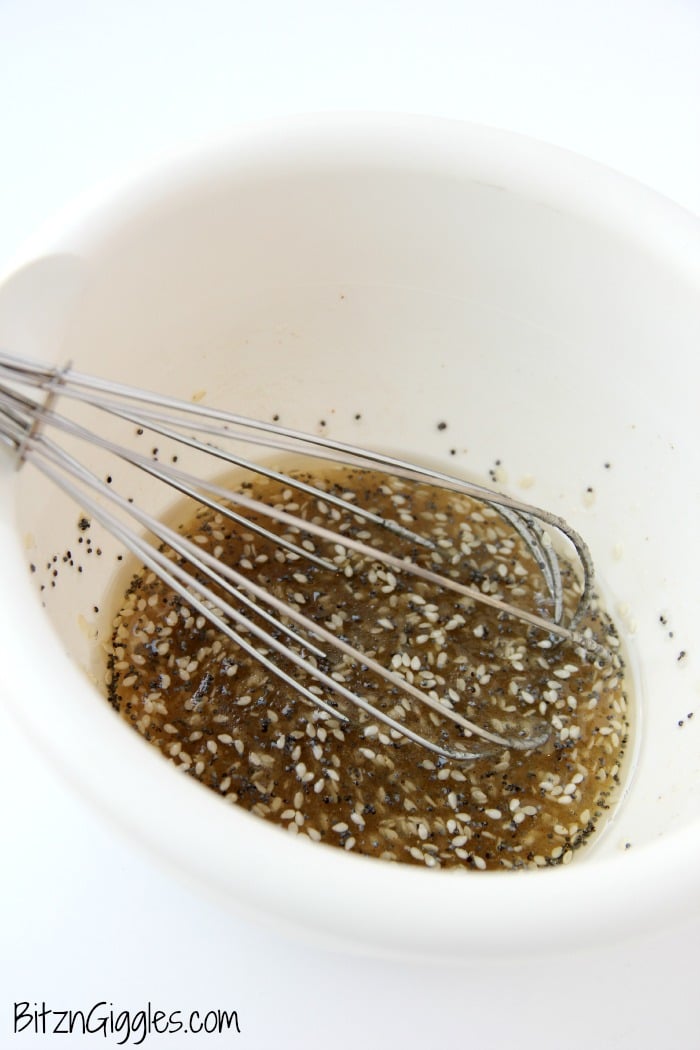 The star of the show, beyond the beautiful strawberries, is this sweet dressing. I can whip this dressing up in five minutes flat. Super. Easy.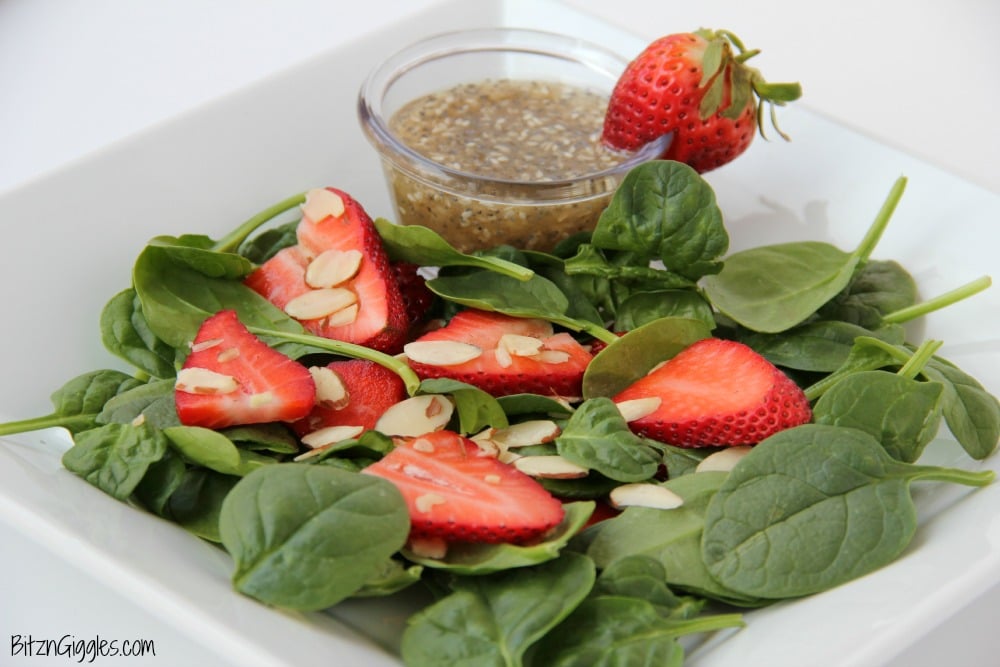 If I'm not making the salad for a group, I like to keep the dressing separate from the salad. That way I can eat this salad for a couple days. I just throw some spinach, strawberries and almonds onto my plate, pour on a little of the dressing and toss with my fork. Easy peasy.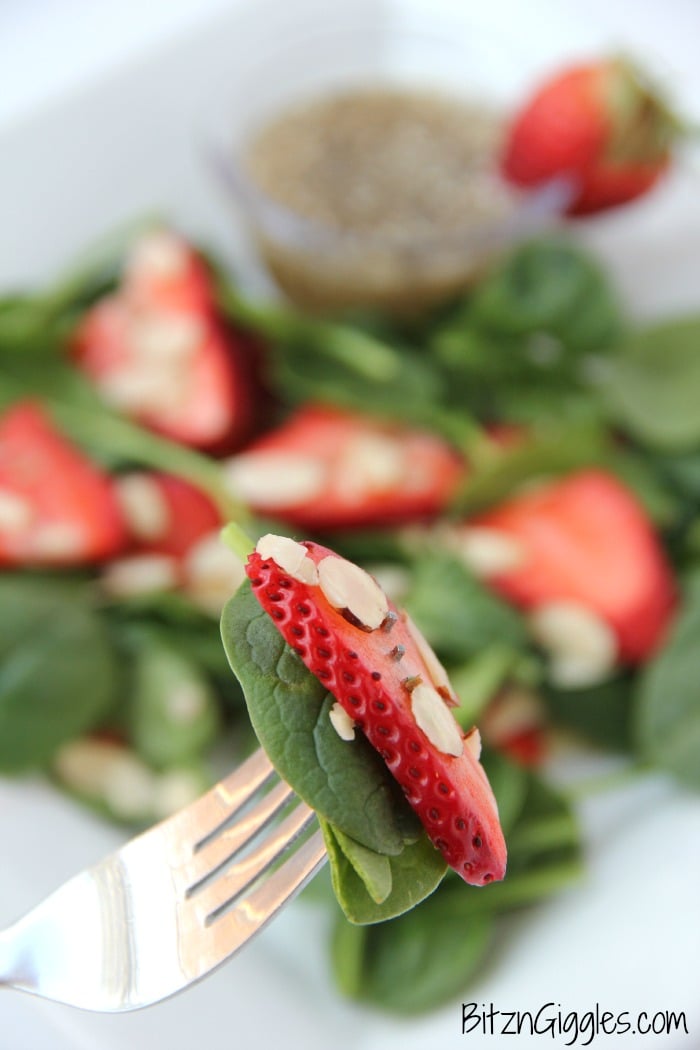 I've learned that once you add the dressing, there's no going back – you're all in. You need to eat it immediately or the spinach begins to take on a pretty wilted appearance.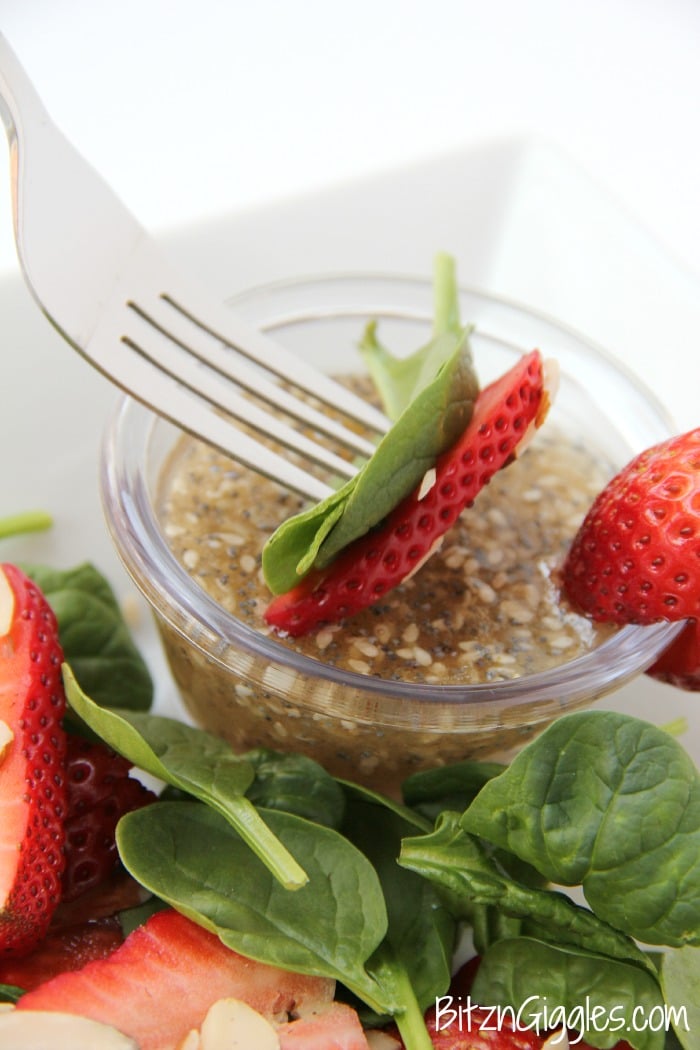 So I prefer to get a forkful of spinach, strawberries and almonds, and just dip it. Yep, I just dip it and it works out perfectly. If you are making this for a group or you decide to take it to a potluck, just take the dressing separately and then toss right before serving.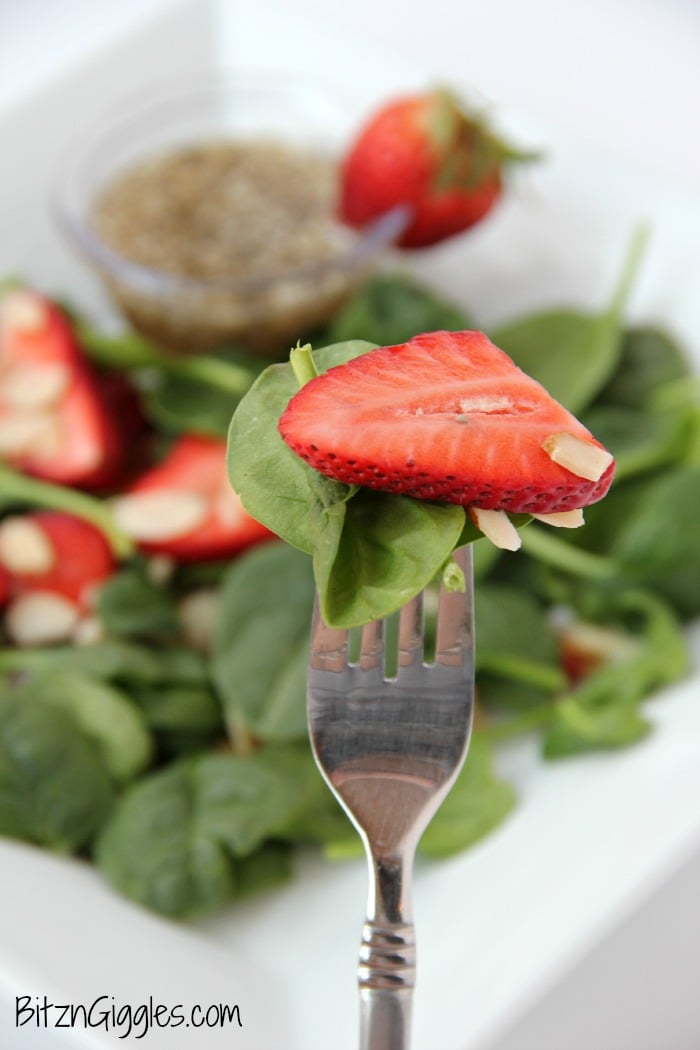 Before you add the dressing, make sure it's mixed well and the sugar isn't all sitting at the bottom of the container. I would also suggest adding the dressing a little at a time. There have been times I haven't added all of the dressing to the salad when I'm tossing it. I just wanted to keep it lighter and maintain the freshness of the spinach leaves.
Regardless of whether you're making this for a party or just for yourself, just make it. This salad is as elegant as it is delicious. I get compliments every time I take it to a dinner party or potluck. The freshness of the fruit and spinach draws guests in, and the sweet dressing keeps them coming back for more. Happy Spring, friends!
Strawberry Spinach Salad
A delicious, sweet salad with fresh strawberries, spinach and an almond crunch.
Ingredients
FOR THE SALAD
1 bunch baby spinach, rinsed and torn into bite size pieces
2 cups sliced strawberries
1/2 cup roasted slice almonds
FOR THE DRESSING
1/4 cup vegetable oil
2 Tablespoons white wine vinegar
1/4 cup white sugar
1/8 teaspoon paprika
1 Tablespoon sesame seeds
1 1/2 teaspoons poppy seeds
Instructions
In a large bowl, toss together spinach, strawberries, and almonds.
In a medium bowl, whisk together oil, vinegar, paprika, sesame seeds and poppy seeds.
Pour the dressing over the spinach, strawberries and almonds.
Toss and serve immediately.
Nutrition
Serving Size: 6
Calories: 227
Sugar: 12
Sodium: 46
Fat: 17
Saturated Fat: 1
Unsaturated Fat: 15
Trans Fat: 0
Carbohydrates: 18
Protein: 5
Cholesterol: 0
(Visited 5,657 times, 1 visits today)