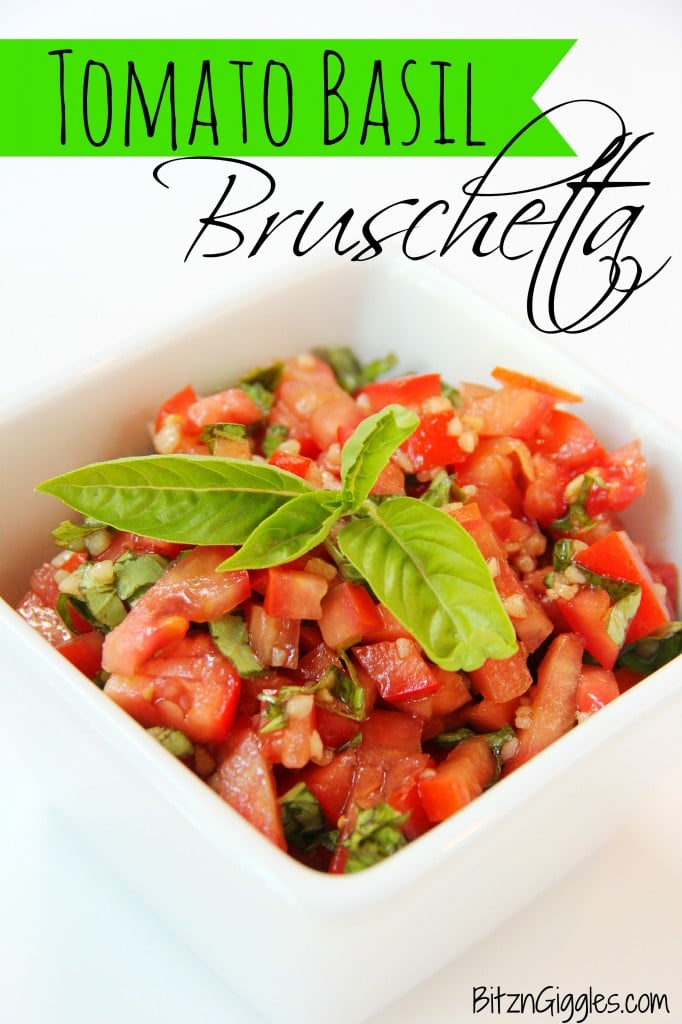 I'm so excited to share this Tomato Basil Bruschetta recipe with you today! Why? Because I'm SUPER proud of it! Why? Because I GREW the main ingredients of this dish outside on my deck! There is just something so satisfying about growing your own fresh vegetables and herbs and then using them in the dishes you feed to your family.
I'll be the first to admit, I really don't have much of a green thumb. I've been known to kill every plant I've ever had, including lucky bamboo. So this, my friends, is truly an event to celebrate.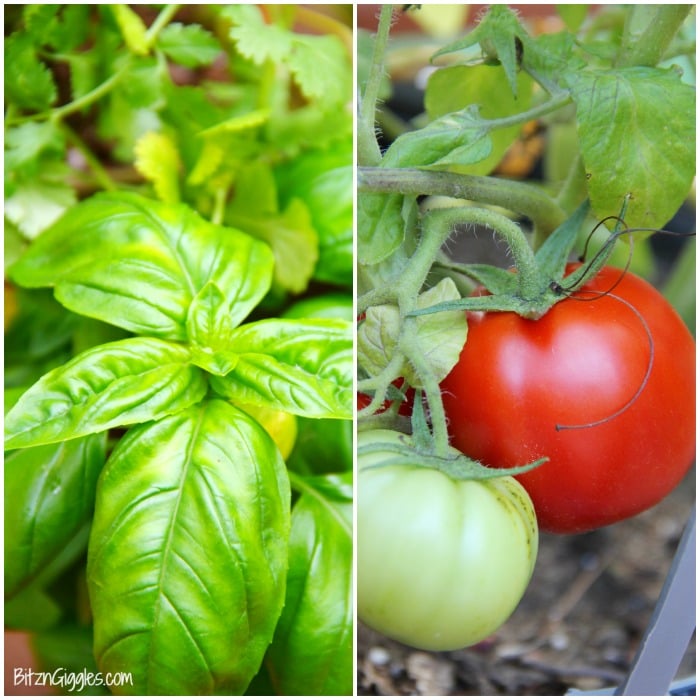 Aren't they glorious, these plants of mine? I will admit that I have a few other herbs that aren't doing so well. . .and only two of my sugar snap pea plants came up (darn chipmunks), but beyond that, we've eaten beans, tomatoes, cilantro, basil and peas all from our little deck garden.
The basil and tomatoes are the star performers in this wonderful bruschetta, but the garlic often steals the show. That's a good thing, because I LOVE garlic. If you're not a garlic-lover, you can omit it from the recipe and it will still taste delicious – I just would never go there. Forsake my precious garlic? Never.
This fresh recipe is SO simple to make, and so delicious to serve in the summer. Heck, I would eat this all year round. . .and I will.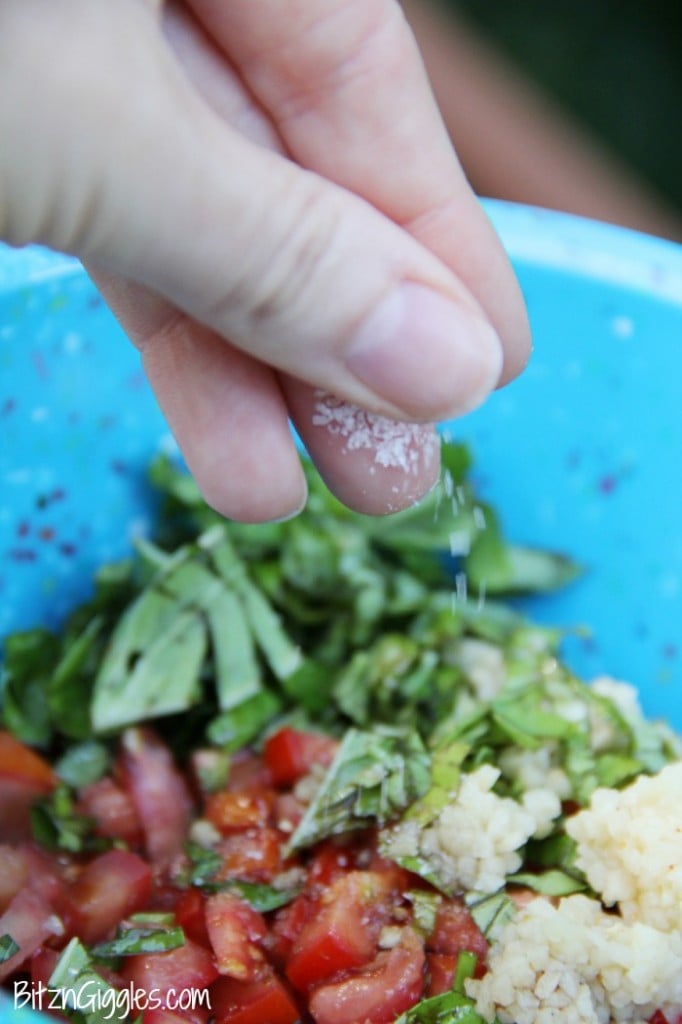 It really is quite simple. Just a few fresh ingredients: tomatoes, basil, garlic, olive oil, a little salt and pepper and. . .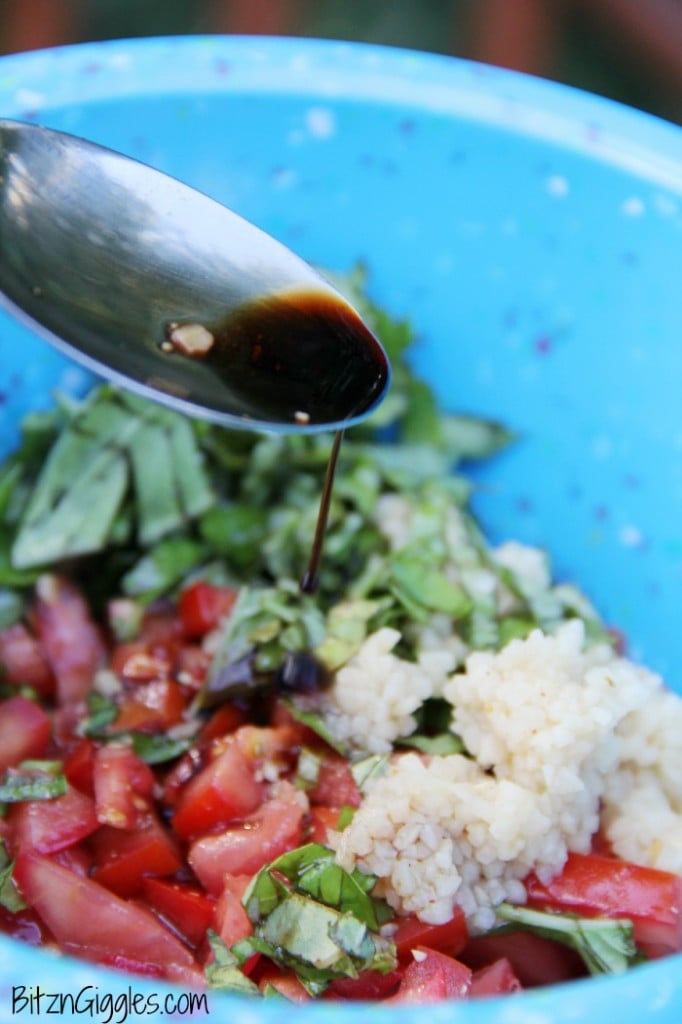 some wonderful balsamic vinegar. The past few years I've swooned over balsamic anything. The love affair continues. And just for the record, my hubby is well-aware.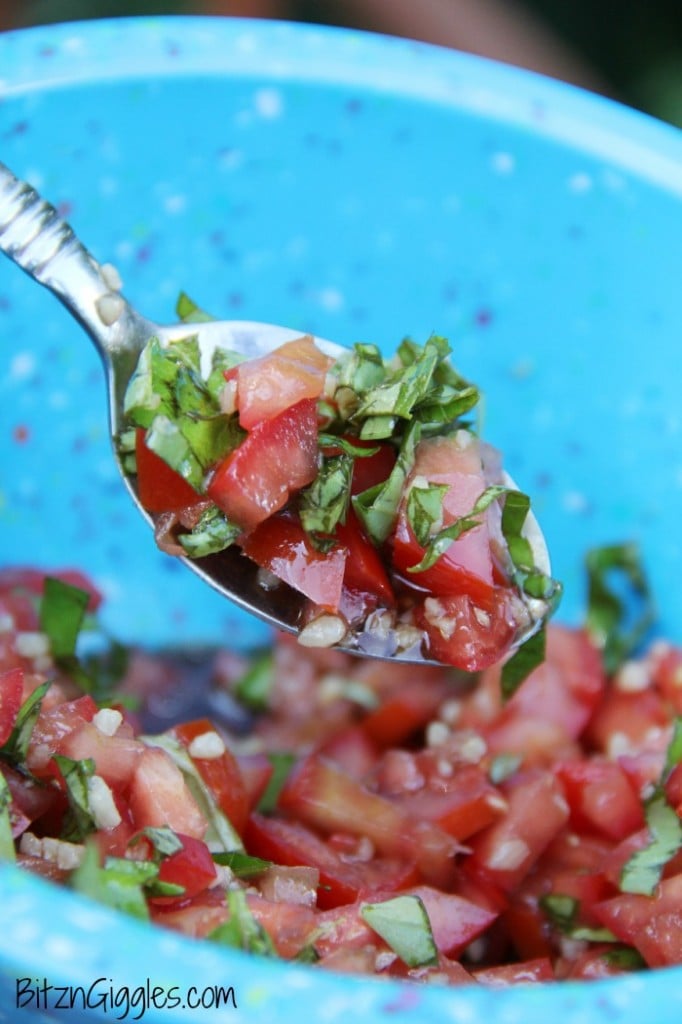 When you mix all of the ingredients together, the flavors begin to meld and the birds start to sing. No lie. There were birds singing outside the day I made this. It was definitely NOT a coincidence.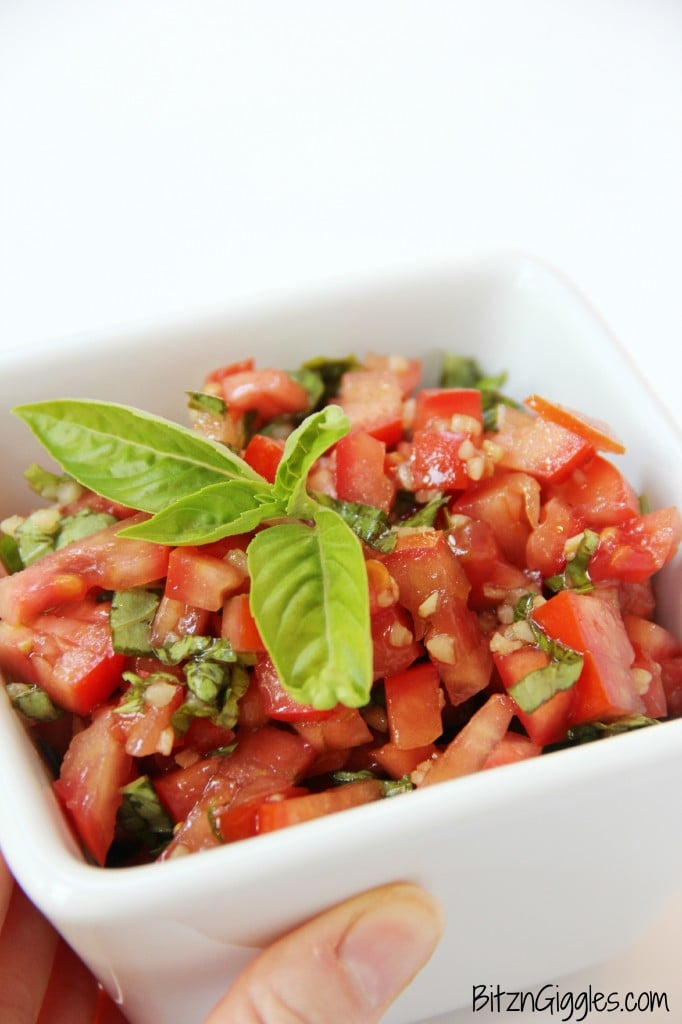 I'd like to just take a moment to revel in the glory of this beautiful bruschetta. What? It looks like other bruschetta you've seen and eaten? Get atta' here! Run and get a piece of Melba Toast – go ahead and get a chip. Then come back here, take a dip and try and convince me this isn't one of the most tasty things you've ever eaten!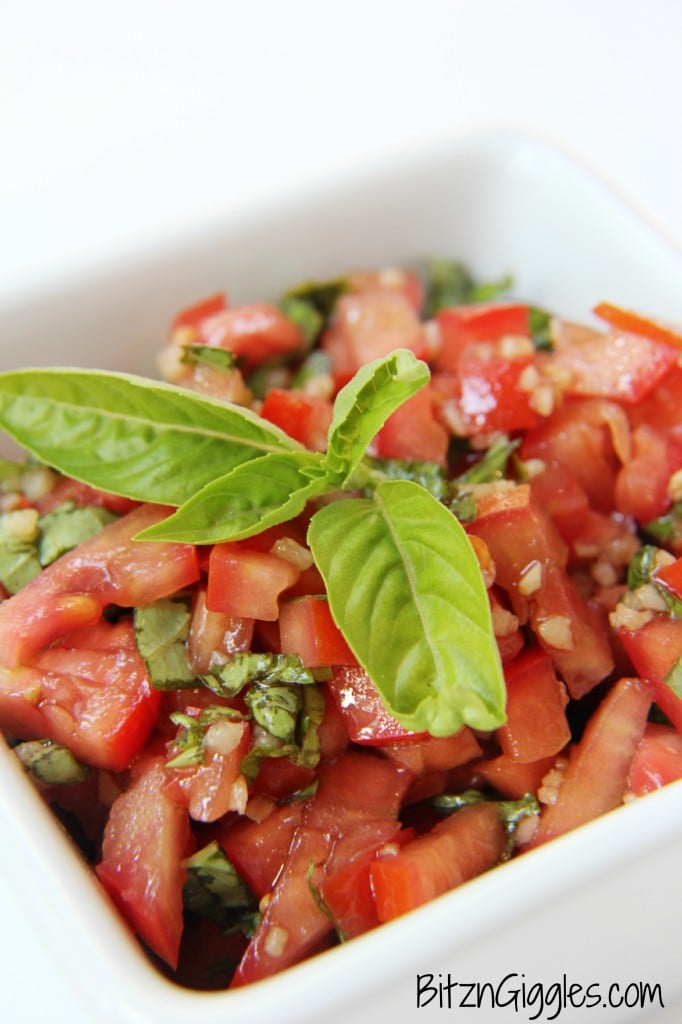 You know what, you're right. The only thing better would be preparing this bruschetta YOURSELF with your OWN fresh tomatoes and herbs YOU worked so hard all summer to grow! I highly recommend it! Autumn will need to take me kicking and screaming away from my deck garden this year. The thought of dried herbs makes me shudder at the moment. A time will come, however, as it does every year when I will need to, once again, befriend the dried herbs in my pantry that have sat dormant the last few months.
Yeah, yeah, I know. They sell fresh herbs year-round at the grocery store. But it's just not the same, and they're expensive as all get-out. For now, I'm just going to keep watering my little garden, waiting for my final harvest. And after I've eaten the last tomato of the season, I'll cry. . .but then I'll think back to the day I made this fabulous bruschetta – the day the birds sang. . . just for me. Ahhh, yes. This is some special stuff.
Tomato Basil Bruschetta
Fresh tomatoes, basil and garlic make this bruschetta swoon-worthy. All good-for-you ingredients with just a dash of salt and pepper.
Ingredients
5–6 Fresh roma tomatoes, diced
3 Tablespoons fresh basil leaves, chopped
1 Tablespoon minced or fresh garlic
2 Tablespoons olive oil
2 Tablespoons balsamic vinegar
Salt & pepper to taste
Instructions
Combine all ingredients in a bowl so flavors meld.
Serve with chips or Melba Toast.
Nutrition
Calories: 402
Sugar: 23
Sodium: 198
Fat: 28
Saturated Fat: 4
Unsaturated Fat: 23
Trans Fat: 0
Carbohydrates: 35
Protein: 7
Cholesterol: 0
(Visited 3,043 times, 1 visits today)