Triple Chocolate Pudding Cookies – Chewy, chocolaty, candy-filled cookies that use pudding as a secret ingredient to keep them nice and soft!


The other day when I was in my lazy susan grabbing some pudding to make these pie bars, I took a five-second inventory of all of the half open bags of chocolate chips, M&M bits and everything else under the sun you can imagine. It's times like these I make cookies. Do you do the same? Either cookies or brownies. You really can't go wrong with a candy-sprinkled brownie or cookie, am I right?
For these Triple Chocolate Pudding Cookies I used up some of my chocolate chips, M&M baking bits and, yep, you guessed it. . .pudding.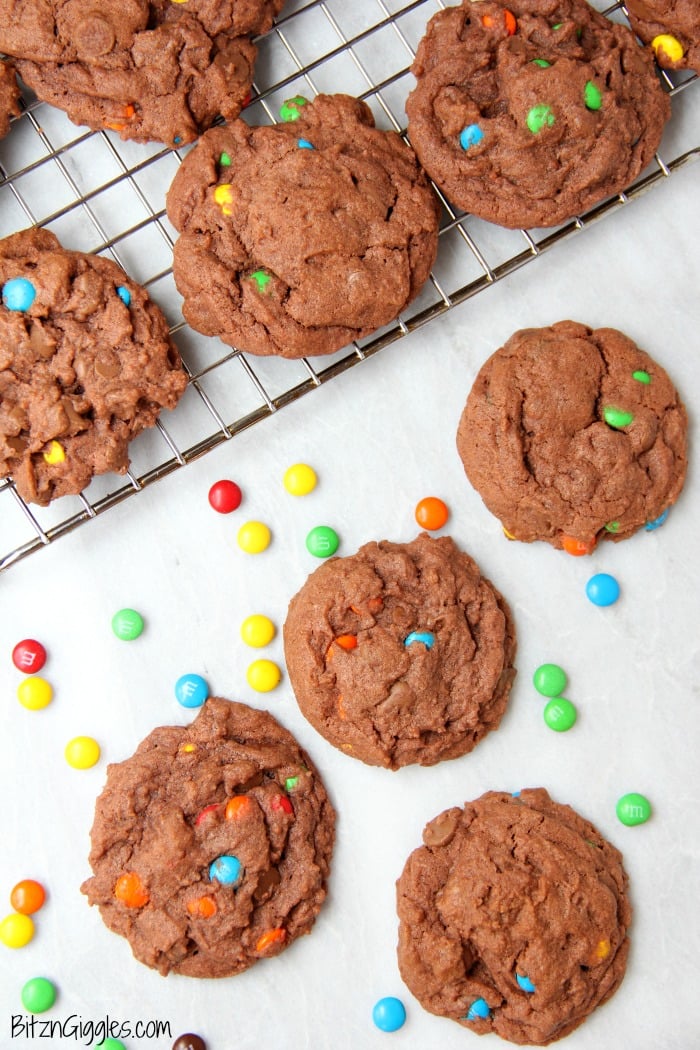 While pudding cookies tend to have a little bit different "look" than normal cookies (in my opinion), their soft and chewy texture are what win me over each and every time.
The kids, well, they were a hit with the kids, too. I think it was the M&Ms that really got their attention. One thing you should know about pudding cookies is that they're pretty versatile. If you use this recipe as a base, you could really add whatever kind of pudding you wanted – and whatever kind of candy or nuts you wanted in the cookies, too.
And if these sounded good to you, then make this exact recipe! I'm just all about giving you options. 🙂
Since the recipe makes 30 cookies, we have more than enough to get us through the week. . .or do we?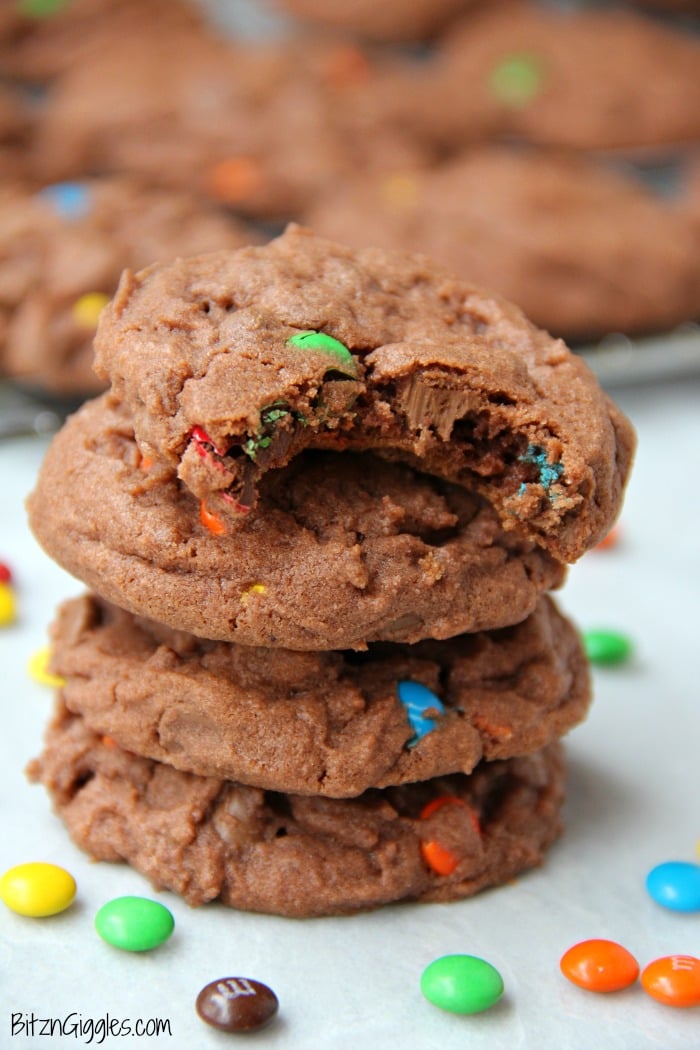 Next time, I may need to make it a double batch! Enjoy!
Triple Chocolate Pudding Cookies
Chewy, chocolaty, candy-filled cookies that use pudding as a secret ingredient to keep them nice and soft!
Yield: 30 cookies 1x
Category: Dessert
Ingredients
1 cup butter (2 sticks), softened
3/4 cup brown sugar, packed
1/4 cup sugar
3.4 ounce package chocolate instant pudding
2 eggs
1 teaspoon vanilla extract
2 1/4 cup all-purpose flour
1 teaspoon baking soda
1 cup semi-sweet chocolate chips
Instructions
Preheat oven to 350 degrees Fahrenheit.
In a mixing bowl, cream butter, sugars and pudding mix.
Add eggs, one at a time, beating well after each addition.
Add vanilla.
In a separate bowl, combine flour and baking soda; gradually add to creamed mixture.
Stir in chocolate chips and baking bits.
Drop by rounded teaspoonfuls 2 inches apart onto uncreased baking sheets.
Bake for 8-10 minutes.
Remove to wire racks to cool.
(Visited 1,586 times, 1 visits today)