Pistachio Pie Bars – Creamy, four-layer bars with a pie-like crust topped with cheesecake and pistachio deliciousness!
Oh my gosh, friends. Am I excited to share these Pistachio Pie Bars with you today. These bars are a favorite from my childhood and they rank right up there with these little squares of deliciousness.
This was a practice run for Friday. We're invited to a St. Patrick's Day party over at our friends' house and I am assigned to bring dessert. For the last few years we've gotten together. Terrie makes a wonderful meal of corned beef, potatoes, carrots and parsnips. Before these parties I was pretty sure I wouldn't like corned beef. It just sounds horrible, but boy was I wrong. I am officially converted and a big fan of it today.
So for dessert, I wanted something creamy, light, delicious and St. Patrick's day-worthy. THIS totally fits the bill. I suppose you could also call it Pistachio Lush.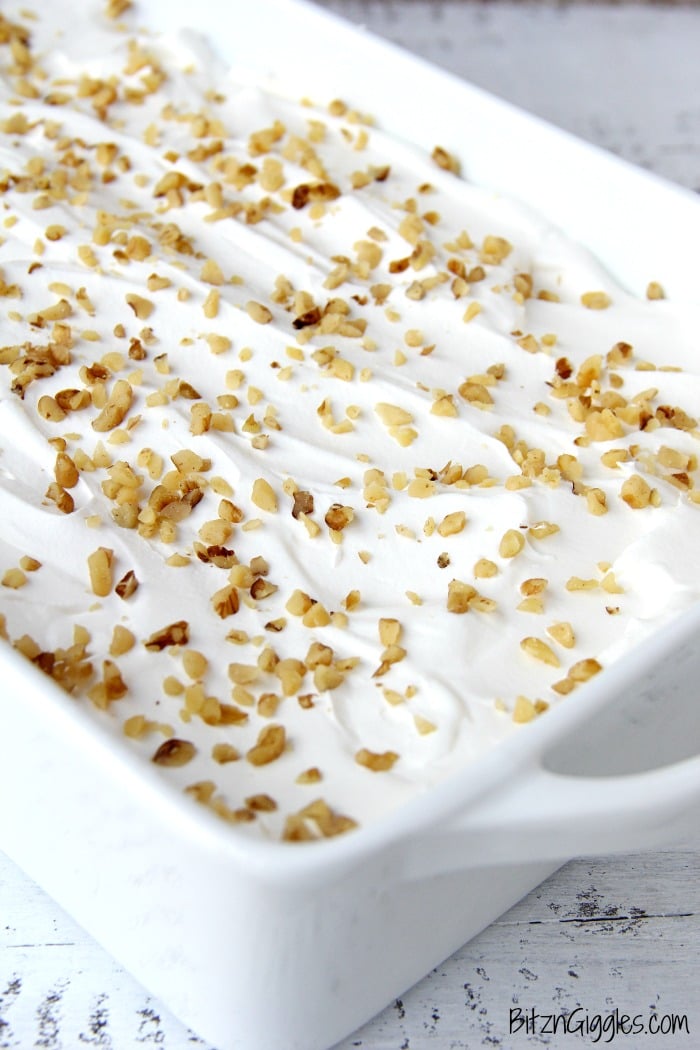 There are four layers to these bars: walnut crust, cheesecake, pistachio and whipped topping. I seriously could eat a pan of these bars just by myself. That's why I try to make them only when there's opportunity to share with A LOT of friends.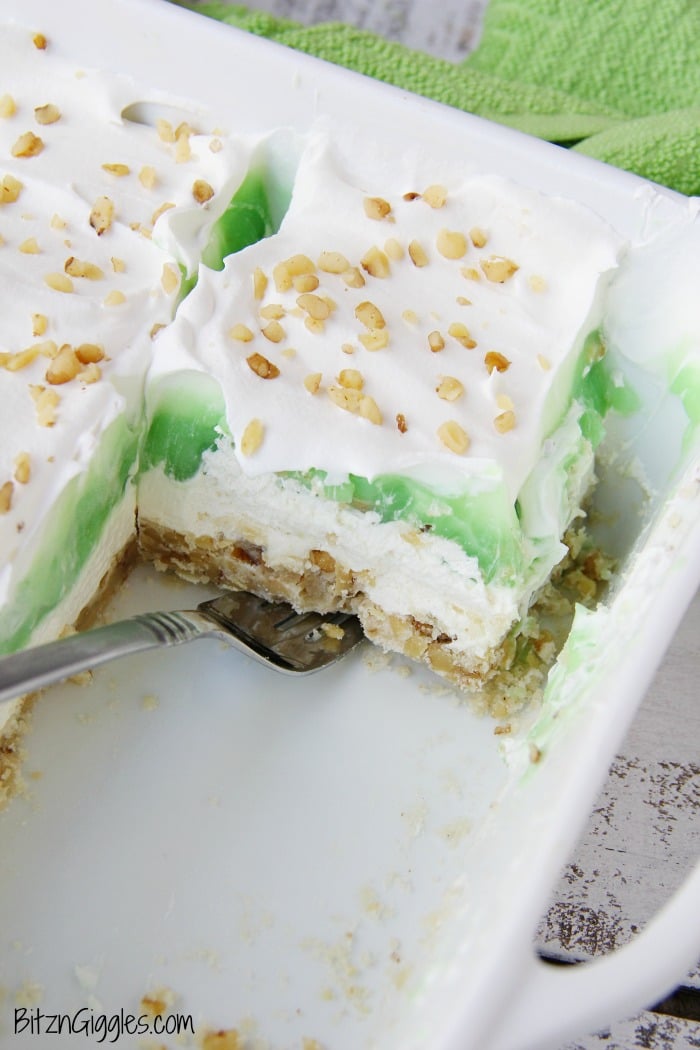 Can I let you in on one more little secret? I really don't like nuts. If you don't either, please don't let the walnuts sway you from trying this recipe. Oh, and as for the pistachio pudding, the pieces of pistachio are so minuscule, you can hardly tell they're in there.
The crust, in my opinion, tastes like a pie crust. Yes, a little nuttier, but it passed my "I really don't like anything with nuts" objection. I promise you'll love this!
It's seriously one of my favorites.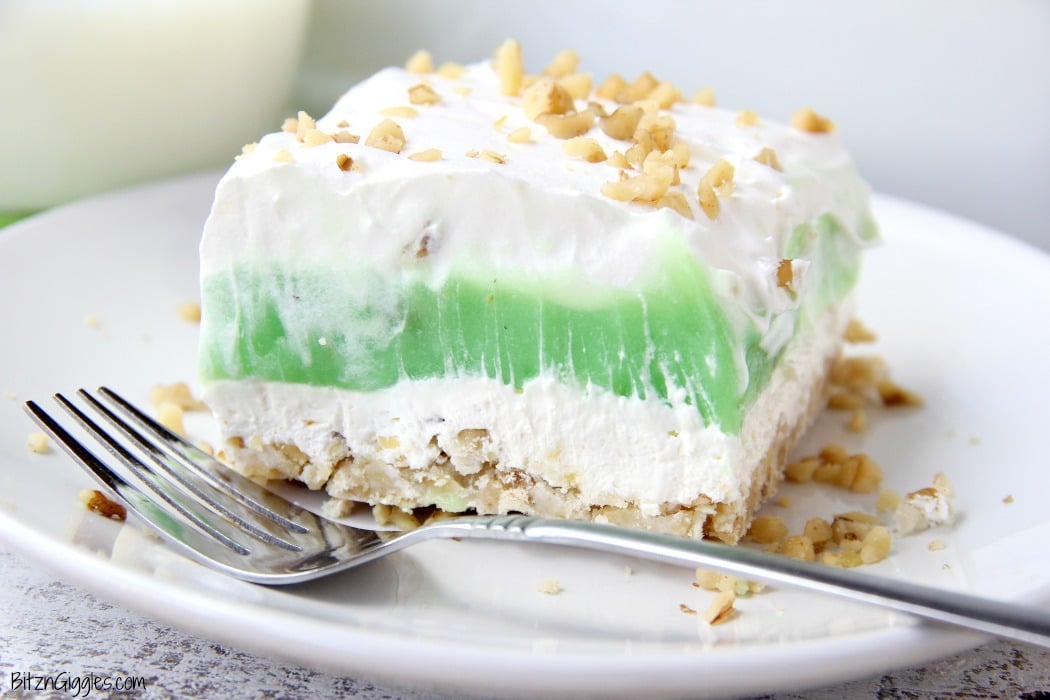 I bet you're wondering how long I'm going to go on talking before I dig into this little piece of heaven. Well, wait no longer. I'm getting a glass of milk and I'm going in.
I'm in. Life is good, and this year, St. Paddy's Day will be closed out with this light, creamy, luscious dessert! If you're still on the fence with what you're serving for St. Patrick's Day, try these awesome pistachio pie bars!
Pistachio Pie Bars
Creamy, four-layer bars with a pie-like crust topped with cheesecake and pistachio deliciousness!
Ingredients
1 cup flour
1 stick (1/2 cup) butter, softened
1 1/2 cups finely crushed walnuts, divided
8 ounce cream cheese, softened
1 cup powdered sugar
2 (8 ounce) tubs whipped topping, divided
2 3 ounce packages instant pistachio pudding
3 cups milk
Instructions
For the Crust
Preheat oven to 350 degrees Fahrenheit.
Combine flour, butter and 1 cup nuts. Press into a 13×9 inch greased pan.
Bake 20 minutes. Cool.
For the Cheesecake Layer
Beat cream cheese and powdered sugar together. Stir in one tub of the whipped topping. Spoon over crust.
For the Pistachio Layer
Beat pudding and milk for 1-2 minutes or until thickened.
Pour over cheesecake layer.
Chill for at least 2 hours.
Spread the remaining tub of whipped topping over the top of the pistachio layer.
Sprinkle with remaining walnuts.
Chill for 1-2 hours.
Cut into squares and serve cold.