Air Fryer Onion Rings – Fresh onion slices dredged in a flavorful breadcrumb mixture and air fried until crispy and perfectly golden.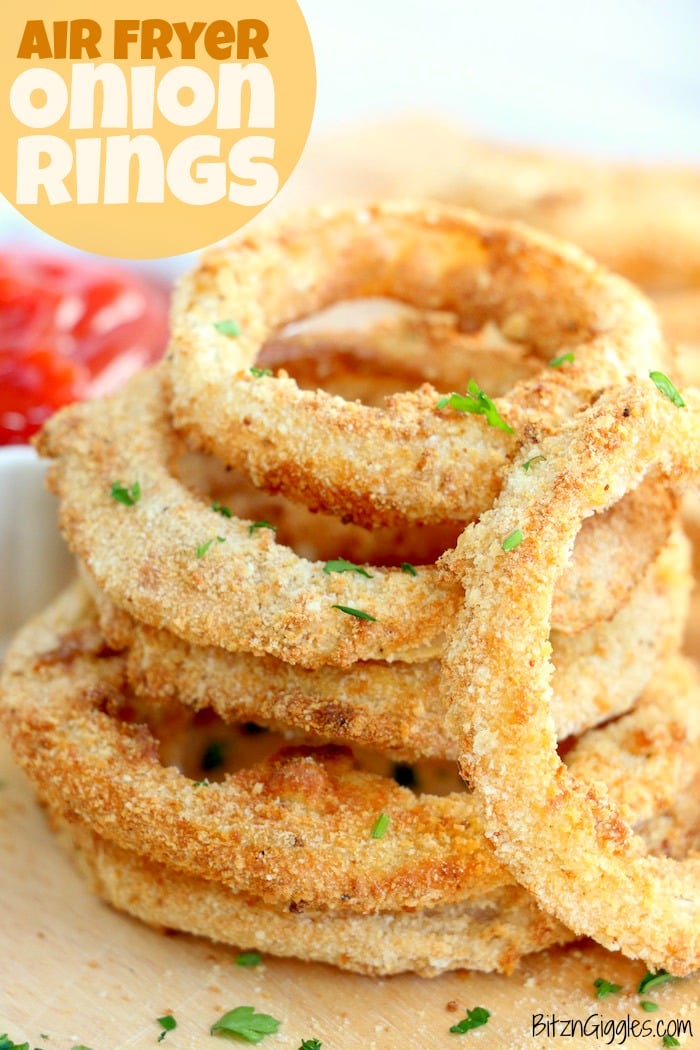 This post may include affiliate links. Please see my disclosure.
It sure has been hot and humid these past few days, but I love it. I'll take warmth any day over a cold winter day. If you've been following me for awhile, you know that I can get pretty worked up about the cold and snow. It just lasts way too long around here.
For now, I'm going to enjoy every second of the warm summer sun. That means lots of outside time. And that means quick and easy meals at the end of the day.
My air fryer is still worthy of having its place on my kitchen counter. I use it year-round to make simple meals even easier. In the summer, I need quick and easy sides to go along with burgers, steaks and chicken, so, today, I'm showing you how to make onion rings in the air fryer.
We love to order onion rings as an appetizer or a side when we go out to eat, but we've found that we can make a better-for-you version at home that are just as good! In facts, there are lot of appetizers/sides you can make right in the air fryer like French fries, potato chips, chicken wings, and more!
HOW TO MAKE AIR FRYER ONION RINGS
To make onion rings in the air fryer, you'll need the following:
Large onion
Flour
Baking powder
Garlic powder
Paprika
Salt & pepper
Egg
Milk
Breadcrumbs
To get started, you're going to want to go ahead and peel your onion. Then cut it into 1/4 inch slices. Make sure all of the slices are separated.
You're going to mix up a wet batter to dip the onion slices in and then dredge them in breadcrumbs.
When you place them into your air fryer, make sure they're not overlapping at all.
HOW LONG DO YOU AIR FRY ONION RINGS?
At 370º Fahrenheit, I had golden brown onion rings in about 8 minutes. Remember that just like ovens, air fryers vary, so make sure to check your rings frequently the first time you try them.
WHICH ONIONS ARE BEST FOR MAKING ONION RINGS?
Yellow onions are always best. They are sweeter and not as sharp. Yellow, sweet onions like Vidalia, Walla Wall, Maui or Texas, Maui, or Walla Walla actually become sweeter the longer they are cooked!
Red onions can also be used to make onion rings. They are just a bit more mild.
TIPS FOR CRISPY, GOLDEN ONION RINGS
If you're looking for extra crispy onion rings, substitute Panko crumbs for normal breadcrumbs.
Halfway through cook time, spray the rings with cooking oil – it will help to make them more golden and crispy.
If you use a rack for your air fryer, you'll be able to fit more onion rings in a single batch by stacking them.
Don't worry about flipping your onion rings halfway through. I never flip mine and they turn out great!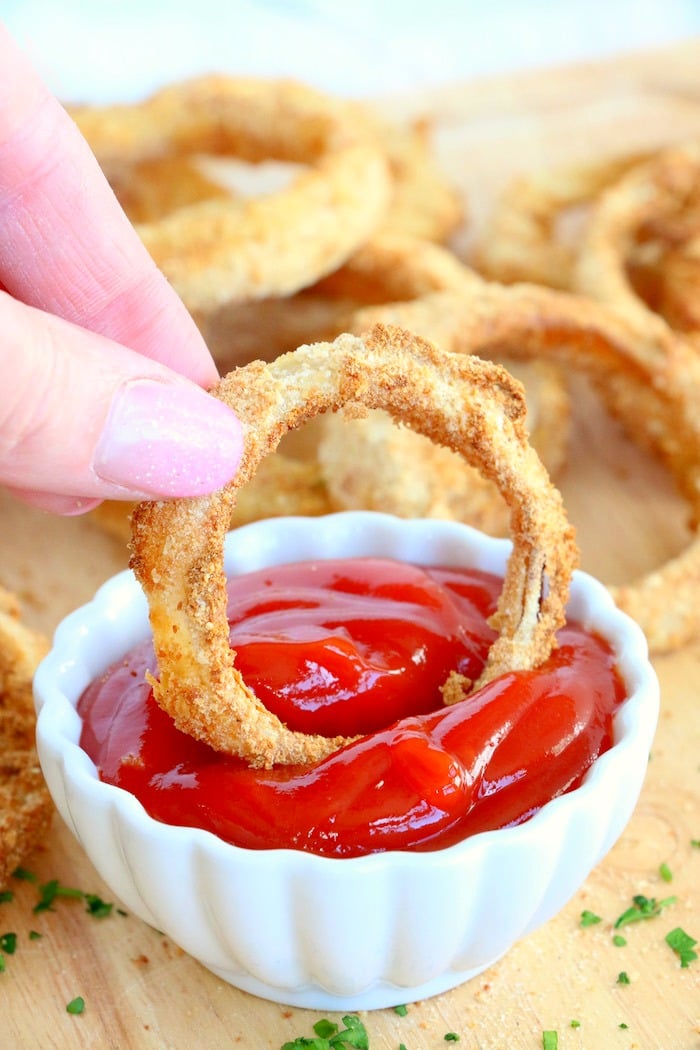 WHAT KINDS OF SAUCE CAN I USE TO DIP ONION RINGS?
I'm a ketchup addict, so I love to just dip them in ketchup. You could also try:
BBQ sauce
Honey mustard
Garlic aioli
Hot sauce
Ranch
Fry sauce (Mayo and ketchup mixed together)
What else did I miss?
HUNGRY FOR MORE AIR FRYER APPETIZERS?
BECOME A MEMBER OF OUR AIR FRYER FACEBOOK GROUP!
To become part of our Air Fryer Easy Recipes community on Facebook, you can request to join here.
Air Fryer Onion Rings
Fresh onion slices dredged in a flavorful breadcrumb mixture and air fried until crispy and perfectly golden.
Ingredients
1 large sweet onion
3/4 cup flour
3/4 teaspoon baking powder
3/4 teaspoon garlic powder
1/4 teaspoon paprika
1 teaspoon salt
1/4 teaspoon pepper
1 egg
1 cup milk
1–2 cups breadcrumbs
Instructions
Peel onion and cut into 1/4-inch slices. Separate rings.
To prepare batter, combine flour, baking powder, garlic powder, paprika, salt, and pepper in a small mixing bowl.
Add egg and milk to flour mixture.
Whisk until smooth.
Pour breadcrumbs into a second bowl.
Dip each individual ring into the batter, then dredge in breadcrumb mixture.
Place battered rings in your greased air fryer basket without overlapping (You may have to do a few batches).
Air fry at 370º Fahrenheit for 8 minutes or until golden brown.
(Visited 13,734 times, 1 visits today)