Air Fryer Potato Chips – Crispy, homemade potato chips made better for you in an air fryer!
This post may include affiliate links. Please see my disclosure.
When I'm ready to snack, I usually pick something salty over something sweet -and there's just something about potato chips that makes my mouth water just thinking about them.
When I do buy chips at the store, I try to buy the baked variety. I'm not sure how effective it is because I feel like I give myself a pass to actually eat MORE when I'm snacking, because in the back of my mind I'm thinking, "Go ahead. These are much 'better for you' than regular chips."
ARE AIR FRYER POTATO CHIPS BETTER FOR YOU?
Lately, I've ditched the baked chips altogether and have been making my own homemade potato chips in the air fryer (Just for the record, I've baked chips in the oven before as well).
So, are air fried potato chips really better for you? Well, yes, they are.
Air fryer potato chips have 60% less fat than store-bought chips. They fall into a similar category as baked chips, except there are no artificial ingredients. So, technically, they're better for you than any store-bought regular or baked chips.
HOW TO MAKE POTATO CHIPS IN THE AIR FRYER
You can make potato chips in the air fryer in 10 minutes or less with only three ingredients:
Baking potatoes
Salt & pepper
The hardest part is slicing the potatoes, and if you have a mandoline slicer, it makes the job super easy.
A mandoline is not to be confused with a mandolin, the musical instrument.?
You'll begin by slicing the potatoes very thin.
I always leave the skin on the potatoes because it adds fiber and nutrients. I think it looks nicer too when you're making homemade chips or French fries.
Make sure that your air fryer basket is greased. I know many people tell you not to use cooking spray, but I do, and I've never had any issues with the coating peeling off my basket.
Salt and pepper the potato slices and place them in a single layer in the air fryer.
HOW LONG DOES IT TAKE TO MAKE POTATO CHIPS IN THE AIR FRYER?
Believe it or not, your potato chips will be ready to enjoy in 8-10 minutes. No grease or oil to ruin your day.
Just look at how perfectly crispy and golden brown they turn out!
They're just the thing to satisfy your salt cravings.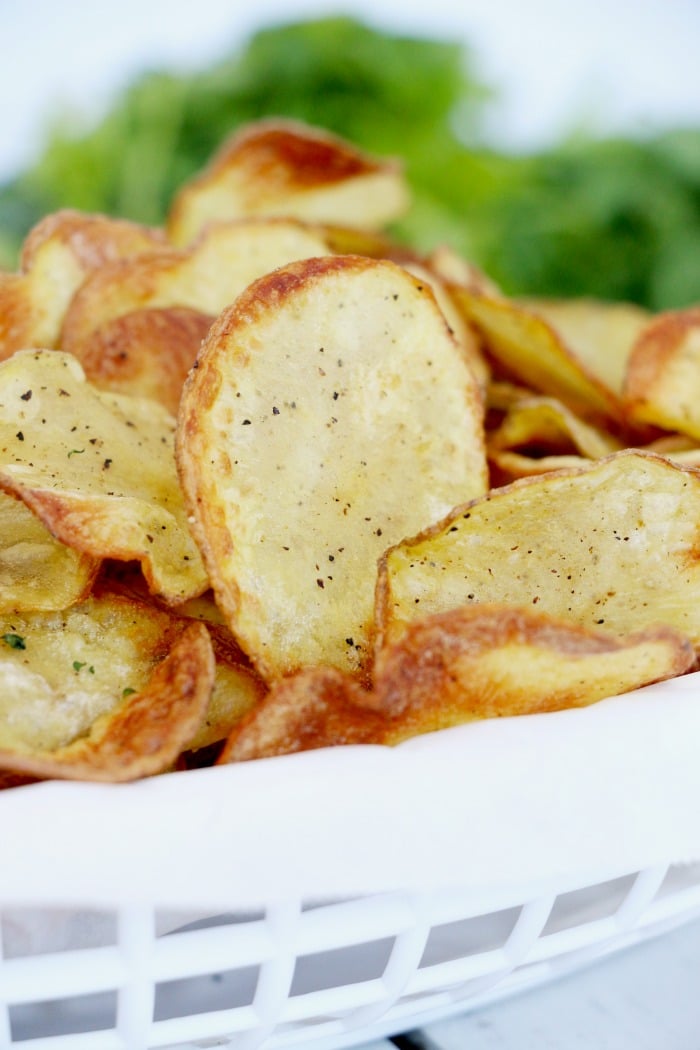 Keep the mandoline slicer close by because chances are, you'll be making a few batches of these.
And let me tell you what – even though these chips are thinly sliced, they are still firm enough to dip – and that makes me even happier.
I'm a sucker for French onion dip, but that's just me. Grab your favorite dip and go to town.
Once you make potato chips in the air fryer you may never go back to anything store-bought. Enjoy this "better for you" salty treat!
LOOKING FOR MORE AIR FRYER RECIPES?
Air Fryer Potato Chips
Crispy, homemade potato chips made better for you in an air fryer!
Ingredients
3 medium-sized baking potatoes
salt and pepper
Instructions
Wash potatoes.
Slice potatoes very thin (I use a mandoline slicer on the thinnest setting).
Using a paper towel, remove any excess moisture from slices.
Place them in a single layer in your greased air fryer basket.
Season slices with salt and pepper.
Air fry at 400º Fahrenheit for 8-10 minutes.
Notes
Check the slices every couple minutes to ensure they are not sticking together.
(Visited 41,057 times, 1 visits today)