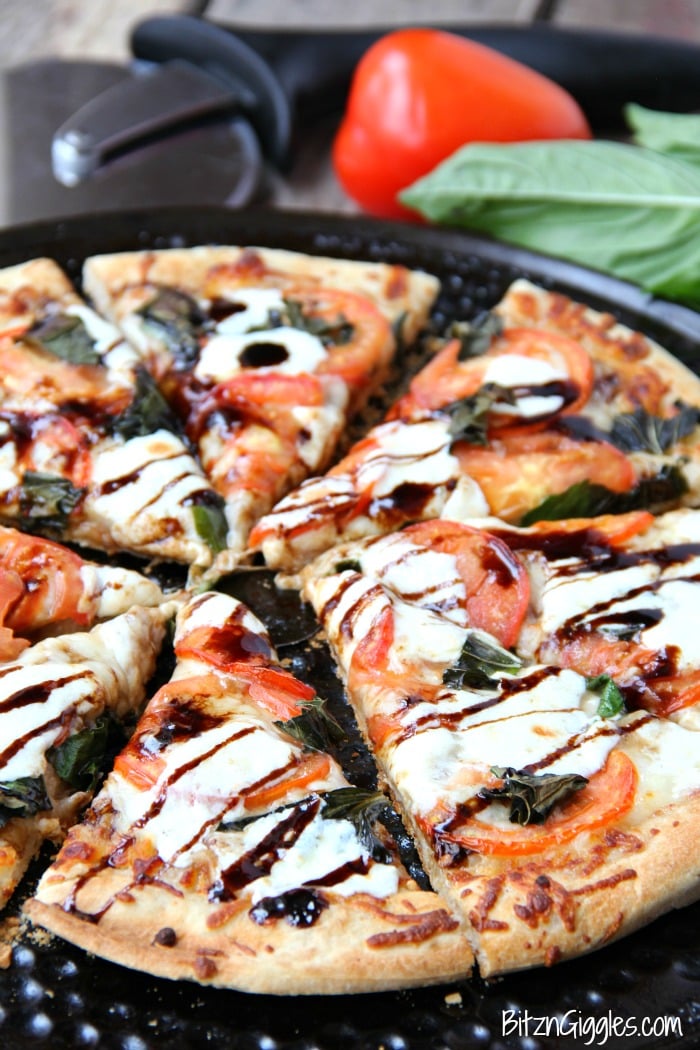 This post includes affiliate links. Please see my disclosure.
I'm not sure why it's taken me so long to post this recipe. I make this Caprese Pizza ALL THE TIME. Why? Because I can't get enough of it. I'm pretty much in love with the trio of tomatoes, basil and balsamic to begin with (Have you seen this Tomato Basil Bruschetta?) but combine all of that goodness with some fresh mozzarella and a thin and crispy pizza crust, and you have something pretty darn heavenly.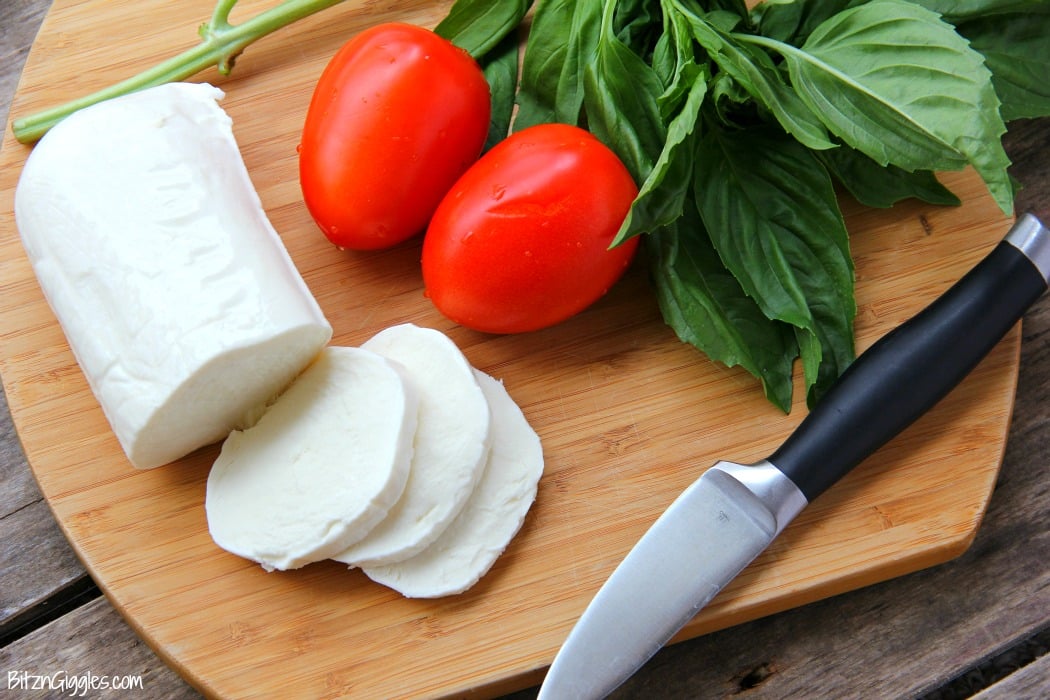 The fresh ingredients MAKE this pizza. The balsamic glaze adds a little bit of sweetness, and the thin crust gives the pizza such a nice crunch. I've been known to make this pizza for lunch during the week when I'm pressed for time. Even though it uses fresh ingredients, the prep time is quick!
Have you ever made a balsamic glaze? Normally you just heat some balsamic vinegar and brown sugar in a saucepan and reduce it for about 20 minutes. When I don't have 20 minutes, I use a store bought glaze like this one from Bertolli.
It's SO good, and you literally just pour it on. I like to add some glaze to the crust before I put the toppings on and then add some more after the pizza has baked.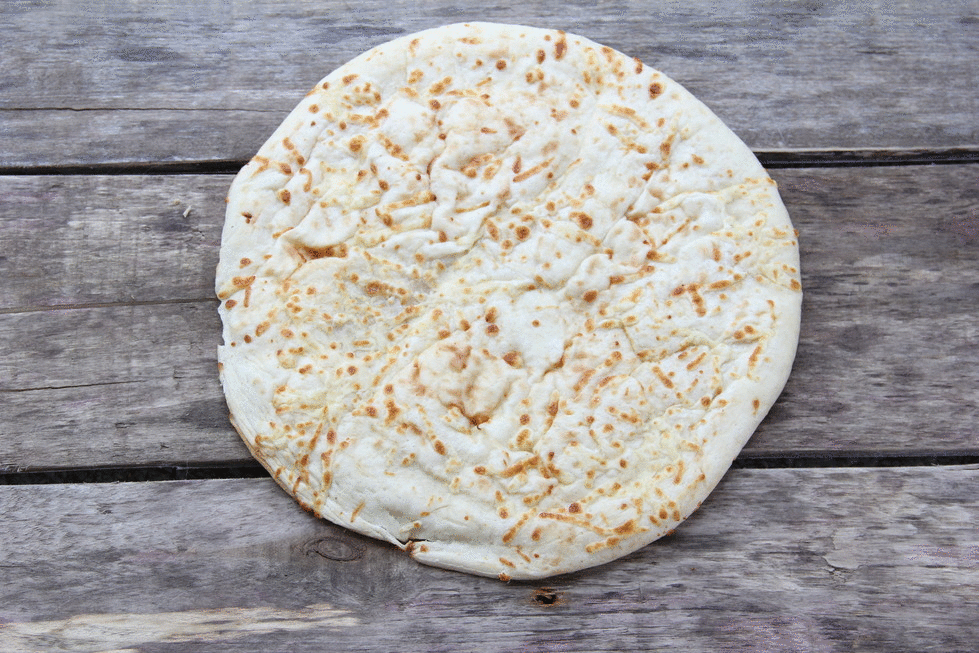 To make the preparation quick and easy, I also normally use a store bought thin pizza crust. One of my favorites is the Boboli brand.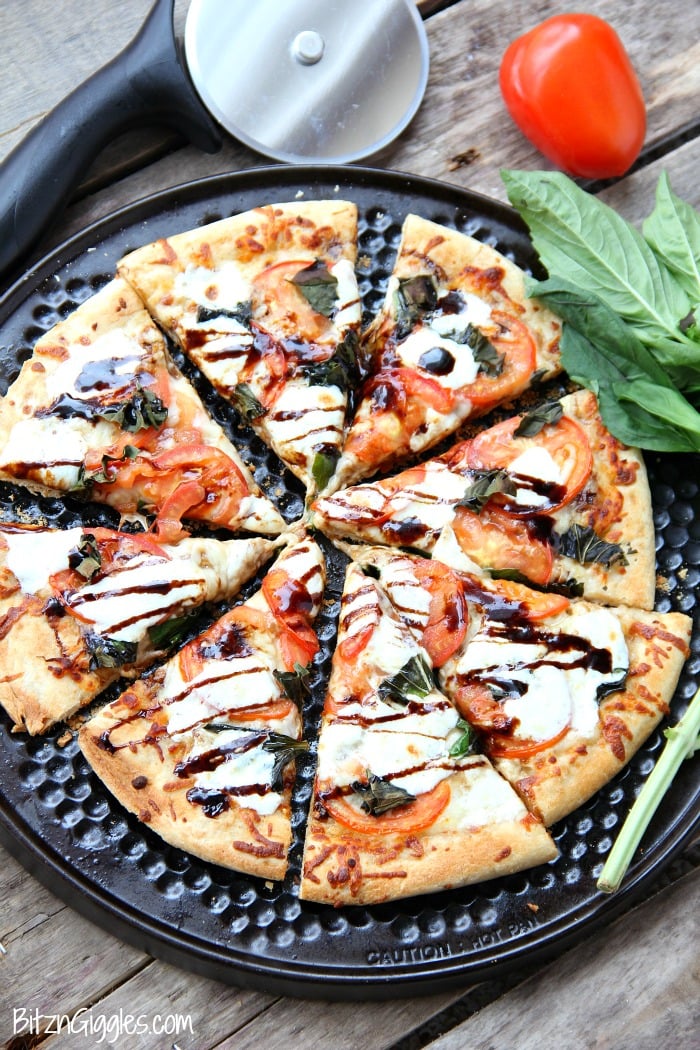 To avoid having to preheat my oven, we always use our Presto Pizzazz. I use this little rotating oven every day. It's earned a permanent spot on our kitchen countertop. I save at least 20 minutes using this little oven because it requires no preheating and it cooks quickly. What you're seeing in the photo above is just the tray that you put the food on. We cook EVERYTHING with this little machine and it's awesome at heating up leftovers!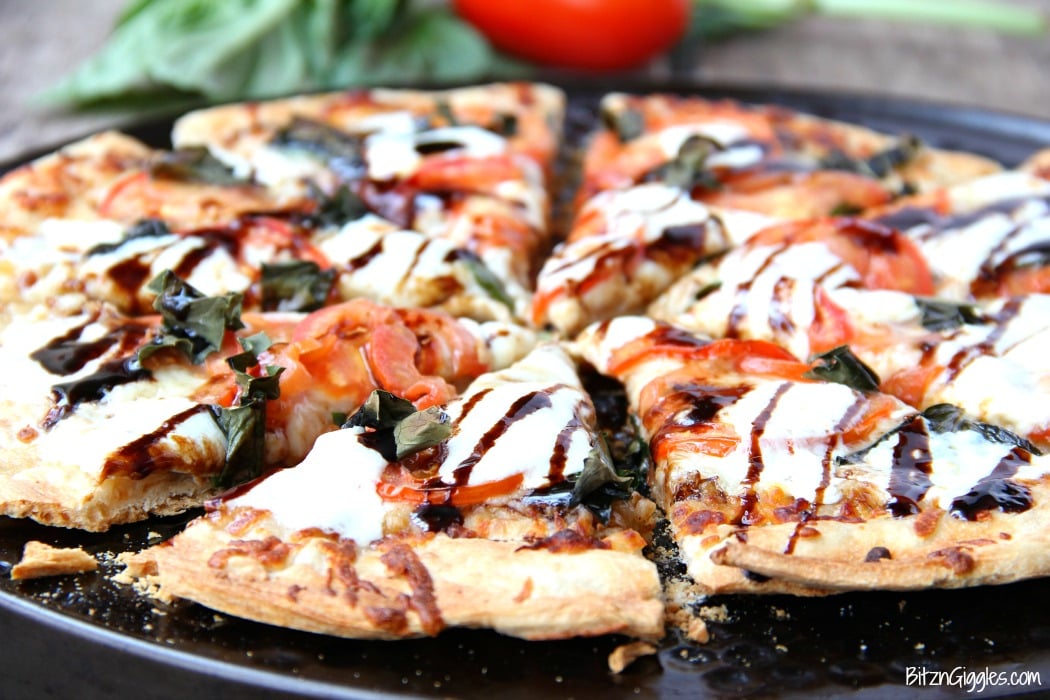 Now, back to this pizza. . .I honestly could hardly get through this photo shoot. I just wanted to take a big bite into one of these slices. So. . .I did.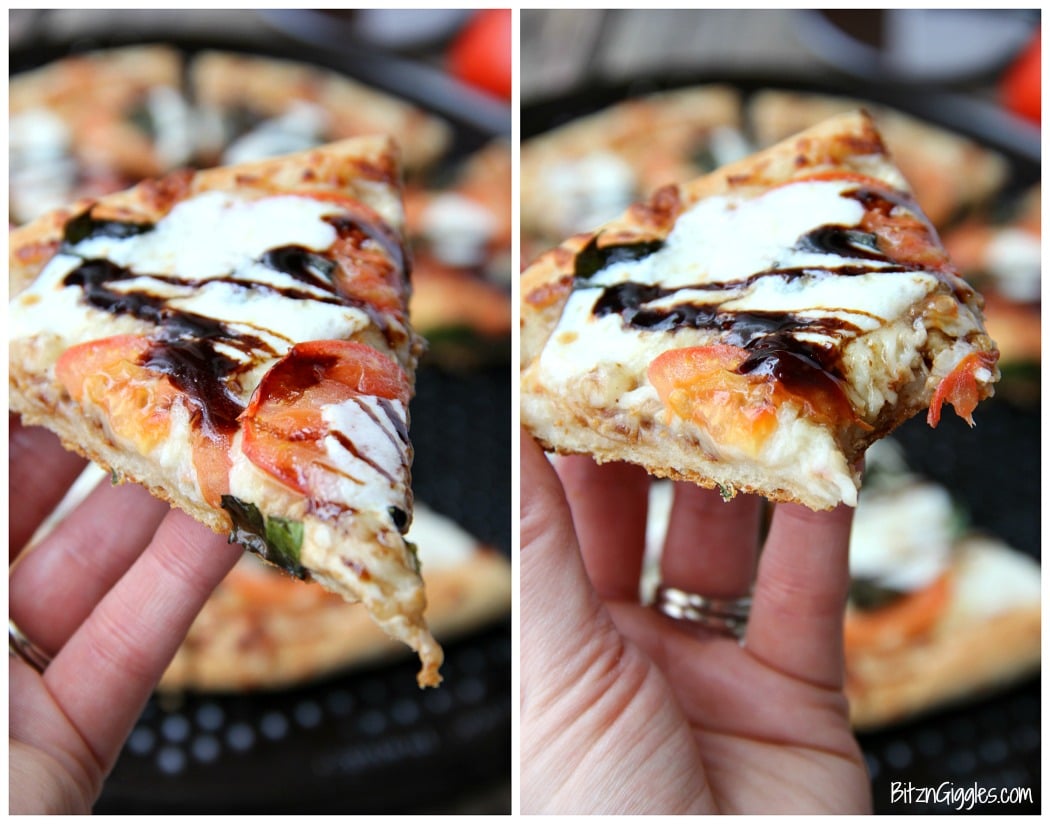 And then, it was all over. Photo shoot complete. Lunch is served. Do yourself a favor and make this pizza. If you're a fan of caprese or bruschetta, you're going to love this pizza recipe. One, because it's delicious and two, because it's so easy and quick. Just the way recipes ought to be!
Caprese Pizza
Caprese Pizza – Fresh tomatoes, basil, mozzarella and a sweet balsamic glaze makes this quite possibly the best pizza on the planet!
Ingredients
Thin pizza crust, either homemade or store bought
1/2 cup Balsamic Glaze (I used Bernoulli), divided
1 cup mozzarella shredded cheese
1 medium-sized roma tomato, sliced thinly
Handful of fresh basil, torn into small pieces
1 cup fresh mozzarella, cut into small pieces
Instructions
Preheat oven to 450 degrees Fahrenheit or cut out this step if you're using a rotating oven like I did.
Add 1/4 cup of balsamic glaze to the top of the pizza crust.
Top the crust with shredded cheese.
Add the tomatoes.
Sprinkle on the fresh basil pieces.
Top with the fresh mozzarella.
Bake in oven for 10-12 minutes or until crust is browned and cheese begins to bubble. If using a rotating oven, let it bake for 12-15 minutes.
Remove from oven and top with remaining balsamic glaze.
Serve immediately.
(Visited 7,295 times, 1 visits today)