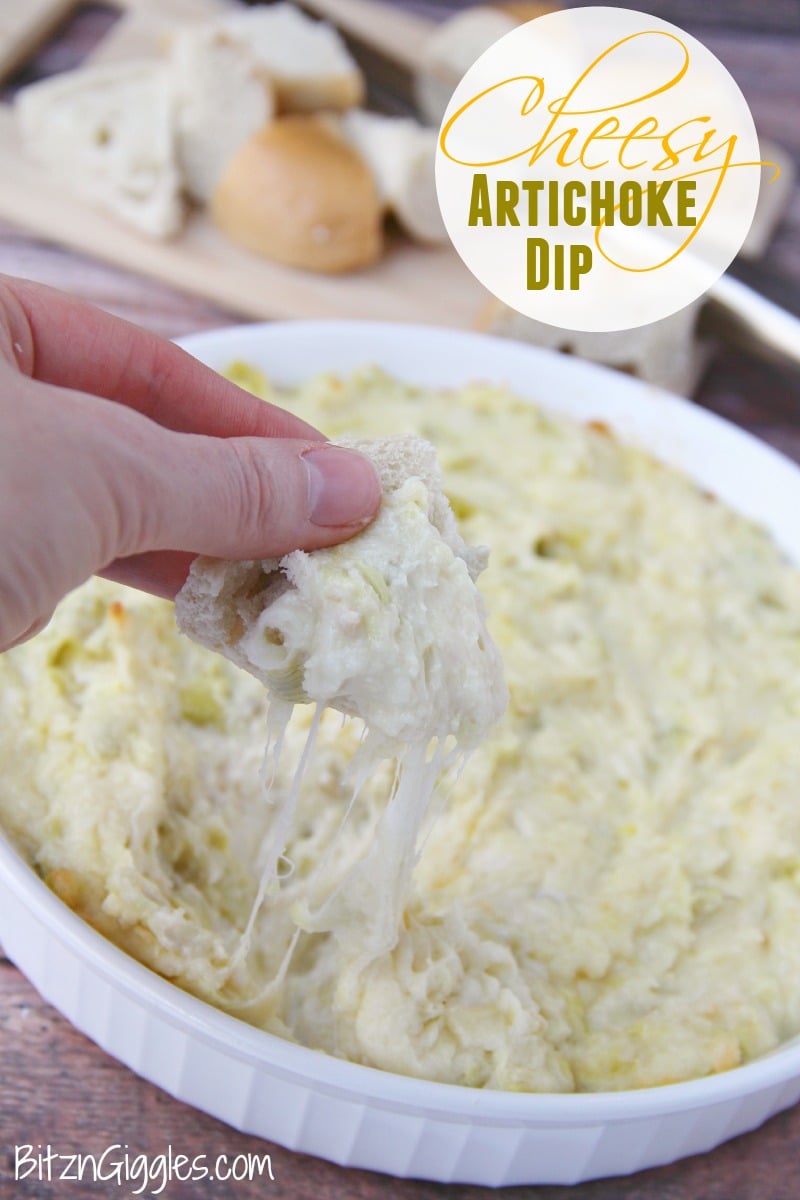 This is a sponsored post written by me on behalf of Crystal Farms Cheese. All opinions are 100% mine.
I'm still a bit disappointed about the Packers' loss against the Seahawks, but life goes on, and of course, I'm going to be watching the Super Bowl game. . .for the commercials and the snacks. 🙂
Who's going to pass up an opportunity to get some friends together and put out a spread of appetizers and finger food? Ummm. Not me.
One of my favorite dips of all time is this Cheesy Artichoke Dip. It's so easy to put together and I don't think I've ever had any of it left over after a party.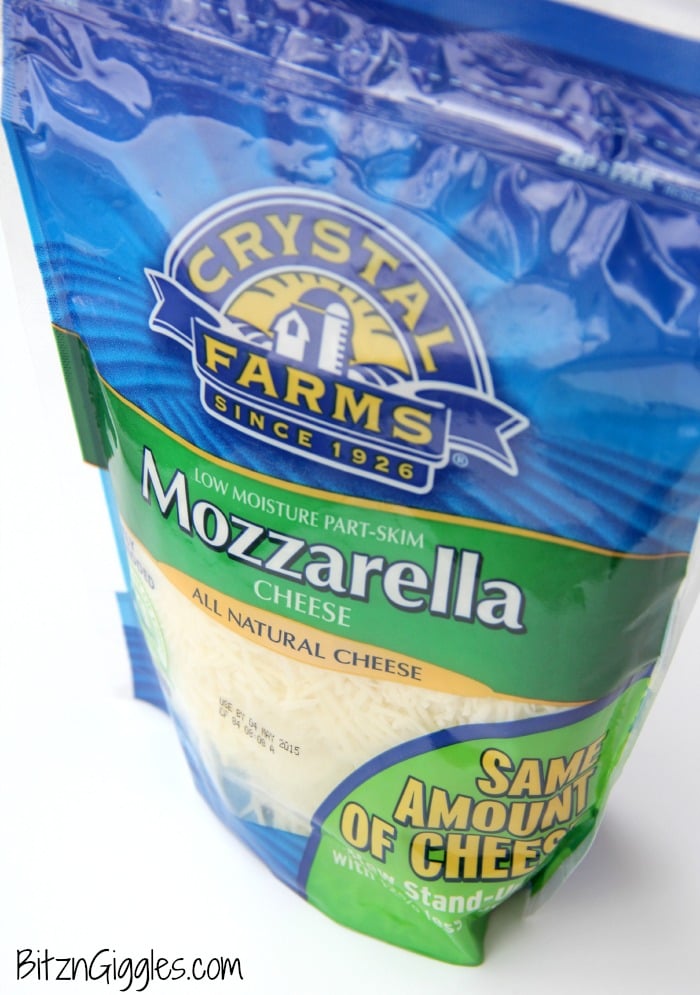 One of the secrets to this great dip is quality cheese. Crystal Farms® is one of the largest cheese brands in the country and is made right here in Wisconsin. It's one of the main ingredients to this dish and I love the smooth taste and how beautifully it melts when warmed.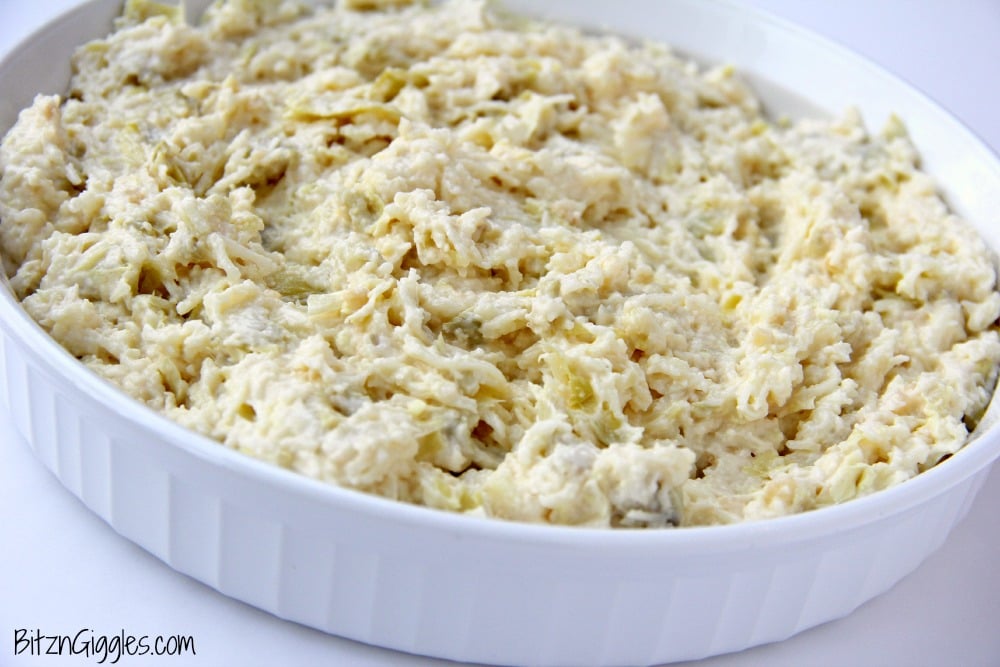 This dip goes together literally with five ingredients. Can it get any easier than this? You mix all of the ingredients into a bowl, spoon it into a baking dish and bake it at 350 degrees Fahrenheit for about 20- 25 minutes.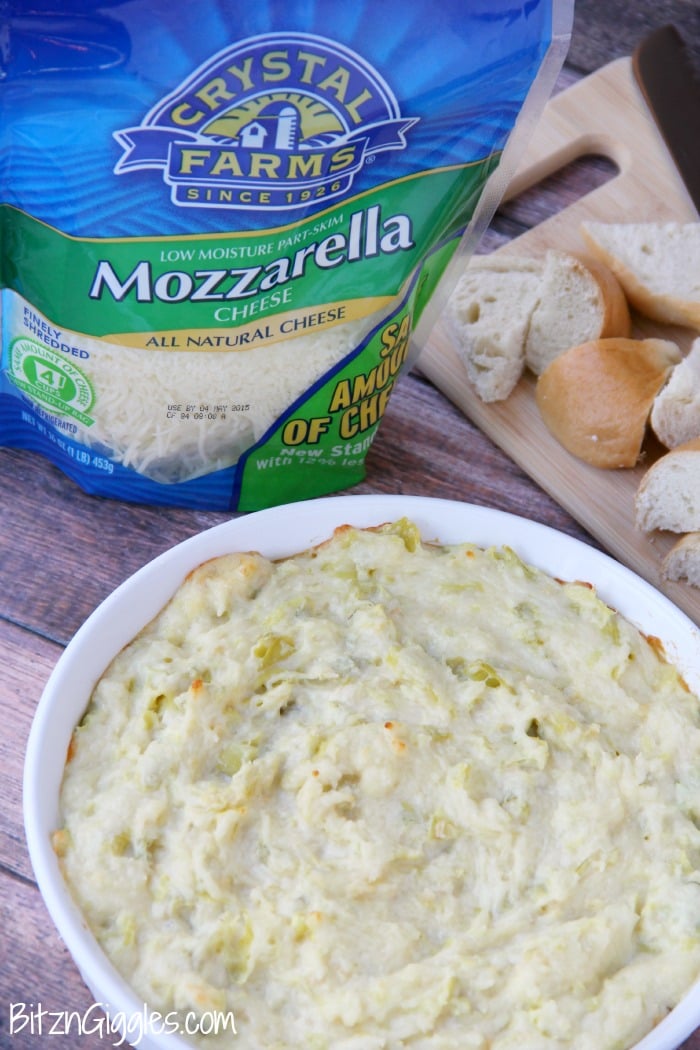 When the sides start to bubble and brown you know this delicious dip is ready to be served.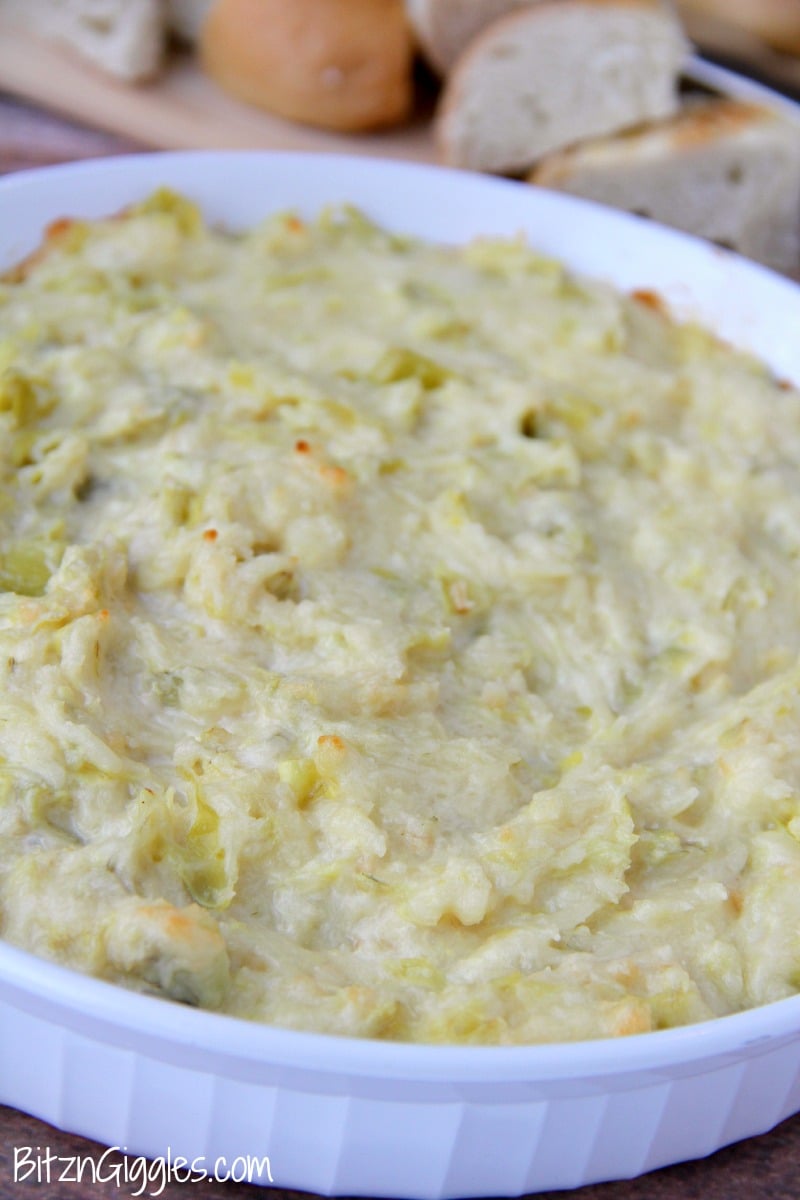 Just look at how the dip changes and becomes so creamy. . .oh, so good. It's from all of that great cheese. I've found that it goes wonderfully with bagel pieces.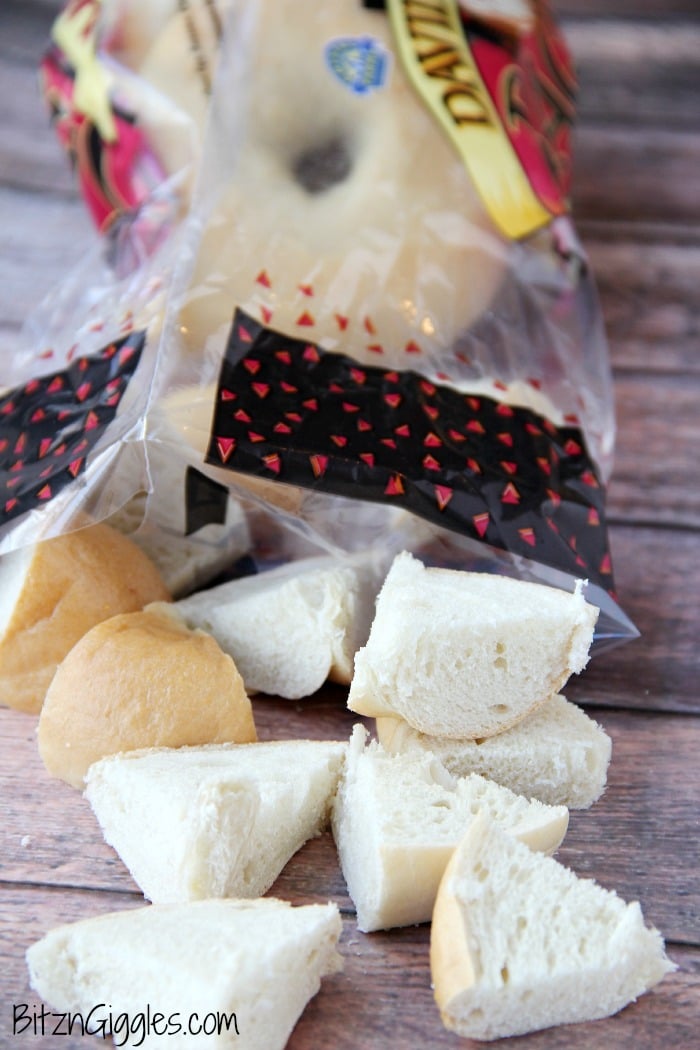 I'm not going to lie. I make this dip all of the time – even when we're not having a party. You can mix up the ingredients ahead of time and bake it when you're ready to enjoy it.
Get this. . .if (for some odd reason) you have any leftovers, this dip tastes great even when warmed up.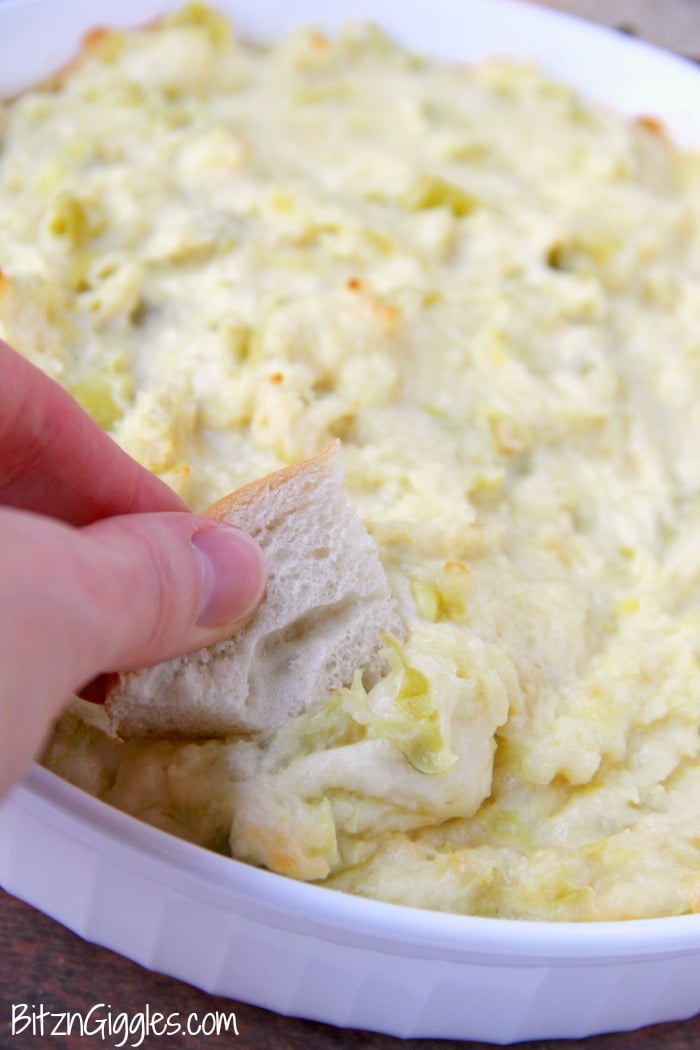 Yum. So, cheesy, so satisfying, soooo good. I hope you enjoy it as much our family and friends do!
Visit Crystal Farms Favorites and follow Crystal Farms on Pinterest for more cheesy and delicious recipe ideas! Oh, and don't forget to enter this awesome giveaway from Crystal Farms!
Register to win this beautiful Le Creuset serving platter! The giveaway will run through February 6, 2015 so make sure to enter by leaving a comment in the Rafflecopter box! Good luck!
Cheesy Artichoke Dip
A delicious, cheesy dip that goes together quickly and with only 5 ingredients!
Ingredients
14 oz. can of artichoke hearts (drained and chopped)
1 cup parmesan cheese
2 cups Crystal Farms Shredded Mozzarella Cheese
1 cup mayonnaise
1 tablespoon minced garlic
Plain bagels cut into bite-sized pieces
Instructions
Preheat oven to 350 degrees Fahrenheit.
Combine all ingredients together and put into 2 quart baking dish.
Bake for 20-25 minutes or until lightly golden brown around the edges.
Serve with plain bagel pieces.
Nutrition
Serving Size: 4
Calories: 727
Sugar: 3
Sodium: 1337
Fat: 64
Saturated Fat: 20
Unsaturated Fat: 41
Trans Fat: 0
Carbohydrates: 12
Protein: 28
Cholesterol: 93