Cherry Jell-O Divinity Candy – Sweet and soft cloud-like candy with a delicate and chewy center!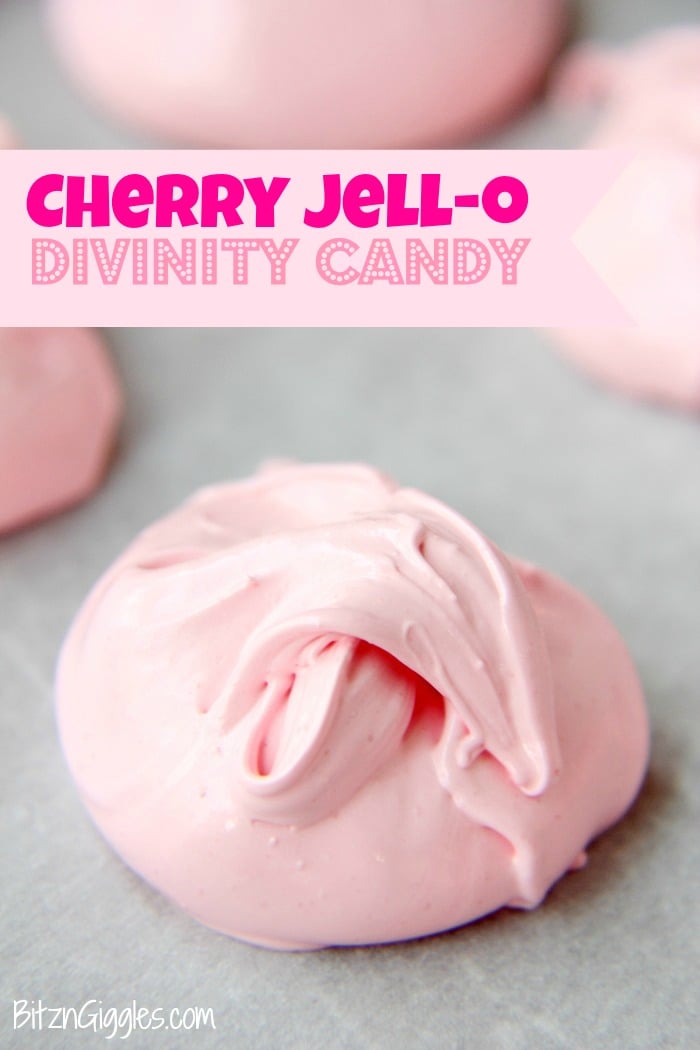 This post includes affiliate links. Please see my disclosure.
When you think of desserts for Valentine's Day what do you think of? Cake, cookies, strawberry shortcake, maybe? I bet you didn't think of divinity candy.
My mom would always make divinity candy around Christmas time. In our house, we always called it foam candy. What did you call it? I attempted to make divinity candy last year with my hand mixer, and it didn't work out too well. I just couldn't seem to get it to the right "consistency."
Well, let me tell you what. My new KitchenAid Artisan Mini is a complete game changer, and this time, my end product was a complete success.

I've never been able to easily add ingredients to the bowl while I'm mixing. I mean, I could do it. But it was awkward for sure.
With my new mixer, everything just became easier. I do have a couple other items on my wish list, however. I would really love to get a bowl with a handle and a pouring shield. Goals. It's good to have goals.
I don't want you to feel like making divinity candy is complex and difficult. It's really not. And if you're a little nervous about the whole candy thermometer thing, invest in a digital candy thermometer.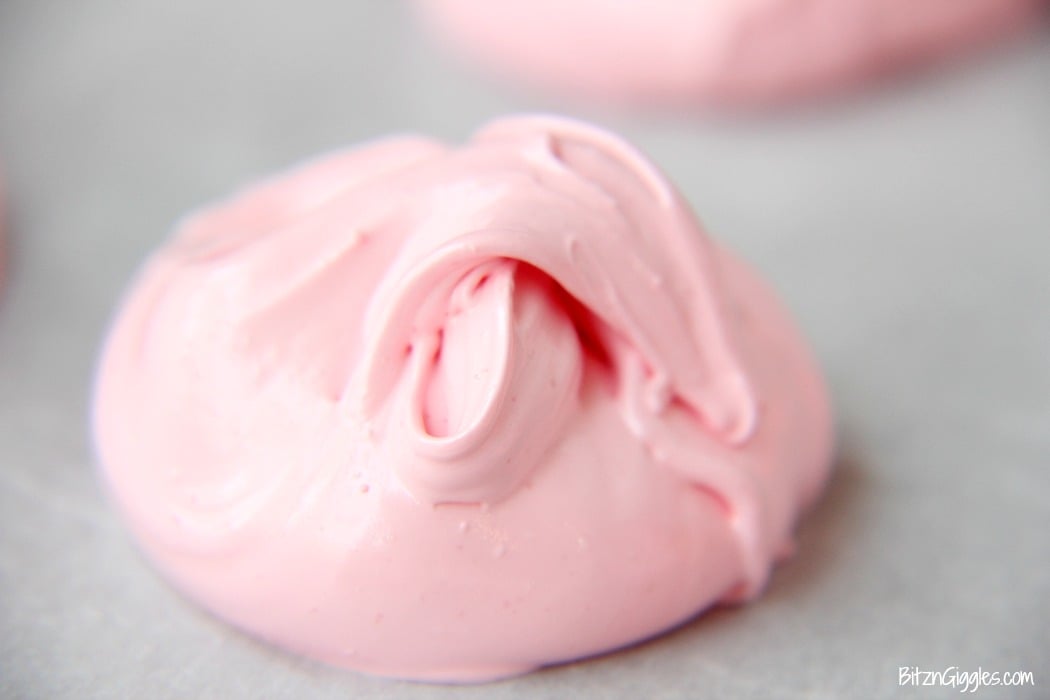 Just look at how beautiful these turned out. There's really no need to "pipe" them out. Just use a teaspoon and twist your wrist a little bit to get that little finishing loop on top.
Now, for Valentine's Day, I put a fun twist on this divinity candy and actually packed it into heart-shaped silicone molds. If you decide to do this, too, just remember that you need to be quick about it.
I used my fingers to pack the divinity into the molds. As you can see in the photos above, the divinity candy was starting to harden. After about 3 hours, I ended up popping the candy out of the molds and then left the little hearts out on the counter to dry even more overnight.
I mean, look at how pretty these little hearts are!
My kids gobbled this cherry Jell-o divinity candy right up. When you bite into divinity candy, it literally melts right in your mouth. It really is the perfect Valentine's Day treat. I hope I've inspired you to go and make some of these for your sweetie(s).
While you're at it with heart-shaped projects, I wanted to show you where I got the inspiration from to make this divinity candy. When you take a look at my bath bombs, you're going to see some similarities for sure!
As for me. . .I'm just figuring out what to make next in my cool, new mixer! What do you think I should make?
Cherry Jell-O Divinity Candy
Sweet and soft cloud-like candy with a delicate and chewy center!
Ingredients
2 egg whites, room temperature
3 cups granulated white sugar
1/2 cup light corn syrup
1 cup water
1 (3 ounce) package cherry flavored Jell-O
1 teaspoon vanilla extract
Instructions
Place egg whites in a mixing bowl and set aside.
Combine sugar, corn syrup and water in a sauce pan and bring to a boil.
Stir occasionally until the sugar dissolves and allow the mixture to heat to 250 degrees (using a candy thermometer).
While the mixture is boiling, beat the egg whites until stiff peaks form.
Beat in the cherry Jell-O and vanilla extract. Allow to sit.
When syrup is ready, start mixing the the Jell-O mixture again on high and gradually add the syrup to the mixing bowl while mixing.
Allow the beater to work for 5-7 minutes or until the mixture begins to thicken and lose its gloss.
Drop by teaspoons (make sure your spoons are greased) into a silicone mold or onto a pan covered with waxed paper.
Allow to set overnight or until firm.
Notes
If you decide to use a silicone mold, spray some nonstick cooking spray on your hands and smooth over the tops of the cavities of the mold with your fingers to help shape the candy.
(Visited 30,424 times, 1 visits today)