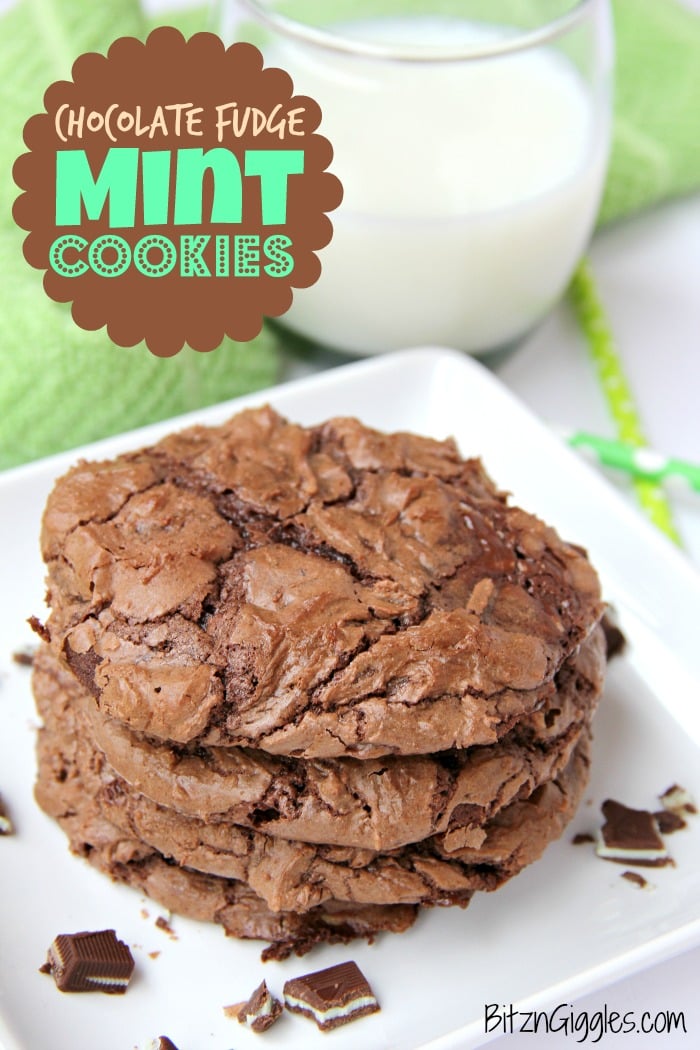 Chocolate + Mint = You either love it or hate it. Since you've come to visit I'm guessing that you love it. I'm a bit picky when it comes to this flavor combo. If the mint flavoring is too strong. . .I hate it. If it just has a subtle mint flavoring surrounded by rich chocolate. . .I love it. These Chocolate Fudge Mint Cookies are just that – soft, chewy chocolate fudge cookies with bits of melted Andes Mints sprinkled throughout. You can control the mint flavoring by adding more candies or less candies. It's just that simple.
All of my mint desserts like these Chocolate Fudge Mint Oreo Bars, these Thin Mint Brownie Parfaits or this Grasshopper Ice Cream Drink all have a real subtle mint flavor.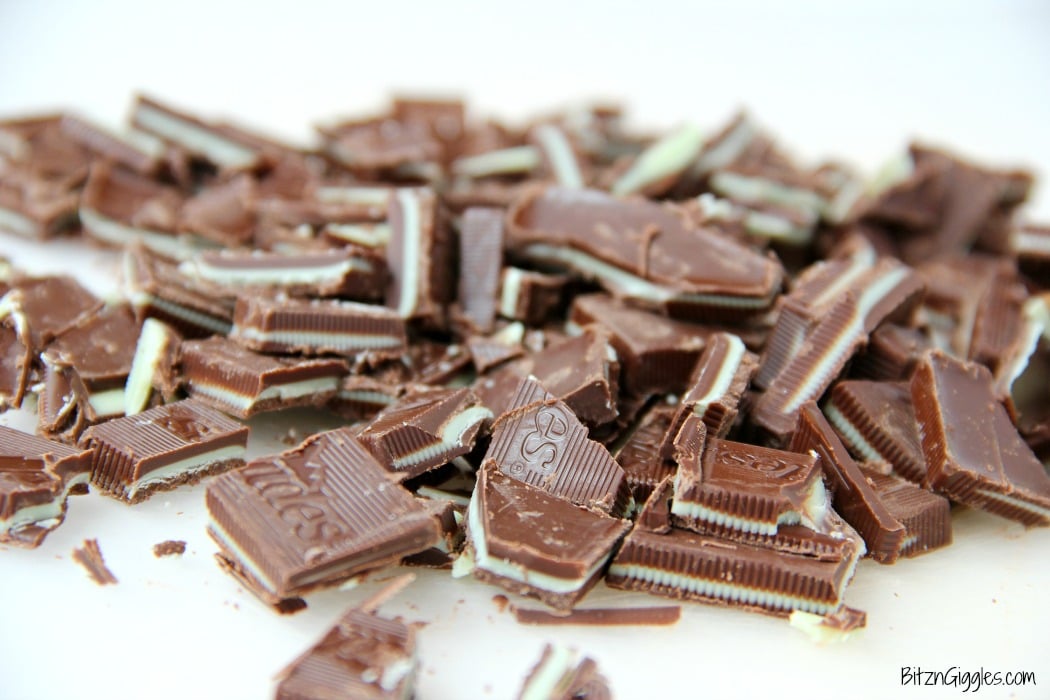 One of my favorite mint candies are Andes Mints. I look forward to a handful of these every time we leave Olive Garden. Now I don't eat there a lot, but when I do eat there, I get excited when the check comes. 😉 You'll never hear me say that phrase again.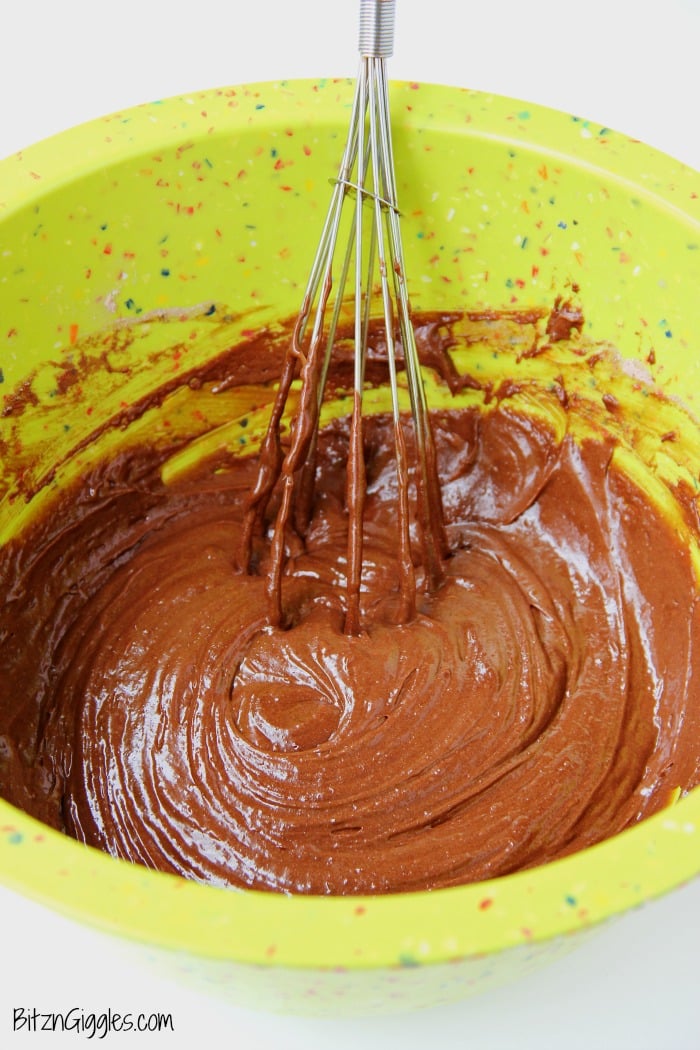 Since I was making a mint dessert, I needed to use my green mixing bowl. Do you all get sick of seeing my green bowl? I hope not because I love this green bowl. I use it all of the time and I'm thinking there are probably hundreds of photos on this blog of this pretty green bowl. It actually was part of a set and I love all of the colors. They're a staple in my kitchen.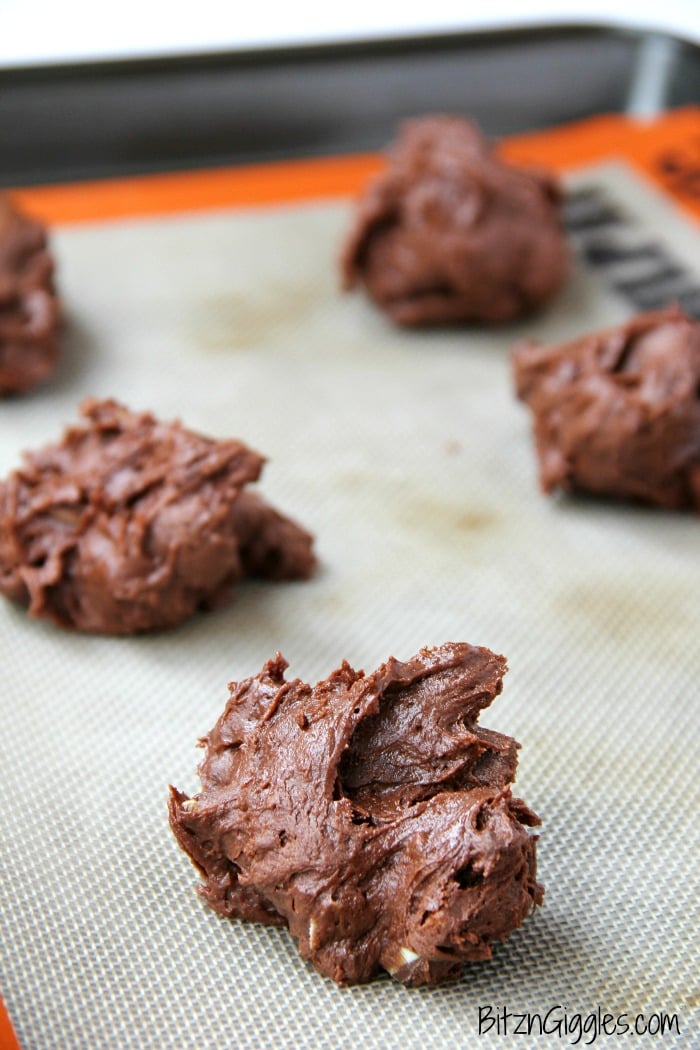 The inspiration for this recipe came from Giada De Laurentiis. I was watching Giada at Home one day and she was making these cookies. I watched her bite into one of them and I knew I had to try them for myself. I just adapted and simplified the recipe a bit because you know I'm all about quick and easy.
Can you see that chocolate oozing out of the top of the cookie? That's a piece of the Andes Mint. Oh. My. Goodness.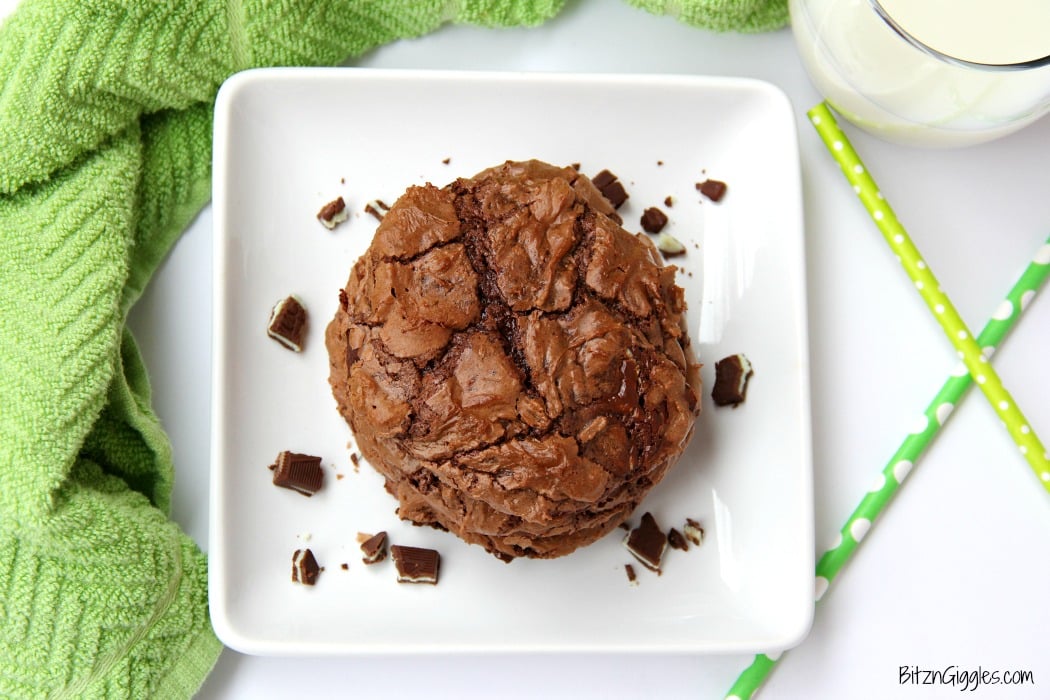 I just need you to see how soft, gooey, chewy and decadent these cookies are. I'm not going to take a bite out of one like Giada did (I'll save that for off camera), but I made a video of just breaking one apart so you can see the middle and how the chocolate mints just melt right into the chocolate goodness.
Have I sold you on these cookies yet? I sure hope so. They are so rich and delicious. And remember, the mint flavoring can be whatever you want it to be. If you're really into mint, go ahead and add a little mint extract into the recipe when you're adding the vanilla extract. Do 1/2 teaspoon mint extract and 1/2 teaspoon vanilla. Play around with it and make it your own. I can't wait to hear how your cookies turned out in the comments!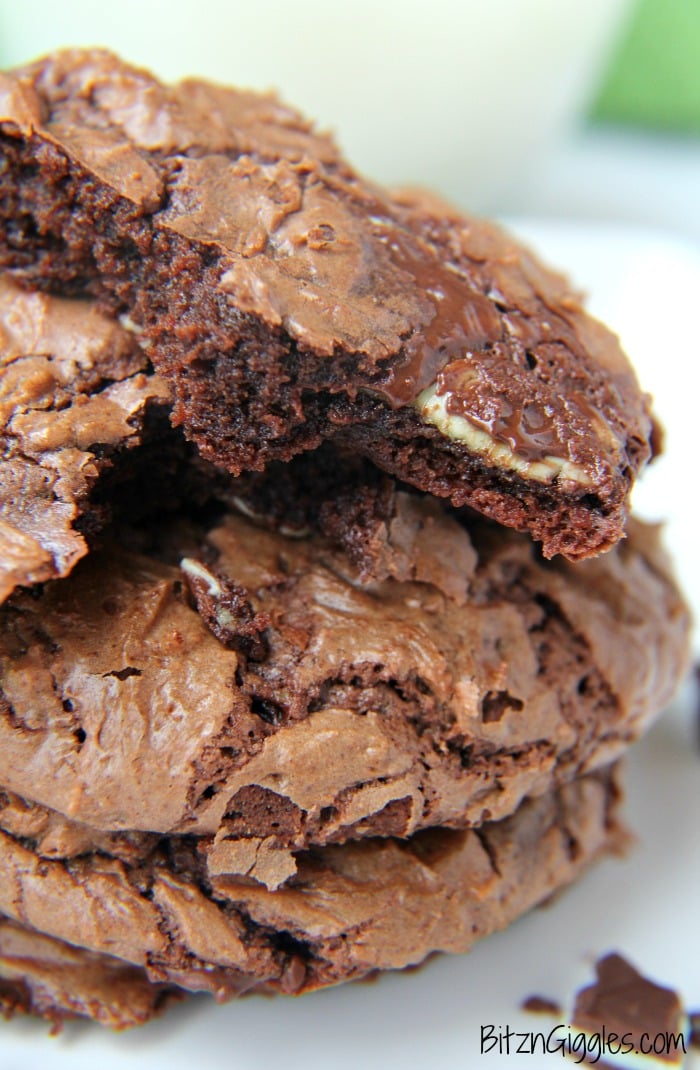 Chocolate Fudge Mint Cookies
Soft and chewy chocolate fudge cookies with bits of melted Andes Mints sprinkled throughout.
Ingredients
6 ounces semi-sweet chocolate chips
2 tablespoons unsalted butter
1 cup flour
1 teaspoon baking powder
2 tablespoons unsweetened cocoa
1/4 teaspoon salt
2/3 cup sugar
2 large eggs
1 teaspoon vanilla extract
4 ounces Andes Mints (about 1/2 bag of Andes Mints), chopped
Instructions
Place one oven rack in the middle of the oven and one in the bottom third of the oven.
Preheat oven to 300 degrees Fahrenheit.
Spray two baking sheets with non-stick cooking spray; set aside.
In a microwaveable-safe bowl combine the chocolate chips and butter.
Microwave in 20 second intervals, stirring each time until chocolate is melted; set aside.
In another bowl combine flour, baking powder, cocoa, and salt; set aside.
In a large bowl add the sugar, eggs, vanilla and whisk together.
Fold in the chocolate and then the dry ingredients.
Refrigerate the dough for about 10 minutes.
Using 1/4 cup measuring cup, drop 6 cupfuls of batter onto each baking sheet, taking care to space evenly.
Bake the cookies for 9 minutes.
Reverse the baking sheets on the racks and bake for 9-10 minutes more.
Cool the cookies completely on the sheets.
(Visited 5,296 times, 1 visits today)