DIY Lemon Lime Dusting Spray – A lemon lime infused dusting spray you can make on your own at home. Works great!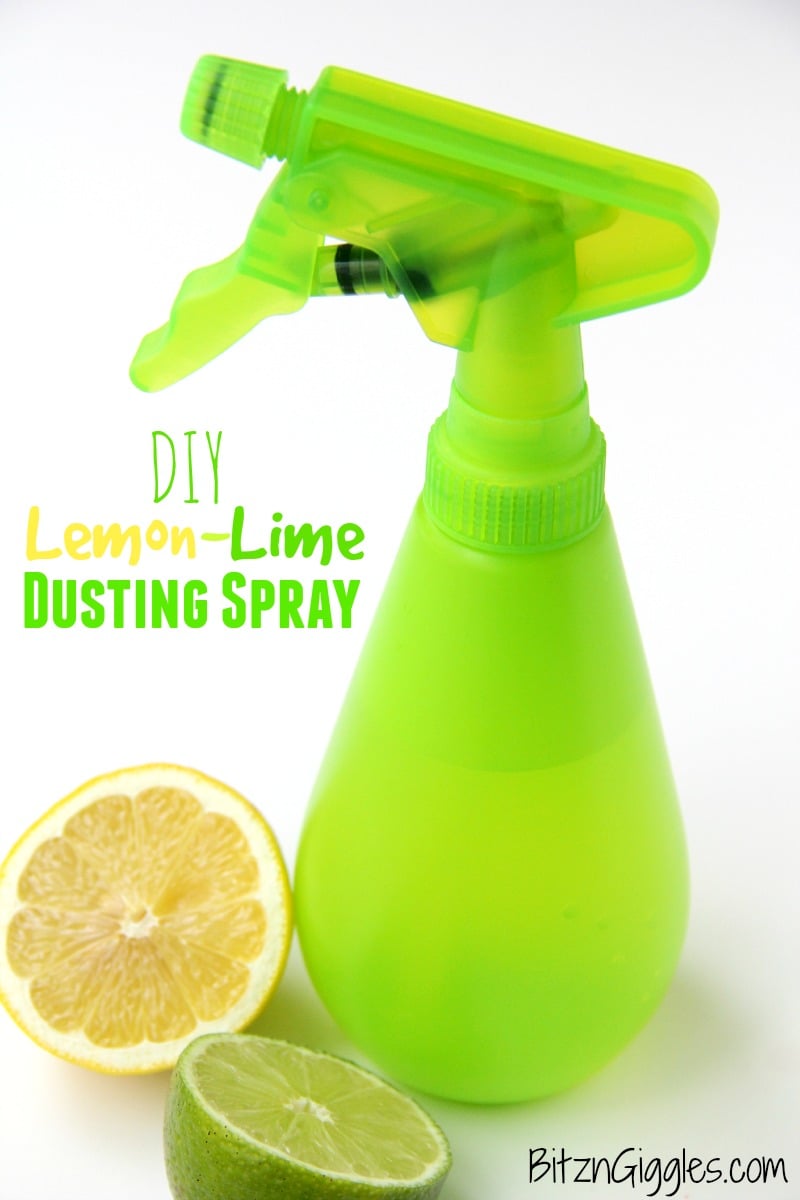 This post may include affiliate links. Please see my disclosure.
Dust drives me bonkers. Especially when the sun is shining in through the window and all of those little specks and particles just start to miraculously appear on every flat surface you have in the room. I'll be the first to admit. I have a cleaning problem. Hi, my name is Sara – and I do have a cleaning problem. It's because of my mom. Hi, mom! My mom and my grandmother kept a meticulous house.
Every Saturday my sister and I had our list of chores we needed to help with, and during the summer, the list grew longer. But with my list of chores, came this sense of pride I got. . . from cleaning. Am I crazy? Maybe, but after you clean something you can see the result of your hard work. Something that was once dusty or dirty is now clean again, it sparkles back at you.
When my home is clean, I am calm, I am happy and I breathe easy. This feeling lasts for approximately 4-5 minutes until another bin of toys is dumped out onto the floor, a glass of milk is spilled in the kitchen or sand from the garage is tracked in the back door. Regardless of how long this feeling lasts, I appreciate the way cleaning makes me feel. . .even if it seems to be a lot of work at times.
Today I'm sharing a super easy recipe for homemade Lemon Lime Dusting Spray.
Here's what you'll need to make your own:
Ingredients and Materials
In the "recipe" I'm sharing today I'm actually using my Lemon Lime Vinegar. It's basically regular ole' vinegar I infuse with lemon and lime peels to give it a nice scent. So many people complain about the smell of vinegar and vinegar just happens to be a staple ingredient to many natural cleaning solutions – SO, if you or one of your family members doesn't like the smell of pure vinegar, try infusing it before adding it to your homemade cleaning solutions.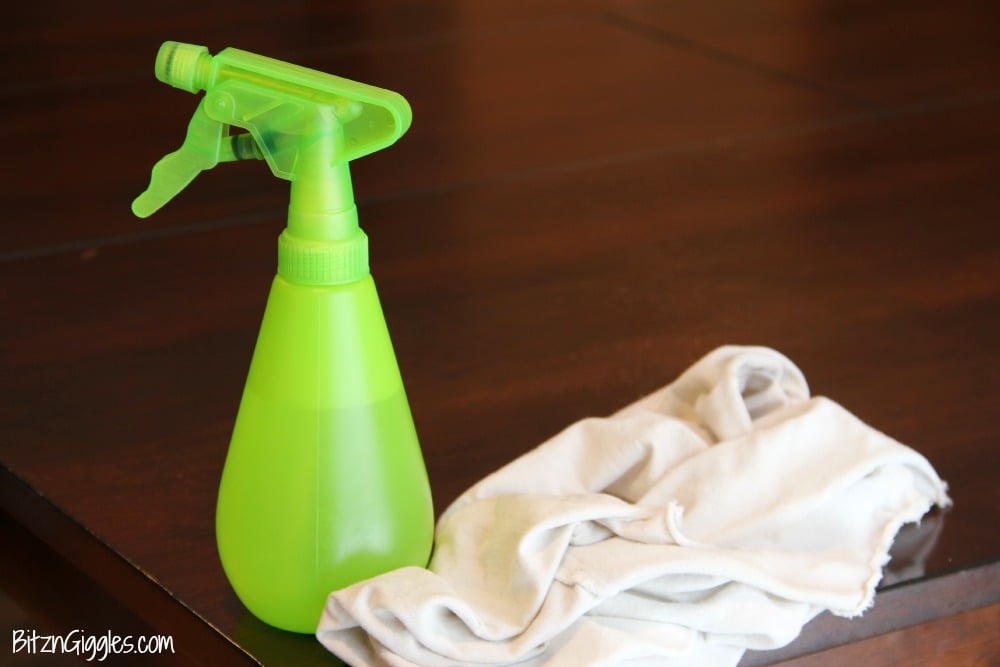 So, what do all of the ingredients actually do after you mix them together and pour the mixture into a spray bottle? Well, vinegar is just an awesome multi-purpose cleaner. The walnut or olive oil actually helps prevent the dust from settling back onto the surface of the furniture. And the essential oil . . .it's basically in there to boost the lemon scent. If you leave anything out of the recipe, it could be the essential oil.
Now, I'm sure you're asking, "Why walnut oil?" Walnut oil beautifies wood. Olive oil CAN be a bit sticky and has been known to go rancid over time. Now, does that mean you shouldn't try using olive oil? No, I'm not saying that. It will work, but my recommendation would be to use walnut oil.
My other recommendation is if you decide to use the essential oil and you don't dust as often as I do (like every day), you should probably use a glass spray bottle. Essential oils are pretty strong and could possibly eat into a plastic container over time leaching some of the chemicals from the plastic bottle into the mixture. I'm not an essential oil expert, but I that's what I have heard – so I'm passing it along. My dusting spray bottle is usually empty in under two weeks so I haven't worried too much about the fact I'm using plastic.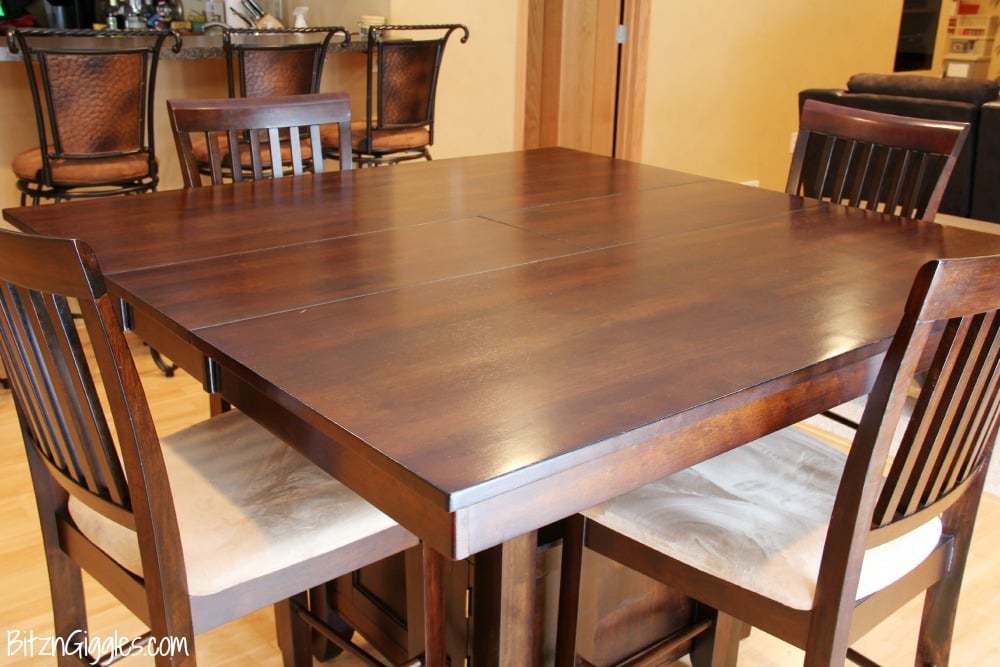 Just look at that shine. Remember, since you have an oil/water mixture in your bottle you'll have to shake it before you use it to mix up all of the ingredients. I wouldn't use this spray on your floors – furniture only. And don't be concerned about using the vinegar mixture on your wood. As long as the vinegar is diluted it shouldn't harm the wood at all.
Grab your dust rag and get cleaning! You're seriously going to love this lemon lime dusting spray!