DIY Magic Erasers – Make your own Magic Erasers at home for cheap! All you need is water and three ingredients. You'll be amazed at how well they work!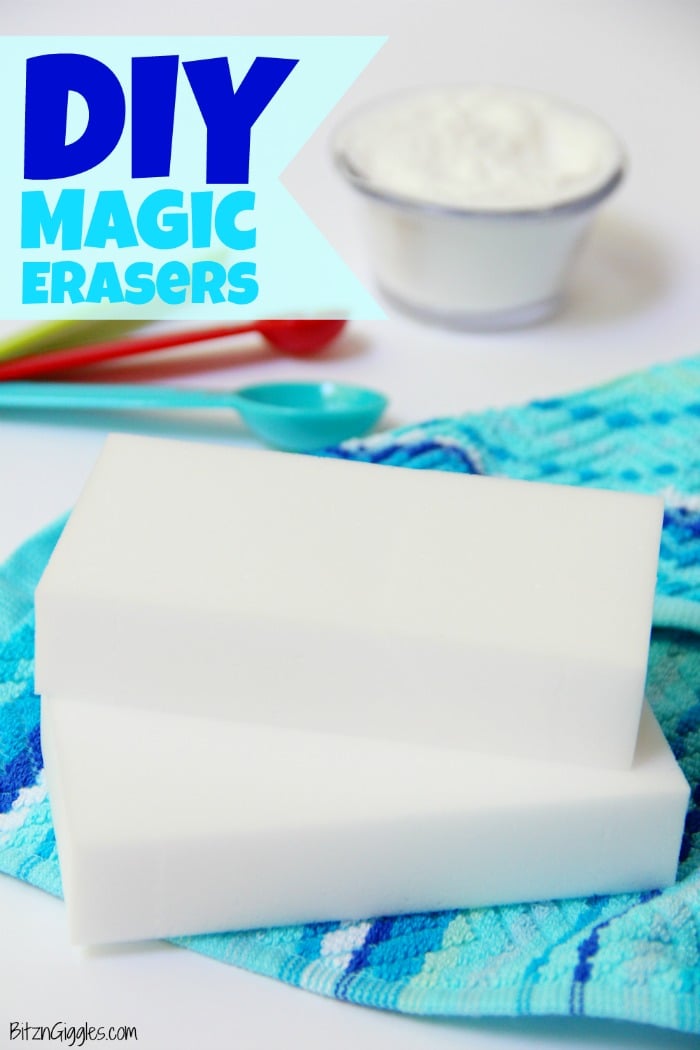 This post may include affiliate links. Please see my disclosure.
Have you ever used a Mr. Clean Magic Eraser for cleaning? If you have, then you've probably been as amazed as I've been about how great they work. The first time I used one, I believed there might actually be some real "magic" in that sponge.
WHAT IS A MAGIC ERASER MADE OF?
Well, after a bit of research, I learned that it's not actually "magic" in the sponge. Magic Erasers are made of melamine foam. The sponge's polymeric substance is almost hard as glass, and when used for cleaning, it acts like VERY fine sandpaper. The foam loosens up dirt and grime and the "sponge" soaks it all up.
Pretty amazing, right? The sponge, alone, can actually perform quite well for smaller jobs. For more intense jobs, you can soak it in this homemade solution I'm sharing today and it will work exactly like the Mr. Clean Magic Erasers you buy in the stores but for a fraction of the price.
HOW TO MAKE YOUR OWN MAGIC ERASERS
Making your own magic erasers is easier than you think and only takes a couple minutes. All you need to get started are the following:
You'll begin with the bowl of hot water. You want to make sure the water is warm enough to dissolve the cleaning "ingredients." It doesn't have to be boiling, but it should be hot.
Go ahead and add the baking soda to the water and stir until dissolved.
Do the same with the Borax.
Now, grab a melamine sponge and soak it in the solution.
Wring it out and then start scrubbing!
I use my DIY Magic Erasers to clean so many things around the house from soap scum in the shower and tub to deep dirt and scuffs on our vinyl windows, door frames and siding.
WHAT ELSE CAN I CLEAN WITH DIY MAGIC ERASERS?
There are SO many things you can clean with magic erasers. The list is pretty endless, but here are a few ideas:
Scuff marks from baseboards
Gold jewelry
Crayon and permanent marker from walls
Scuffs and bug marks on boats and kayaks (test on small hidden section first)
Adhesive residue from sticky tags
Baked-on food from aluminum pots and pans
Hairspray off countertops and doors
Tomato stains from plastic containers
Glass windows
Fabric stains
Headlights
Paint stains on skin
Canvas shoes
Porcelain sinks
And so much more!
WHAT SHOULDN'T I CLEAN WITH MAGIC ERASERS?
Glossy granite/marble countertops (my husband's aunt wrecked her kitchen island with one ☹️)
Stainless steel appliances
Car exteriors
Non-stick pots and pans
Wood paneling or floors?
HOW LONG WILL DIY MAGIC ERASERS LAST?
While DIY magic erasers clean just as good as the Mr. Clean brand, they disintegrate a bit quicker.

Is that a big deal? Not really because when you purchase melamine sponges in bulk, you're getting about 100 sponges vs. around 8 Mr. Clean Magic Erasers you would get for around the same price.
So, what do you think? Are you going to try to make your own magic erasers at home? I would certainly give it a try and see what you think.
If you're a bit unsure, start with a smaller pack of melamine sponges. You could also ask a friend or family member to split a pack with you. Then let me know what kind of results you get. I'd love to know in the comments what you used your sponge to clean!
LOOKING FOR MORE DIY CLEANING SOLUTIONS?
DIY Magic Erasers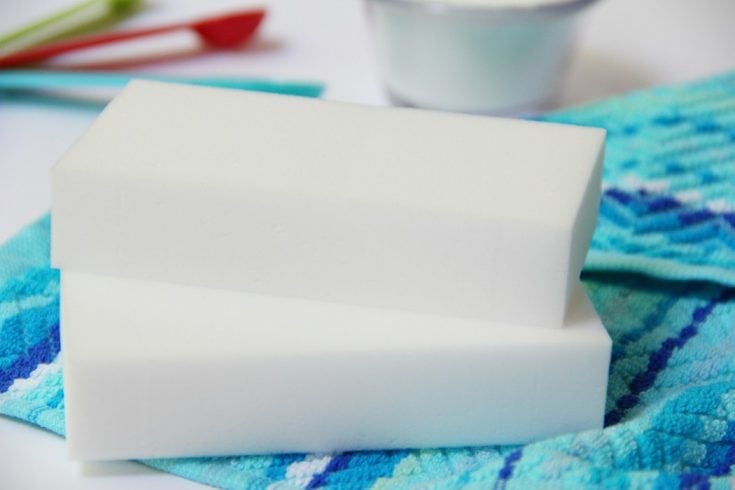 DIY Magic Erasers - Make your own Magic Erasers at home for cheap! All you need is water and three ingredients. You'll be amazed at how well they work!
Active Time 5 minutes
Total Time 5 minutes
Difficulty Easy
Materials
1/2 cup hot water in a bowl
Instructions
Add the baking soda and Borax to the bowl of hot water.
Place the sponge in the bowl, allowing it to soak up the solution.
Squeeze out the excess liquid and use.
Notes
Instead of soaking the sponge in a bowl of the solution, you could always add the solution to a spray bottle and spray the surface you are cleaning before scrubbing with the sponge.
(Visited 6,459 times, 1 visits today)