Dog Cupcakes – Easy Banana Cupcakes for Dogs! These pupcakes are perfect for your dog's birthday or even just those times you want to bake a special treat for your furry family member!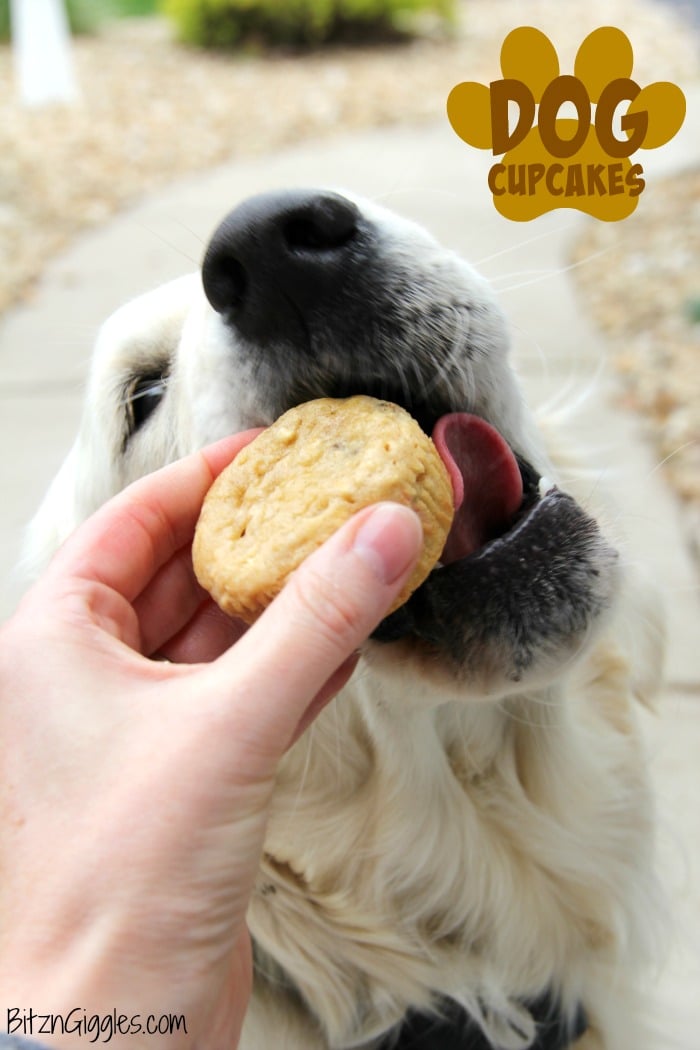 This post may include affiliate links. Please see my disclosure.
Oh our little Belle. I'll admit it, she's spoiled -spoiled to the point I make her dog cupcakes for no reason at all. She's no stranger to homemade dog treats. Some of her favorite recipes are these Chewy Cheddar Puppy Puffs and Banana Pup Pops.
Oh, who am I kidding. When she was little she used to eat her own poop (true story). We nipped that in the bud right away with these Dis-Taste tablets from Petco.
ANYWAY, she loves treats. That's what I'm really trying to say. Who doesn't, right?
How to Make Easy Dog Cupcakes
Ingredients

1 ripe banana, mashed
1/2 cup dry dog food (preferably the brand you already feed your dog)
7 ounce package Jiffy Corn Muffin Mix
2 large eggs
2/3 cup evaporated low fat milk
Instructions
Preheat oven to 350 degrees Fahrenheit.
Peel the banana, place in a bowl and mash it with a fork.
Add the remaining ingredients to the bowl and mix well.
Line muffin cups with paper baking cups and spray the cups with baking spray.
Pour the batter into the cups, filling about 1/2 full.
Bake for 15-20 minutes or until golden brown.
Remove from oven and allow to cool thoroughly.
Store in an airtight container.
The base for these dog cupcakes is actually a Jiffy Corn Muffin Mix. Who remembers their mother or grandmother using these mixes years ago? T
hey are made with wheat flour and other pretty basic ingredients that our pups can handle.
In addition to the Jiffy mix, there are only a few more ingredients: eggs, dry dog food, evaporated milk and a banana.
The reason I whipped these up for Belle this week is because I had some really ripe bananas I needed to do something with.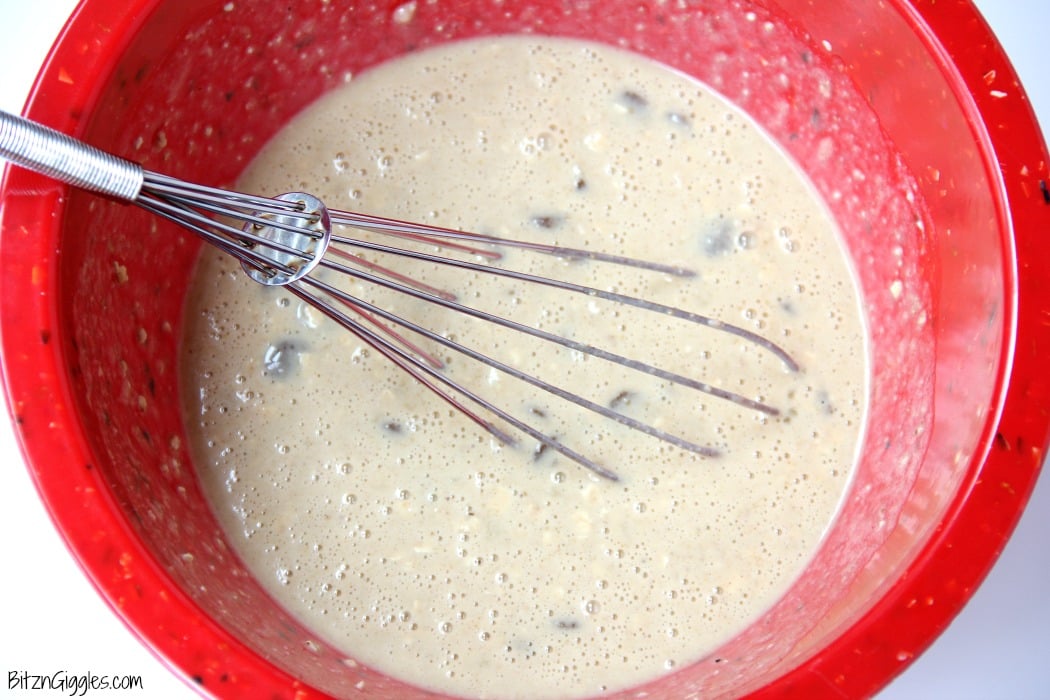 Normal people may make banana bread. I make dog cupcakes. 🙂 These "pupcakes" are banana oatmeal flavored. . .with dry dog food incorporated.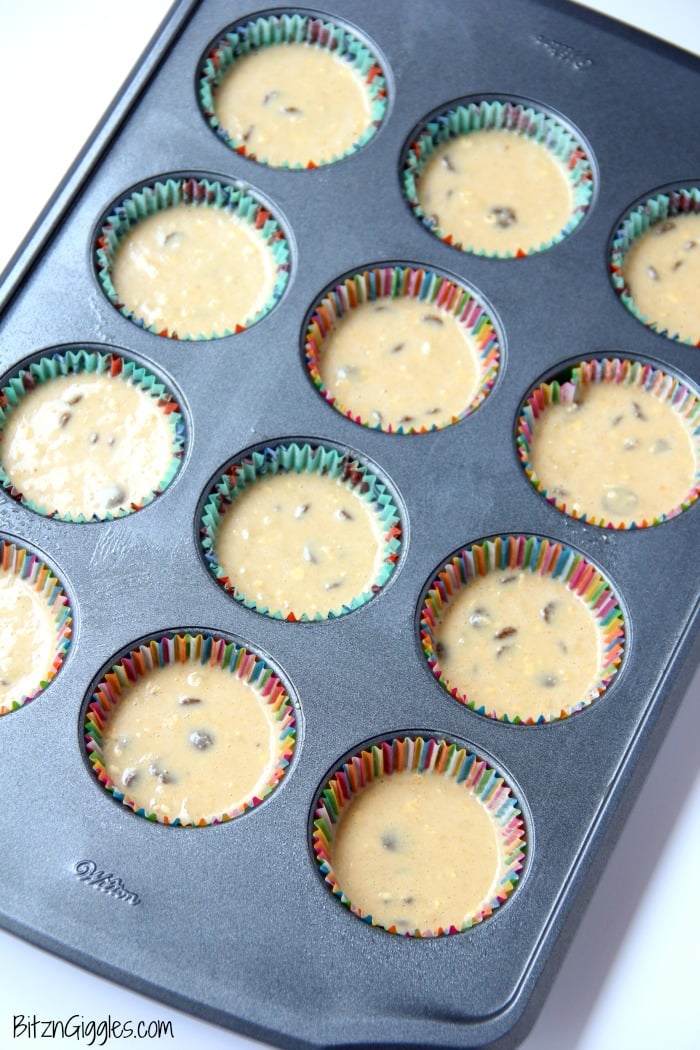 If you're going to be making these for older or smaller dogs, feel free to pulse the dry dog food in a food processor to break it into smaller pieces for easier digestion.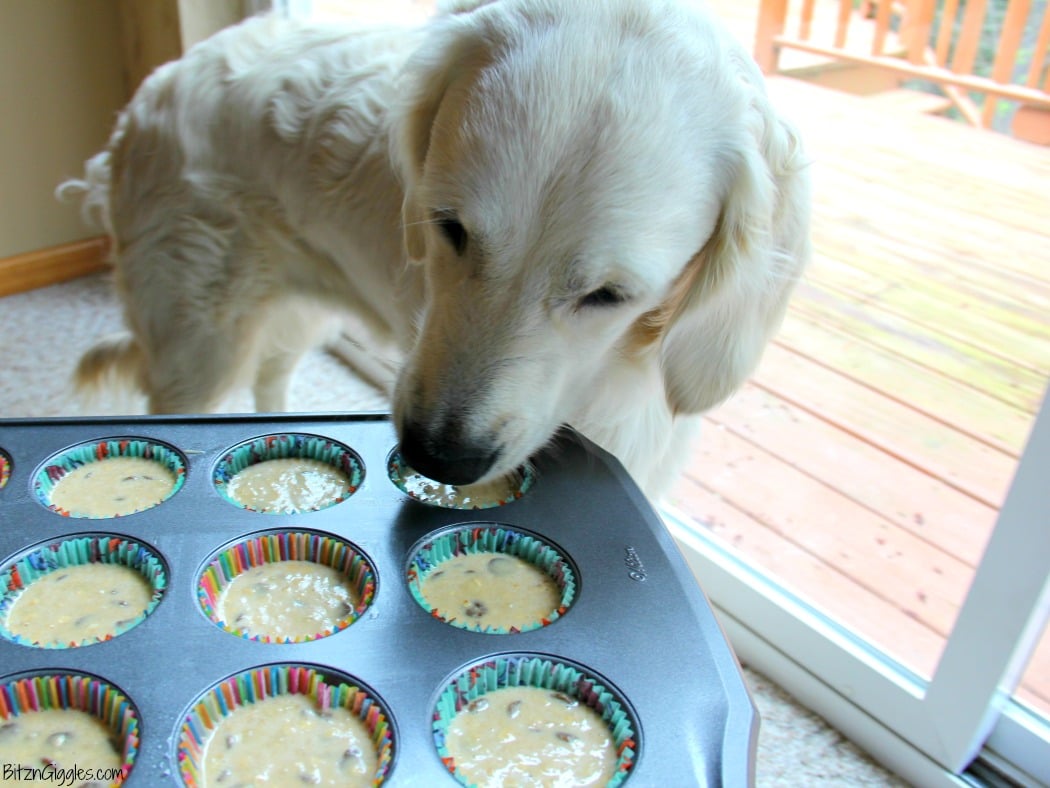 I'm pretty sure Belle may think those little pieces of dog food could be chocolate chips! LOL She had to take a little lick of the batter before they went into the oven.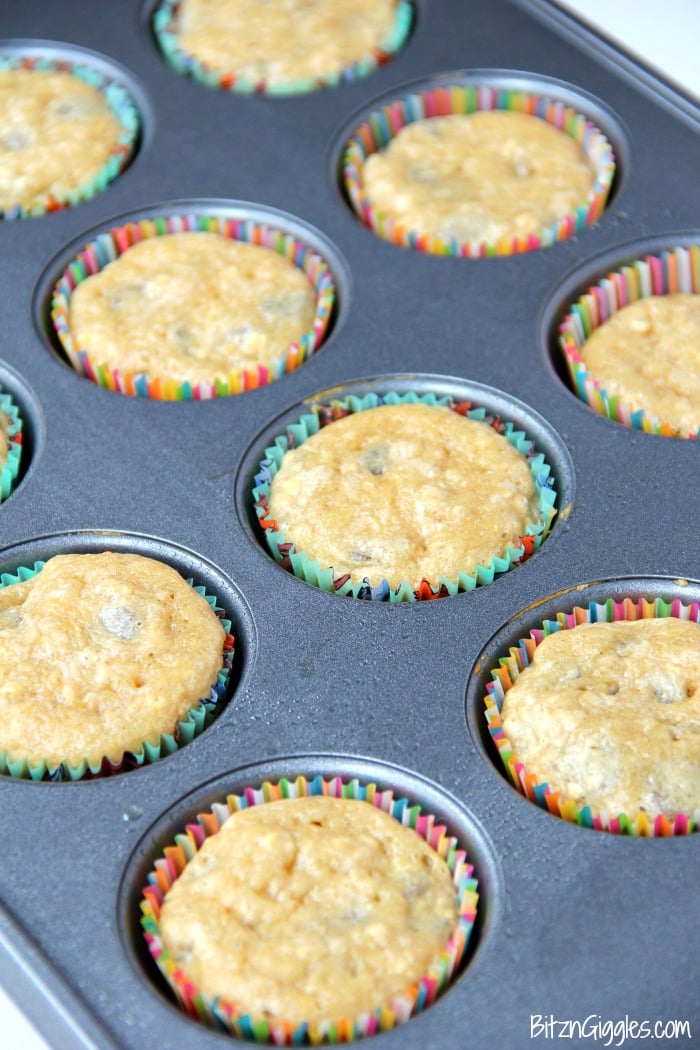 20 minutes later – the dog cupcakes were cooling, and guess whose nose was up in the air? I bet you said. . .Belle. Nope.
Our 7-year-old. I'm not proud to admit this, but he tasted the cupcake. Then even asked again the next day if he could have one after school. Seriously? Open the fridge and grab an apple. I promise it's the better choice for a human boy.
So. . .are you ready for the big reveal? Da, da, ta, dah!!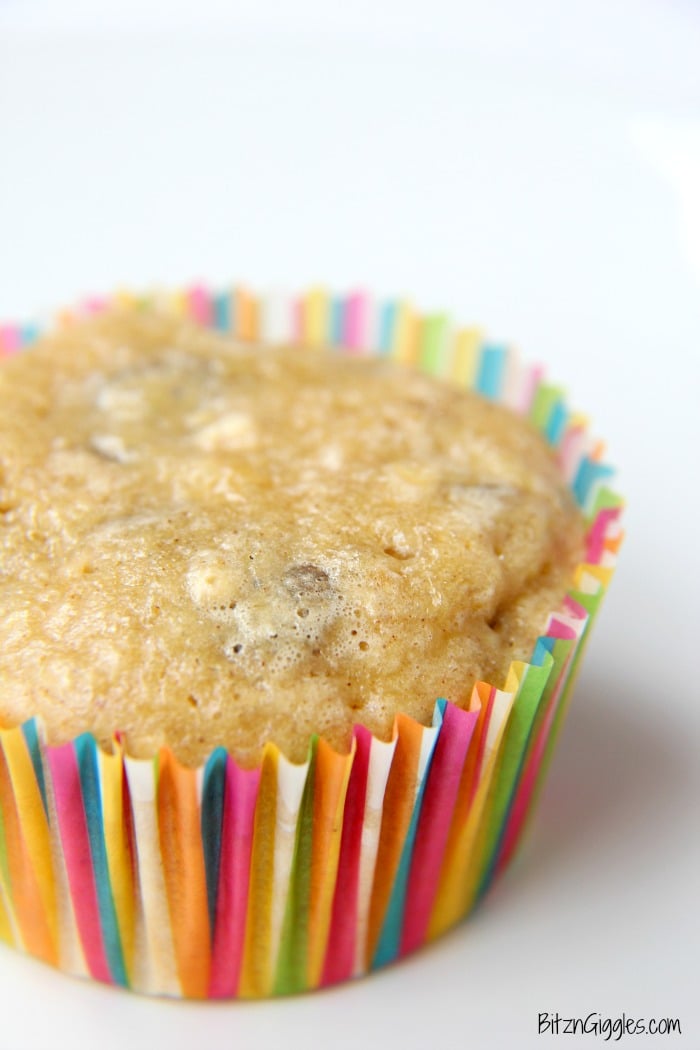 Here's the cupcake. . .or pupcake. Whatever you'd like to call it.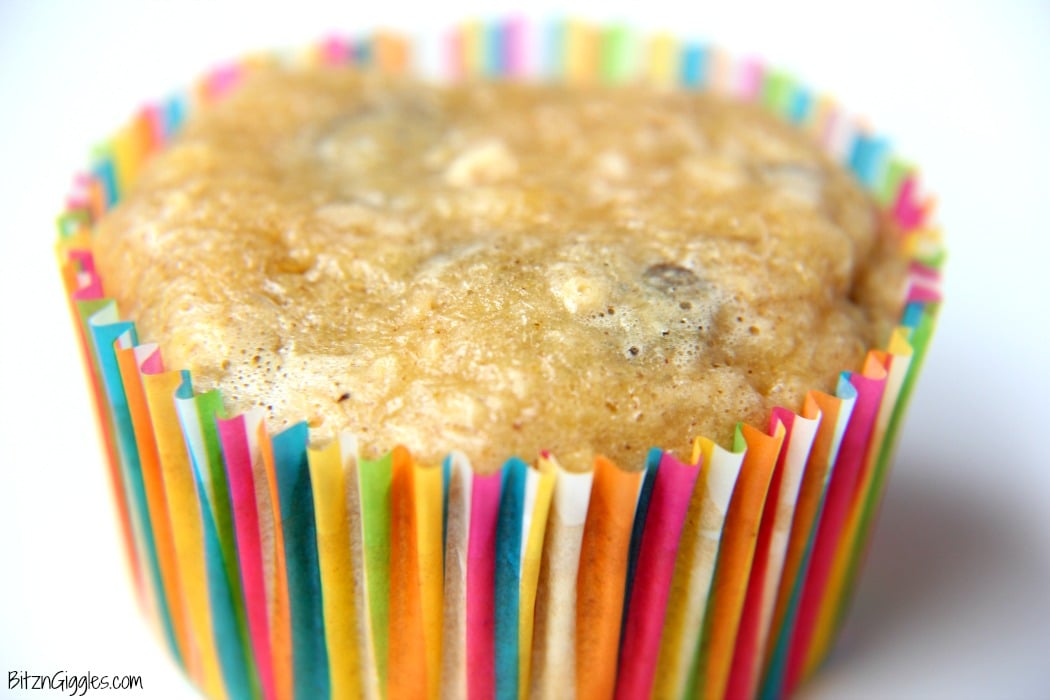 At this point you COULD frost the cupcakes if you wanted. My favorite doggy frosting is low-fat cream cheese with some small pieces of crushed dry dog food sprinkled over the top.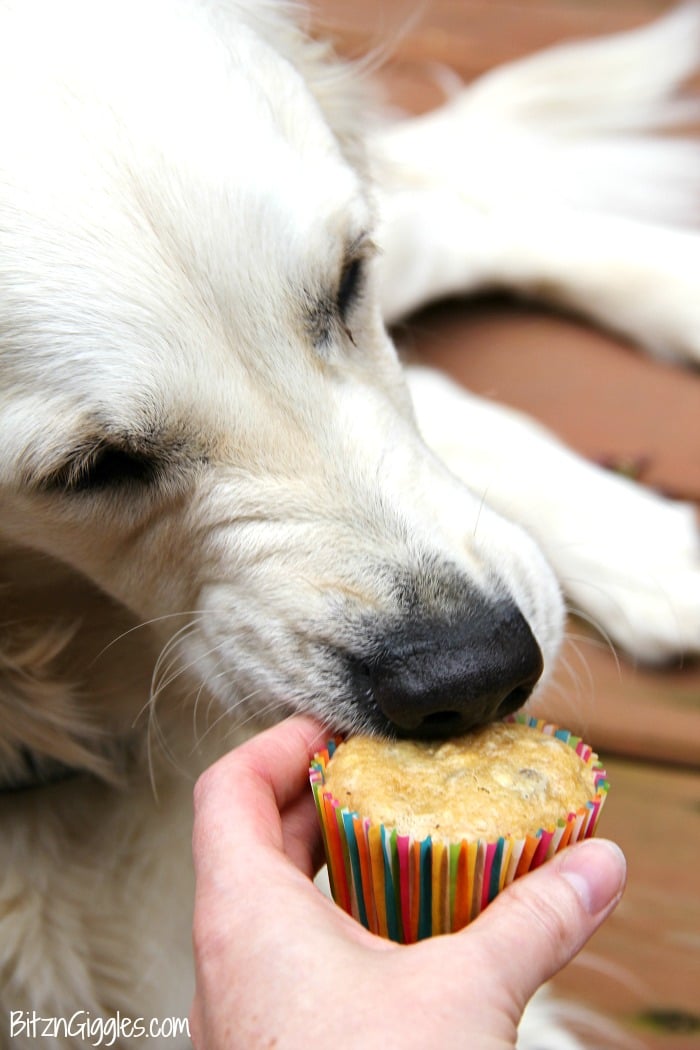 Belle isn't too picky. She's completely fine without the frosting. And to tell you the truth, I am, too. The frosting can get a bit messy and they're more difficult to store.
Wanna' see her eating her cupcake? I knew you would. 😉
Make some homemade treats for your furry family members! They'll flip for them, and let's be honest. . .it's the least we can do for the unconditional love they show us each and every day. Hope your pups enjoy!!

(Visited 66,035 times, 1 visits today)