Double Crunch Chicken Drumsticks – These chicken drumsticks are super crunchy on the outside and packed with flavor! Make them in the air fryer or the oven!
This post may include affiliate links. Please see my disclosure.
It's FRIDAY!!! And here in Wisconsin that normally means fish fries, but instead, today we're having Double Crunch Chicken Drumsticks!
And guess what? You guessed it didn't you. I made them in my air fryer! Just the same as I made these shrimp, this chicken, and these baked potatoes.
But don't worry, if you want to make them in your oven, I've included the temp and timing in the notes section of the recipe card at the bottom of the post. All you oven-lovers, I got you!
The foundation of the recipe is really the seasoning. Believe it or not, it's Panko that gives the chicken such a nice crunch – and the handful of seasonings make the chicken so flavorful and delicious!
So I bet you're wondering why I call these DOUBLE Crunch Chicken Drumsticks. It's because halfway through cooking time you put ANOTHER coating of the Panko mixture on top of the chicken. Good idea, huh?
When serving the chicken, I like to sprinkle some fresh parsley over the legs – the pop of color is just so nice.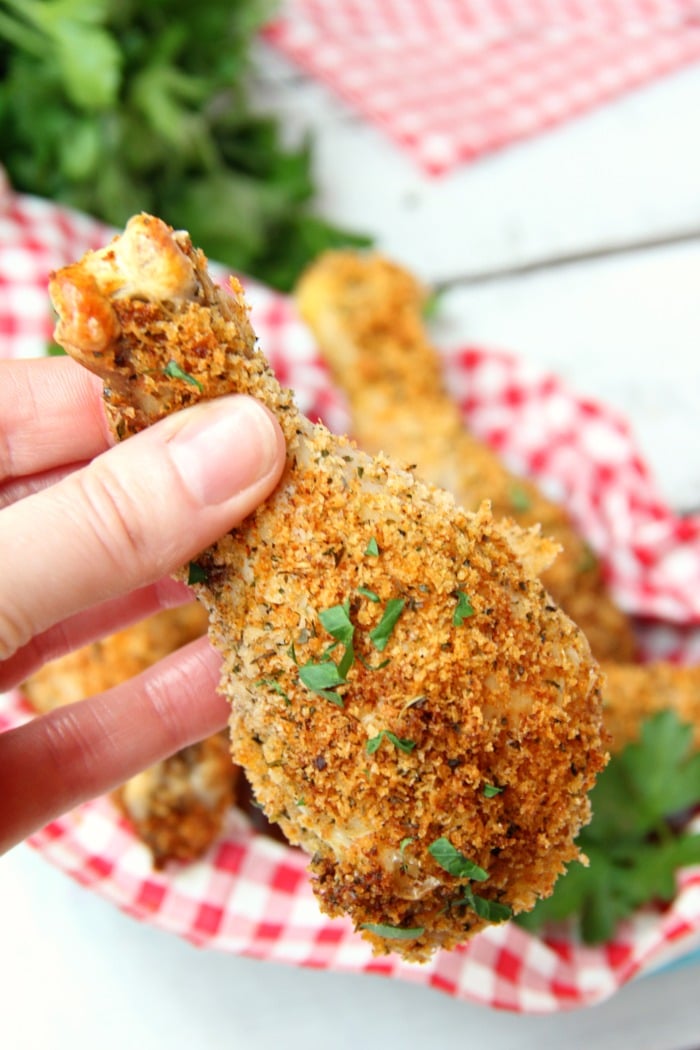 You want to take a bite, don't you?
I don't blame you. I do, too.
Yep, quite amazing if I do say so myself. Pass the coleslaw, please. 🙂 You have to try these!!
Double Crunch Chicken Drumsticks
These chicken drumsticks are super crunchy on the outside and packed with flavor! Make them in the air fryer or the oven!
Author:
Yield: 6 drumsticks 1x
Ingredients
6 chicken drumsticks
1 cup Panko bread crumbs
1/2 teaspoon salt
1/2 teaspoon pepper
1/2 teaspoon garlic powder
1/2 tablespoon onion powder
1/2 tablespoon oregano
1 tablespoon paprika
1 tablespoon parsley
Extra parsley for garnish, optional
Instructions
In a medium bowl whisk all ingredients together except the drumsticks.
Spray the basket of the air fryer with nonstick spray.
Rinse each drumstick in cold water and roll into the crumb mixture, reserving the remaining mixture.
Place one by one into air fryer basket and spray the drumsticks with nonstick spray.
Cook for 22-24 minutes at 360º Fahrenheit.
Halfway through cooking, sprinkle some of the remaining crumbs on top of the drumsticks again and spray with nonstick spray.
Garnish with parsley and serve.
Notes
To make the chicken drumsticks in the oven:
Preheat oven to 350º Fahrenheit.
Cover drumsticks loosely with aluminum foil.
Bake for 45 minutes.
Uncover the drumsticks and follow step #6 in recipe above.
Bake for 45 more minutes or until juices in the chicken run clear and the temp reaches 165º Fahrenheit.
(Visited 60,788 times, 1 visits today)