Easy Air Fryer Baked Potatoes – Tender, delicious baked potatoes with a crispy, flavorful skin. You'll never go back to microwaving or baking in the oven again!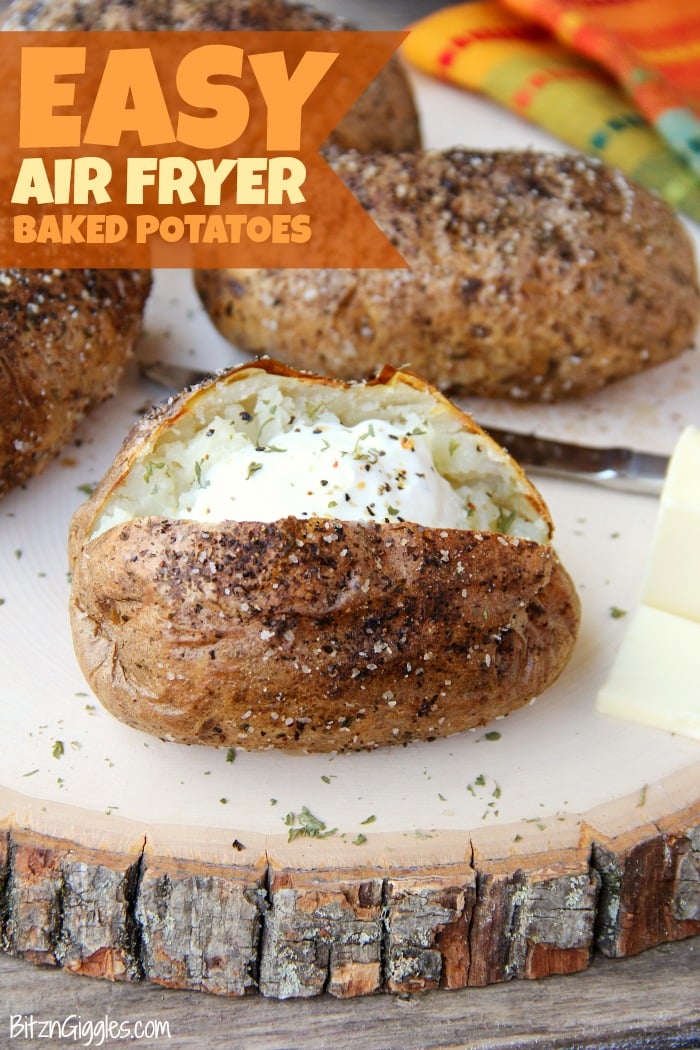 This post may include affiliate links. Please see my disclosure.

Da, da, dahhhhh!! It's another air fryer recipe! Oh, don't be so surprised. I'm officially naming January – air fryer month. At least it is in our house. I mean what CAN'T an air fryer make?!
From chicken to shrimp, to corn on the cob. . .and now baked potatoes, I've been having all sorts of fun with my air fryer as of late!
This baked potato deliciousness starts with a little olive oil and lots of seasoning.
I don't know about you, but I'm that person that eats the skin of a baked potato. Do you? I think the skin holds some of the best flavor! The combination of some salt, pepper and garlic powder make the skin pretty irresistible.
So, let me just address the elephant in the room. These are some REALLY BIG baked potatoes. I get it. I cooked these babies for about 45 minutes. They certainly would have taken longer in a traditional oven.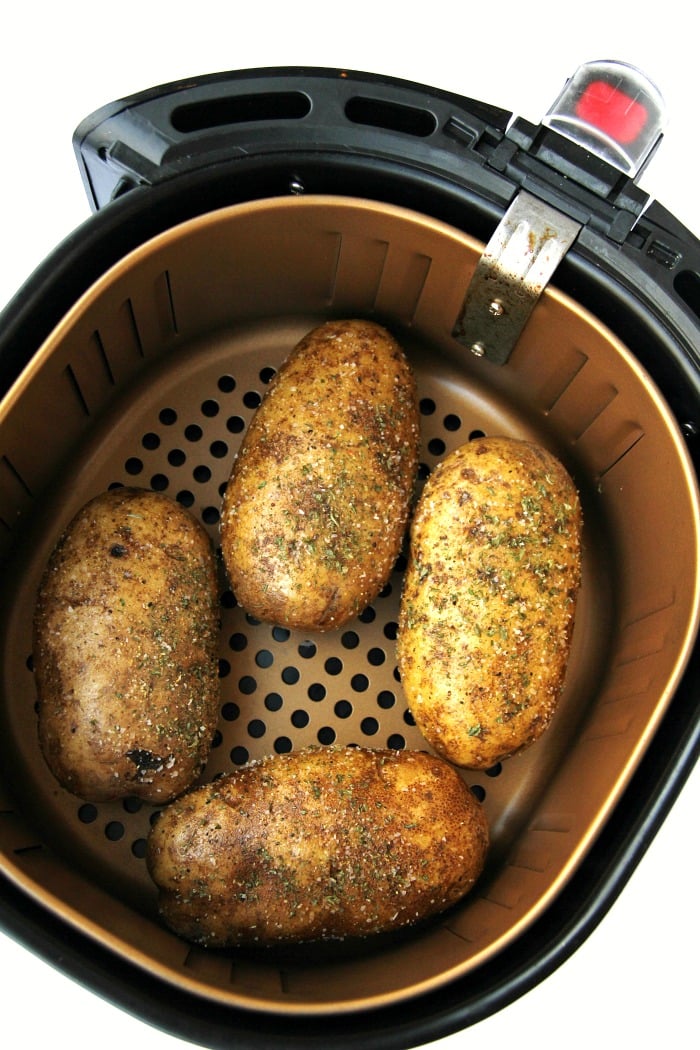 A "normal-sized" potato takes about an hour of baking time in an oven preheated to 400º Fahrenheit. With an air fryer you can usually cut that time in half.
Can we talk about the skin just a little bit more? It's so crispy and delicious. The crisp-factor is unlike anything you could ever achieve in a microwave or oven. Crazy good.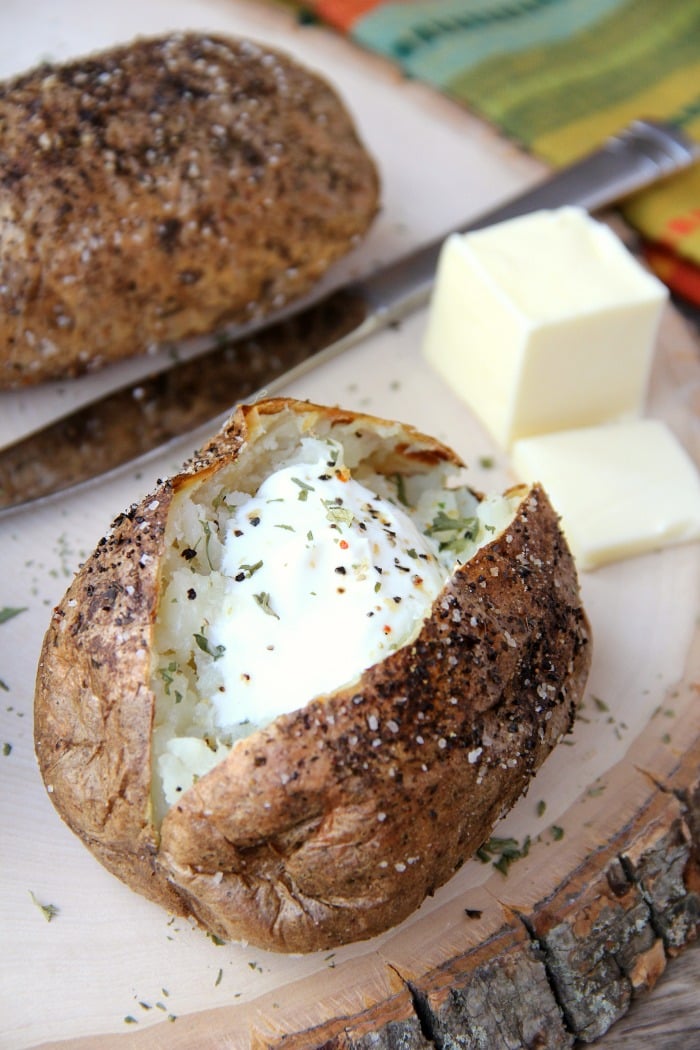 And after you fluff the potato, pile on the butter, sour cream and a few extra shakes of seasoning, you're definitely in business. There's no going back.
I've officially become addicted to my air fryer and I apologize (well, kind of). That's not to say you won't be seeing more air fryer recipes popping up on the blog. In fact, you may just want to brace yourselves because there are several more coming your way. I plan to use this new gadget all the way through spring, summer and fall.
Don't be surprised if it moves from storage downstairs to a brand new spot in my kitchen cupboard upstairs. George Foreman grill and Pampered Chef baking stone. . .I'm looking at you. You best start packing your bags. 🙂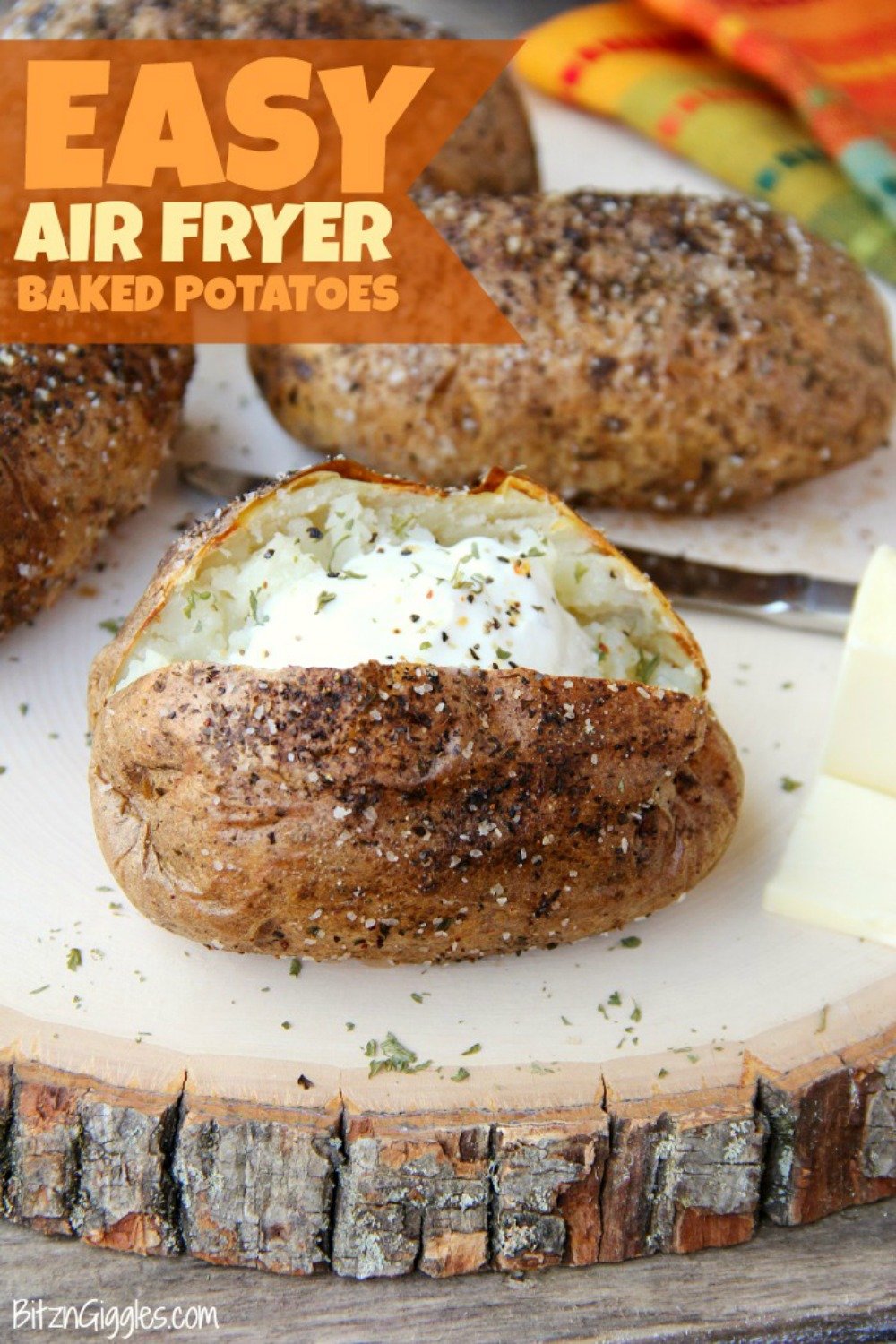 Easy Air Fryer Baked Potatoes
Tender, delicious baked potatoes with a crispy, flavorful skin.
Author:
Yield: 4 servings 1x
Ingredients
4 large baking potatoes, cleaned
2 tablespoons olive oil
Pepper
Parsley
1/2 stick butter (4 tablespoons), divided
Sour cream, optional
Instructions
Rub potatoes with olive oil.
Season potatoes with salt, pepper, garlic powder and parsley to taste.
Place in air fryer and cook at 400 degrees for 40-50 minutes (depending on size of potatoes).
Slice potatoes lengthwise; using both hands, pinch each side of the potatoes, forcing the inside of the potato up.
Place 1 tablespoon of butter in each of the potatoes and finish with a dollop of sour cream if you'd like.
Notes
My potatoes were quite large so I cooked them for 45 minutes.