Frozen Watermelon Slushies – 5-ingredient slushies made with watermelon, raspberry sorbet, juice and sugar. The perfect summer drink!
This post may include affiliate links. Please see my disclosure.
Frozen Watermelon Slushies are a delicious and refreshing summer treat perfect for the upcoming 4th of July holiday! These gorgeous drinks are made with fresh watermelon, raspberry sorbet, and lime juice and will definitely cool you off on a hot summer day!
HOW TO MAKE FROZEN WATERMELON SLUSHIES
For this delicious summertime drink, you'll need the following ingredients:
Watermelon-Frozen
Ice
Raspberry Sorbet
Lime juice
Powdered sugar
Once you have gathered all your ingredients, this watermelon slushie is super easy to whip up! Just follow the simple steps below.
Make sure to freeze your watermelon cubes.
Place all of the ingredients in a blender.
Turn the blender on and puree all the ingredients, stirring to ensure everything is combined.
Pour the watermelon slushie into a glass and garnish with watermelon slices and mint leaves if you choose.
WHAT'S THE BEST WAY TO FREEZE THE WATERMELON?
Cube a seedless watermelon, then place it in a bowl and put it in the freezer. It will take about an hour for the watermelon to freeze. You could also put the watermelon in a freezer bag overnight.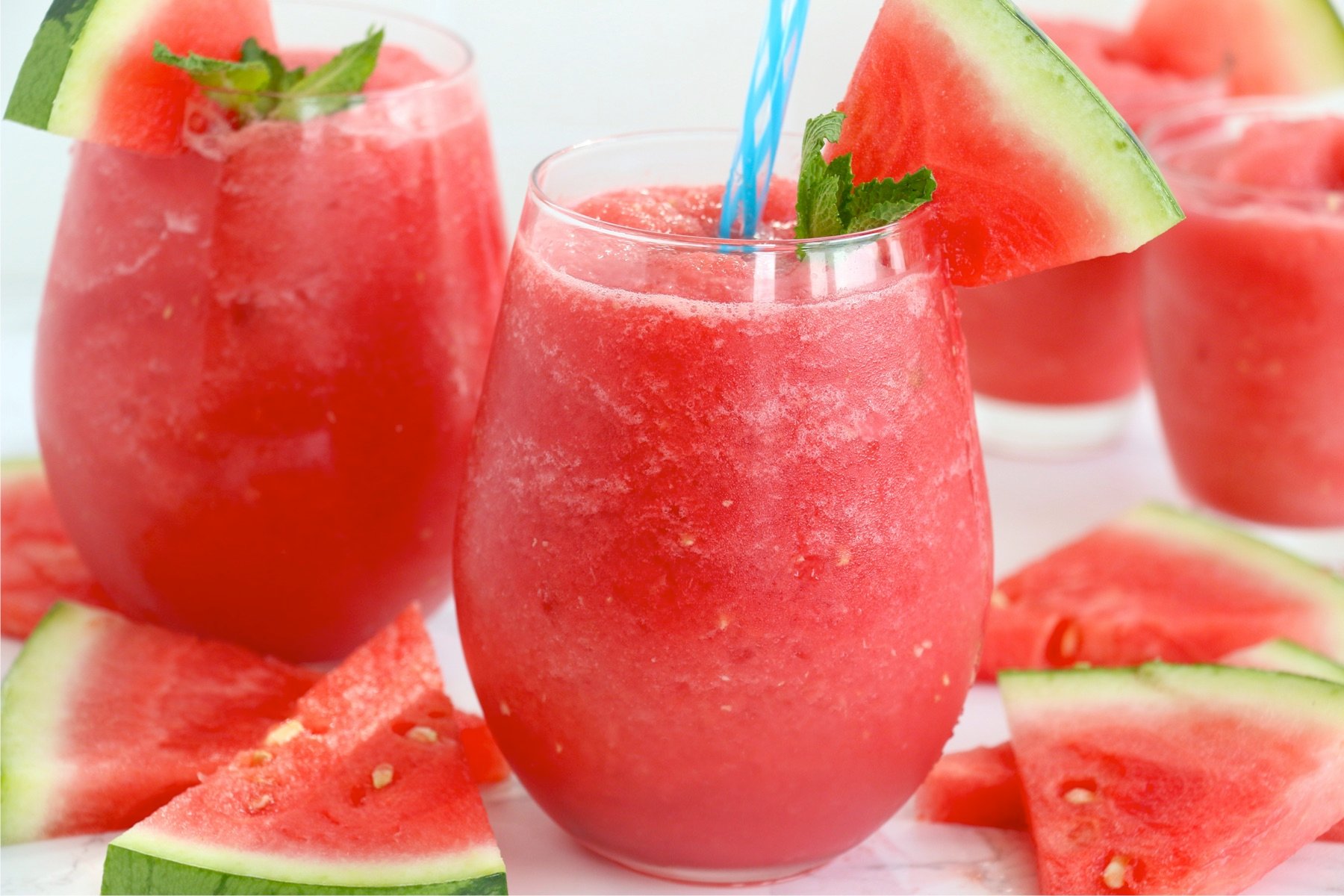 CAN I MAKE THE SLUSHIES AHEAD OF TIME?
Yes, you can! Just blend everything together and then pour into an airtight container and freeze.
When you're ready to enjoy, just let it thaw for a few minutes and then blend again until smooth. Pour into glasses and enjoy!
CAN I MAKE THESE INTO ADULT SLUSHIES?
Sure! If you're looking to add a little something extra to your slushies, you can definitely make them boozy.
Frozen watermelon alone is pretty sweet, so you'll want to choose a liquor that isn't too sweet. A vodka or tequila would be a good choice. Just add a shot (or two) to your blender along with the rest of the ingredients.
Or, try my Strawberry and Watermelon Frose for a delicious adult beverage.
MORE SUMMERTIME DRINKS YOU'LL LOVE
Frozen Watermelon Slushies
5-ingredient slushies made with watermelon, raspberry sorbet, juice and sugar. The perfect summer drink!
Prep Time: 1 hour
Total Time: 1 hour 5 minutes
Author:
Yield: 4 servings 1x
Ingredients
4 cups cubed seedless watermelon, frozen
5 cups ice
1 cup raspberry sorbet
1 cup lime juice
1⁄2 cup powdered sugar
Instructions
In a large blender, puree all ingredients. Be sure to stir often so everything is well-blended.
Garnish with watermelon slices and mint leaves.
(Visited 490 times, 1 visits today)