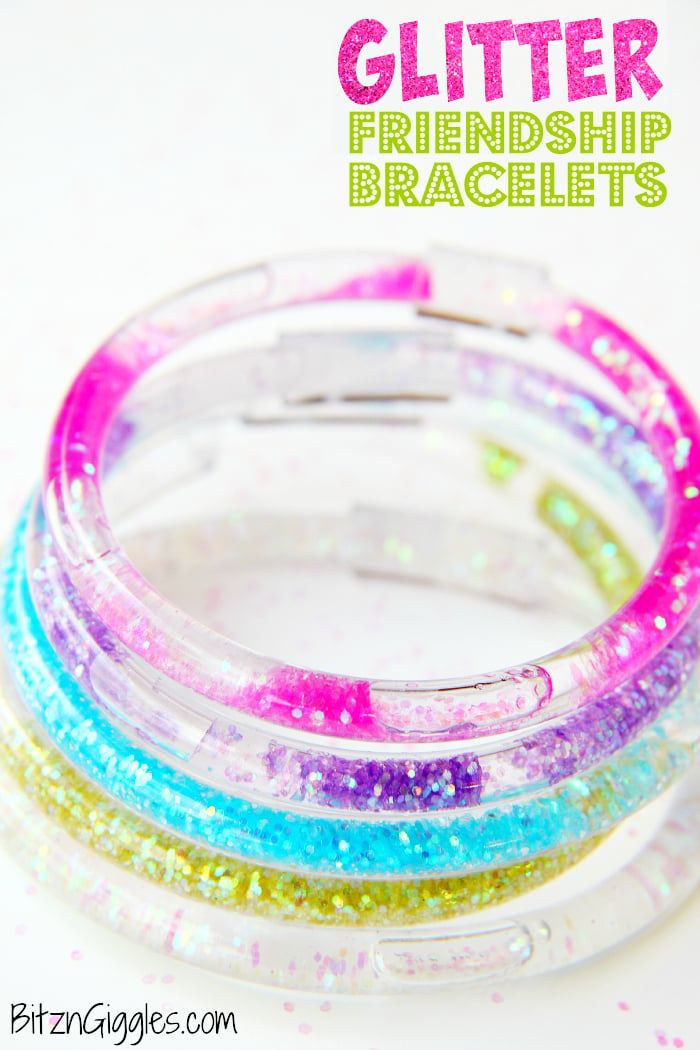 Oh, our little Cora. She just turned four at the end of September and it's been such a joy to watch her learn and grow. Our neighborhood is filled with little girls, and they play together whenever they have the chance. Around here we do a lot of coloring, dressing up and pretend play. We have wands and tiaras and lots and lots of costume jewelry.
In addition to all of the "garb," Cora has fallen in love with Little Charmers on Nick Jr. Have you ever seen the show? It's super cute and perfect for preschool kids ages 3-5. Little Charmers is all about the magical misadventures of three best friends: Hazel, Lavender and Posie – not to mention their adorable pets, Seven (Hazel's cat), Flare (Lavender's baby dragon) and Treble (Posie's owl).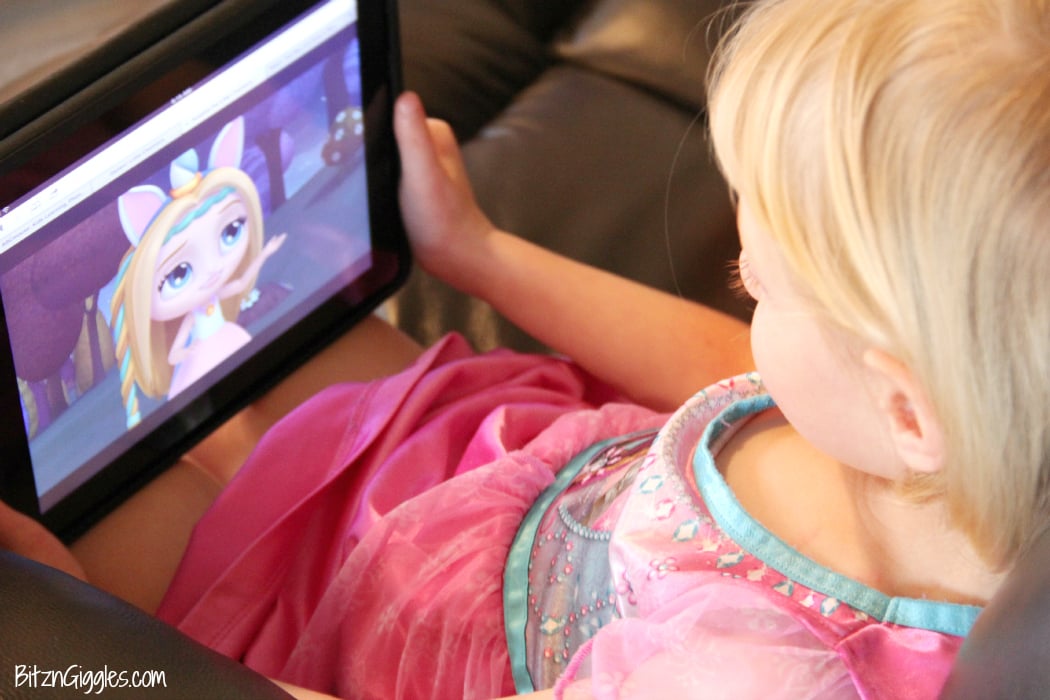 In the magical land of Charmville, the girls are three "Charmers-in-Training (C.I.T's) who use their imaginations and teamwork to fix magical mishaps. Along the way they find that their most important power, however, is true friendship, and learn that a mix of teamwork and self-confidence can overcome anything that comes their way. It just goes to show that anything is possible when you work together. Super sweet message. Love it.
You can imagine Cora's excitement when she received her very own Hazel doll in the mail the other day, along with Flare and Lavender's magical wand! She couldn't wait to get it all out of the box and into her room. She started packing everything into her backpack so she could go and show it all off to her little BFF's.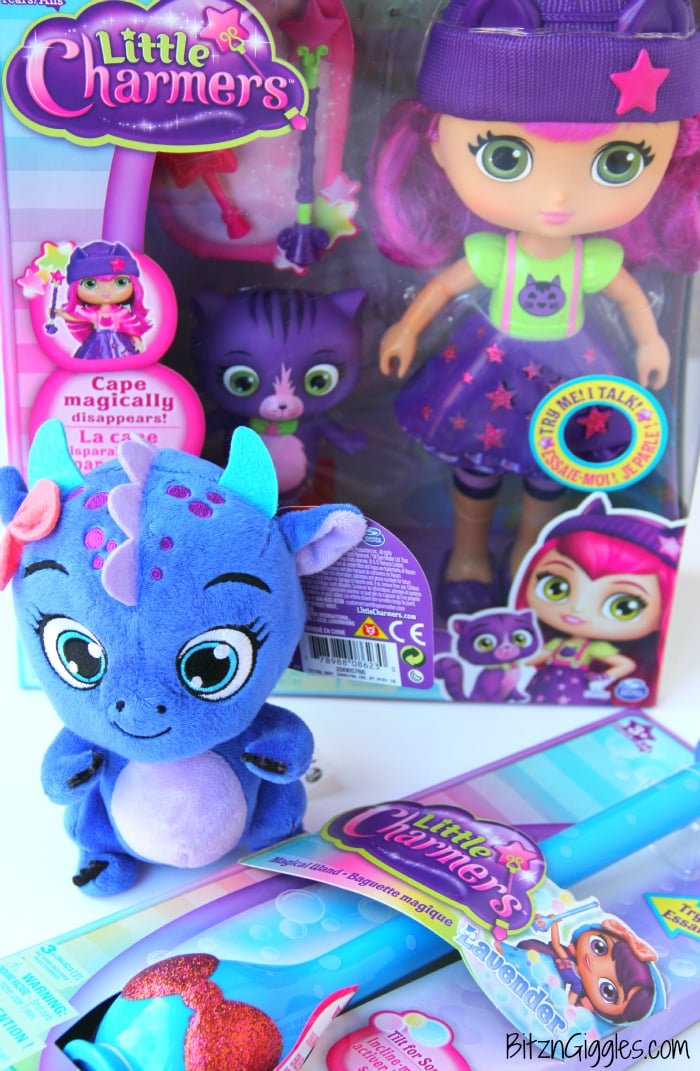 As you can imagine, the other little girls thought her new toys were super cool and their favorite aspect of Hazel was her disappearing cape. Heck, I will admit I sat there and played with Hazel's cape, too – until the girls came and took her away from me. 🙁
You can probably guess what's on Cora's friends' holiday lists now. And one doll just isn't enough. They all want the full set of dolls. I've been hearing it all week, "Mom, when are we getting Hazel's friends?" Sigh.
To hold the girls over until the holidays arrive, I thought it would be fun to create some magical Glitter Friendship Bracelets they could all wear that fit perfectly with the Little Charmers theme.
Do you remember those water-filled glitter bracelets from the 80's? I think it was the 80's – or maybe the 90's? I'm obviously getting way too old. What I do remember is that my friends and I adored these little bracelets growing up. They were mesmerizing; so much fun to look at.
Today, I'm going to show you how to make your own! Here's what you're going to need to get started!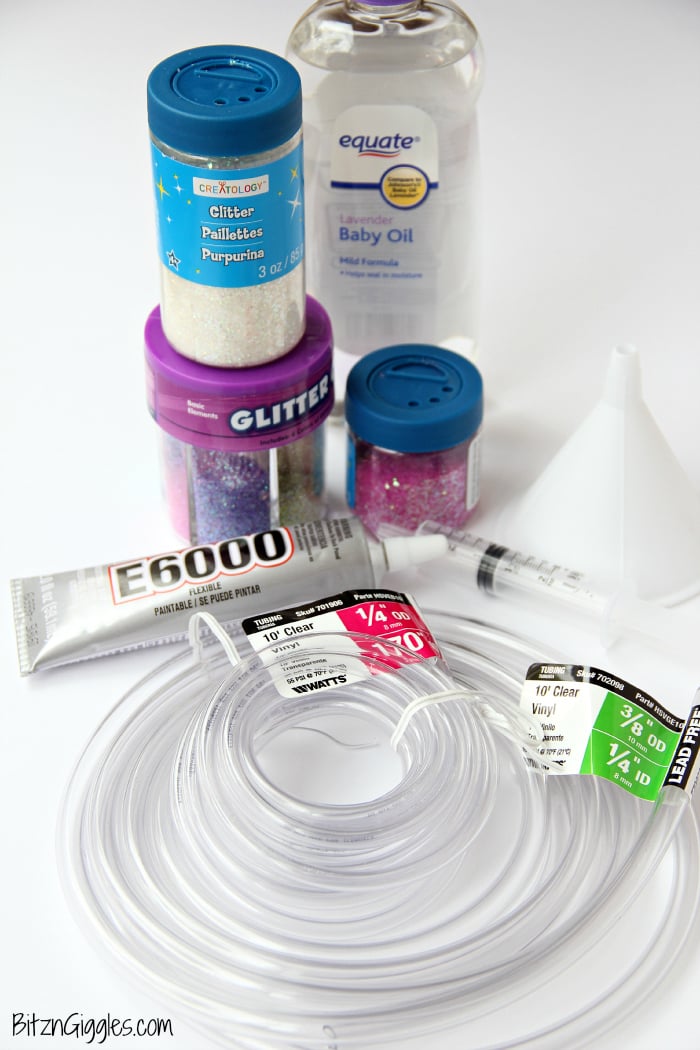 Materials:
1/4″ clear vinyl tubing (can be found at hardware/home improvement stores)
3/8″ clear vinyl tubing (can be found at hardware/home improvement stores)
Baby oil
Water (not pictured)
Scissors (not pictured)
Assorted colored glitter
Oral medication syringe
Mini funnel (I didn't have one, so I tried to use the funnel in the photo above – it was a bit too large so I ended up using the syringe for the glitter as well. A decorating tip for piping on frosting may also work.)
E6000 Craft Adhesive
So, once you've gathered all of your materials, let me say a couple things about these bracelets before we begin making them.
You will use two different sizes of vinyl tubing for this craft. You can either use the larger tubing as the bracelet and the smaller tubing as the "plug," or you can use the smaller tubing as the bracelet and the larger tubing as the "connector." If you go the "plug" route, the bracelet is more "seamless" or smooth all the way around. If you go the "connector" route, the connector is more visible on the bracelet but the bracelet, itself, is more flexible.
I decided to go the "connector" route for two reasons: I wanted the bracelets to be a bit thinner because I was making them for little girls and secondly, I liked the flexibility of the smaller tube, as well. The reasoning behind the half water, half baby oil mixture is two-fold also. The oil helps slow down the glitter a bit so it doesn't move too quickly within the bracelet. It will also ensure that the liquid remains in your bracelet much longer than just water would alone.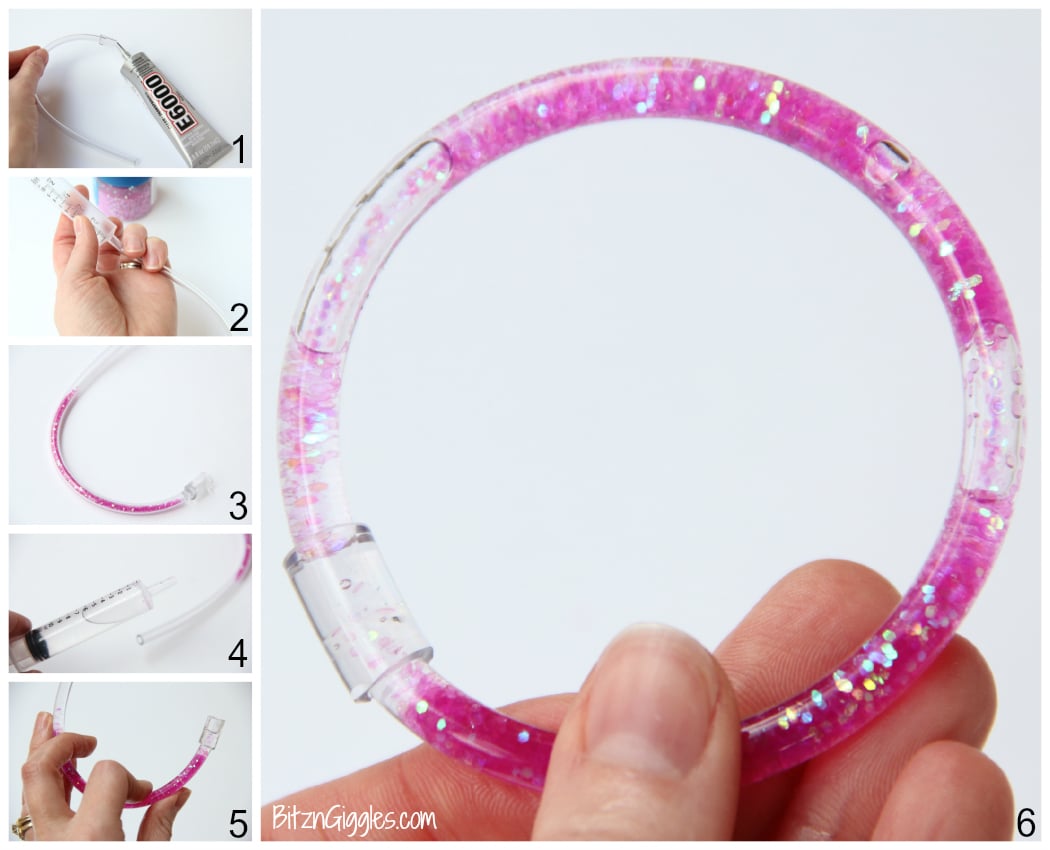 That being said, let's start crafting!
Instructions:
Measure out and cut how much of the 1/4″ tubing you'll need to fit the child's wrist. Then, cut a small piece of the 3/8″ tubing to act as the "connector" piece (see a close up photo of how this works in Step 6). Insert one end of the 1/4″ tubing in the 3/8″ connector piece. Apply some of the adhesive into the open end of the connector piece. Allow to dry 10 minutes.
Insert the end of the mini funnel or syringe into the other side of the 1/4″ tubing without the connector.
Pour glitter into the funnel and fill the tubing about 3/4 full (If you want more movement within the bracelet, don't add as much glitter).
Fill your syringe with half water, half baby oil (shake it a little to mix) and start filling the tubing until it covers the glitter completely and fills most of the tubing.
While holding the ends of the tubing upright, apply a bit more adhesive to the connector end and insert the other end of the tubing into the connector to form the bracelet.
And there you have it! How cool is that?! Now make some more!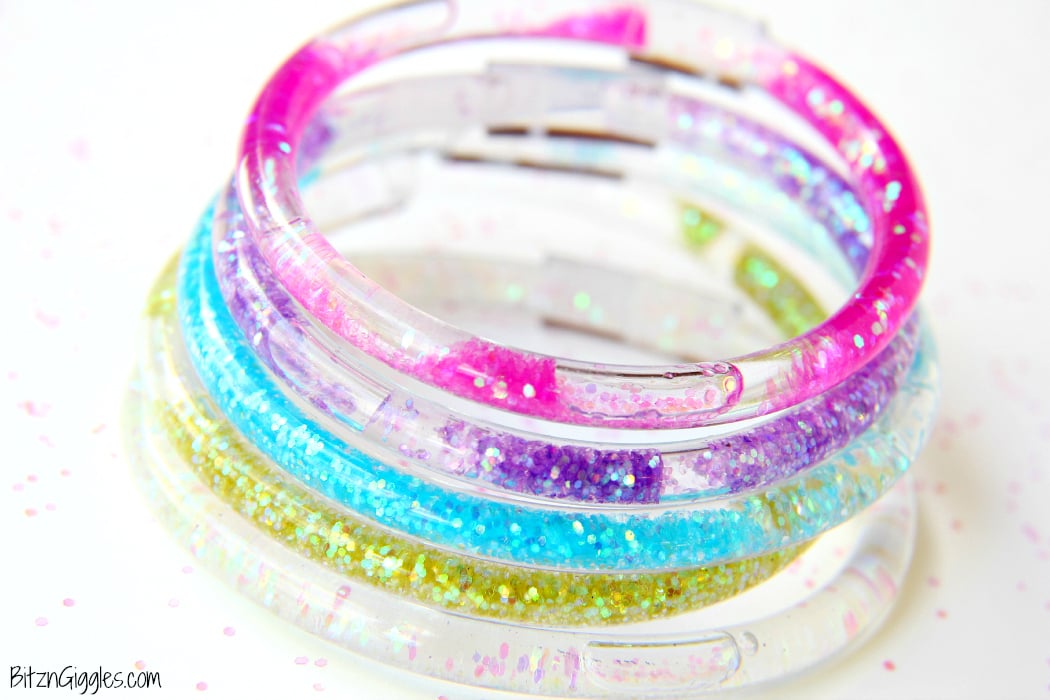 I couldn't help but make a bracelet for ever color of glitter I had. Oh, and we're making more because one bracelet per friend just isn't enough, per Cora.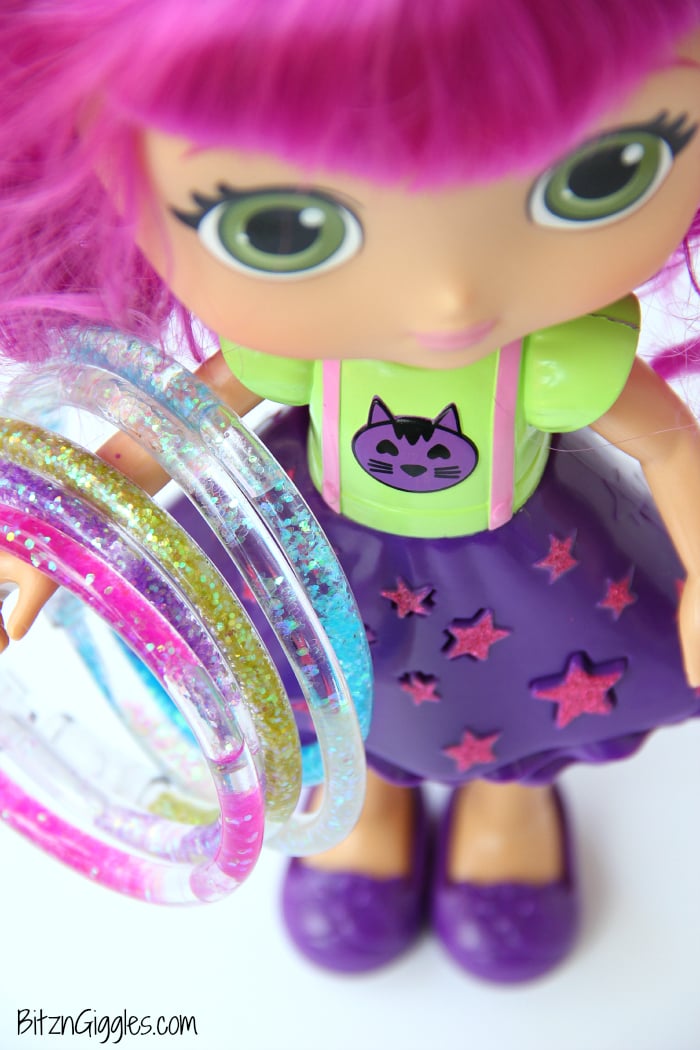 I get it. I had to have at least 3-4 of these bracelets on my arm at one time, too. I'm pretty sure when the other moms in the neighborhood see these, I'm going to get some additional requests to make "a few more." Although, since they have the tutorial, they may just go ahead and make their own (and then maybe we can trade, too ;). These bracelets are just adorable. I'm so excited to see the girls' faces when Cora hands them out.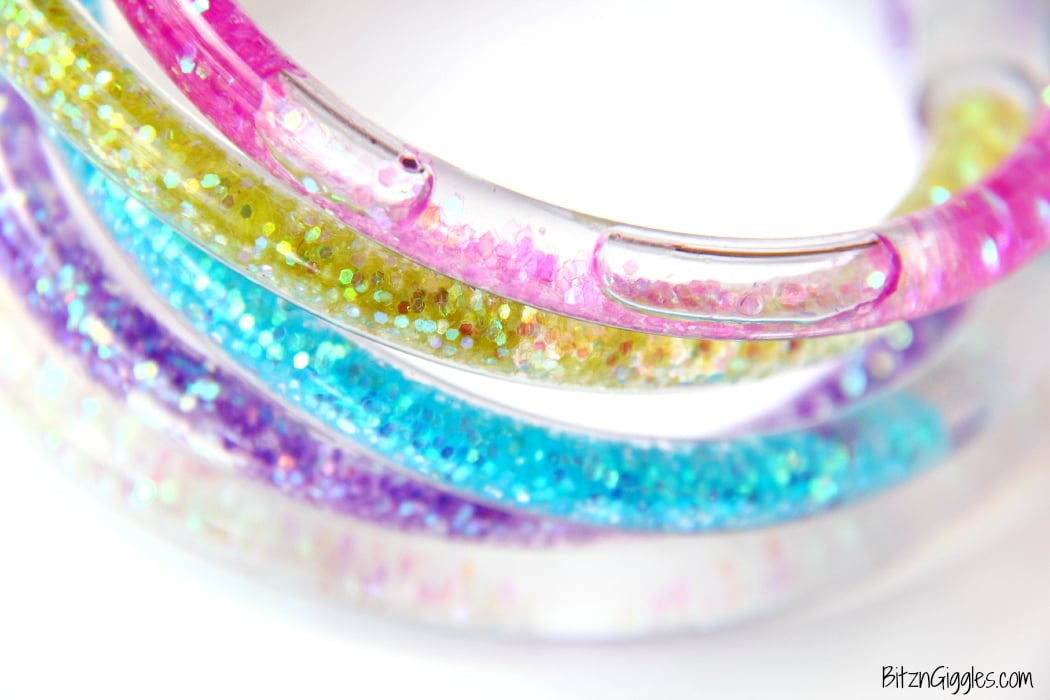 Go ahead and make these happen at your house! You're going to love them! And don't forget, Little Charmers are the perfect holiday gift! Visit the Little Charmers website to make this holiday season magical!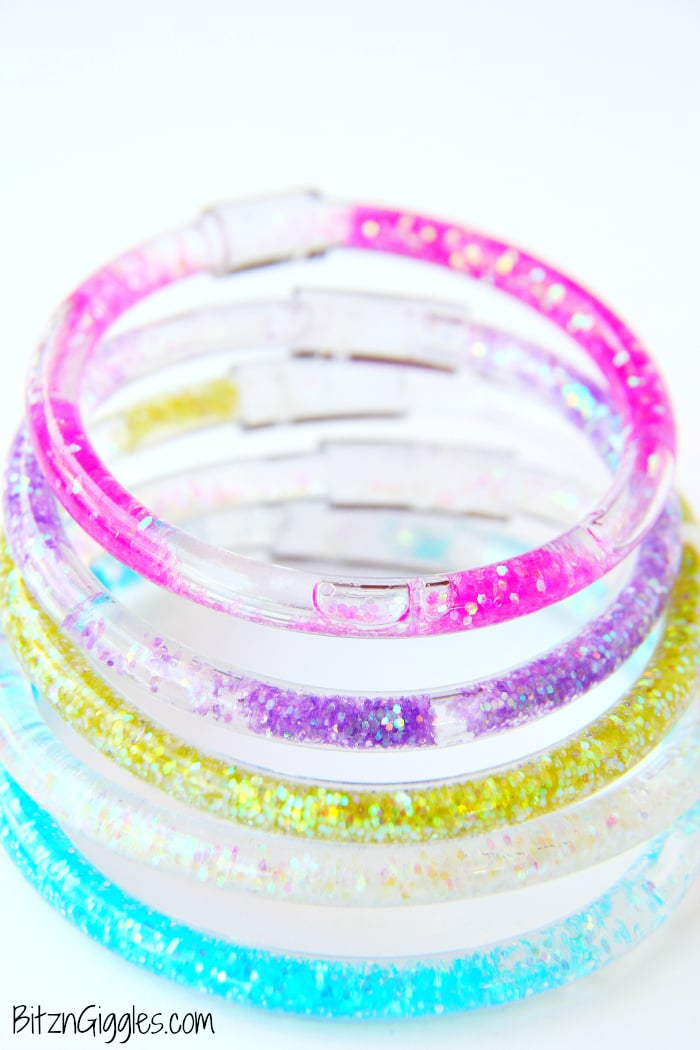 I was selected for this opportunity as a member of Clever Girls and the content and opinions expressed here are all my own.