Homemade Peanut Butter Cheerio Dog Treats – 5-ingredient dog treats made with ingredients you probably already have in your pantry! These treats are absolutely irresistible to dogs!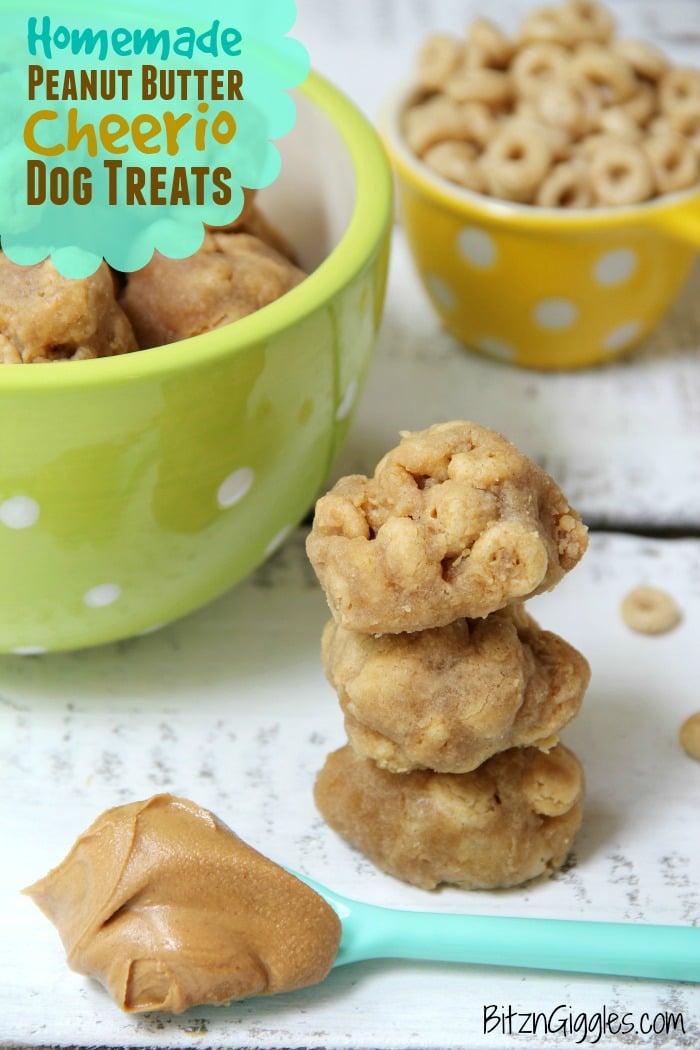 This post includes affiliate links. Please see my disclosure.
You already know that we're big peanut butter fans here at the house. . .our dog Belle, included. Some of her favorite treats are these Peanut Butter Pumpkin Treats but let me tell you what, these homemade peanut butter Cheerio dog treats take the cake.
Belle knows she's getting something good when the kids are asking to taste her treats. 🙂 Believe it or not, these 5-ingredient dog treats are super easy to make and are made with items you probably already have in your pantry and fridge!
Peanut Butter Cheerio Dog Treats
Ingredients
1/4 cup natural creamy peanut butter
2 cups Honey Nut Cheerios
1 cup flour
1/2 cup vegetable oil
2 large eggs
Instructions
Preheat oven to 350 degrees Fahrenheit.
In a large microwave bowl, warm the peanut butter in the microwave until soft enough to pour, 30 seconds – a minute.
Add the rest of the ingredients to the peanut butter and mix well.
Form 1-inch sized balls, packing the dough tightly.
Place on a greased baking sheet.
Bake for 8-10 minutes.
Allow to cool and store in an airtight container.
These will last for several days in an airtight container. To get a few more days out of the treats, place them in an airtight container in the refrigerator.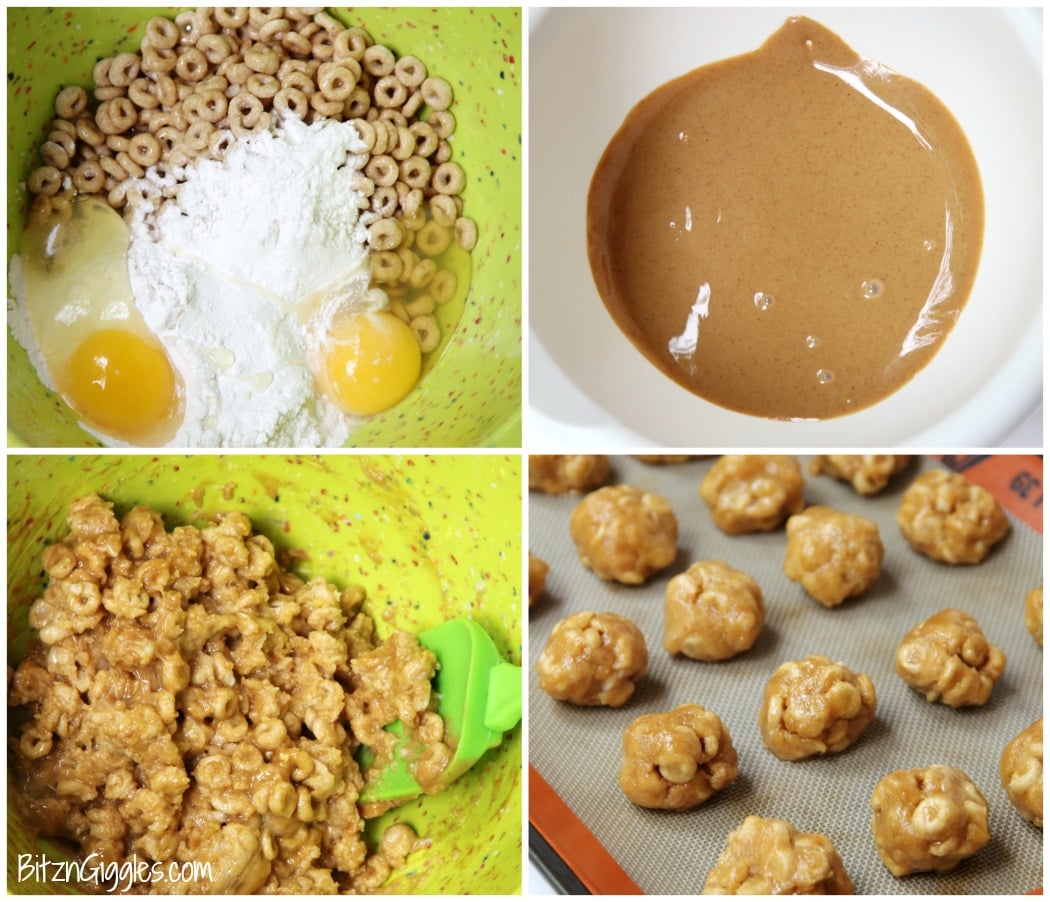 I use natural peanut butter for these dog treats, and always make sure I have a jar on hand. Her nose finds this peanut butter like nobody's business. I love to use this stuff in her Kong toys, too. She's so spoiled. I'll just put that out there right now. 😉
Okay, so back to these treats. . .they're so easy. You just combine all of the ingredients, roll the mixture into one-inch balls and bake. If you have a smaller dog or want to use these as training treats, you can make smaller treats and get even more treats out of a batch.
I usually get about 18 treats out of one batch and they go. . .fast.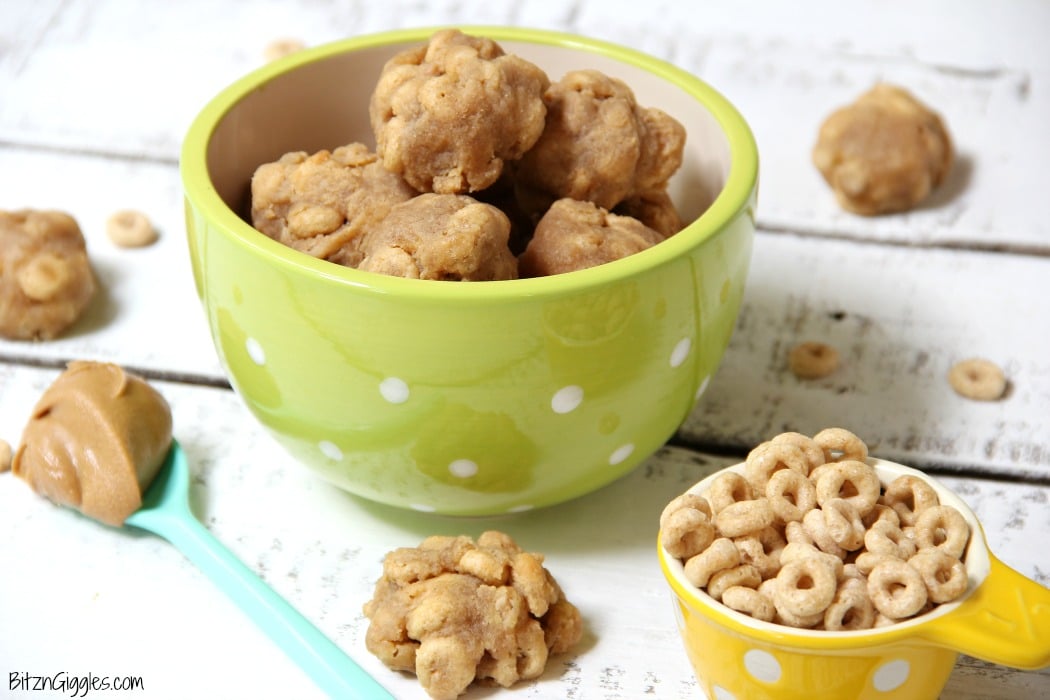 Just trying to get these pictures taken was a feat in itself. There she was with her nose all in my business.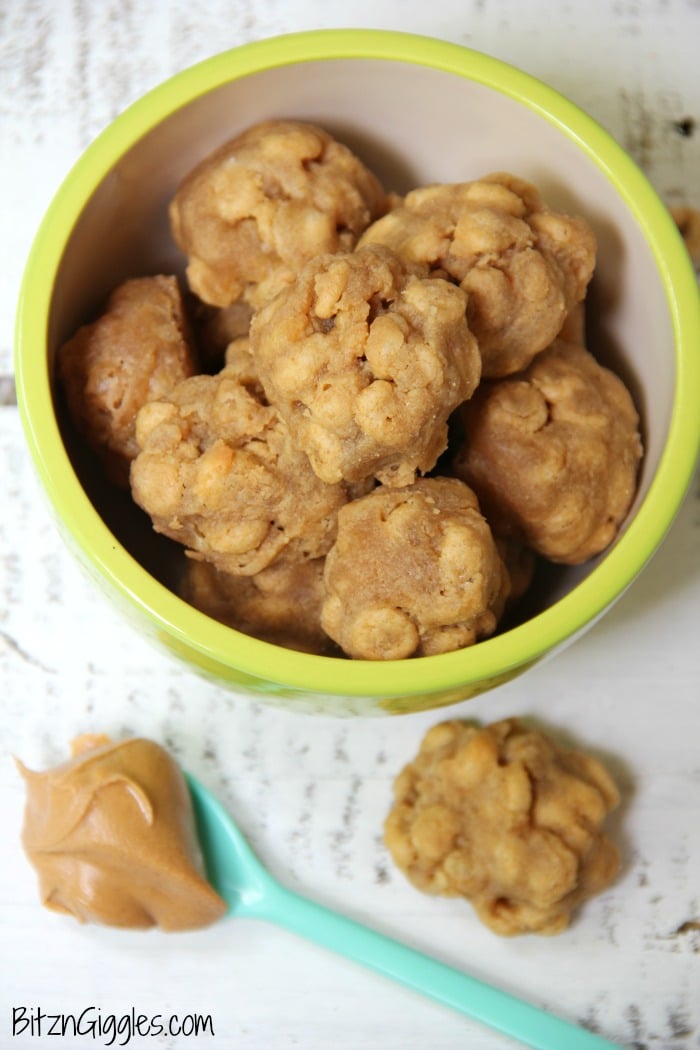 Before you see the photos of her devouring one of these treats, let's talk a little bit about texture so you know what to expect. After these homemade peanut butter cheerio dog treats are baked, they harden a bit and become a little crumbly.
I always tell myself to make them a bit smaller next time so she can eat the whole thing in one bite, but nope. . .I always roll the treats a bit larger than necessary. Even if a few crumbs fly, they're cleaned up as soon as they hit the floor. She'll make sure no crumb is left behind. 🙂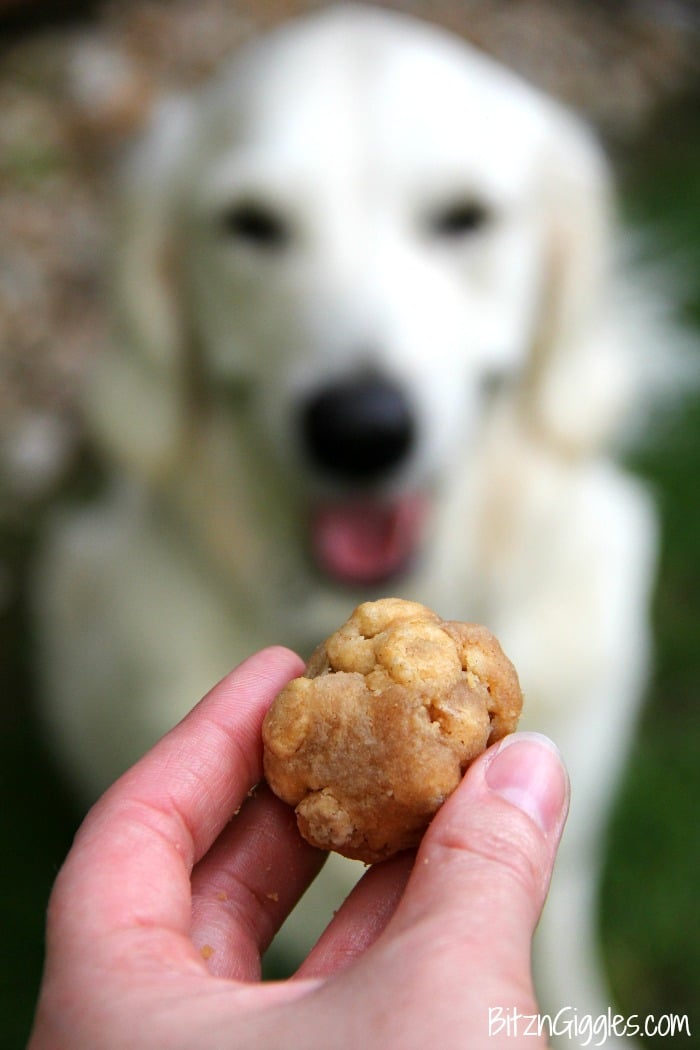 Belle is pretty patient for a puppy, but if I hold this in front of her face for too long. . .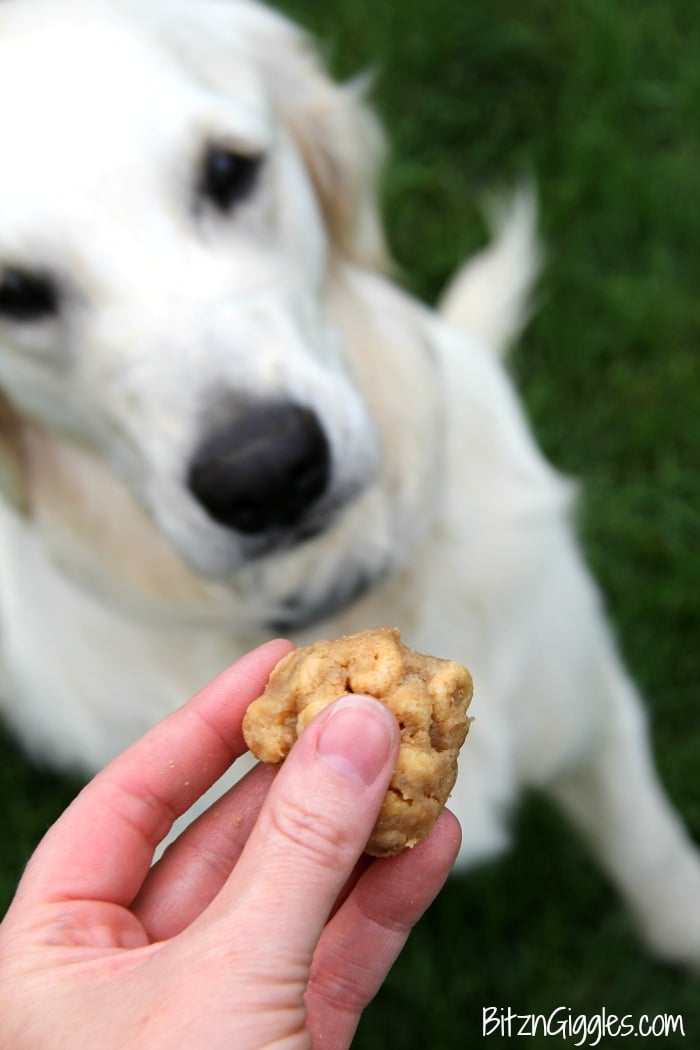 . . .she just gets closer and closer until she jumps up and basically steals it out of my hand.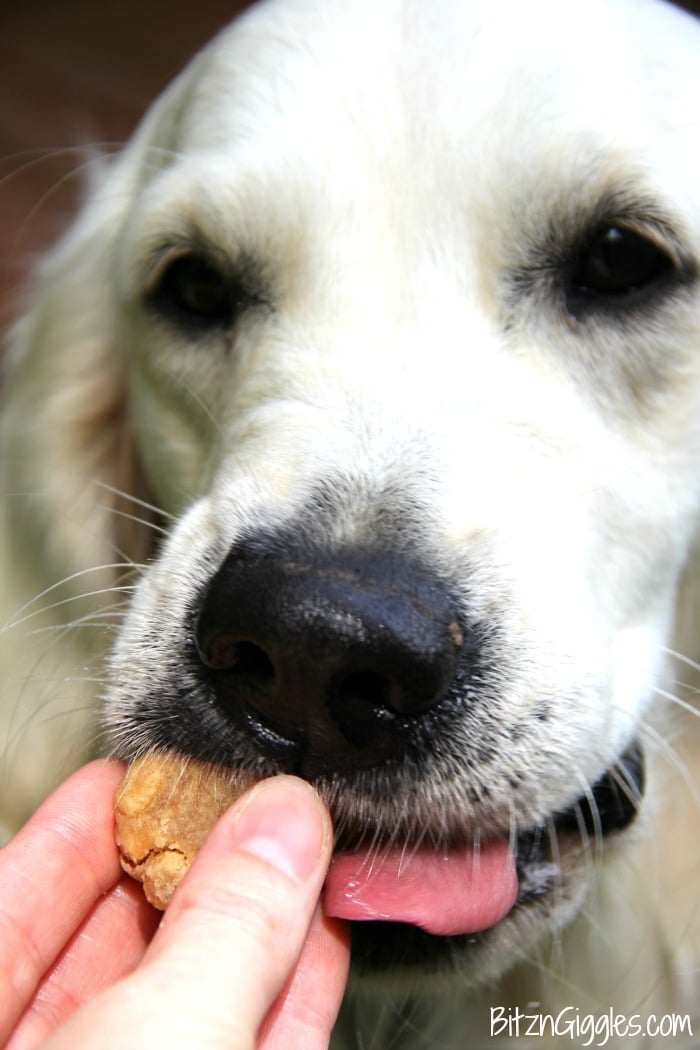 And so it goes with Cheerios and peanut butter. Your dog is going to go crazy over these treats. I guarantee it.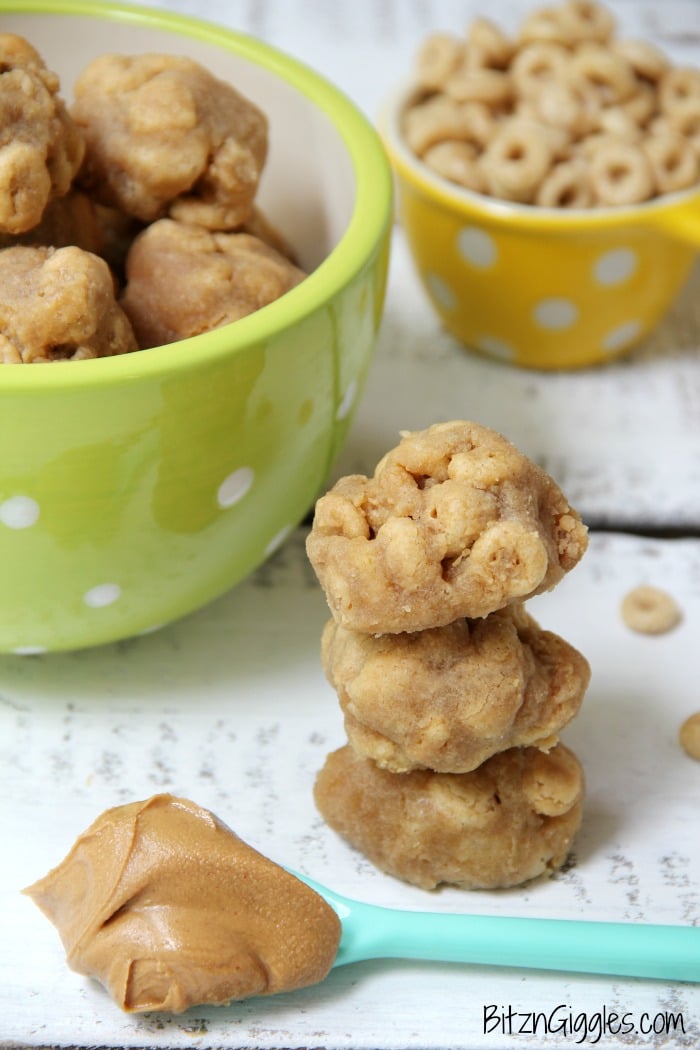 (Visited 143,076 times, 1 visits today)