Easy, delicious and moist, this lemon jello cake is so refreshing with a dollop of whipped cream on top!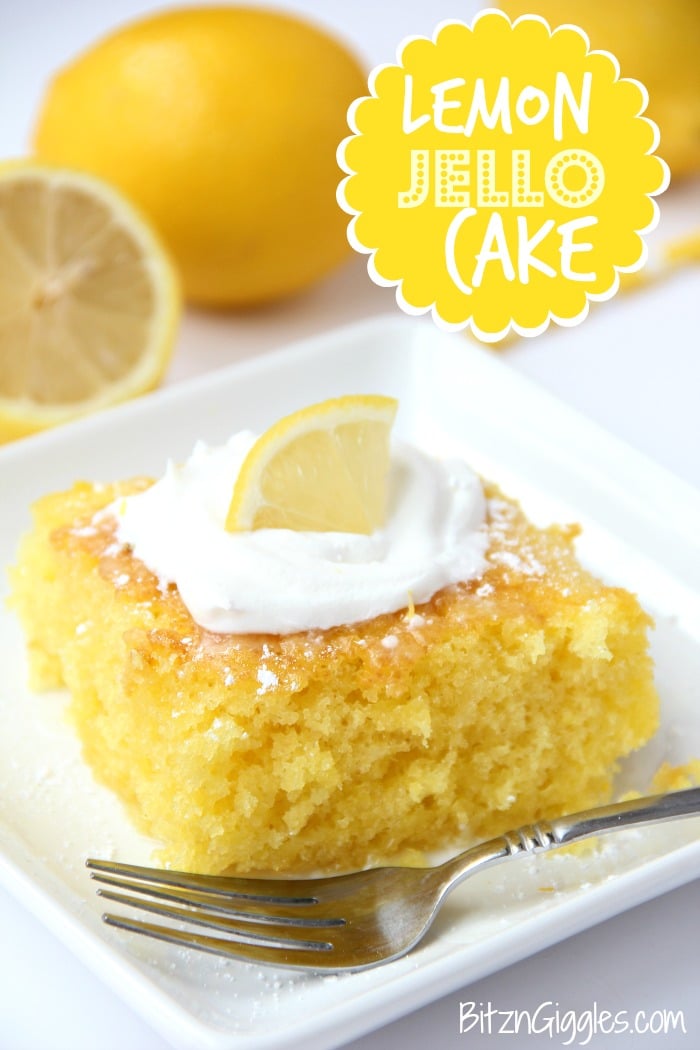 Spring is FINALLY here! This weekend we had beautiful weather! Warm, sunny and in the mid-70's. Now THIS is what I've been waiting for. . .all winter. The kids and dog ran around playing from sun up to sun down, we got some things organized around the house and everyone just completely crashed in the evenings. It was SO nice.
The other thing that I love about warmer weather are spring desserts like this Coconut Poke Cake, Warm Raspberry Cake or Cake Batter Truffle Bars. This Lemon Jello Cake is a classic recipe that I've had in my recipe box for years. It's just so moist, delicious and refreshing. . .and it's a cinch to make.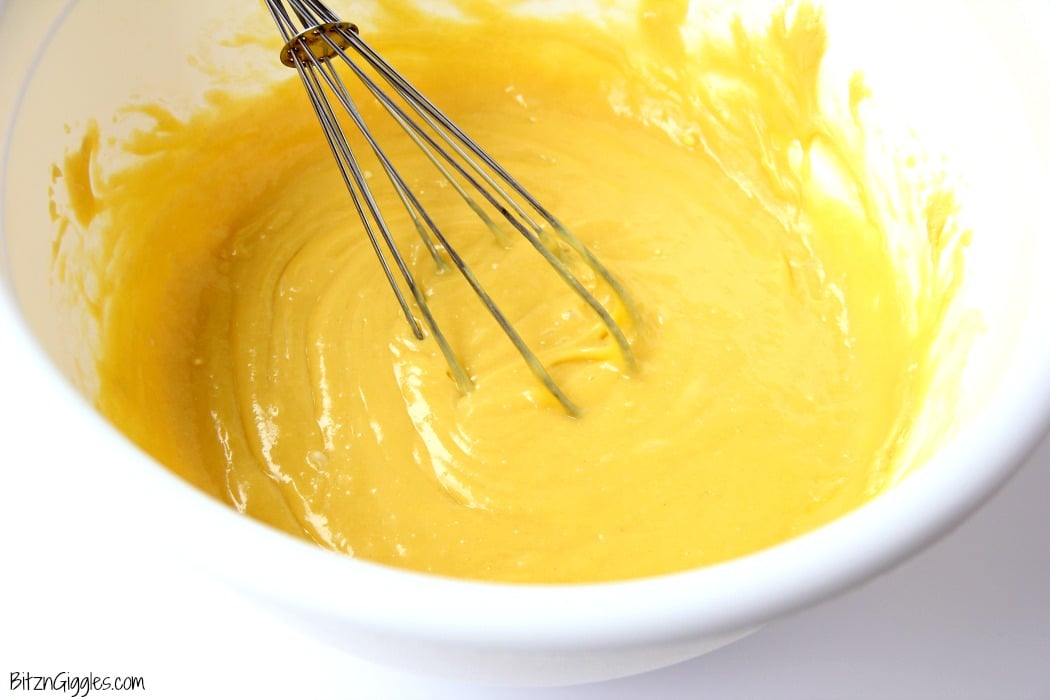 Because this cake basically starts from a box mix, it's super easy and comes together quickly. It's cakes like this that I love baking on a Saturday morning. I preheat the oven while we're eating breakfast and I make the cake right after I finish clearing our dishes. 

The cake is cooled by lunch and it's the perfect dessert to kick off the weekend. In fact, it's a great picnic cake. When it's nice out, we have meals out on our deck as often as possible. . .surrounded by citronella tiki torches, of course, to ward off those big Wisconsin mosquitoes. But in the spring, the bugs aren't out in full force yet, so it's the perfect time to enjoy a meal out on the deck.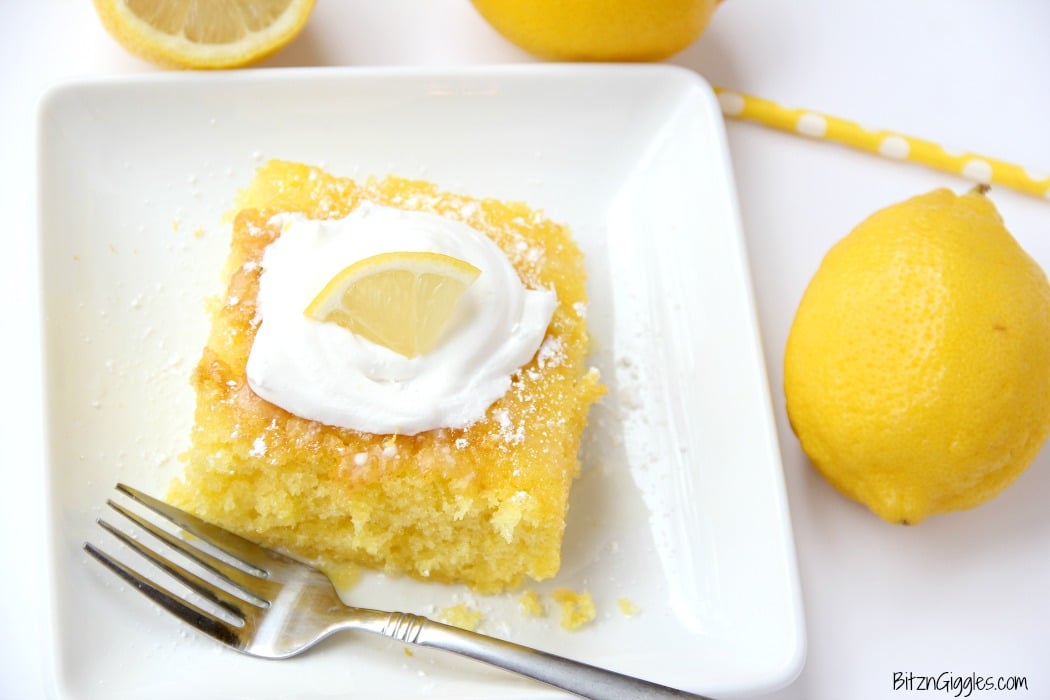 And hey, who says it needs to be a full fledged meal? This cake, some forks, plates and whipped cream. . .and you're in business.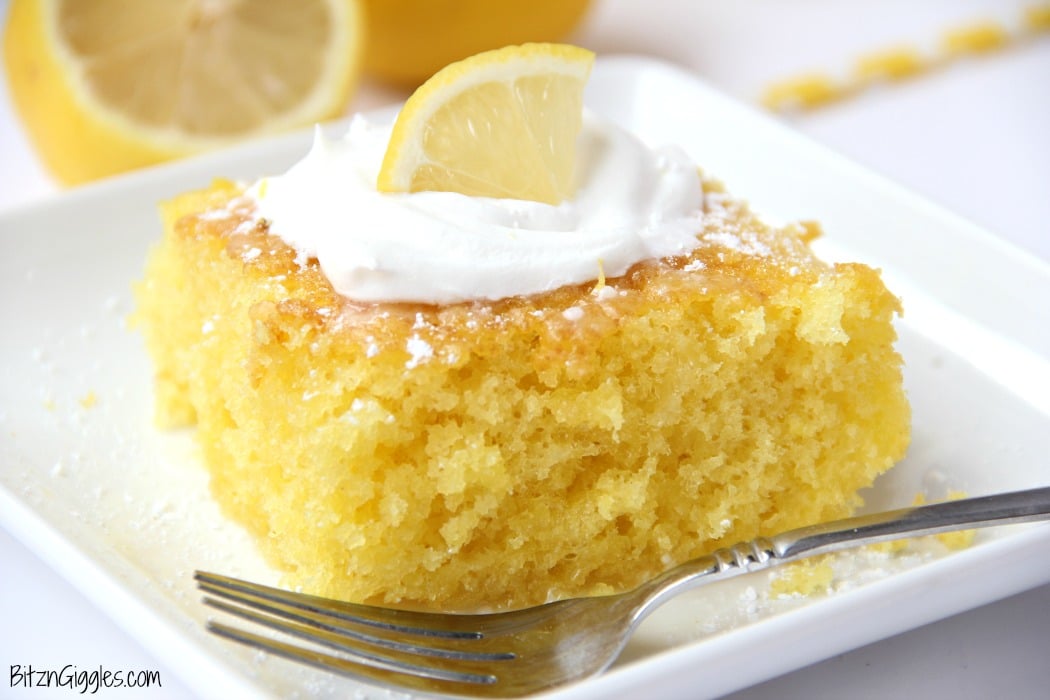 I mean just look at how moist the inside of this cake is. That's from the lemon jello and the glaze that soaks right into the cake when you pour it on. When you take a bite, the cake just melts in your mouth. I like to sprinkle a little powdered sugar on top of the cake and add a dollop of whipped cream before serving.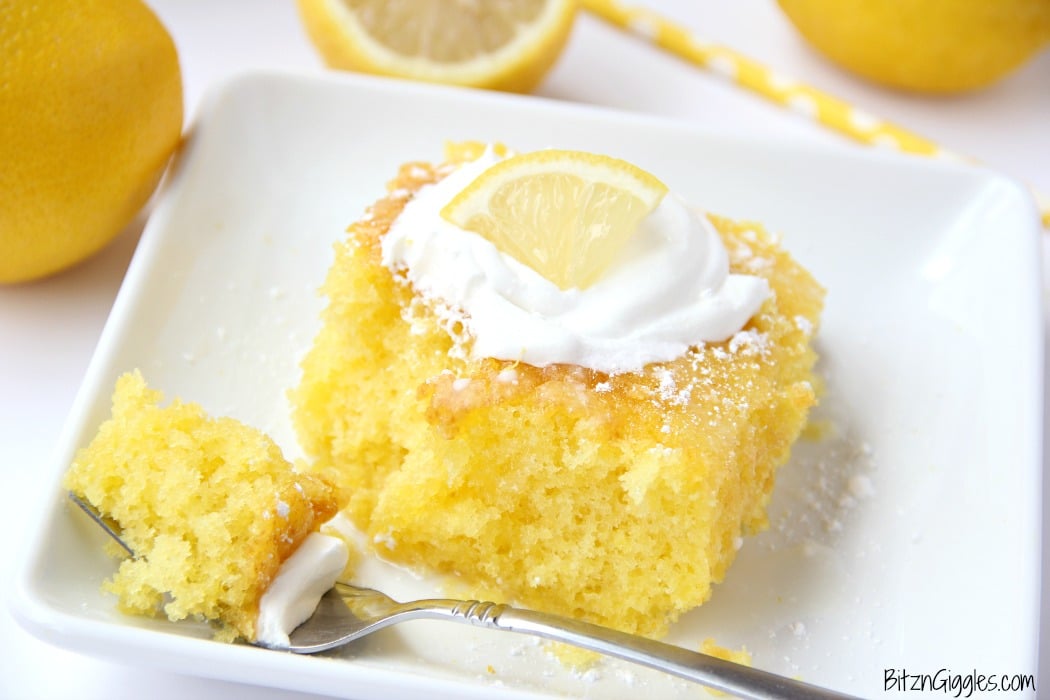 And then dig right in. So good. There's nothing more refreshing than a delicious lemon dessert in the spring. Oh, and don't forget to enjoy it outside among family and friends. Happy Spring, friends!
Lemon Jello Cake
Easy, delicious and moist, this lemon jello cake is so refreshing with a dollop of whipped cream on top!
Ingredients
For the Cake
3 ounce package lemon Jello
1 box lemon cake mix
4 eggs
1 cup hot water
3/4 cup vegetable oil
Glaze
2 cups powdered sugar
5 tablespoons milk
1 teaspoon vanilla
Whipped cream and extra powdered sugar for topping (optional)
Instructions
For the Cake
Preheat oven to 350 degrees Fahrenheit.
Mix Jello and water; cool.
Mix oil and cake mix.
Add eggs to the mix, one at a time.
Add the cooled Jello and mix.
Spread in greased 9 x 13 inch pan.
Bake at 350 degrees for 27-30 minutes.
Allow to cool for 10-15 minutes, then add the glaze.
Allow cake to cool completely before cutting.
Glaze
Mix the powdered sugar, milk and vanilla.
Using a toothpick or fork, poke holes in top of cake; pour glaze over top and sides.
Sprinkle on some extra powdered sugar and top with a dollop of whipped cream (optional) before serving.
(Visited 16,938 times, 1 visits today)