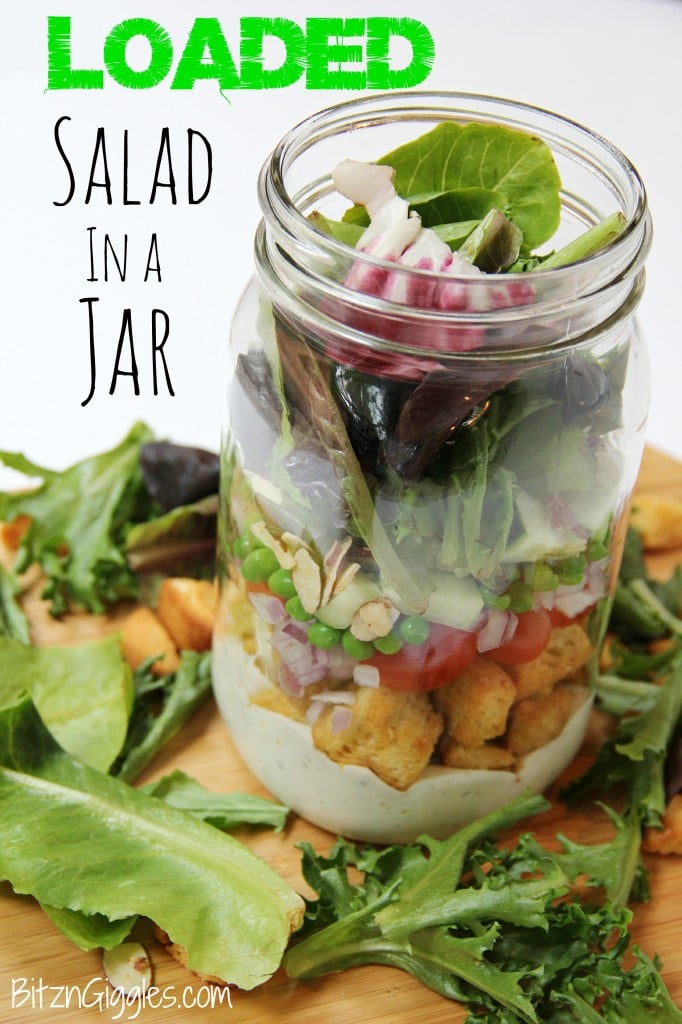 Are you enjoying your summer so far? I certainly am. So much so. . . I don't want it to end. All of the back-to-school catalogs and fall catalogs I've been getting in the mail make me sad. Summers here in Wisconsin are WAY too short! I'm not going to let it get me down, though. There are plenty of warm days left to come and I'm definitely planning to get out and enjoy them. One of the things I look forward to with my family in the summer are little picnics – either outside on the deck, up north at the lake or right in our own backyard. This Loaded Salad in a Jar is the perfect start to any sweet, intimate picnic and feeds a bunch. Believe it or not, I fed my family of four right out of a quart-size mason jar!
Have you ever made salad in a jar? It's really a great concept and works wonderfully for picnics, camping, or even work or school lunches. If you don't like the idea of taking glass with you, buy unbreakable BPA-free mason jars. They're available in most of the big-name retail chains. It just doesn't get any easier than this. Imagine trying to lug separate containers of mix-ins and toppings along with you in addition to the lettuce and the dressing. Not convenient, and who wants to bother with all of that anyway? Salad in a jar is where it's at.
The first part is easy. Dream up all of the yummy mix-ins you'd like to have in your salad. To each his/her own. I gathered up some green peas, croutons, red onion, chopped cucumber and grape tomatoes.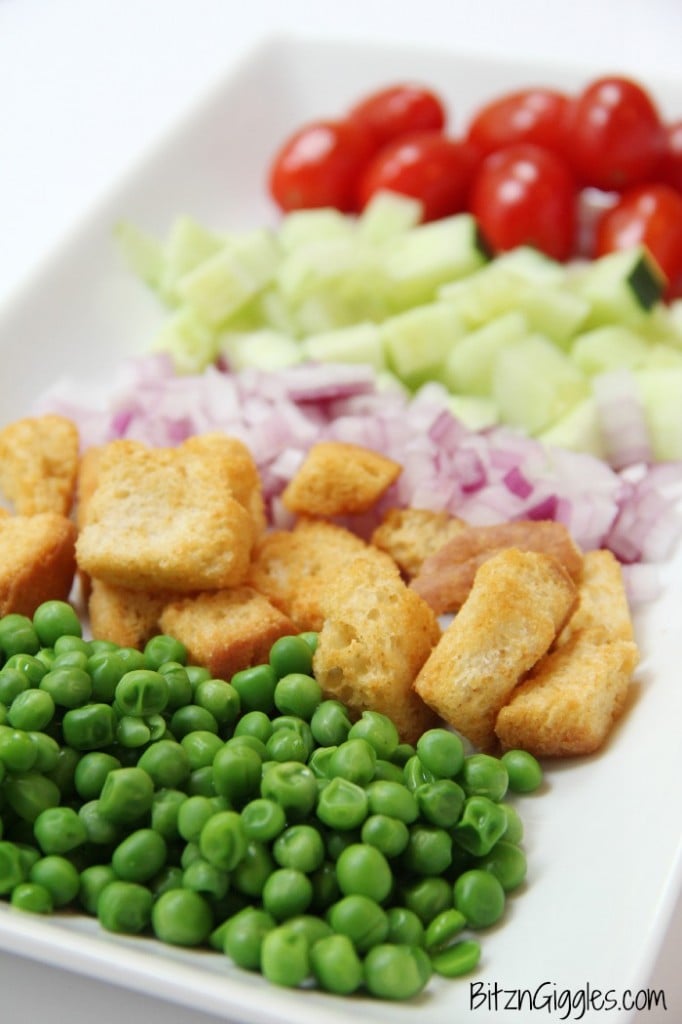 Then, I ran to the pantry and grabbed some slivered almonds and cranberries to drop in on top of the veggies. I'm getting hungry again just thinking about it.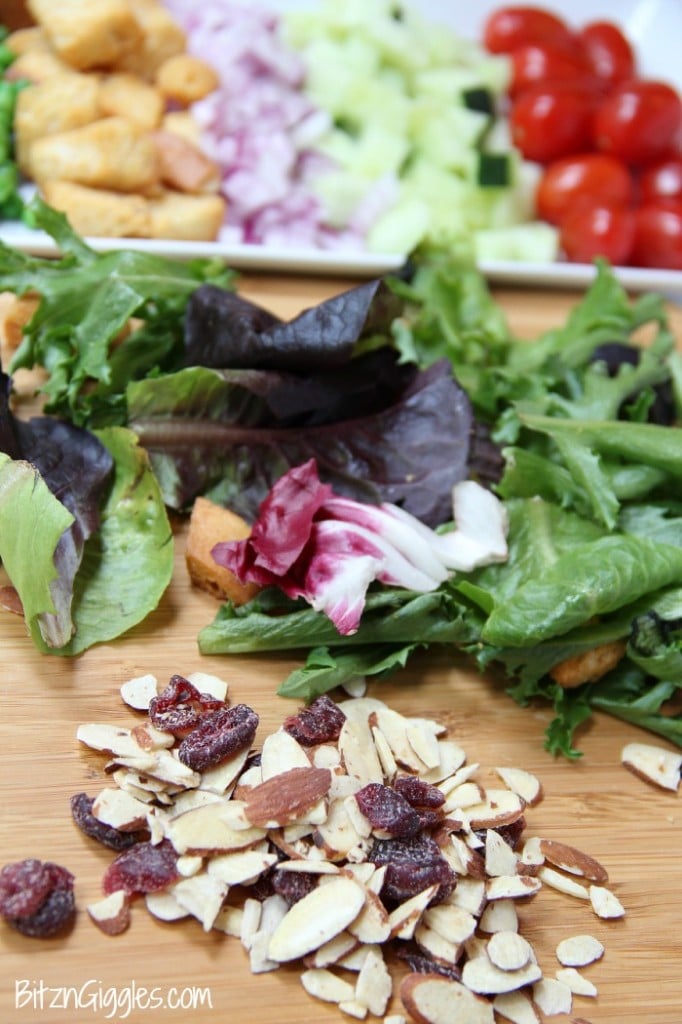 Did you know that there's an actual art and science that goes into salad in a jar? I found this illustration on Pinterest (which I absolutely love) and it inspired me to create this post in the first place.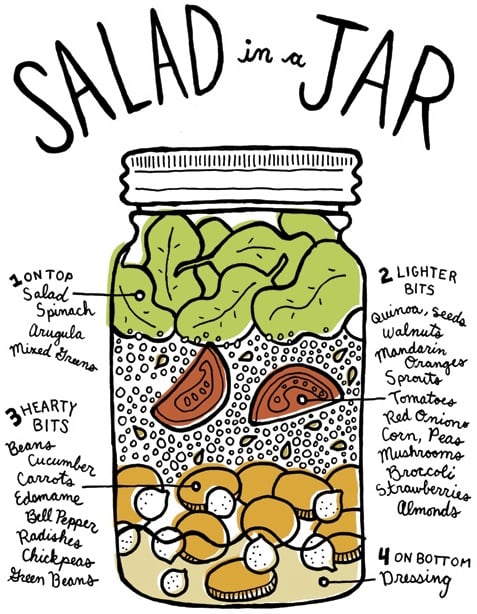 So, here's what you need to do:
The dressing goes in first. I used my Homemade Cucumber Ranch Dressing. Divine! Then, I threw in my croutons. That was a very strategic move. If my dressing coated or soaked into anything, I wanted it to be the croutons rather than anything else. They also provided a nice base for the rest of my veggies that I didn't want getting soggy in the dressing.
I put the tomatoes in next because they were the heaviest of the veggies. The chopped cucumber, green peas and red onion went in on top of the tomatoes in no particular order.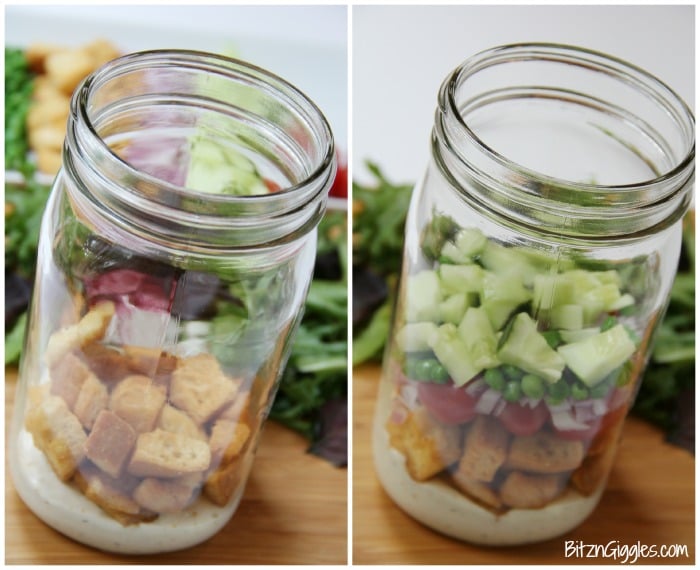 The almonds and cranberries got dropped in next. . .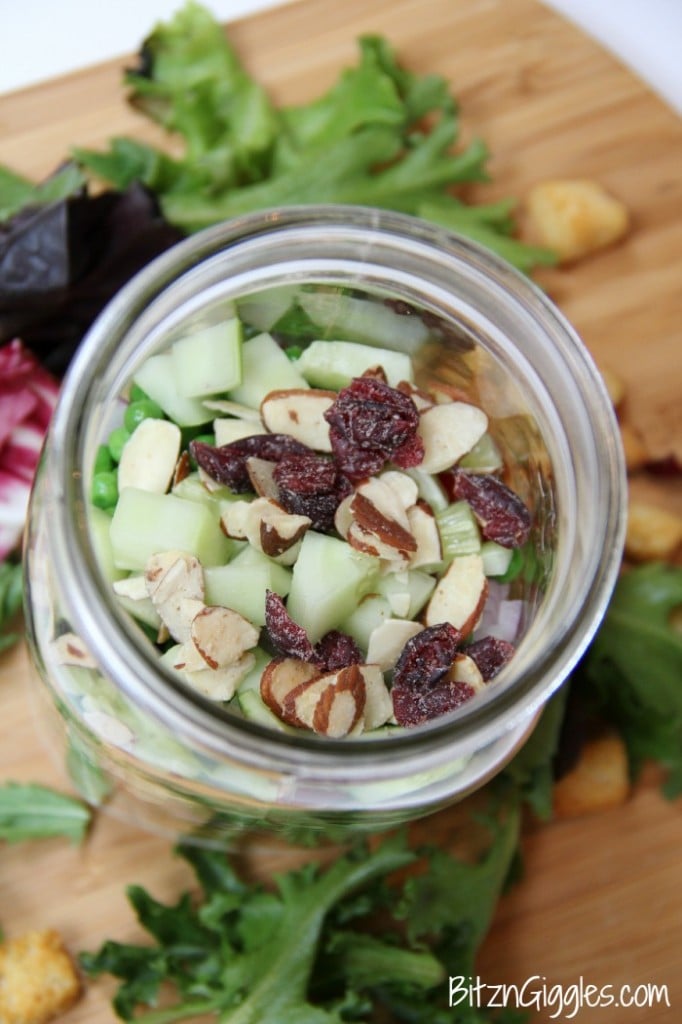 and the mixed greens went in last, on top of everything else. Now, don't take up TOO much room with all the mix-ins. You need a little breathing room in your jar. I'll tell you why in a minute. . .or less. Depending on how fast you read.  🙂
So, once your creation is built, refrigerate the jar or jars immediately. Pack the jar in a cooler or between cooler packs in your lunch bag until you get to your destination. Here's the fun part. . .as if we weren't having fun already, right? Make sure the lid is tightly on your jar and then shake it. Yep, you heard me. Shake it. Shake it like a Polaroid picture. . . until the dressing mixes and mingles with all of the veggies and the mixed greens.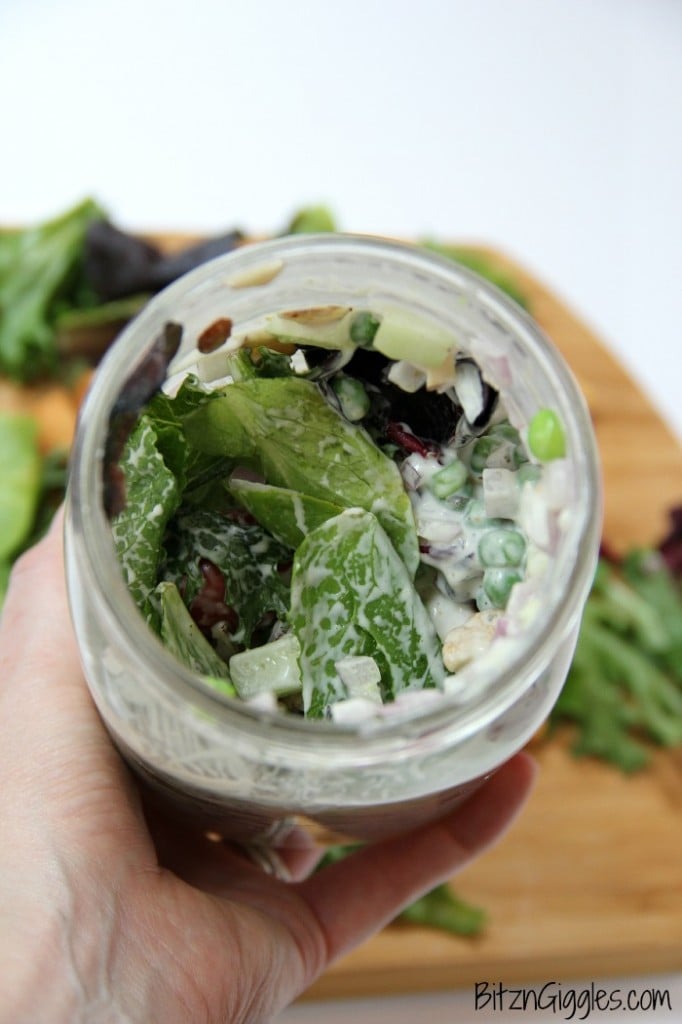 Beautiful! Isn't this so worth it? Not to have to mess with a bunch of extra bottles and containers when you want to take a salad on-the-go? The last step is the easiest and the one we've all been waiting for. Dump the contents out onto a plate for everyone to enjoy. Heck, save yourself some dishes and just bring one plate and multiple forks! Heck, if it's just you, eat right out of the jar! It makes no difference how you eat it, just dig in and enjoy the rest of the summer! Bon appétit!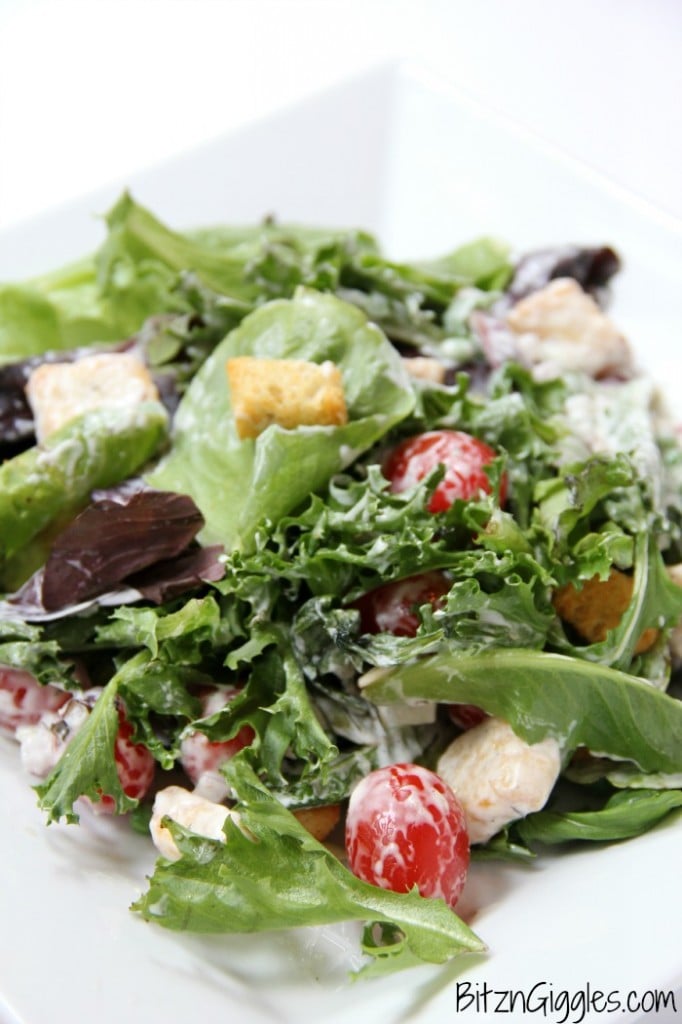 Loaded Salad in a Jar
The easiest and most convenient way to prepare a delicious salad for meals at the office, on-the-go, picnics and camping!
Ingredients
Quart-size mason jar
1/4 up cucumber, peeled & chopped
1/4 cup red onion, chopped
1/2 cup croutons
5–6 grape tomatoes
1/4 cup slivered almonds
1/4 cup cranberries
1/4 cup green peas (boiled and cooled)
1 cup mixed greens
1/3 cup salad dressing
Instructions
Add the salad dressing to bottom of the mason jar.
Drop in the croutons, then the tomatoes.
Add the rest of the vegetables in no specific order.
Toss in the almonds and cranberries.
Top with the mixed greens.
Shake the jar well before serving so the dressing mixes with all of the other mix-ins.
Empty the contents out onto a plate and enjoy!
Notes
By taking along another cup or more of the mixed greens you can make this salad go even further for a larger group.
Nutrition
Serving Size: 4
Calories: 212
Sugar: 7
Sodium: 257
Fat: 15
Saturated Fat: 2
Unsaturated Fat: 12
Trans Fat: 0
Carbohydrates: 16
Protein: 5
Cholesterol: 7
(Visited 4,649 times, 1 visits today)