Mexican Street Corn Salsa – A delightful homemade salsa filled with fresh ingredients and bursting with flavor. A perfect appetizer or snack when entertaining family and friends!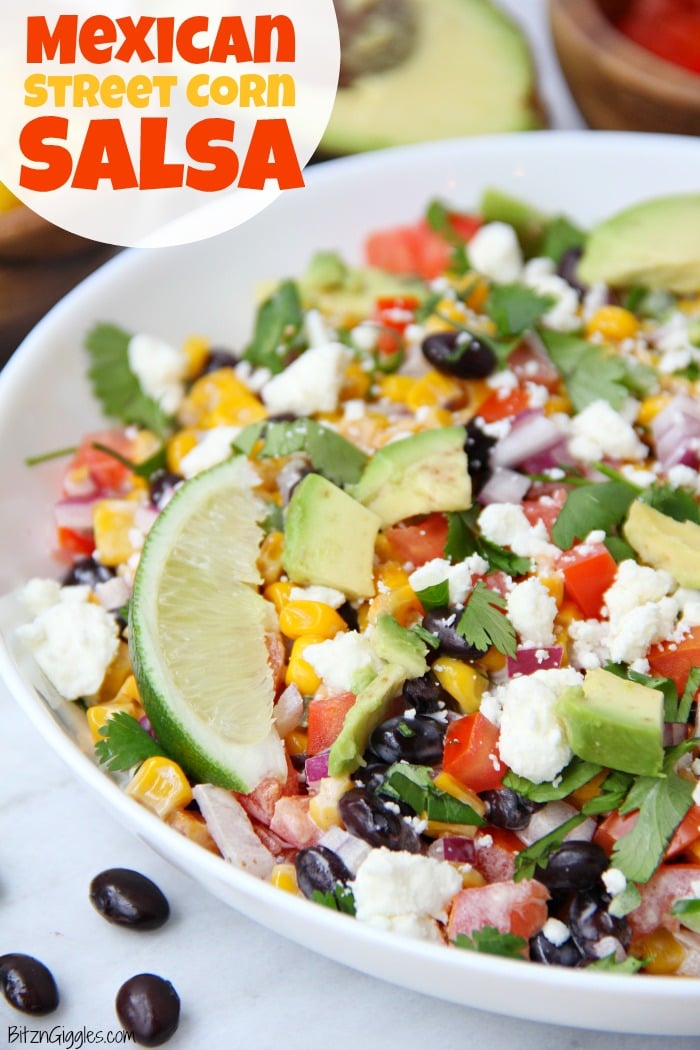 This post may include affiliate links. Please see my disclosure.
Warmer weather is on its way. I just know it is. We need to get through this weekend, though. More snow is expected.?
At this point, it's become a bit of a joke. How much more can Mother Nature possibly throw at us? I'm going to do my best to keep a positive attitude because next week is Cinco de Mayo!
For me, it's all about the food and margaritas. Let's be honest.
Today, I'm sharing the recipe for a delightful homemade salsa made with fresh ingredients and a flavorful, creamy dressing. It reminds me of summer and once I can get my hands on some fresh ears of corn from the farmer's market, I'll be making this salsa over and over again!
Making Mexican Street Corn Salsa
First off, let me just say that this recipe is very forgiving. If you'd like to put in a bit more corn, go ahead. Don't want as much cilantro? Fine. Can't stand black beans? Leave them out. It's okay.
To be honest, I usually eyeball most of the ingredients when I'm throwing everything together. The sauce, I pay a bit more attention to when it comes to amounts, but for the salsa, I normally just go for it. 😉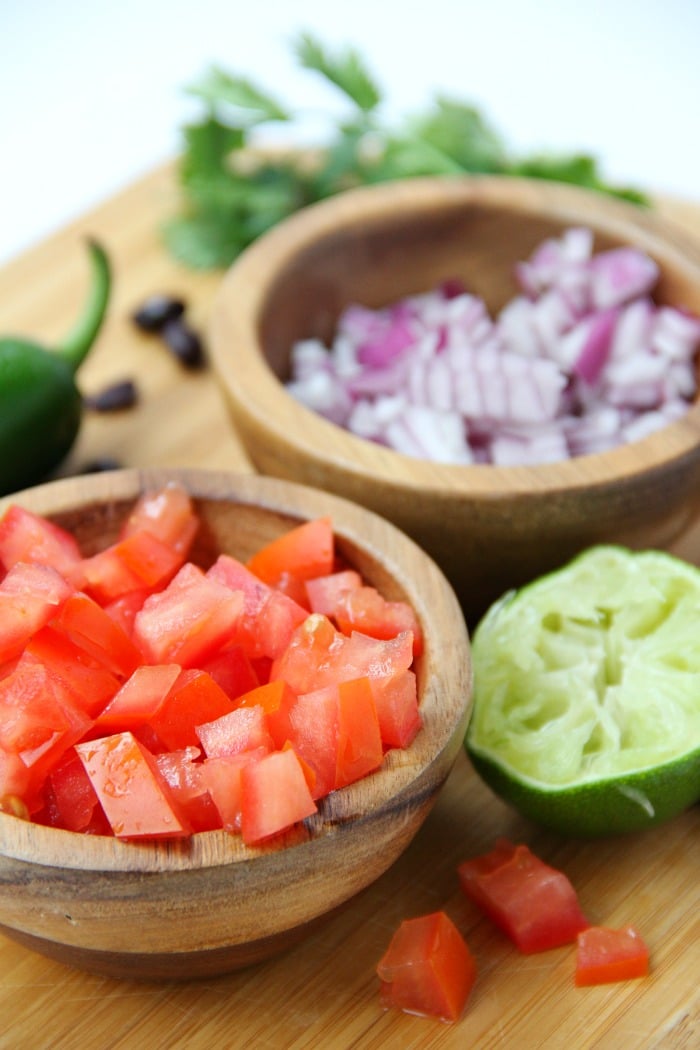 And when it comes to the dressing, sometimes I add the cayenne pepper and sometimes I don't.
If you've ever made Street Corn SALAD before, Cotija cheese is one of the staple ingredients. Cotija is a hard, crumbly cheese with an intense flavor. Did you know that Cotija cheese doesn't melt?
Well, there's your fact of the day. The other fact of the day is that I don't use Cotija cheese in this salsa. I use Feta. Why? Just because I prefer Feta.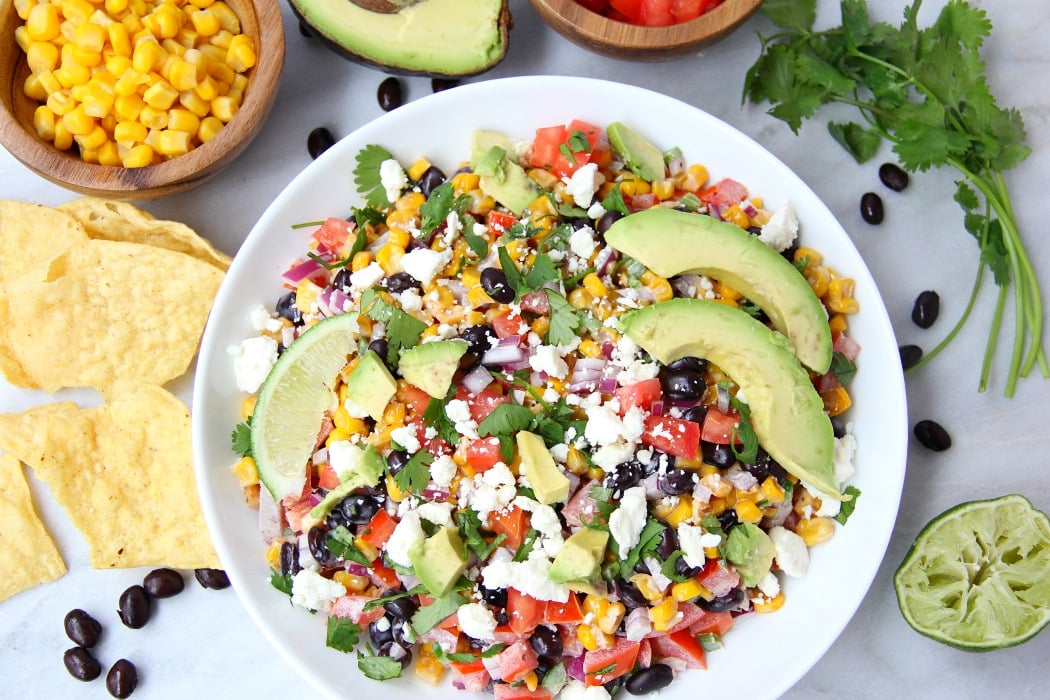 If you like Cotija, then by all means, use Cotija. Remember what we talked about before? This salsa is forgiving. Go ahead and talk to it – make a confession. You might feel better.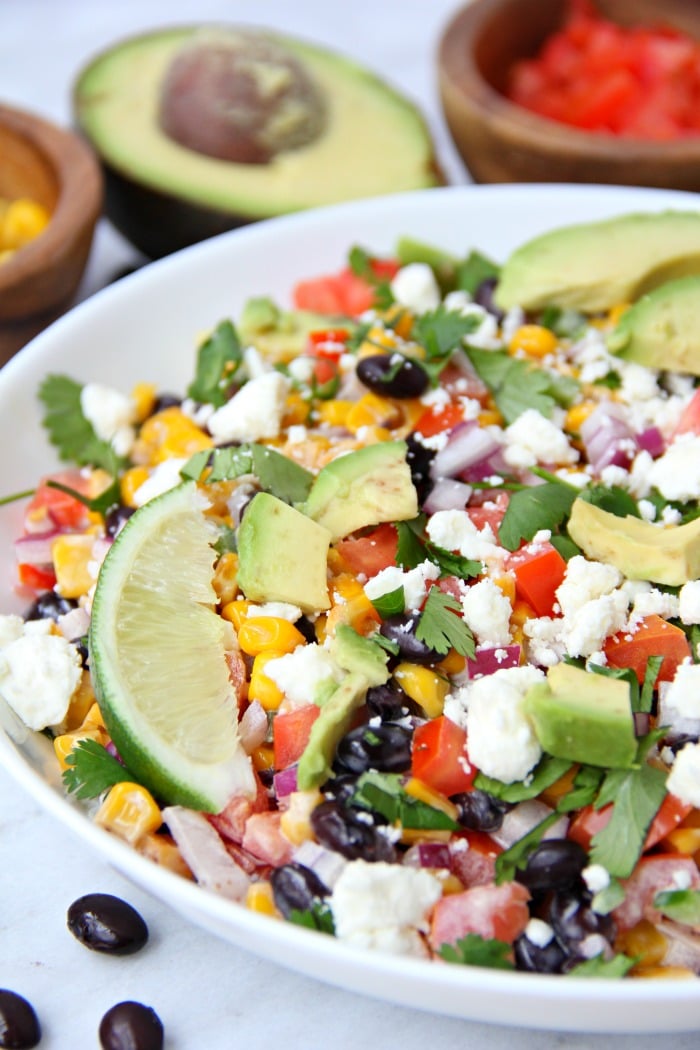 I can guarantee you'll be feeling great after you taste this gorgeous salsa. It's fairly good for you, too. If you're having a problem with the mayo, use light mayo.
I'm not sure it's tradition to count calories on Cinco de Mayo, however.?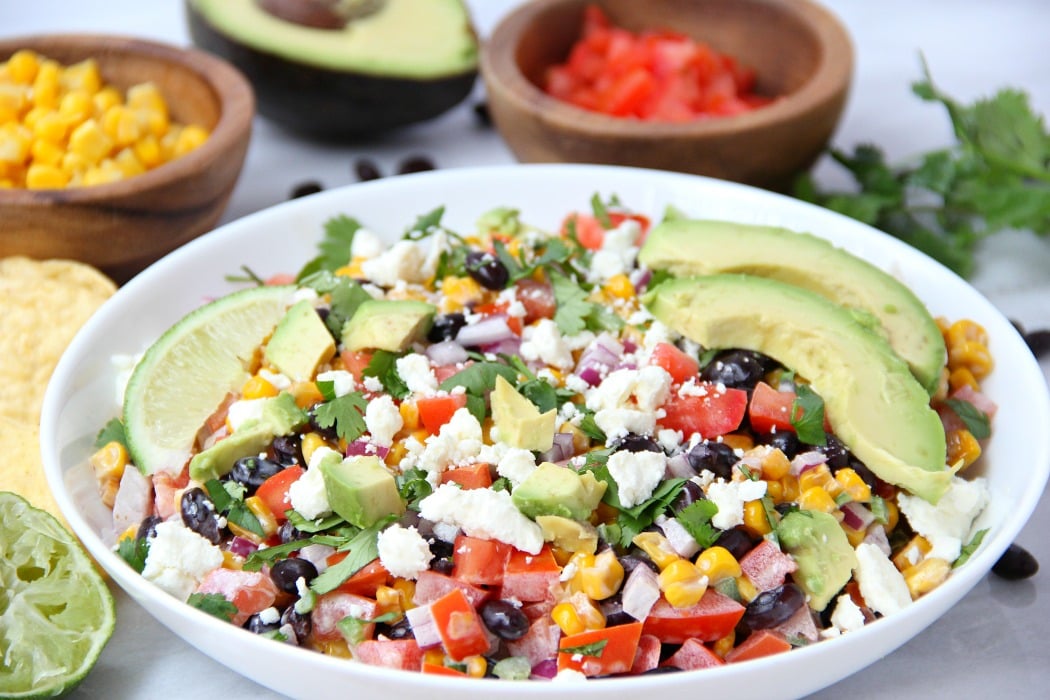 Serve this to family and friends when you entertain. They'll be impressed. It's so colorful, it's so fresh. They'll want to dig right in.
So, what are you waiting for? Grab those chips and start dippin'!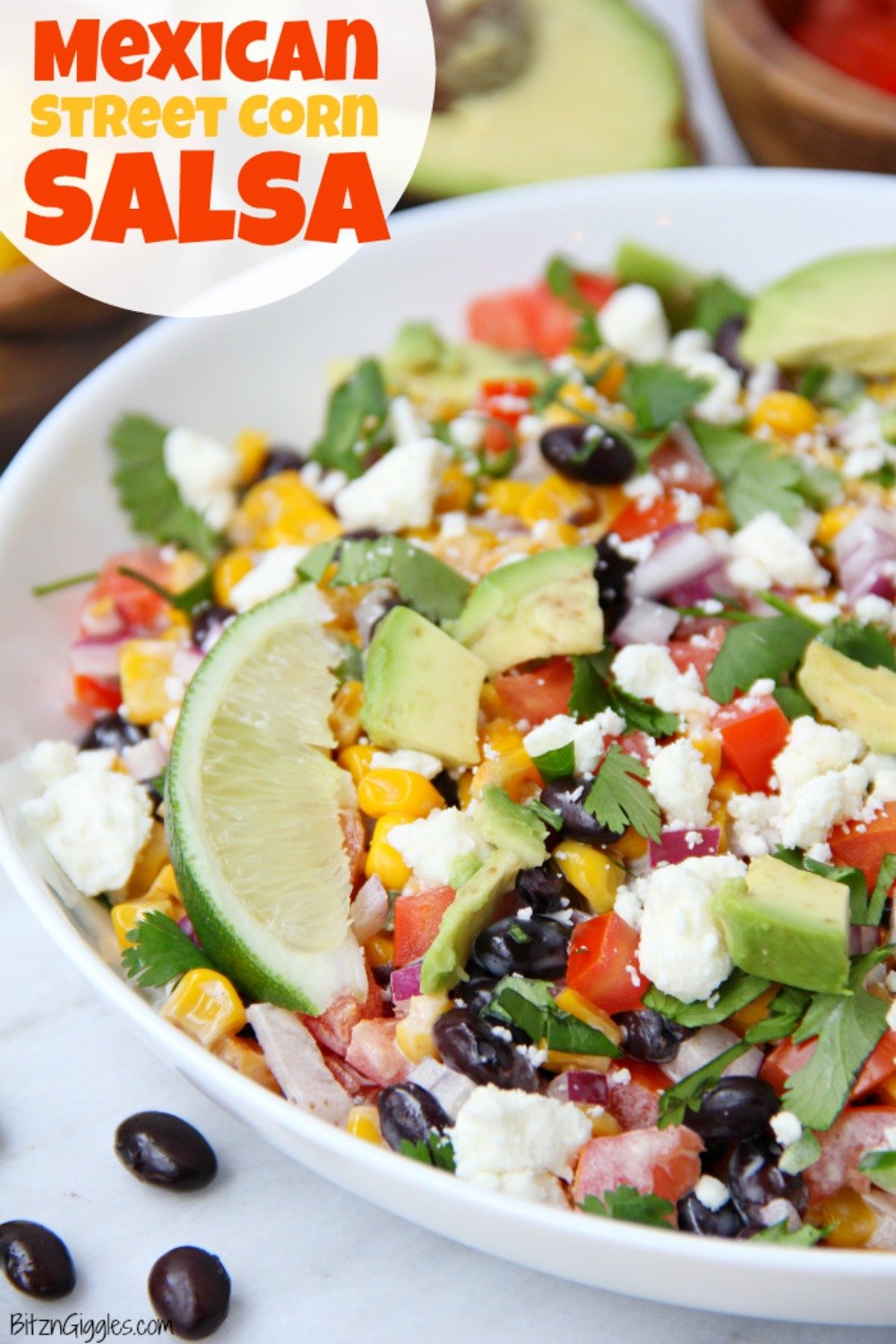 Ready For More Dippin' Recipes?
Mexican Street Corn Salsa
A delightful homemade salsa filled with fresh ingredients and bursting with flavor. A perfect appetizer or snack when entertaining family and friends!
Ingredients
For the Salad
3 cups fresh or canned corn (drained)
1 1/2 tablespoons olive oil
1 avocado (peeled, cored and diced)
1 tablespoon fresh lime juice
1 jalapeño (seeded and diced)
3/4 cup roma tomatoes, diced
1/2 cup red onion, diced
1/2 cup black beans, rinsed
3/4 cup Feta cheese, divided
3/4 cup fresh cilantro, chopped
Tortilla chips, for dipping
For the Creamy Dressing
3 tablespoons mayonnaise
1 clove garlic, minced
1/2 teaspoon cayenne pepper
2 tablespoons fresh lime juice
salt and pepper to taste
Instructions
In a medium skillet, heat olive oil.
Add the corn and stir occasionally until kernels are slightly charred (about 10 minutes).
Allow to cool.
In a small bowl prepare the creamy dressing. Whisk together the mayo, garlic, cayenne pepper, lime juice, salt and pepper. Set aside.
Place the avocado in a small bowl and drizzle with a tablespoon fresh lime juice.
Transfer the cooled corn kernels to a large mixing bowl.
Add the jalapeño, tomatoes, onion, beans, half of the Feta cheese and cilantro.
Pour the dressing over the mixture and combine.
Gently add in the diced avocado.
Top with remaining Feta cheese.
Serve with tortilla chips.
(Visited 2,994 times, 1 visits today)