Ninja Foodi Burgers – Juicy and flavorful burgers cooked perfectly in the Ninja Foodi!
This post may include affiliate links. Please see my disclosure.
There are so many reasons why I love my Ninja Foodi. It's easy to use, it does the job of multiple kitchen appliances in one and the food comes out perfect every time.
I love that I can use it for breakfast, lunch, dinner and everything in between. In fact, some of our favorite family recipes are made in the Foodi!
These burgers are one of those favorite meals that we all love. They come together quick and cook up tender and juicy.
After the burgers are cooked, everyone grabs their favorite toppings and adds them on top. All we have to do is add some homemade French fries and potato salad and dinner is served.
HOW TO MAKE EASY NINJA FOODI BURGERS
To a make hamburgers in the Ninja Foodi, you'll need the following:
Ground chuck or ground beef
Paprika
Salt and pepper
Brown sugar
Onion powder
Garlic powder
Cayenne pepper
In a medium-sized bowl mix the ground beef and the seasonings.
Take your seasoned ground beef mixture and begin forming it into patties. You can do this with your hands or you use a burger press.
Depending on the size you make your patties, you should be able to make 3-4 of them out of the burger.
Place the patties in the greased basket of your Ninja Foodi. Flatten them out a bit or press your thumb into the center to ensure that they cook evenly.
Cook the burgers for 5 minutes using the air crisp function. Flip the burgers and then cook again for another 5 minutes.
You can check the internal temperature of your patties for your preferred doneness level before removing them from the basket.
For a burger cooked to medium temp, it should be 140° to 145° Fahrenheit.
Place a slice of cheese on your burgers and add your desired toppings. I love the classic combination of cheese, lettuce, pickles and tomatoes.
Serve with your favorite side dishes and enjoy!
WHAT KIND OF GROUND BEEF SHOULD I USE?
I've found that 80/20 (80 percent lean beef to 20 percent fat) ground chuck works the best for making these Ninja Foodi burgers.
The fat in the meat helps to keep the patties together and you end up with a nice juciy burger that is full of flavor. You can also use ground turkey or chicken for this recipe.
HOW LONG SHOULD YOU COOK BURGERS IN THE NINJA FOODI?
I usually cook the burgers for a total of 10 minutes using the air crisp setting. Cook each side for 5 minutes, or until the internal temperature reaches 140° to 145° Fahrenheit (for Medium).
If you like your burgers more well done than that, add an extra minute or two.
AT WHAT POINT SHOULD I ADD CHEESE TO THE BURGERS?
The best time to add the cheese is after the burgers are done cooking, before you take them out of the Ninja Foodi basket. This will give the cheese enough time to melt without having cheese get all over the basket.
HOW TO STORE LEFTOVERS
If you have a leftover patty or two, the best way to store them is in a ziplock bag or storage container with an airtight lid.
LOOKING FOR MORE NINJA FOODI RECIPES?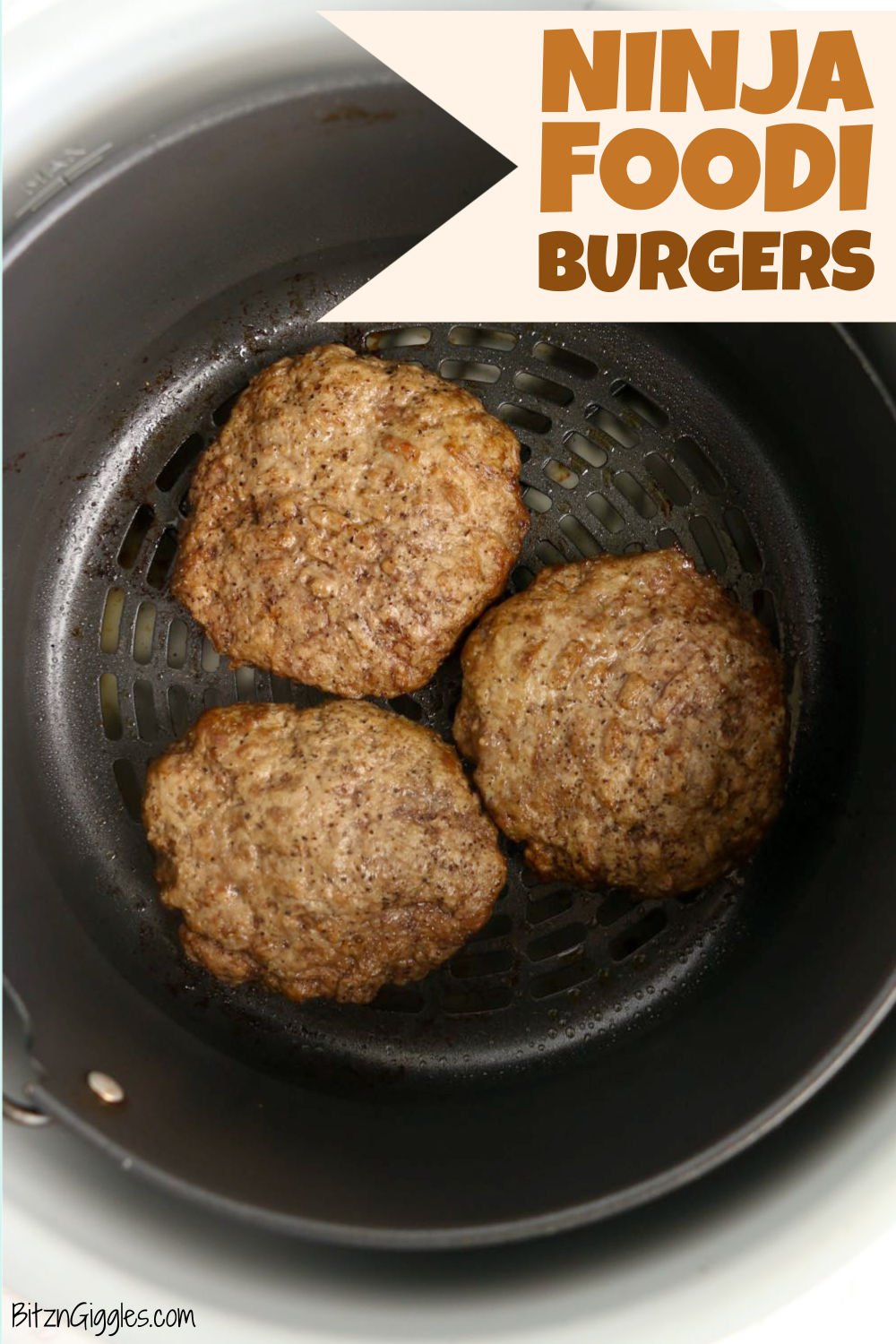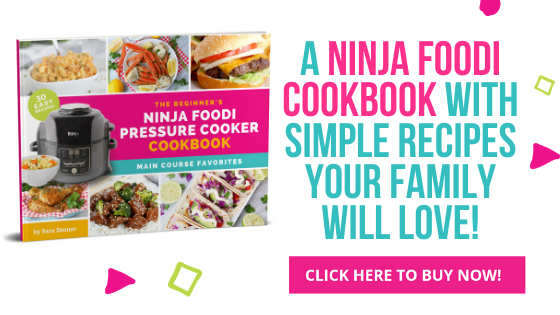 Ninja Foodi Burgers
Juicy and flavorful burgers cooked perfectly in the Ninja Foodi!
Author:
Yield: 3-4 burgers 1x
Ingredients
1 pound ground chuck or ground beef
1 1/2 teaspoons paprika
1/2 teaspoon salt
1/2 teaspoon ground pepper
1/4 teaspoon brown sugar
1/4 teaspoon onion powder
1/4 teaspoon garlic powder
1/8 teaspoon ground cayenne pepper (or less if you don't want much of a kick)
Instructions
In a medium bowl, mix all ingredients together.
Form 3-4 patties and place them in your greased air fryer basket (patties will shrink in size but get thicker. Be sure to flatten them before cooking to achieve the perfectly shaped burger).
Preheat Foodi for 5 minutes at 325º Fahrenheit on Air Crisp.
Air Crisp for 5 minutes on each side at 325º Fahrenheit or until internal temp reaches preferred temperature.
(Visited 22,556 times, 1 visits today)