Ninja Foodi Potato Salad – Easy, classic potato salad made right in the pressure cooker! Cook the potatoes and eggs together in the same pot! Saves so much time!
This post may include affiliate links. Please see my disclosure.
We're well into summer now and I hope you've had the opportunity to make some of your favorite summer salads and sides. We've been eating a ton of this salad and have been enjoying our air-fried corn on the cob.
My husband's grandmother always made THE BEST potato salad. In fact, at every family gathering she was asked to make a big bowl of it to pass. I hope she's looking down smiling from heaven as I write this post today.
I've taken her delicious and classic recipe and modified the preparation instructions for a Ninja Foodi or Instant Pot. I love Grandma's potato salad because of it's simplicity. There's no mustard or vinegar – no pickles, celery or onions. If you're turning up your nose right now because you like those things, go ahead and add them.
Personally, I don't need them. For me, the salad is delicious just the way it is.
If you're wanting something more complex, use this as a base recipe and add anything additional that you wish.
For me, it's the preparation instructions I found most important to share. When you make potato salad in an Instant Pot or Ninja Foodi you can cook the potatoes and the eggs at the SAME TIME! Now how cool is that?!
ARE YOU NEW TO THE NINJA FOODI PRESSURE COOKER?
If you're a new Ninja Foodi pressure cooker owner and are still getting used to the appliance as well as pressure cooker lingo, check out my Ninja Foodi Beginner's Guide that offers 30+ pages of tips and tricks to help you master the Ninja Foodi and have you cooking with confidence in no time at all!
Okay! Are you ready for all things potato salad? Me, too. Let's get cooking!
Begin by placing the water, diced potatoes, eggs (in the shell), 1 teaspoon salt, and 1/2 teaspoon pepper in your Ninja Foodi cooking pot.
HOW TO MAKE POTATO SALAD IN THE NINJA FOODI
To make this classic potato salad, you'll need:
Potatoes (I like Yukon Gold)
Eggs
Water
Miracle Whip (not mayo!)
Sugar
Milk
Salt & pepper
Celery seed
And don't forget your Ninja Foodi!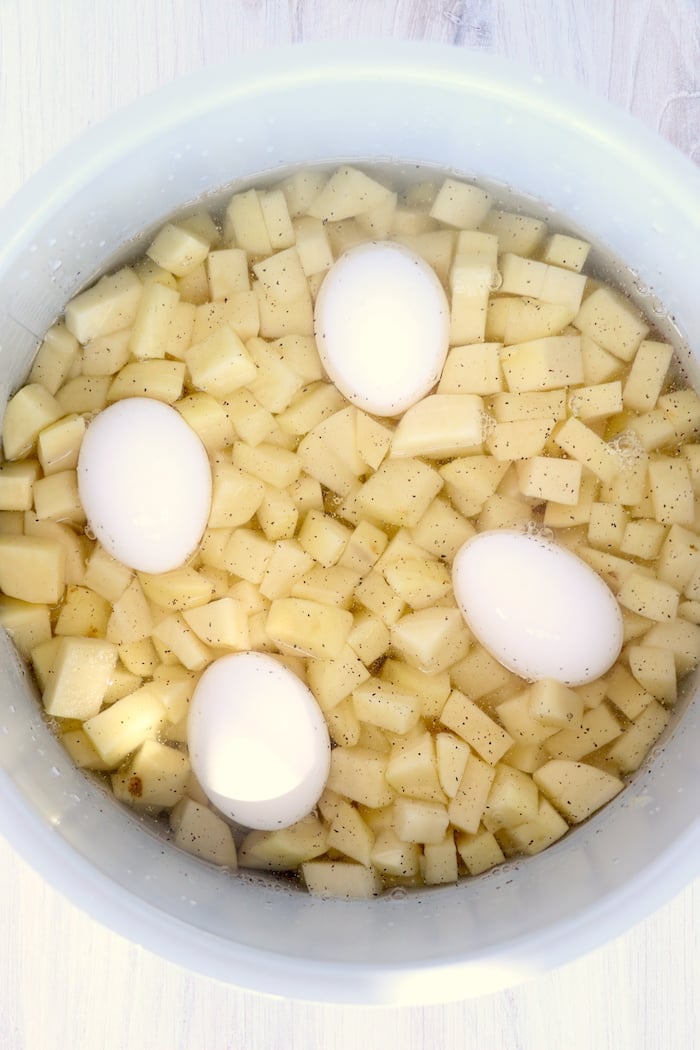 Select HIGH PRESSURE for 4 minutes.
While the potatoes and eggs cook, go ahead and mix up the sauce.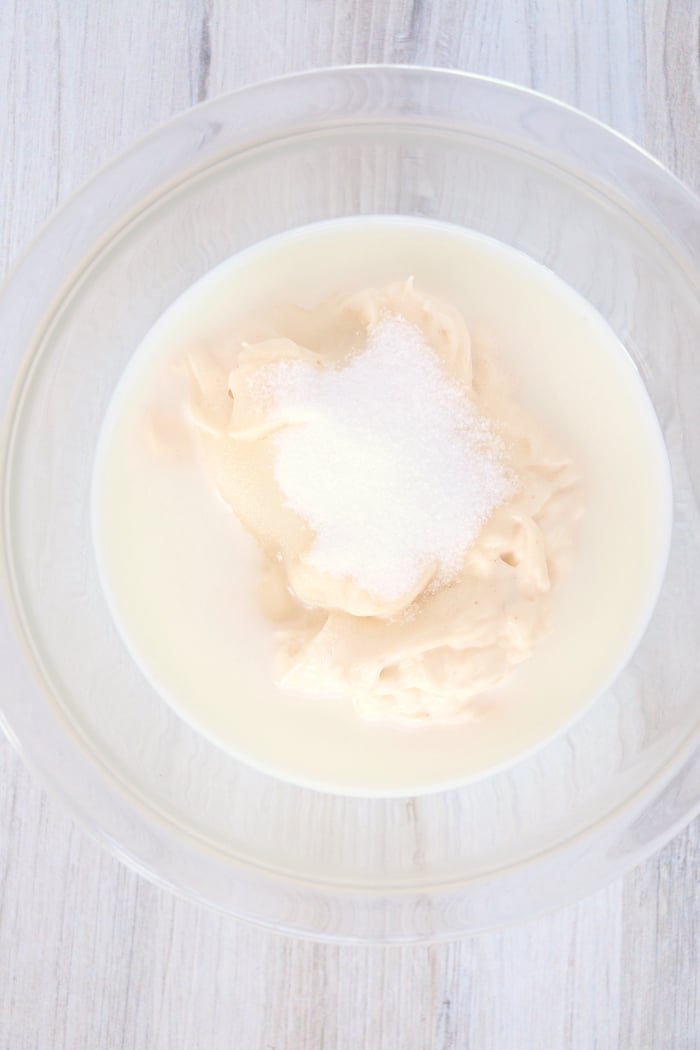 WHAT'S THE DIFFERENCE BETWEEN MAYO & MIRACLE WHIP?
Mayonnaise (AKA mayo) is tangy, rich and made with oil, egg yolks and either lemon juice or vinegar. Miracle Whip, while a lower-fat, lower-calorie alternative to mayo, is sweeter and contains added sugar and a blend of spices, including paprika, garlic and mustard that mayo does not.
Here in Wisconsin, Miracle Whip has always been the standard for most of the potato and cold pasta salads we make.
If you aren't a Miracle Whip fan, you could always go with mayo or go 50/50. Greek yogurt or sour cream are also decent substitutes. As with any substitutions, just remember, they will change the taste of the recipe.
---
When the timer on the Foodi sounds, perform a quick release. Place the eggs in an ice bath for 10 minutes.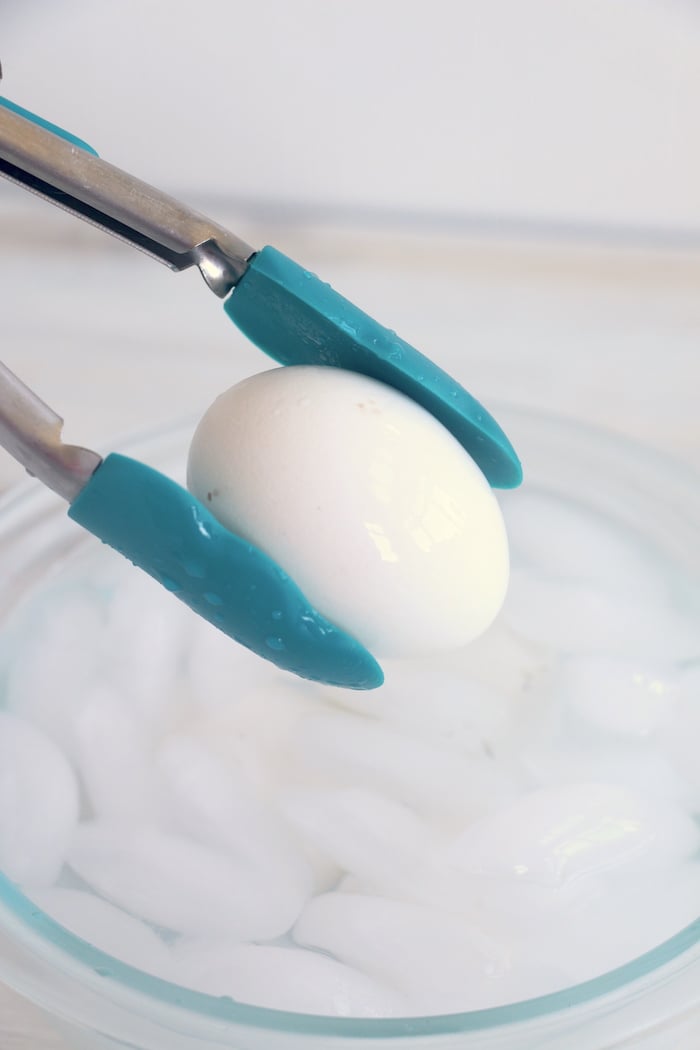 Then peel and chop the eggs. When peeling the hard boiled eggs, roll the cooked egg on your counter top to gently break the shell and make it easier to remove.
Drain the water off of the potatoes and place them into a large bowl with the eggs, salt, pepper and celery seed.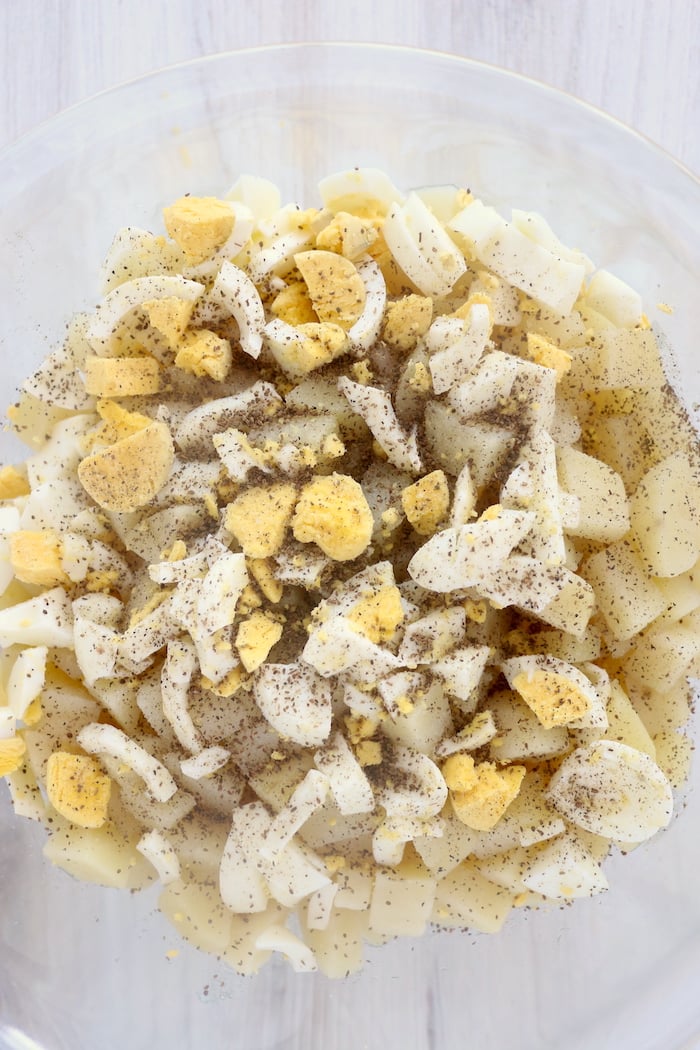 Add the sauce to the potato and egg mixture.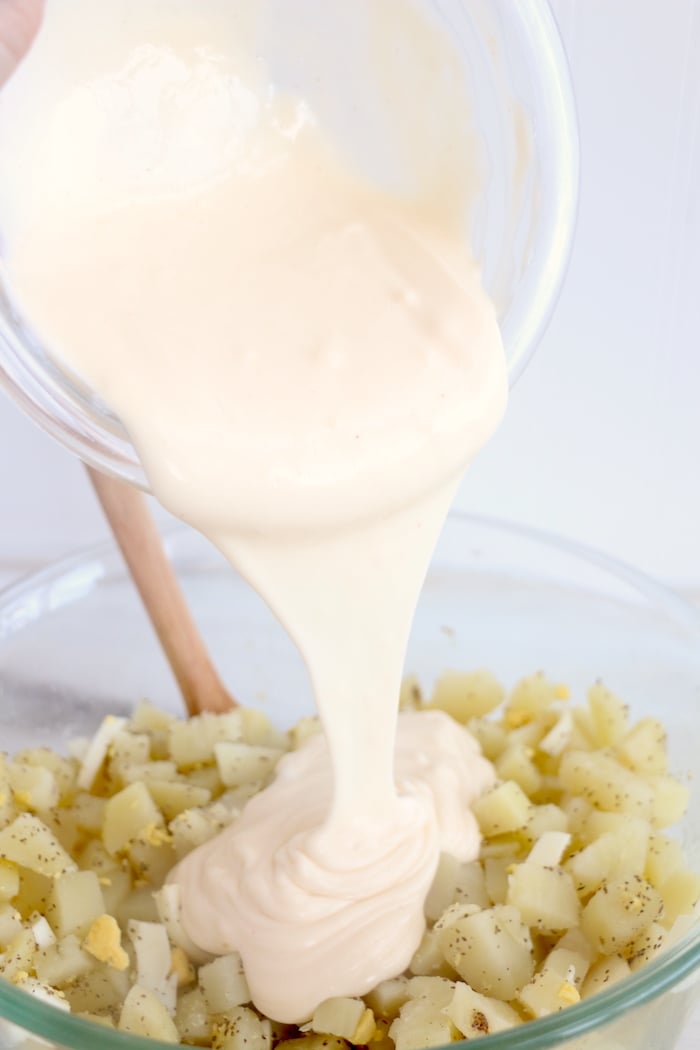 Then mix well!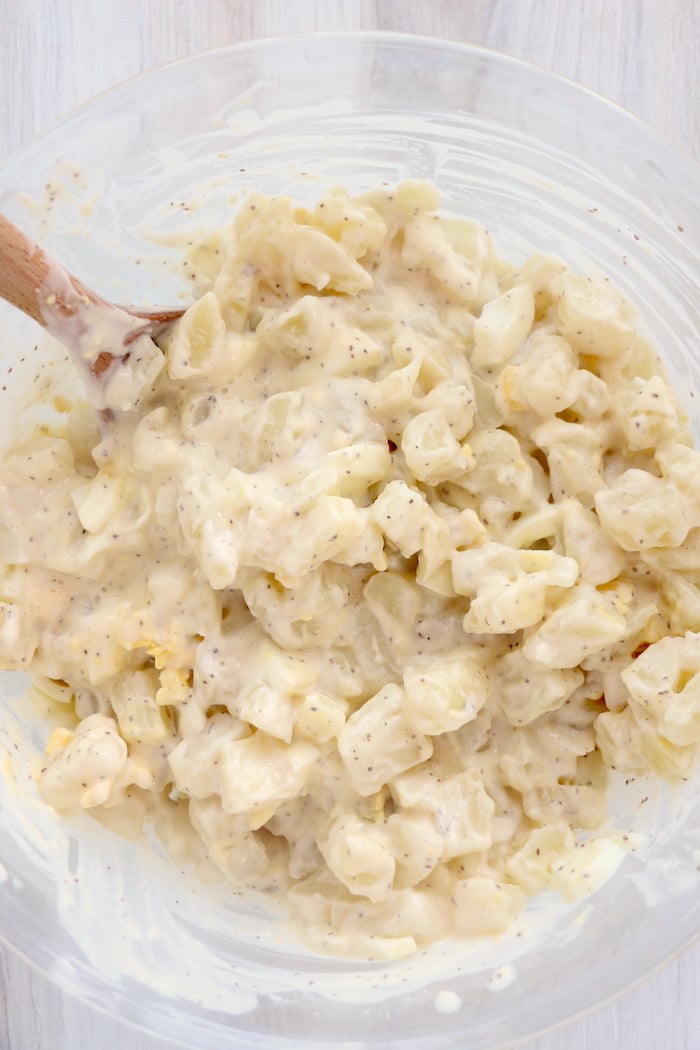 WHAT KIND OF POTATOES ARE BEST FOR POTATO SALAD?
Golden, buttery Yukon Gold potatoes are THE BEST, but baby red potatoes or even Russets will work. If you choose baby reds, you may want to opt out of peeling them – the skins can add a little color to the salad.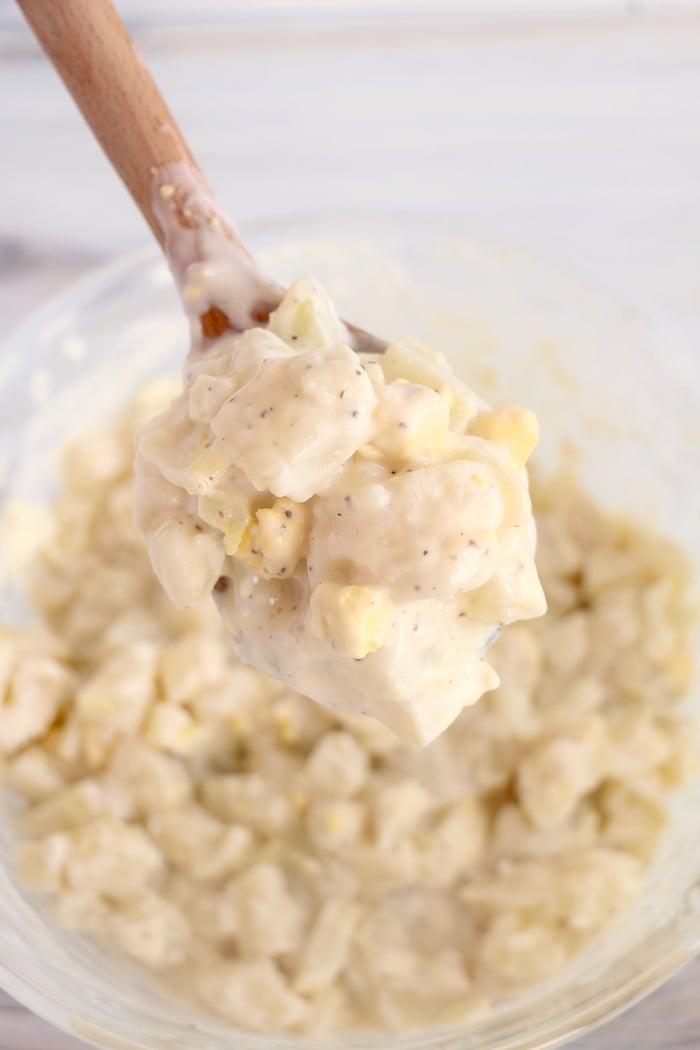 WHAT OTHER TOPPINGS WORK WELL ON POTATO SALAD?
To give the salad some color, I often just sprinkle some fresh parsley over the top. You could also boil a couple extra eggs and slice them over the top of the salad or add a sprinkle of bacon. Other toppings you could try include:
Chopped herbs
Smoked paprika
Old Bay seasoning
Now, it's not necessarily a topping, but adding a little mustard to the salad can add a bit more tang. When choosing a mustard, I would opt for a simple, yellow mustard versus a dijon or a brown.
WHAT COULD I ADD TO GIVE THE SALAD SOME CRUNCH?
For those of you who need to add some crunch to the potato salad, you have several options. You could try:
Diced pickles
Celery
Chopped red or green onion
Radishes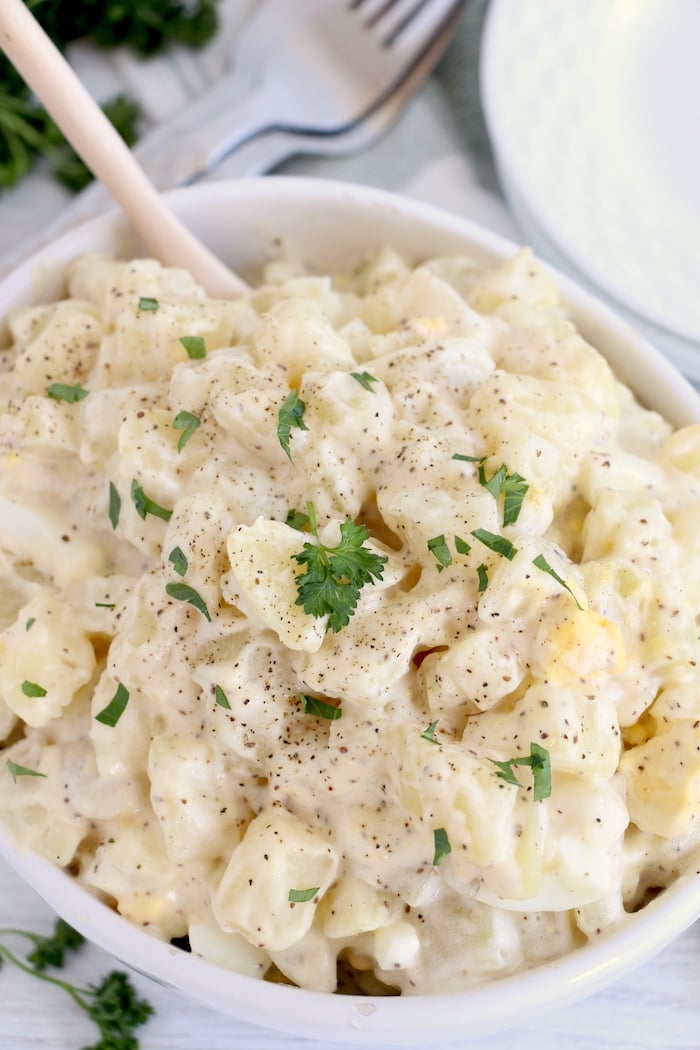 CAN I MAKE POTATO SALAD AHEAD OF TIME?
Yes! In fact, I recommend you make it ahead of time (even a day ahead) to give the flavors a chance to build. Potato salad is a little like casseroles and chili. It gets even better over time!
It will keep in the refrigerator for up to 3-4 days.
LOOKING FOR MORE RECIPES YOU CAN MAKE IN THE NINJA FOODI?
Join Our FB Group for Ninja Foodi Fans!
And remember, if YOU are a Ninja Foodi owner, join me over in the Facebook group! I'd love to have you!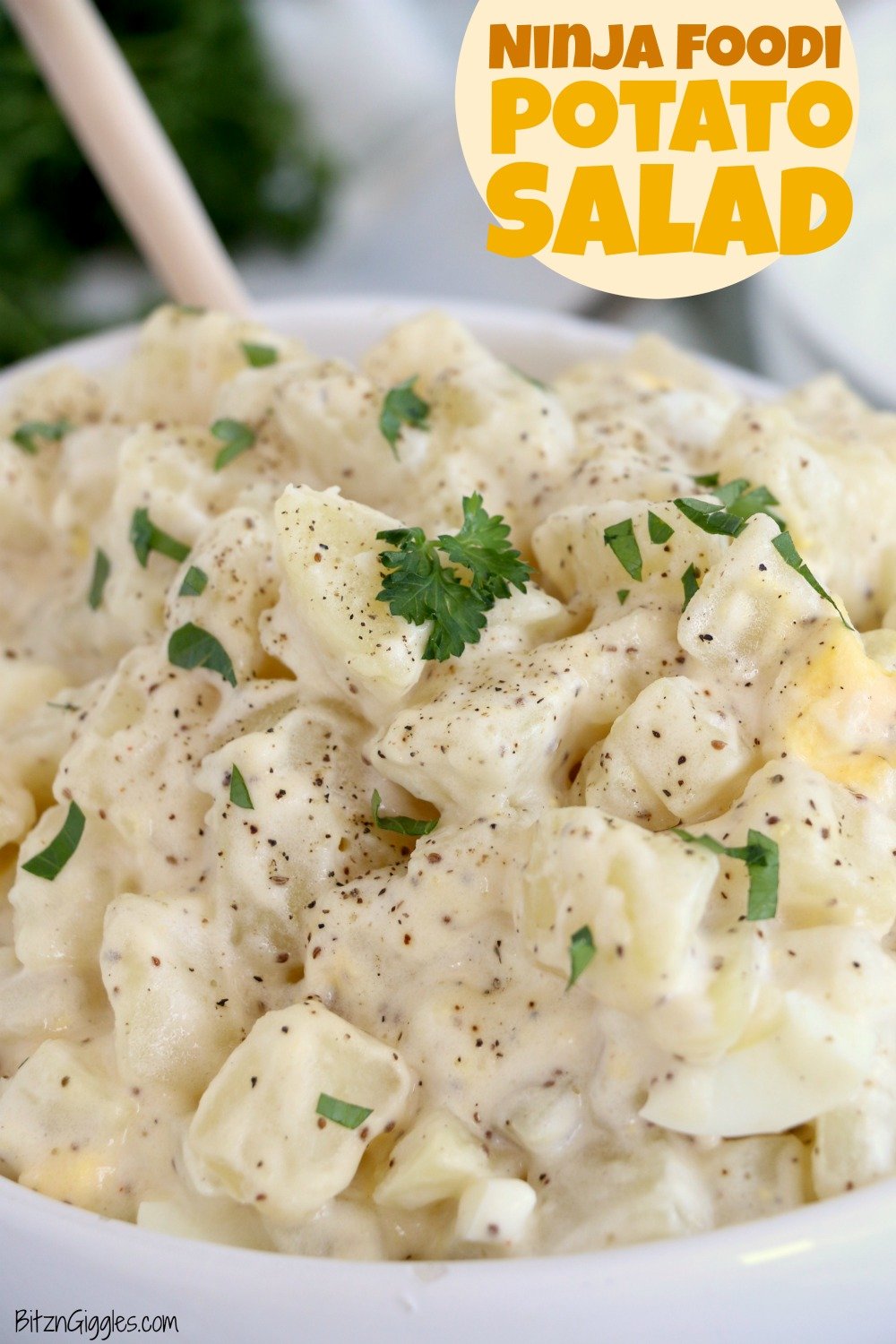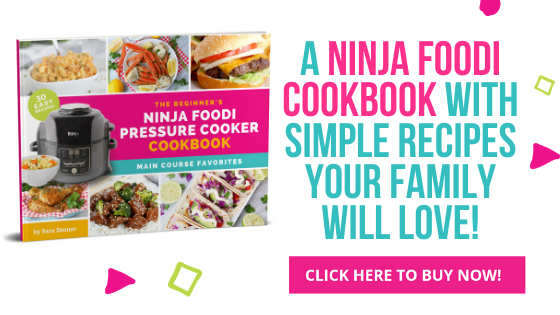 Ninja Foodi Potato Salad
Easy, classic potato salad made right in the pressure cooker! Cook the potatoes and eggs together in the same pot! Saves so much time!
Ingredients
6 large potatoes, peeled and cubed
4 large eggs
4 cups water, cold
1 cup Miracle Whip
1/4 cup sugar
1/2 cup milk
2 teaspoon salt, divided
1 teaspoon pepper, divided
1 teaspoon celery seed
Instructions
Place water, diced potatoes, eggs (in the shell), 1 teaspoon salt, and 1/2 teaspoon pepper in your Foodi cooking pot.
Select HIGH PRESSURE for 4 minutes. Then quick release.
Prepare dressing by mixing Miracle Whip, milk, and sugar. Set aside.
Place eggs in an ice bath for 10 minutes.
When done, peel and chop the eggs.
Drain water off potatoes and put them in a large bowl.
Add chopped eggs, 1 teaspoon salt, 1/2 teaspoon pepper and celery seed.
Add dressing and mix well.
(Visited 8,193 times, 1 visits today)