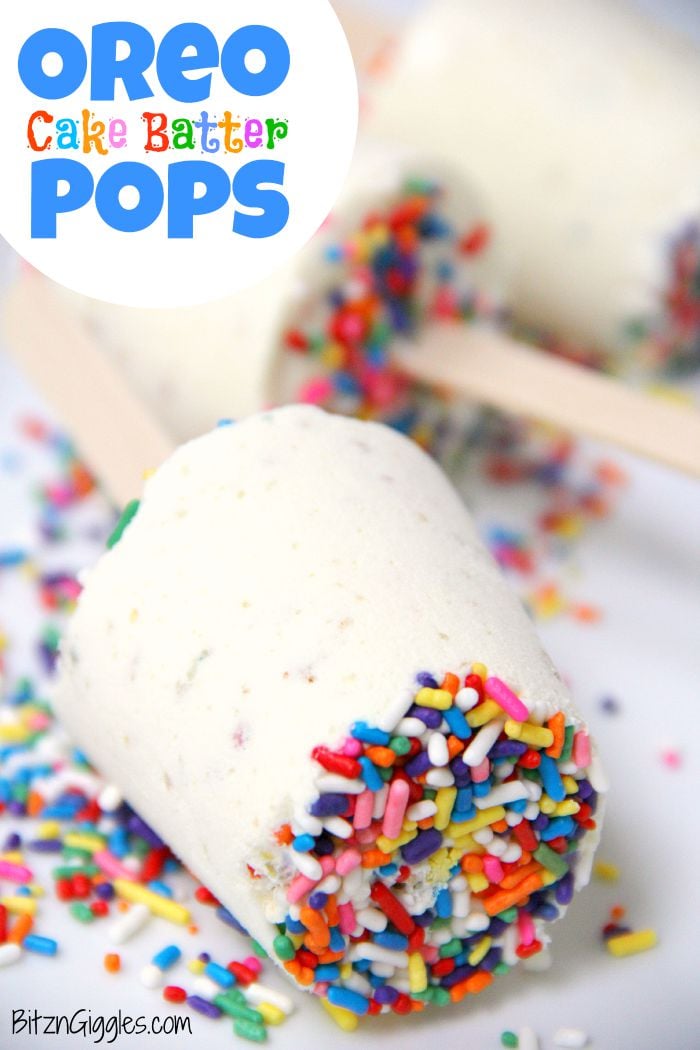 Dearest blog,
I'm so sorry I missed your birthday last month. If it helps at all, I'm not super excited about celebrating my own this year, either. However, I am much older than you, so it's probably normal for me to feel that way. You, my friend, are two. I promise to never neglect you again, especially in your most tender years. You've been so good to me; you're growing faster than I ever thought you would. And that calls for celebration, even if it's a month late due to my chaotic life disregard. We're going to do great things, you and me. I have big plans for you.
XOXO
Sara
And no celebration is complete without "the horn." So, let's hear that horn again (the one that we "accidentally" forgot at Grandma and Grandpa's house after the fair).

In all seriousness, life has just been busy. Two years ago I thought, "Hey, wouldn't it be fun to start a blog?" I was looking for a creative outlet outside of my professional career in Marketing. A blog would be a perfect fit, right? Right. It is a perfect fit, but let me tell you what. . .my life has become insane. It's a good insane (most of the time).
I wake up in the morning around 5:00 am, get myself ready, get the kids up at 6:00 am, make them breakfast, get them out the door, start work at 8:00 am, work, work, PIN, work, conference call, meeting, FB post, lunch, meeting, work, pick up kids, make dinner, clean up, bathe kids, read books, put kids to bed, finally talk to my hubby, blog, blog, blog and fall asleep with my Mac in my lap and camera by my side.
And that's that. Somehow I make it work.
I've really come to love this little blog of mine, and it seems as if you all kind of like it, too. So, thank you. You play a part in this insanity. And with that. . . it's time to celebrate!
A couple of weeks ago I made some Banana Pup Pops for Belle. The kids were constantly going into the freezer asking if they could eat her treats. Really? Sigh. Poor dog. Because I'm a pushover, I found a way to use up some more of those little paper cups and make the kids happy, too. Let me introduce you to these Oreo Cake Batter Pops.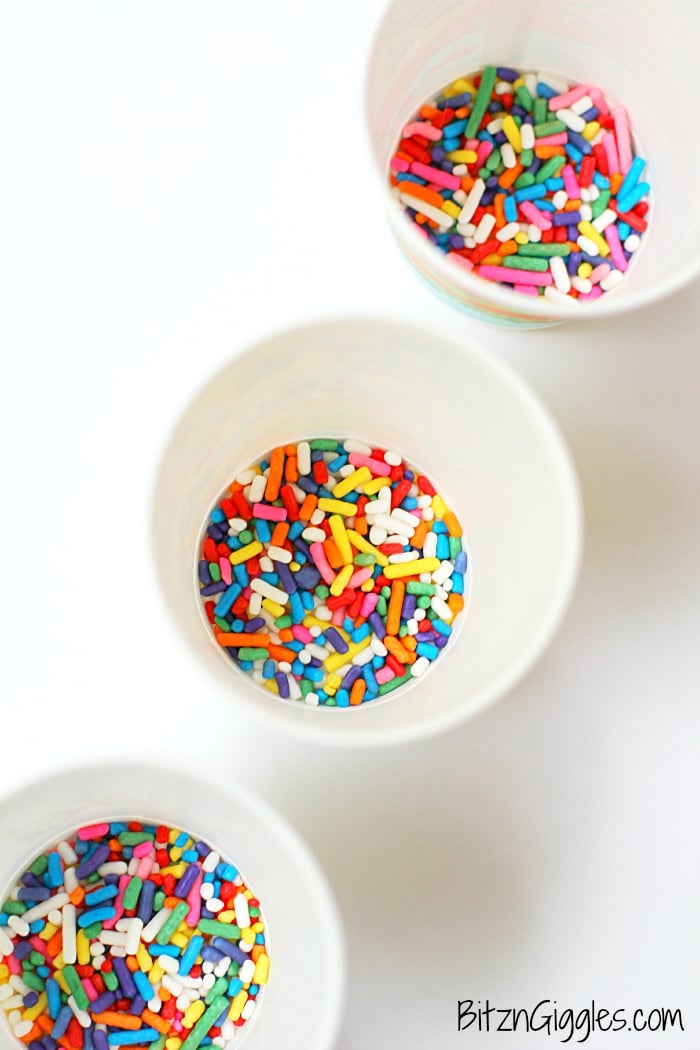 To try and tell you that I made these pops especially for my blogiversary would be a big fat lie, so I'm not going to do that. Instead I'm just going to admit that I love sprinkles as much as the kids do and I'd rather use those leftover cups to make a delicious frozen treat bursting with cookie pieces than use them in the bathroom to rinse my mouth out after brushing my teeth. Right? Right.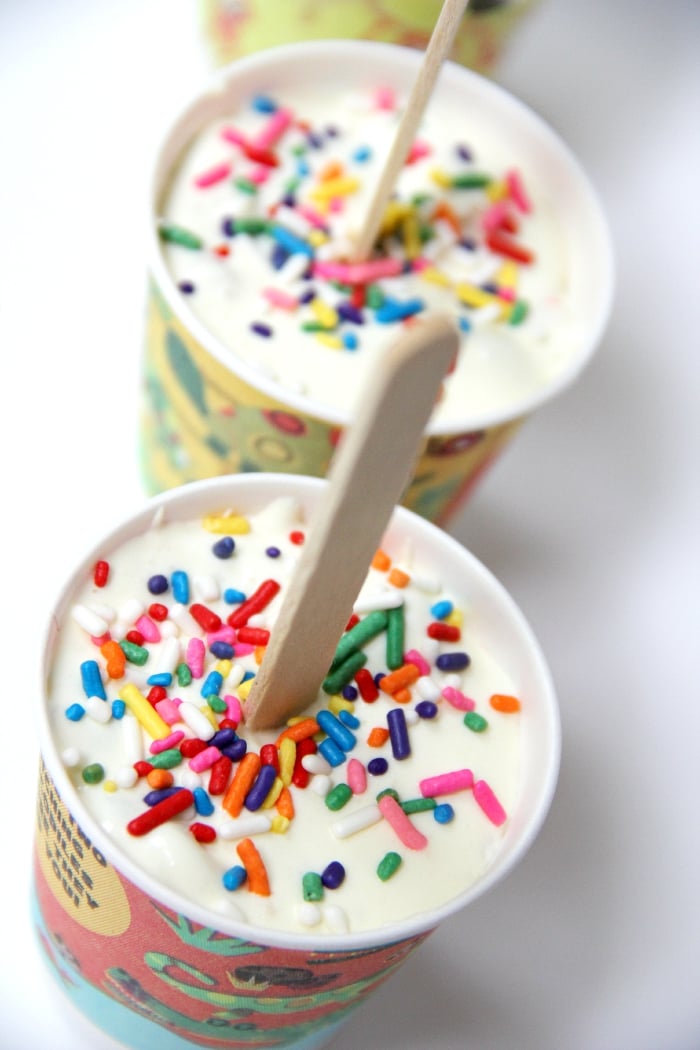 If it weren't for the sprinkles, these pops would actually look very similar to the dog treats I made for Belle. Hey, and let me tell you what. . .those were a major hit! I mean, you've seen her video, right?
That's what I looked like eating these Oreo Cake Batter Pops, too. I just didn't video myself. You're welcome.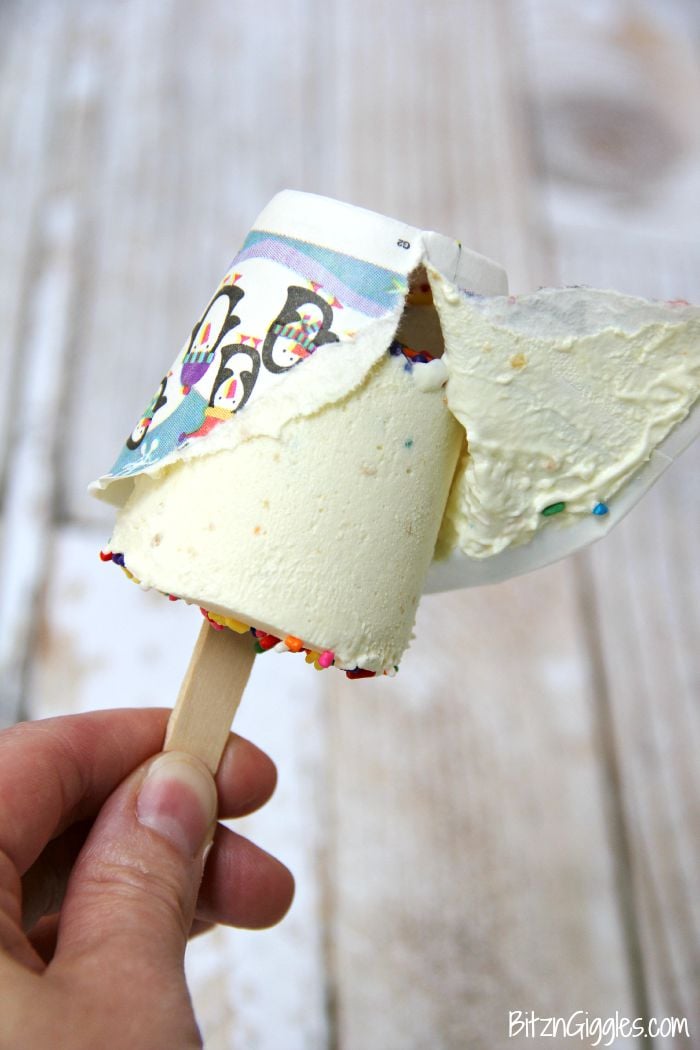 I just want to mention that these pops are SO easy to make. Kids love them for their simple ingredients: pudding, whipped topping, cookie pieces and sprinkles. Yep, that's about it. And they're delicious. Sure, you have to wait a couple hours for them to freeze, but that's the most difficult part of all of this.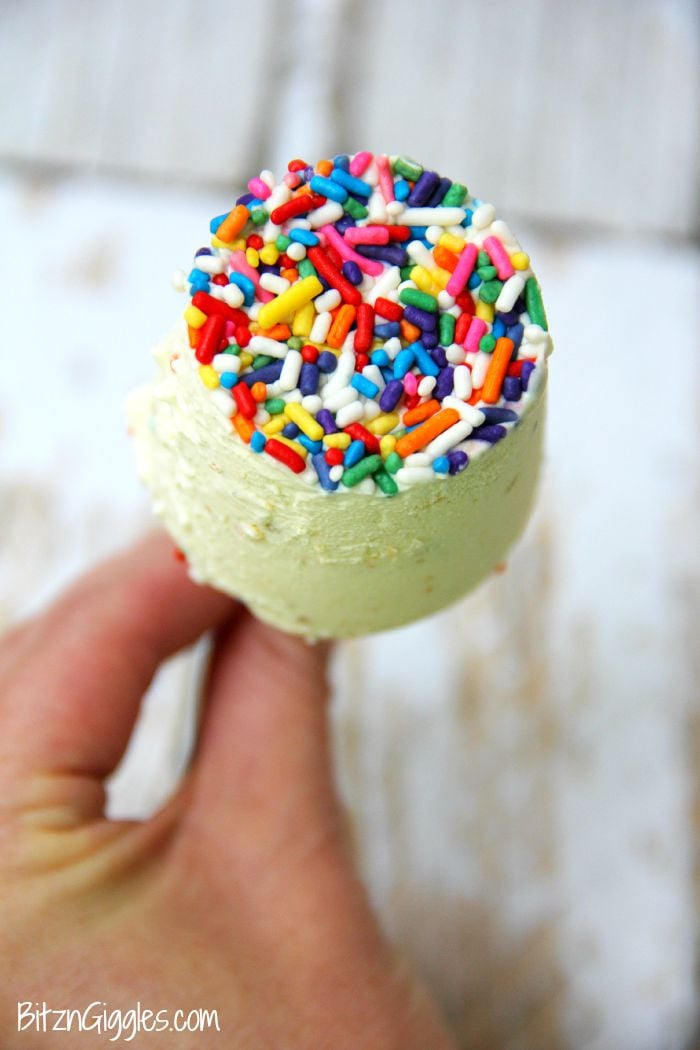 Who has time for complicated recipes that use ingredients you'd never have on hand at home? Not me. And probably not you. And I hope that's why you're here.
Bitz & Giggles is about easy and delicious. It's about smart shortcuts and taking care of your family (including your fur babies) the best way you know how. Leaning on recipes handed down to you from your loved ones over the years, making life a little more fun for the family and finding simple ways to make your house a home.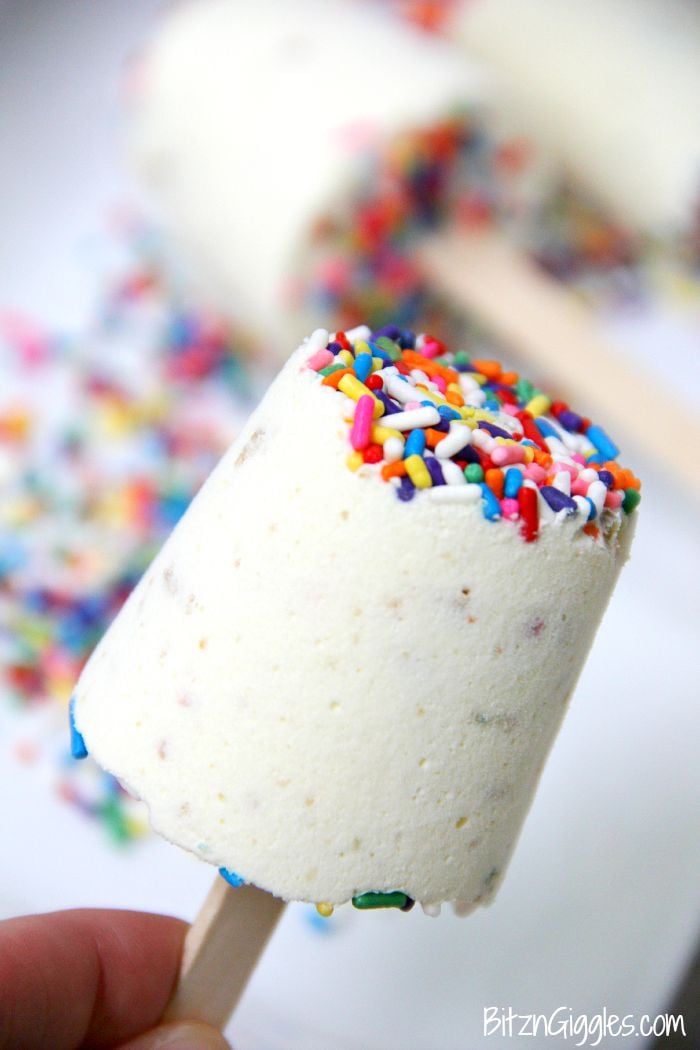 Bottom line. I'm glad you're here to help me celebrate. . .even if it's a bit belated. Cheers everyone, and here's to many, many more blogiversaries for Bitz & Giggles. I can't wait to share the next chapter with you!!
Oreo Cake Batter Pops
Super easy and delicious frozen pudding treats filled with sprinkles and chunks of Oreos.
Ingredients
18 3 ounce paper cups
18 wooden sticks
1 3.4 ounce instant vanilla pudding
2 cups milk
1 8 ounce Cool Whip
2 rows Golden Oreos, crushed
Sprinkles
Instructions
Cover the bottom of each of the paper cups with sprinkles.
In a bowl, whisk milk and pudding for 2 minutes until it begins to set.
Stir the Cool Whip, cookies and some sprinkles into the pudding.
Spoon the mixture into each of the cups, leaving about 1/4 inch of space on top.
Insert a wooden stick into the middle of each cup.
Top the mixture with more sprinkles.
Freeze pops 4-6 hours.
Unwrap paper cup from around the pop and enjoy!
Nutrition
Serving Size: 18
Calories: 69
Sugar: 9
Sodium: 62
Fat: 2
Saturated Fat: 2
Unsaturated Fat: 0
Trans Fat: 0
Carbohydrates: 10
Protein: 1
Cholesterol: 2
(Visited 1,700 times, 1 visits today)