Raspberry Crumble Bars – Fresh, fruity raspberry bars with a buttery crumb topping!
This post may include affiliate links. Please see my disclosure.
If you're as much of a fan of farmer's markets as I am, you've probably been picking up fresh fruits and vegetables every chance you can get the past couple months. It's so much more fun than pushing a cart around the grocery store, isn't it?
Today I'm sharing a dessert that's perfect to prepare after picking up some fresh raspberries at your local farmer's market! We're making Raspberry Crumble Bars! If you're a raspberry fan, you're going to love this delicious and fruity dessert!
And just for the record. . .even if you don't have fresh raspberries straight from the farmer's market, you can still make this recipe with frozen raspberries and it will still be delicious. I promise!
HOW TO MAKE RASPBERRY CRUMBLE BARS
To make the crumble bars, you're going to need:
Flour
Sugar
Baking powder
Salt
Ground cinnamon
Shortening
Eggs
Almond extract
Cornstarch
Raspberries
When you have all of your ingredients ready, start by combining the flour, sugar, baking powder, salt and ground cinnamon.
Cut the shortening in with a fork.
After you add the eggs and extract, a dough will begin to form. Press 2/3 of the mixture into a greased 13″x9″ pan.
Top with the raspberry mixture and sprinkle the rest of the dough on top. Now, it goes it goes into the oven to bake!
The crumble crust will turn golden and the fruit is warm and bubbly. Oh, so good!
You can just see how soft of texture the bars have. It is certainly softer than an oatmeal crust. The fruit just drips over the crust enveloping it in raspberry deliciousness!
ARE THE RASPBERRIES TART OR SWEET?
The raspberries in this recipe will have a little sweet and a little tartness. If you prefer raspberries to be more tart, reduce the sugar by at least 1/4 cup.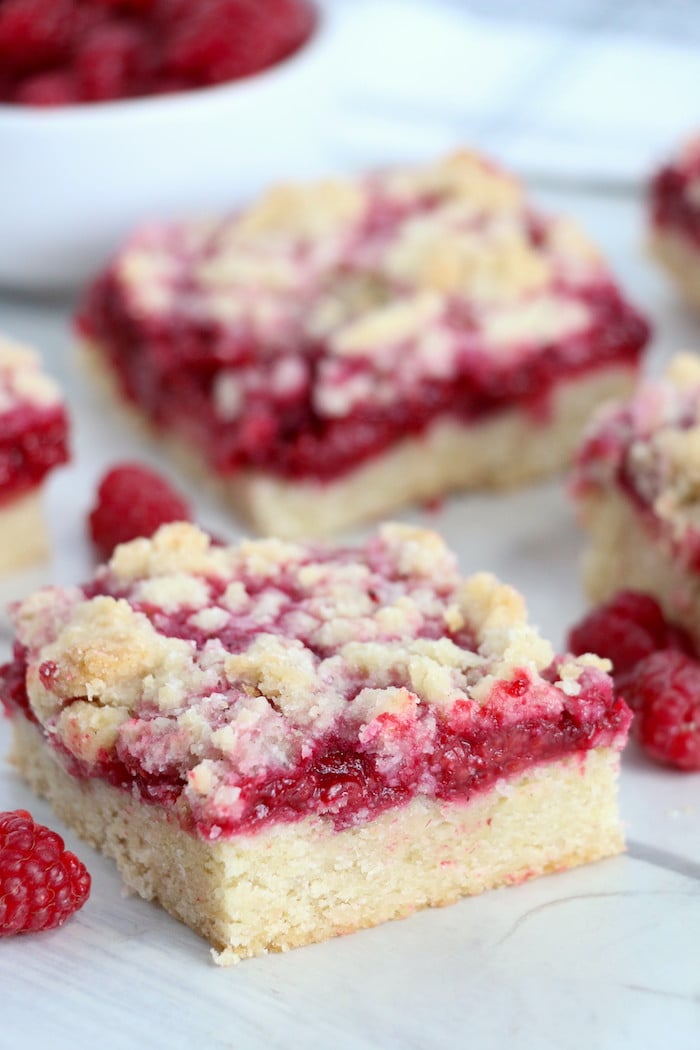 HOW SHOULD THE CRUMBLE BARS BE STORED?
The bars can be stored in an airtight container in the fridge for up to a week or they can be frozen for up to six months or so.
WHAT SHOULD I TOP RASPBERRY CRUMBLE BARS WITH?
My favorite topping is vanilla ice cream for sure. Sometimes I even stack two bars on top of each other, add the ice cream and just go for it.☺️ Because. . .why not?
For all of you shaking your heads right now, I get it. We'll dial it back a notch. Let's go back to one bar – but don't forget that ice cream!
Let it drip down into the dessert and soften it further. When it's all melty, go in for the kill.
What a fresh and scrumptious dessert for summer!
So remember, next time you're at the farmer's market or grocery store, remember to pick up some fresh raspberries and make these crumble bars!
LOOKING FOR MORE SUMMER DESSERT IDEAS?
Raspberry Crumble Bars
Fresh, fruity raspberry bars with a buttery crumb topping!
Ingredients
3 cups flour
1 3/4 cups sugar, divided
1 teaspoon baking powder
1/4 teaspoon salt
1/4 teaspoon ground cinnamon
1 cup shortening
2 eggs
1 teaspoon almond extract
1 Tablespoon cornstarch
4 cups raspberries, fresh or frozen
Vanilla ice cream for topping, optional
Instructions
Preheat over to 375º Fahrenheit.
In a large mixing bowl, combine the flour, 1 cup sugar, baking powder, salt and cinnamon.
Next, cut shortening in with a fork until entire mixture is in large crumbs.
Stir in eggs and extract (I used my hands). This will form a dough.
Press two-thirds of the mixture into a greased 13×9 baking dish. Set remaining aside.
In a medium mixing bowl, combine remaining sugar and corn starch. Next, stir in raspberries.
Pour mixture over crust.
Finally, sprinkle remaining crust on top.
Bake for 45-48 minutes or until top begins to brown.
Top with vanilla ice cream and enjoy!
(Visited 3,484 times, 1 visits today)